All About George Brett And The Pine Tar Incident From The Summer Of '83
George Brett is one of the best players in Major League Baseball history. His baseball career resume is comprised of accomplishments, records, and awards only equaled by a few of the other greatest to ever play the game. But one controversy, known as "The Pine Tar Incident," is something that stands out whenever fans of the game think about George Brett. So much so, in fact, that the actual 'pine tar bat' involved in the incident shares residency at Cooperstown with George Brett's name…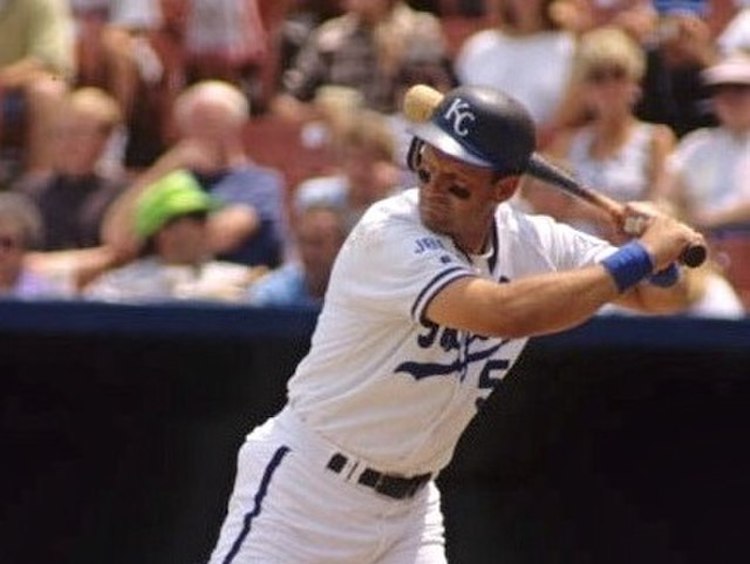 George Brett's Career Accomplishments
The Hall of Famer and World Series Champion spent his entire 21-year career with the Kansas City Royals. He's widely accepted as the greatest player in franchise history and is the only player thus far to represent the team in the Hall of Fame.
With a career spanning three decades, Brett tallied more than 3,000 hits and over 300 home runs, all while hitting above the .300 mark. There are very few players in the history of Major League Baseball to have those numbers; other players to share this accomplishment include Hank Aaron, Willie Mays, and Stan Musial.
Other career highlights for the third baseman include an MVP award, 13 All-Star nods, three Silver Slugger awards, three batting titles, and a gold glove. His was a career unmatched by most that are lucky enough to play professionally. The Pine Tar Incident only adds to his legend.
The Pine Tar Incident
On July 24th, 1983, Brett and his Royals were squaring off against the Yankees in New York. It was a tight game throughout, and Brett found himself walking up to the plate in the top of the 9th inning with the game on the line. To further set the scene, the Yankees were up 4-3, there were two outs, and a runner was on base. Brett proceeded to launch a go-ahead bomb, sending his teammates and Royals fans around the world into a frenzy.
Then, a unique request was made: Yankees' manager Billy Martin had noticed what he thought was an excessive amount of pine tar on Brett's bat. He requested that the umpires inspect it. Sure enough, they found that the amount of pine tar exceeded the amount allowed by the rule.
They nullified the home run and called Brett out, which ended the game. As expected, Brett was extremely upset, rushed out of the dugout toward the umpires, and created an iconic MLB moment when he went ballistic on them.
The Final Result
As expected, the Royals protested the game. American League president Lee MacPhail ruled that the use of pine tar didn't actually create an unfair advantage. Therefore, he ordered the game to be continued with Brett's home run counted. Brett, however, was to still be ejected when the game continued. 25 days later, the game resumed. The Royals set the Yankees down in the bottom of the 9th, securing a 5-4 victory that is still debated by baseball fans to this day.