Classy Haircuts For Women Over 60 To Look 20 Years Younger
You can try expensive night creams and anti-aging products to help turn back the clock, but what's really going to make you look younger is a flattering hairstyle. The right haircut can accentuate features that will make you look 20 years younger, like bold brows, full lips, and high cheekbones.
A new hairstyle can easily shed years off of your appearance and as you get older, you have to balance being trendy while still making sure you can pull off a certain style. If you want to look younger, there are some great hairstyles to consider, but there are also some that you should steer clear of…
Avoid: Bangs
The traditional argument for bangs is that they will help you frame your face and highlight your best features. Some people can pull off the look, but many people cannot, no matter what age they are. Additionally, the amount of upkeep that's needed for this look just isn't worth it.
Also, if you've got a square face, bangs will not help your look. Bangs tend to itch, and always need to be styled, even on days you don't want to. And if you want to grow them out, they won't grow evenly.
Avoid: Pixie Cut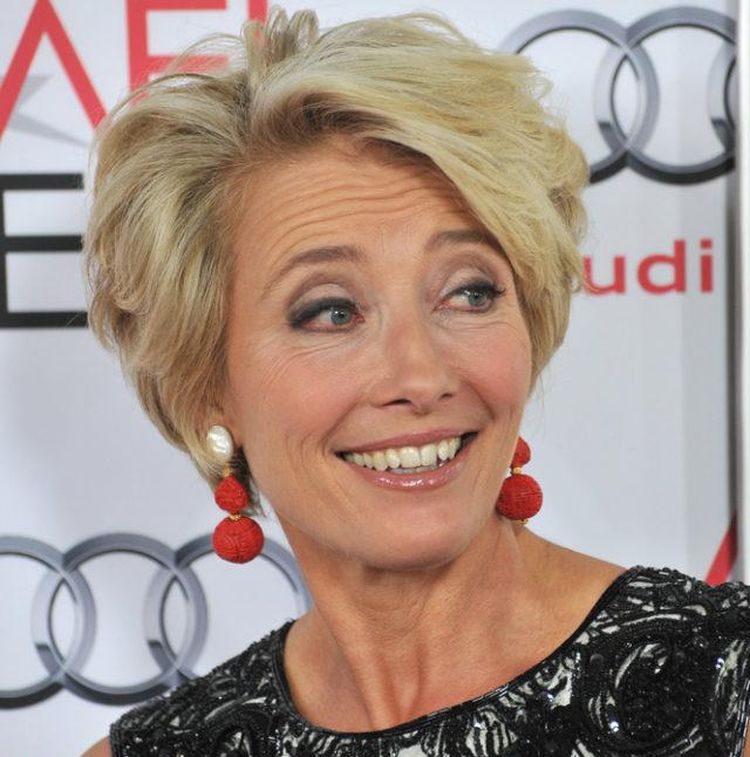 The classic pixie cut is one that older women gravitate toward since it's easy to maintain, but it's not one all women can make work. The look has appealed to a broad spectrum of women going back to the mid-70s, though it has to be done right.
It can give a woman the look of still feeling like a grownup who's not hopelessly trying to masquerade as a 20-something. Although the look always seems to be in style, if cut too short, it can even make you look older than you are, and may not be worth the risk.
Avoid: Faux Hawk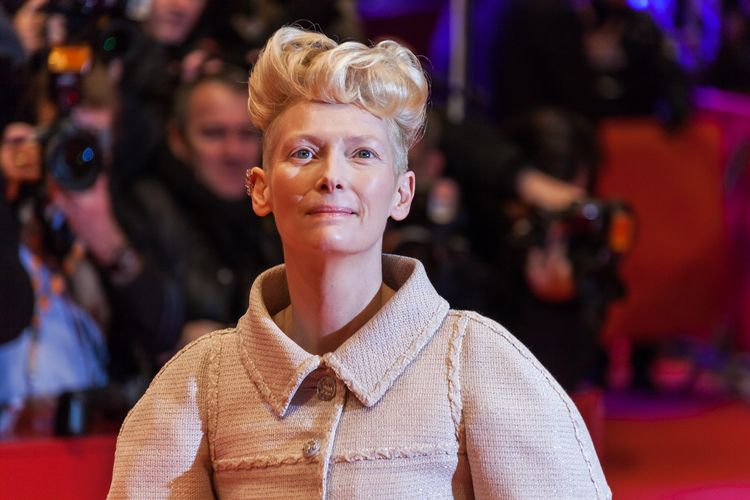 Yes, a faux hawk is a real hairstyle people are sporting. While a mohawk was more fashionable in the 1980s and was primarily a men's look, some women have tried the faux hawk.
Faux hawks really became trendy starting in the 2010s, and are certainly for a younger audience. But if you have grandchildren, trust us, you should skip this look.
Avoid: Razor Bob Short & Heavy
Razor styles work better for older men than older women. A short and heavy bob can make a woman's hair look finer than it is.
One benefit of this style is that it can make thick hair on older women easier to manage, making it a popular choice. However, this style generally works best for women with thicker hair, so those with finer hair may want to skip it.
Avoid: Classic Shag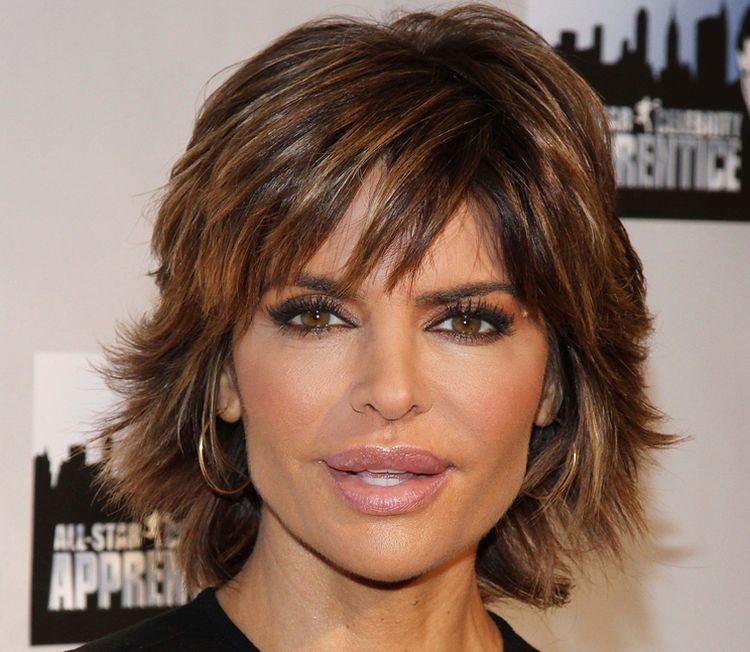 The classic shag hairstyle is one that older women often try. But the problem with the classic shag is that it often can become a big mess, as many shaggy layers come together to form this hairstyle.
Maybe consider the voluminous shag instead, which you'll see later, over the classic shag.
Avoid: Sleek Lob
A sleek lob (or long bob) has become popular among older women. It's essentially a straight bob that has an edgy modern look to it, but is not always easy to pull off.
Long bangs that fall at the top of a woman's eyebrows usually complement this haircut well, but bangs can be very hard to maintain and only accentuate certain face shapes.
Avoid: Chandelier Bob
A chandelier bob is another variation of a classic style. It uses fewer layers than other hairstyles but will still allow for more volume in a woman's hair.
This hairstyle is best for women who have a strong square face and jawline as it gives them a more relaxed look. However, if you have an oval or round-shaped face, you may want to reconsider this style as it will make your face appear wider than it actually is.
Avoid: Bob with Full-Length Bangs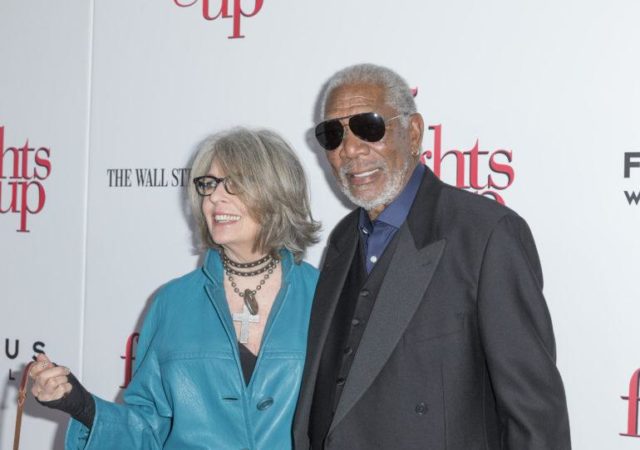 Diane Keaton is one of the older ladies in Hollywood that has embraced a bob with full-length bangs. While she is able to pull the look off, not many others can.
The style can be a classic if you have the right features. Those with square or round-shaped faces will not benefit from this style as it will weigh the face down too much and should be avoided.
Avoid: Inverted Layered Collarbone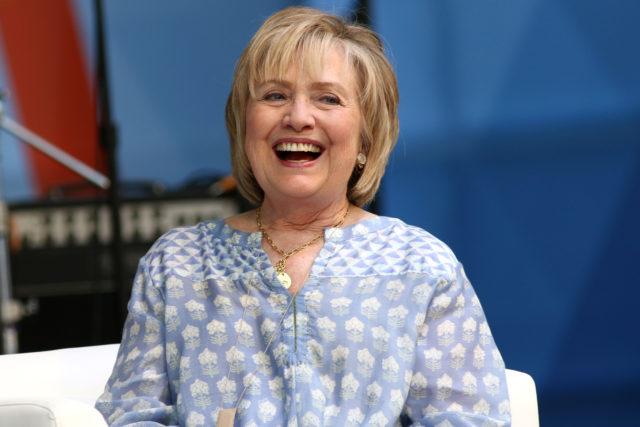 Older women with shorter hair can sometimes do well with what's called an inverted layered-collarbone cut. This is where the hair is longer in the front and shorter in the back.
Usually, the trimming is done for this with a razor. Many women add bangs for the look, but may not always pull it off.
Avoid: Pixie with Sideburns
The long-feathered pixie with sideburns is a distinct style that some older women prefer. This is achieved by getting a classic pixie cut, but adding a hint of a men's style to it with the sideburns.
The combination of volumes of feather layers and the distinct sideburns make this style a bold and daring statement, but it is also not the easiest to pull off well.
Try: Angled Cut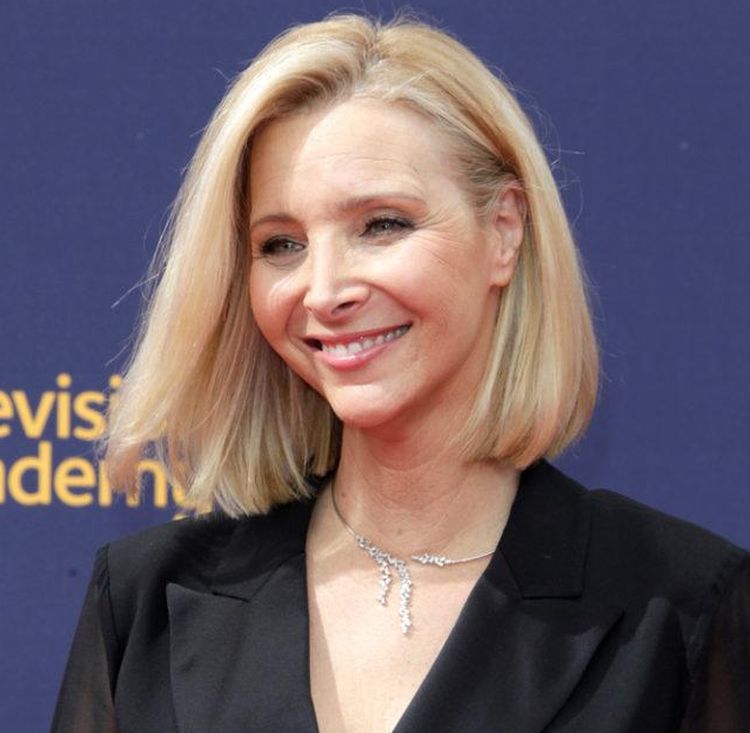 No one enjoys the effects of aging. One way to hide your aging is to get an angled cut. When an older woman's face starts to soften this style of cut can change how those around them view their faces.
The sharply curved edges of this hairstyle cause people to look at a woman's chin, drawing attention away from the upper half of her face.
Try: Short Curly Bob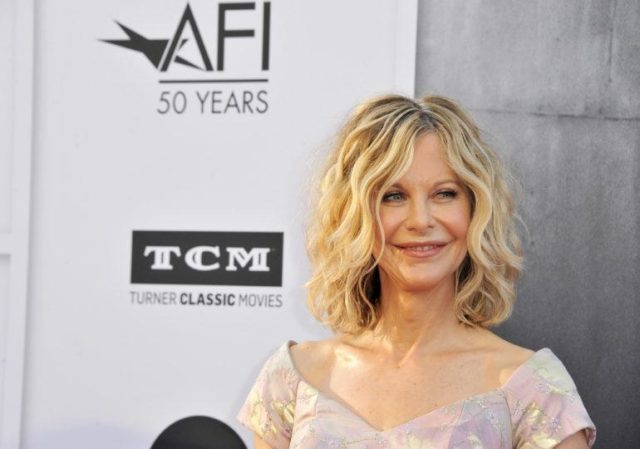 Most style experts agree that for older women, a short curly bob is a timeless choice. This applies only to women who have a thick head of hair – tight curls hold their shape very easily, making this a hassle-free hairstyle to maintain.
With this type of hair, women are advised only to brush their hair when wet, because this hairstyle can get out of control if brushed when dry. Women may find themselves with overly large hair if they do.
Try: Super Short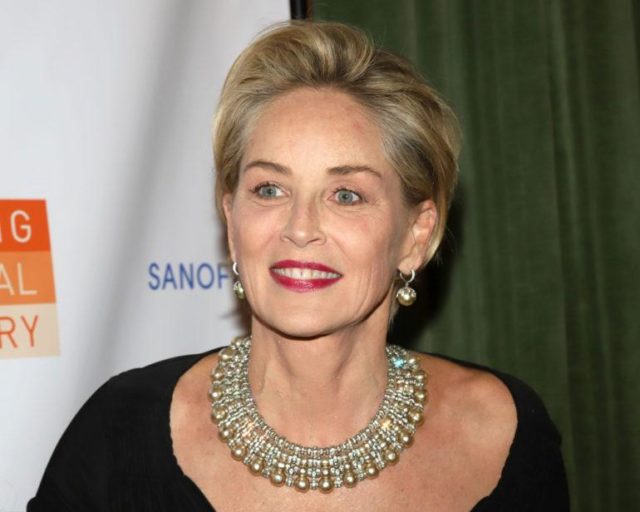 This short and wispy style is preferred by women who have fine hair. The shorter you cut your hair, the thicker it will look.
Styling your hair by combing it backward works best for this haircut. A little backcombing is all it takes to get a woman looking stylish and elegant.
Try: Neat-Side Fringe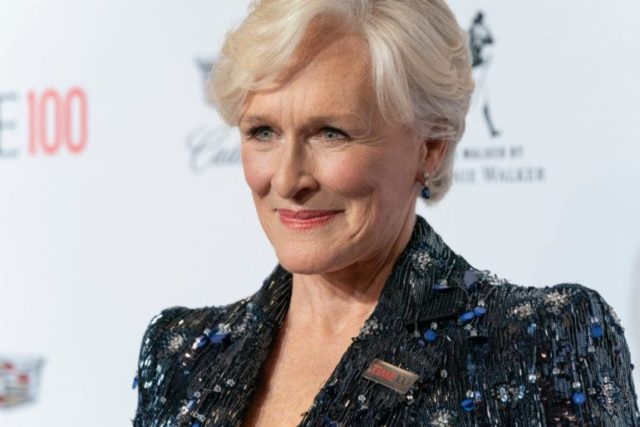 A neat side fringe is another classic hairstyle perfectly suited for an older person. The style pairs especially well with a short cut, and works out with any length bang cut a woman feels comfortable with.
What makes the side fringe so popular? The answer is pretty straightforward – in general, the look provides a thinner, more flattering-looking appearance, much like the angled cut featured in the previous slide.
Try: Voluminous Waves
Courteney Cox has always been a trendsetter, and that hasn't changed much in the years since Friends went off the air. Even today, Courteney has superb voluminous waves that many women want to emulate.
All it takes is a few simple steps, as surprising as that sounds. Just blow-dry and part your hair down the middle – afterward grab some hot rollers, a little bit of hairspray, and you'll be good to go.
Try: The Layered Crop
Layers are often key in the most successful hairstyles among older women. The layered crop has long been a classic hairstyle, and it's likely to always remain a fashionable choice for older women.
It's a quick and easy way to maintain a shaped hairstyle that gives hair volume without having to put a lot of work into it. To maintain this style, women only need to use a blow-out brush along with hairspray.
Try: Medium Layered Haircut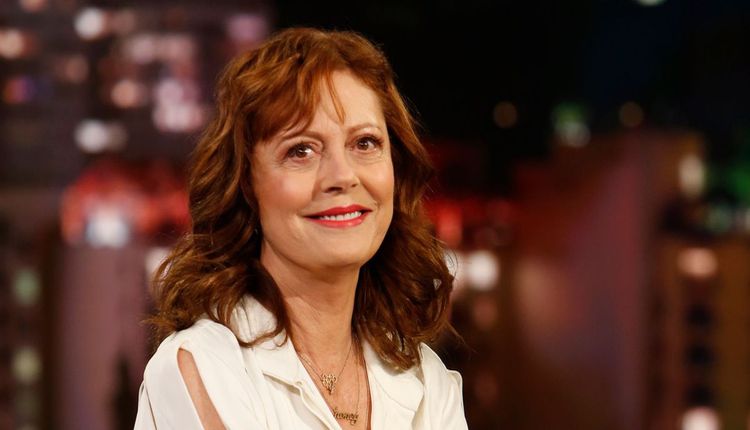 A medium-layered haircut is a perfect choice for almost any woman 60 years or older. It's an incredibly easy style to maintain and it's an ideal choice for any woman that would like to keep shoulder-length hair.
Achieving this look involves keeping the top layers of hair short, as well as bangs that have been swept off to the side. This hairstyle can be achieved using a round brush to style the tips of the hair.
Try: Short Cut w/Asymmetrical Bangs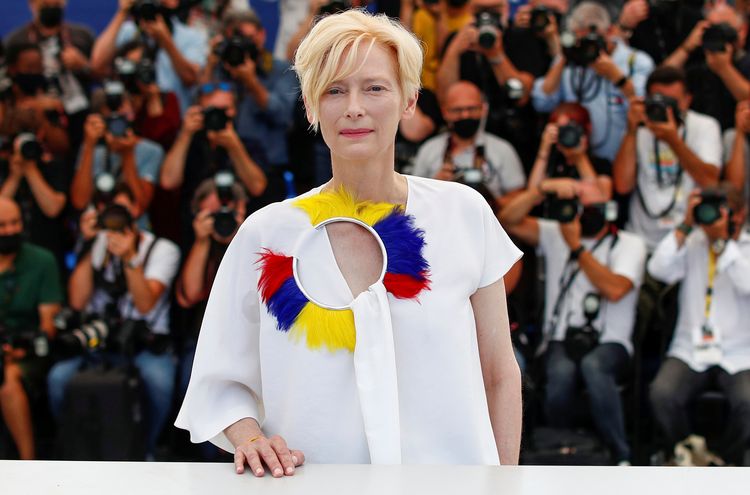 Short cuts complemented with asymmetrical bangs can really enhance most older women's hair. For starters, bangs are a great way to force others' attention to the eyes rather than some superficial flaw.
Like the bobs we mentioned earlier, the feathered layers seen here add some serious volume. In addition, this particular style appears to "lift" the crown of a woman's head and make the face seem a little less round.
Try: Inverted Bob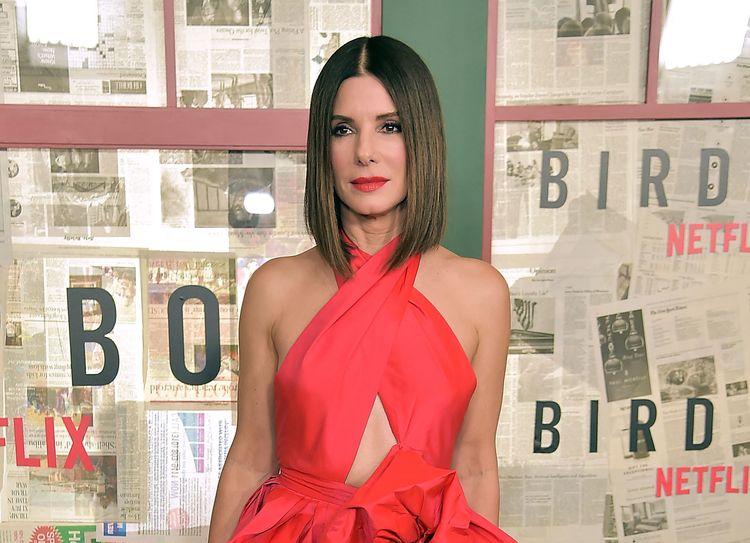 Another option for older women seeking a younger feminine vibe is the inverted bob cut. With many delicate layers, it keeps hair short and neat while simultaneously adding some additional volume.
The number of layers at differing lengths is key to rocking this haircut. While it may mean a visit to your hairdresser more often, the neat shape and appearance of this cut is to die for.
Try: Loose Waves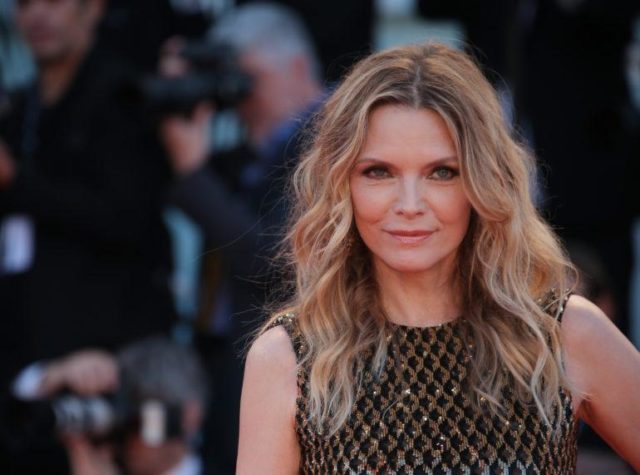 You don't have to be young to try out a loose wavy look – older women look and feel younger with this super fun style. The cut requires longer shoulder-length locks, which then fringe down the sides of the head.
Again, this is a great option for women with thin or fine hair. Added layers give this style a softer look than some of the sharper, more angular bobs, and the style can really help bangs stand out.
Try: Tapered Pixie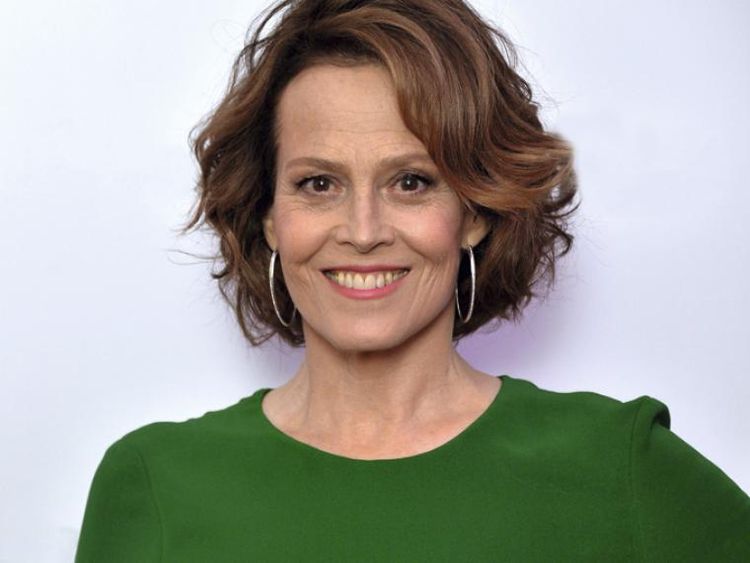 A tapered pixie cut includes bangs swept forward and to the side of the head. At the top of the head lie extra-long pieces of hair – when those pieces are tucked behind each ear, women can show off sideburns.
Tapered at the neck, the overall feel of the style is an overall relaxed one. Many older women that want the ease of a short haircut often feel more feminine when they adopt this specific style.
Try: Beachy Wave Look
Elizabeth Hurley has defied the aging process by wearing her hair as if she were years younger. Her beachy wave look is easy to recreate, involving taking individual sections of hair and curling them one by one.
In the process of curling, hair should be directed away from the face, and a texturizing spray should then be used in each section. To complete this hairstyle, one must brush their hair using their fingers.
Try: Medium Length w/Swoopy Layers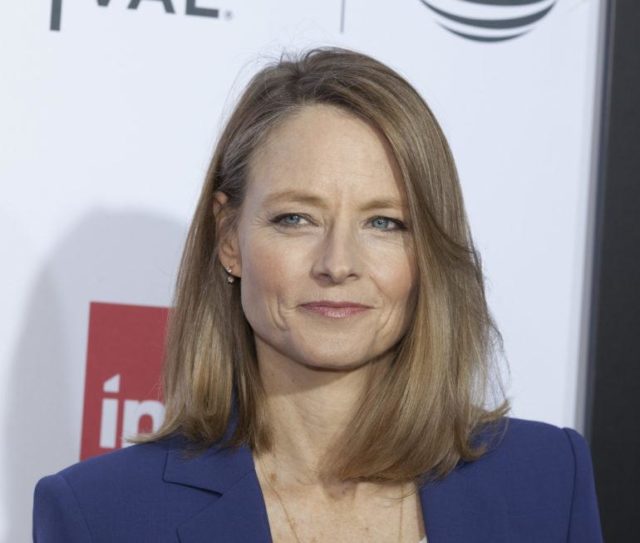 If short hair just isn't for you, this medium-length style is also fairly easy to maintain. An ideal choice for older women, this feminine cut especially complements ladies who have rounder faces.
While everyone wants to walk out the door looking and feeling good, not every woman wants to spend a ton of time working on their hair. If this describes you, this sweet, simple haircut may be just right for you.
Try: Close-Cropped Layered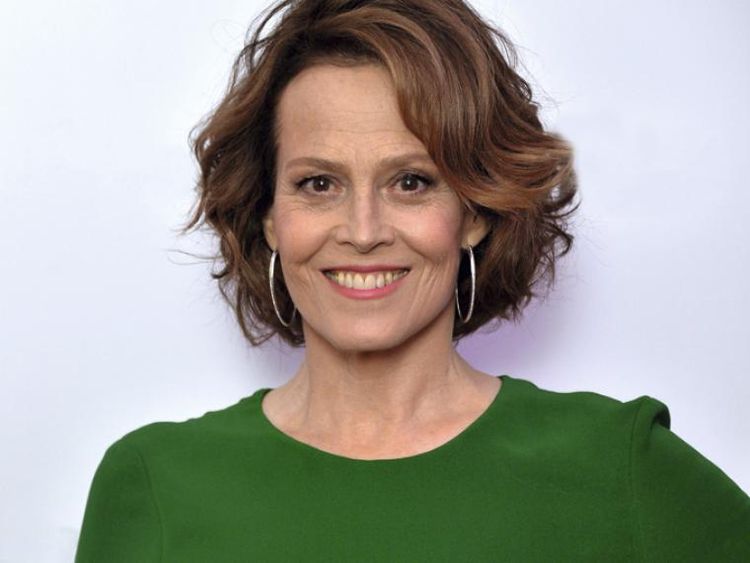 A close-cropped layered haircut is often one of the best choices for women attracted to short hair. The prominence of layers can easily catch eyes and differentiate from the sea of short styles available.
There's not much difference in maintenance regardless of whether you're going for a casual or formal look. The definition of this style makes it an attractive option, whether you're headed to the red carpet or the comfort of your couch.
Try: Medium Cut With Tailored Pieces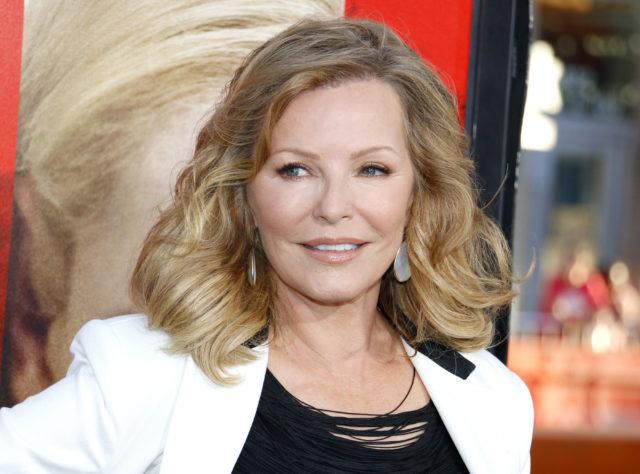 A medium cut with tailored pieces is also a fairly desirable style for an older generation of women. Layered pieces are paired with medium-length hair to create a great balanced style that's sure to flatter.
This hairstyle lets older women sport long bangs in a way that doesn't defy their age or get in the way. In addition, these bangs provide an effective way to hide any forehead and eye wrinkles.
Try: Full Textured Layer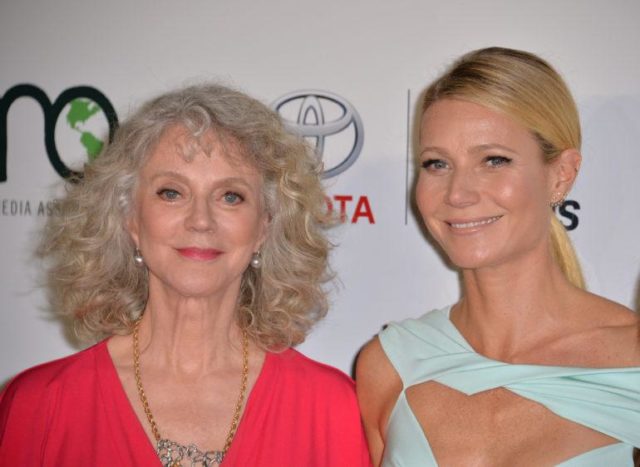 A full-textured layer hairstyle is ideal for older women with curly hair. While curls can sometimes be hard to work with, this cut has just enough layers to accommodate curliness in a way that's flattering.
This textured hairstyle pairs especially well with long bangs that can easily be swept to the side of the face. This allows the face to be more visible than it would be with many other hairstyles.
Try: Pixie Cut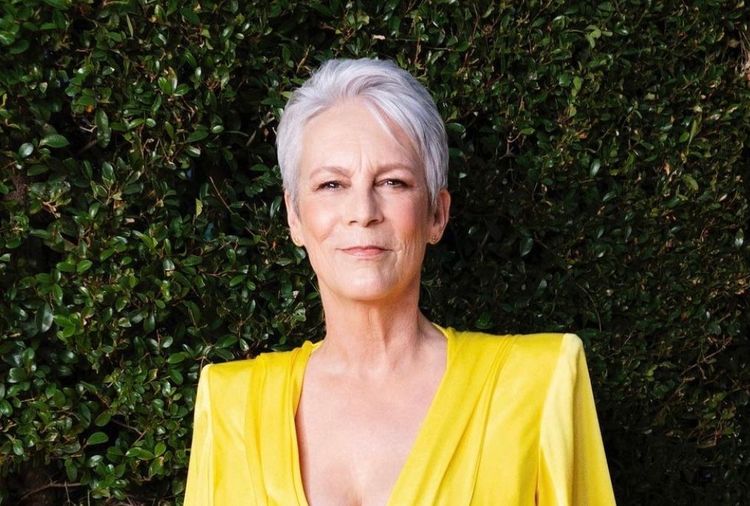 There's plenty to love about the classic pixie cut, and naturally, it's a style that older women gravitate toward. Its contours the face for a youthful appearance, its layers add body and dimensions, and it's easy to maintain!
All things considered, it's not surprising that this hairstyle's been en vogue since the mid-1970s. The short, affordable hairdo feels mature without being frumpy, making it likely to stay in style for years to come.
Try: Short Feathered Hairstyle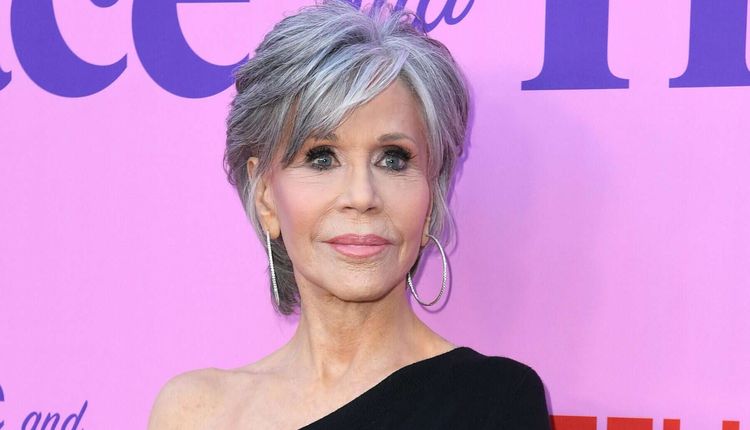 The short feathered hairstyle is also a look preferred by many because it effectively lifts the neckline and face. It includes tousled strands of hair, which keep the women sporting it feeling and looking young.
While the style can be sported in a fun, carefree way, it can also be worn tamely. To achieve this look, just try a standard blown out. By tucking the sides of the hair by the ears it transforms into a traditional bob style.
Try: Shoulder-Length With Layers
The classic shoulder-length cut complemented with multiple layers is a staple among older women. Once again, many flock to this style because the layers can help thin hair seem thicker than it actually is.
Some hairdressers claim that two layers are ideal for keeping this style easily maintainable. It's got all the great looks of voluptuous hair without the tangles and maintenance that often involves.
Try: Looping Curls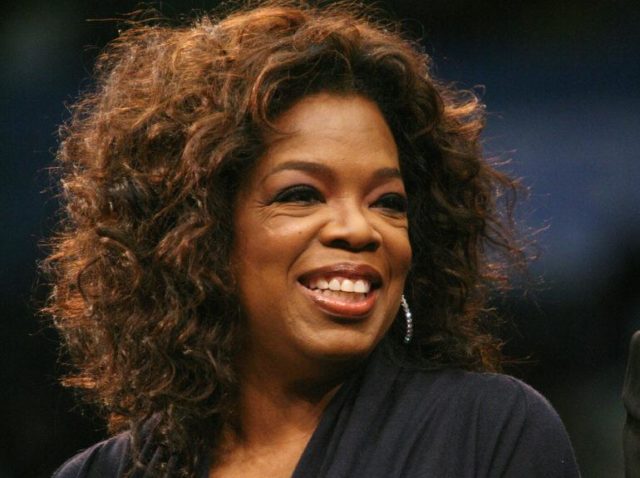 We love that looping curls don't require all the fuss that some other hairstyles demand. If you've got thinning hair (but lots of it), this is one way to keep it looking casual but presentable.
Rather than curling throughout the entire strand, these loose curls spiral at the end of each hair. It's a carefree look for women that are worried about coming off frumpy or uptight in their appearances.
Try: Perfect Blow Out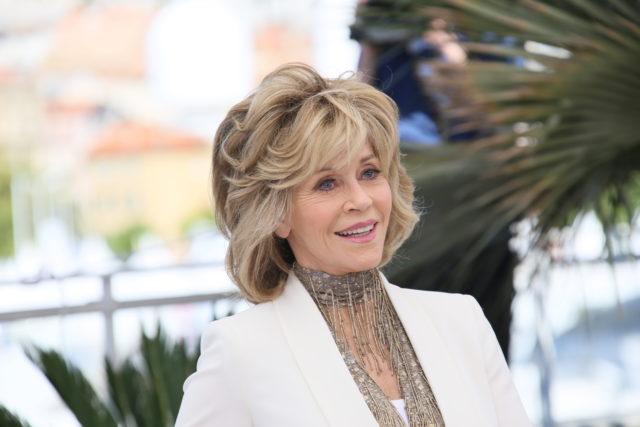 What could be more classic than a perfect blowout hairstyle? If you're especially brave and daring in your later years, you can further stand out from the crowd and spice it up with some extra color.
You can always go with something natural-looking, like an auburn or brunette with highlights. But, for the boldest, a bright purple or pink can pair perfectly with a carefully coifed blowout style.
Try: Soft Curls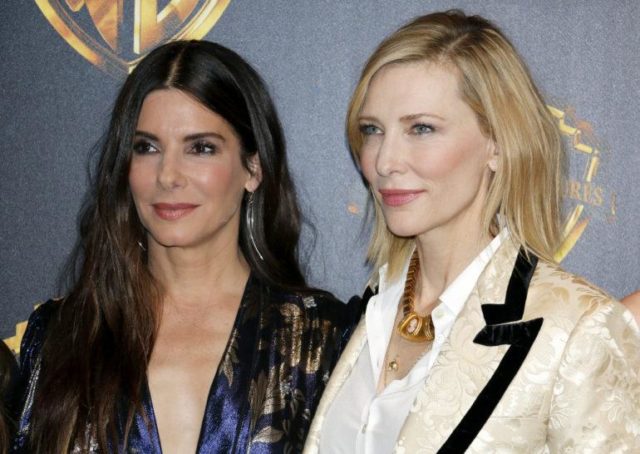 As you might expect, actress Sandra Bullock always keeps her hair looking stylish whenever she appears out in public. Oftentimes, she turns to the no-brainer, foolproof solution of a soft curl.
This look involves parting one's hair on their preferred side and using a curling wand on each section of hair until the entire head is done. To make the curls soft, all it takes is a simple brushing of the hair.
Try: Feather And Chin Length
Many feathery styles are a great way to get the most out of thinning hair. This particular chin-length hairdo benefits women that might not otherwise have much volume or thickness to work with.
Carefully cut layers angled just the right way can really prevent a woman's hair from appearing limp. In addition, the lifting of the hair's roots makes women look and feel younger than their years.
Try: Short Layered Cut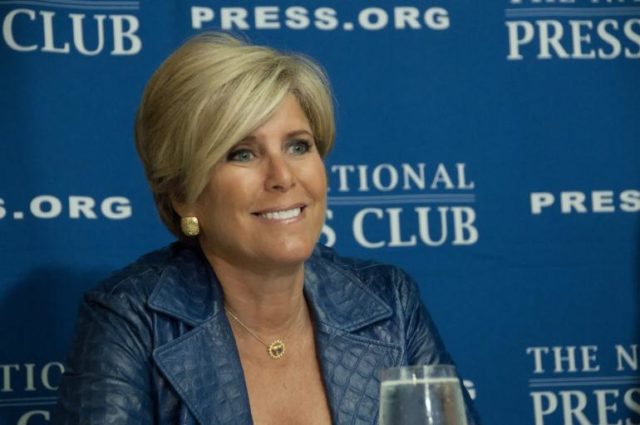 With a short layered haircut, maintaining style is always easy to do, which is partially what makes them so appealing to an older generation of women. A short style cut like this one helps older women feel younger again.
There's not a whole lot of fuss that goes into making this style work. It also avoids women having to use any hair accessories or products they may not want to be bothered with in older age.
Try: Chunky Waves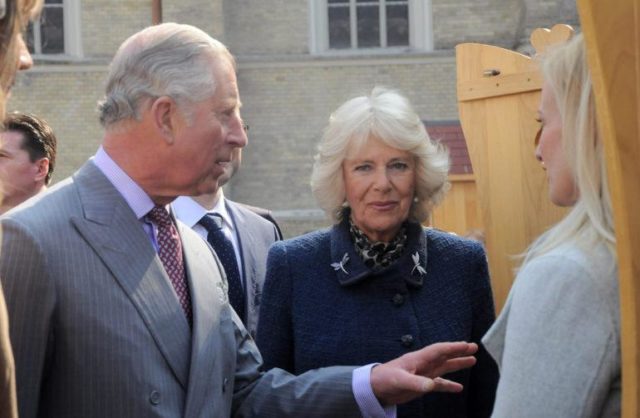 Chunk waves are another preferred style of many women with thinning hair. So long as you're working with medium-length hair and some long, sweeping bangs, this hairstyle is pretty easy to pull off.
In short, the appeal of this hair trend is the illusion of volume that it provides. The waves here look chunky enough that the average passerby sees a full mane, even if the hair is relatively fine or thin.
Try: Mid-Length With Bodybuilding Layers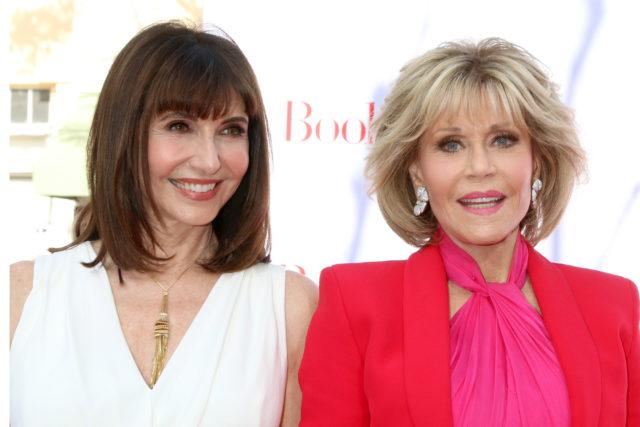 Not all older women are lucky enough to have voluminous hair. For those who don't, a great mid-length style with bodybuilding layers can work together to create a more voluptuous look.
This hairstyle goes well with bangs, something many older women lack. Maintaining this hairstyle is easy, only requiring tousling the long hairs, teasing the roots, and setting everything with hairspray.
Try: Overlapping Layers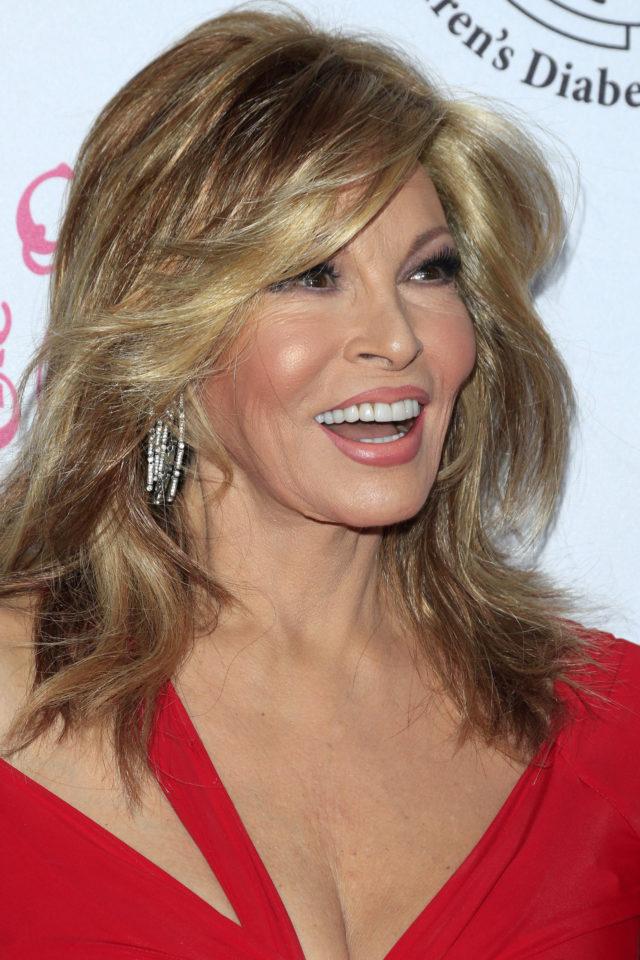 The mid-length hairstyle with overlapping layers is an excellent choice for many women over 50. With this length of hair, flow and movement need to be maintained to remain stylish rather than unkempt.
When layers of hair overlap, the effect is a fun wavy style that makes many women feel younger. Maintaining this haircut is easy to do, as the style can be achieved and preserved without a ton of effort.
Try: Voluminous Shag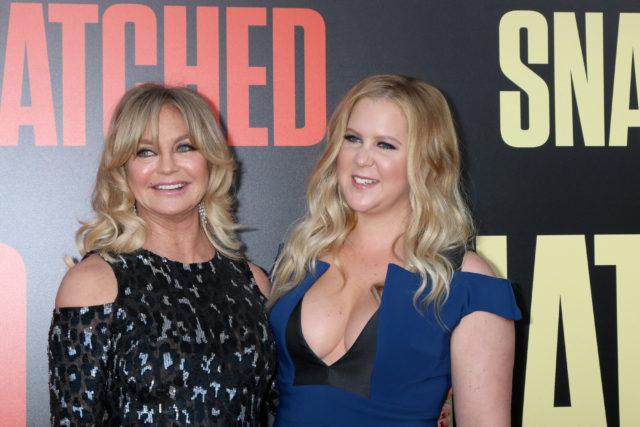 A new take on more traditional shag cuts, the voluminous shag is a modern-day hairstyle that many older women have embraced. This style is perfect for women who don't mind wearing their hair high and in a big way.
At the top of the head, this hairstyle is thick with heavy layers, then eases down and stops at the shoulders. It is conducive to wearing bangs thick, a simple part down the middle of the head creates an overall balanced style.
Try: Mid-Length Feather Style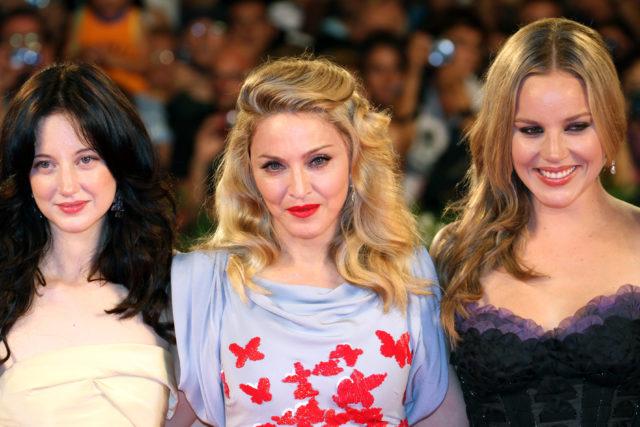 The mid-length feather style is a timeless look for older women, and it often helps women feel younger again. A shaggy style like this one is often associated with youth, but done correctly, it is effective for older women as well.
The hairstyle itself acts as a frame that complements every face shape as well as the neck. It's easy to doll up into a more sophisticated style, which most older women can really appreciate.
Try: Short & Curly Bob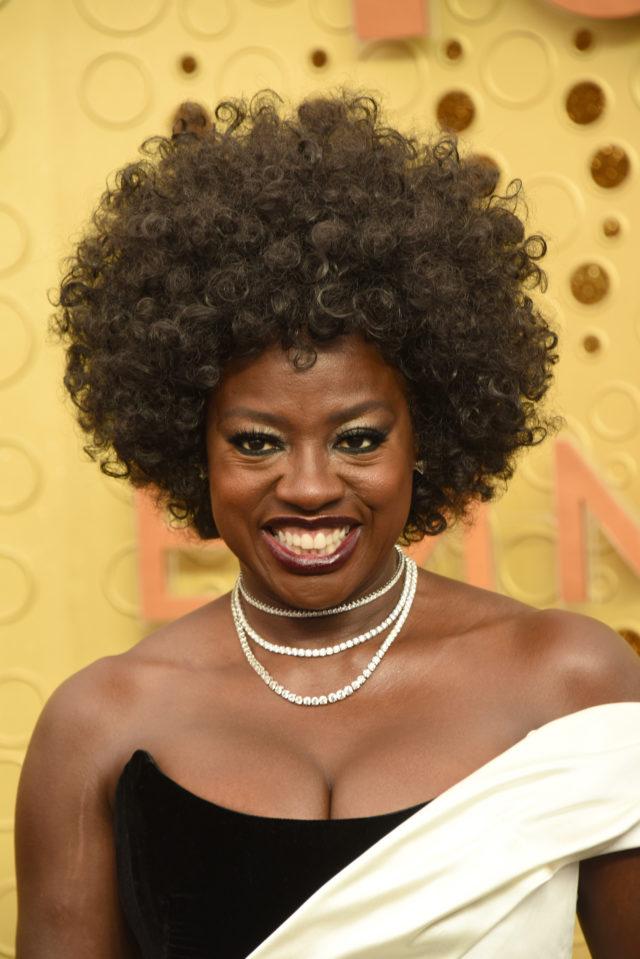 As we alluded to earlier, a short and curly bob can be a great choice for older women because it's a hairstyle easy to achieve and maintain. However, women should grow shorter hair to support this style.
I know, it seems counterintuitive to let the hair grow longer if you're seeking a short look. However, with the passing of time curls get shorter, so growing out the hair can help to counteract this.
Try: Classic Shag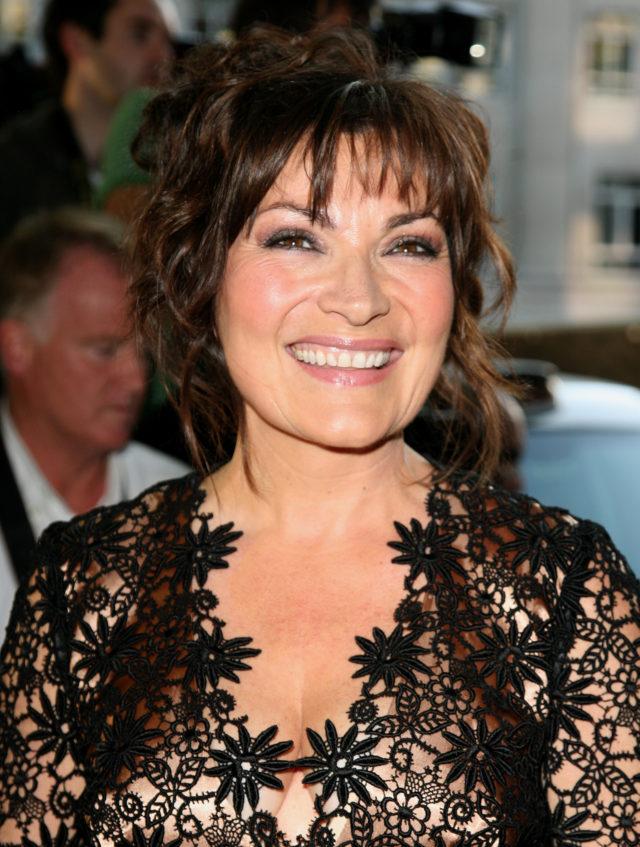 The classic shag hairstyle is one that always flatters older women – no matter the shape of her face, it's bound to complement. Women can keep their hair on the long side without looking like they are struggling to recapture youth.
A multitude of shaggy layers come together to form this particular hairstyle. It consistently adds texture to the hair, whether a woman chooses to keep her hair wavy, curly, or straight.
Try: The Carol Brady Style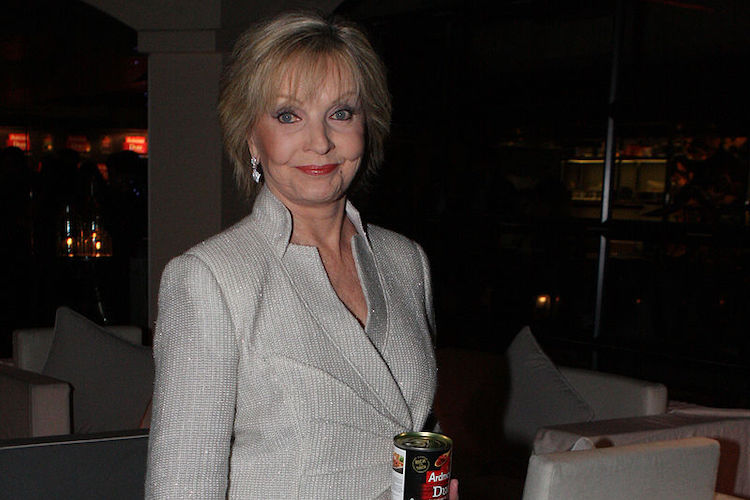 Many older women are tempted to emulate the hairstyle popularized by sitcom sweetheart Carol Brady during the original run of The Brady Bunch. This "mock" mullet looks flattering on most older women.
The hair at the top of the head is layered and voluminous with this short hairstyle. Meanwhile, the hair that falls at the nape of the neck is feathered, creating a much softer, more feminine look.
Try: Layer It Up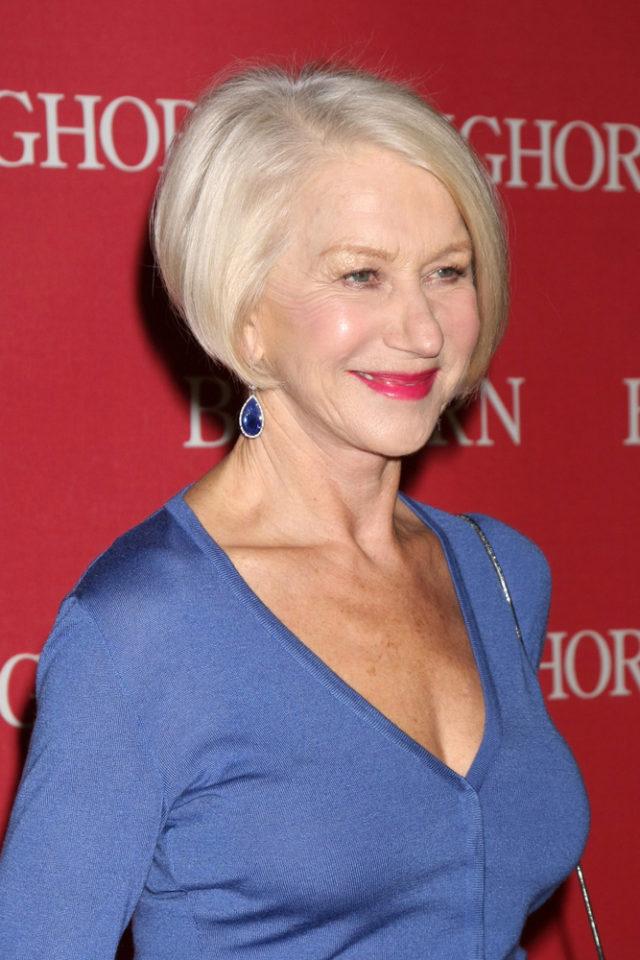 There are probably a million ways to rock a layered bob cut. As they age, many women gravitate towards layered hairstyles because many layers of short, thin hair create the illusion of a much fuller head.
On top of that, it just adds a little bit of life to the standard bob cut, making for a more visually appealing end result. Many older women feel younger than their years when they adopt this flattering style.
Try: More Pixie Style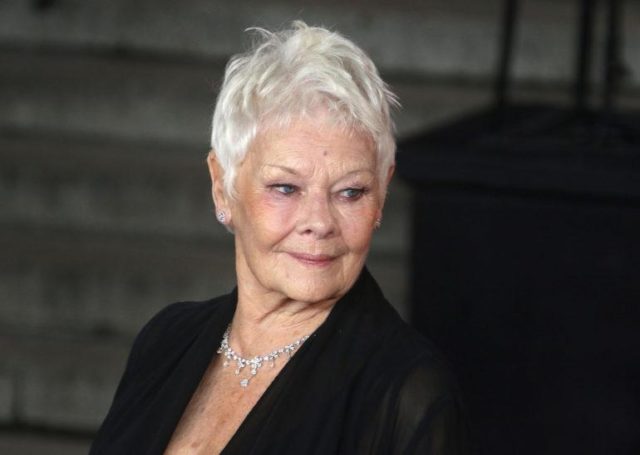 There are so many ways to customize a pixie cut, one of which is to merge bangs and the front layer of hair. This differs from most other female hairstyles as they generally keep bangs completely separate.
To achieve this particular style, pieces of the hair are razored, and certain strands of hair are pushed forward on one 's head. This cut technique helps create dynamic bangs that defy style norms.
Try: Rounded Bob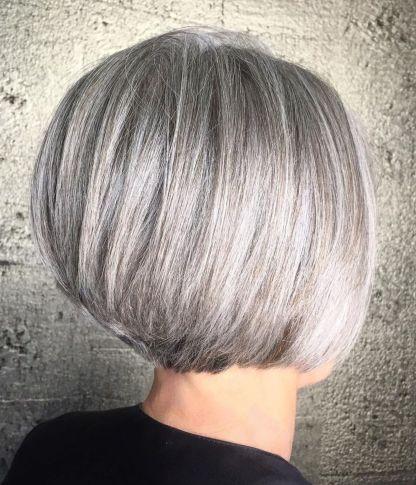 The rounded bob hairstyle is extremely popular among older women. By many, It is seen as a sophisticated and elegant look – but it also has the advantage of being a style that's very easy to maintain day-to-day!
Using a rounded brush and a blow-dryer, women can surround the crown of their head with their hair. This in turn gives their hair some height and creates additional volume for a much fuller look.
Try: Pixie Undercut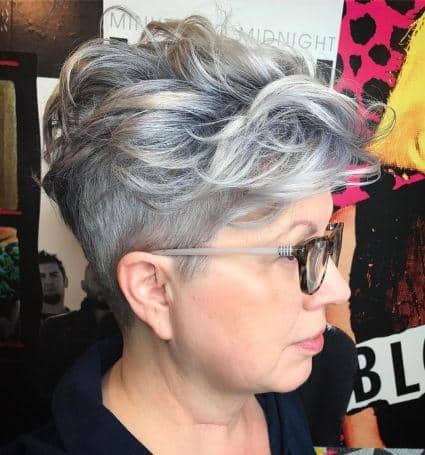 While the traditional pixie haircut is a timeless style, many older women choose to further dress it up with a nice undercut. Oftentimes, this wavy hairstyle gives older women a youthful look and feel.
The softness of those waves makes this the perfect hairstyle for older women who want to add some sassiness to their appearance. Furthermore, it provides a little playfulness and excitement to the standard pixie.
Try: Voluminous Feathered
The voluminous feathered look is, unsurprisingly, one that many older women favor. It is best suited for women who want to keep their hair short but also want to maintain a feminine appearance.
A boost of extra volume is added to hair when adopting this style. A soft and simple solution, this style is very easy to maintain and provides the appearance of a lush, full head of healthy hair.
Try: One-Length Bob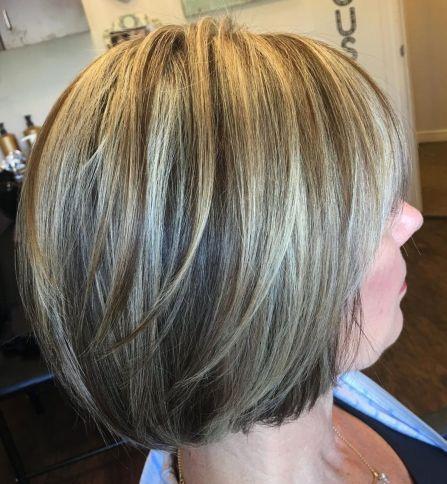 In addition to the rounded bob, the one-length bob is a fun and easy style for older women to embrace. This hairstyle only takes a few layers to pull off, making it a bit easier to maintain at the salon.
Those layers play a big role in shaping a woman's hairstyle. It provides many options that long hair isn't needed for – wavy, straight and curly hair can all be formed into a beautifully rounded bob.
Try: Sleek Lob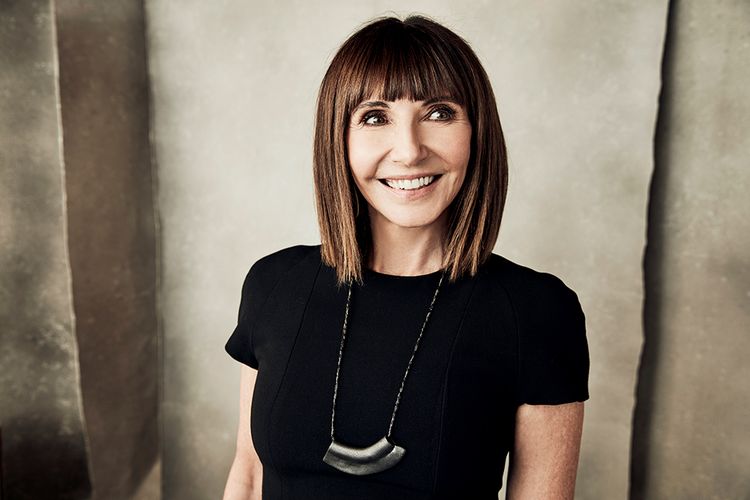 The sleek lob is a great way to resist aging and use your hair to feel a little bit younger. A straight bob with an edgy, modern look to it, never feels outdated and is always easy to put together.
To complete the style in full, pair it with some long bangs. Allowing hair to fall right at the top of the eyebrows harkens back to the retro (but not out of style!) mod haircuts of yesteryear.
Now that you've found the best hairstyles for women over 60, you probably won't be surprised to learn that many famous starlets have grown overwhelmed with hair-related decisions, and opted to just shave their hair off altogether. These are the most famous (and beautiful) shaved heads that have rolled through Hollywood…
Natalie Portman With Hair…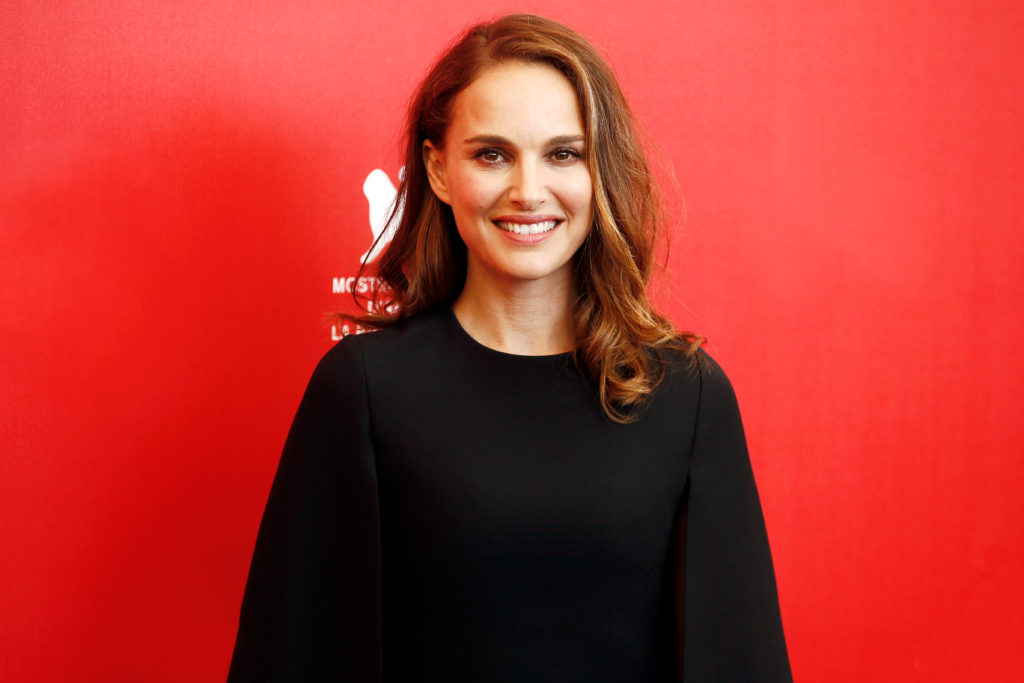 Natalie Portman has a reputation for being able to play any sort of role and her versatility as an actress is just one reason why she's become such a success. This Israeli-born actress has been involved in the entertainment industry since she was a teen, and has now evolved into a critically-acclaimed director and producer.
Starting on the stage at tender age of 12, her big breakout role was in the iconic Star Wars prequels where she played the role of Queen Amidala, love interest to Anakin Skywalker. She has since gone on to play a number of iconic roles such as Jackie Kennedy in Jackie.
Natalie Portman's Shaved Head
The depth and breadth of Portman's acting abilities have placed her in the best hair/makeup chairs in the industry; she has pulled off many unique looks during her time onscreen, making even the most fantastic character engaging and relatable.
Playing Evie Hammond in V For Vendetta came with a requirement–she had to shave her head as she emancipated herself from government control. She loved the liberating feeling that less-is-more gave her, and sported the look for quite some time after film production wrapped.
Sigourney Weaver With Hair…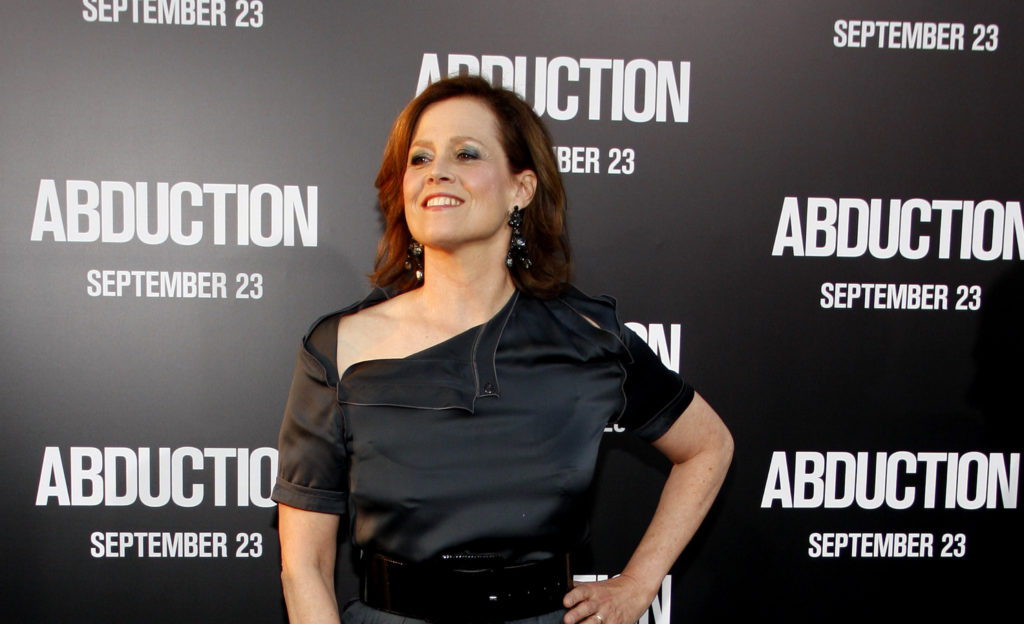 Sigourney Weaver is perhaps best known for her portrayal of Ellen Ripley in the terrifying Alien movies. She is known as a true pioneer of female heroines for action, with the Aliens franchise being iconic as the female lead in action thrillers.
Weaver is a seven-time Golden Globe nominee, and she scored Best Actress in a drama and Best Supporting Actress for her work in Gorillas In The Mist and Working Girl. She also has an impressive list of Broadway credits that have earned her Tony Award recognition.
Sigourney Weaver's Shaved Head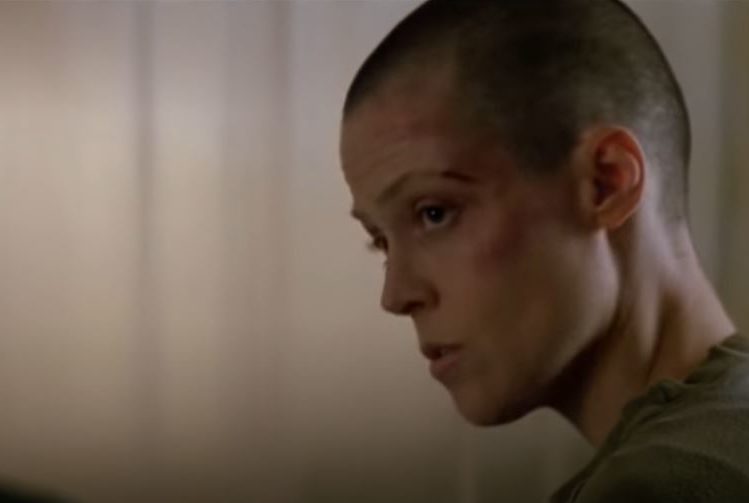 As Sigourney slipped into the role for a third film in the Alien series, she embodied the character of Ellen Ripley, taking on the tough, shaven persona as she fought otherworldly adversaries on the prison planet of Fiorina 161.
Rumor has it that Weaver enjoyed her clean look so much that she kept it clean shaven long after the five-month shoot wrapped up. Regardless of how she decides to express her unique style, we think she looks fabulous.
Charlize Theron With Hair…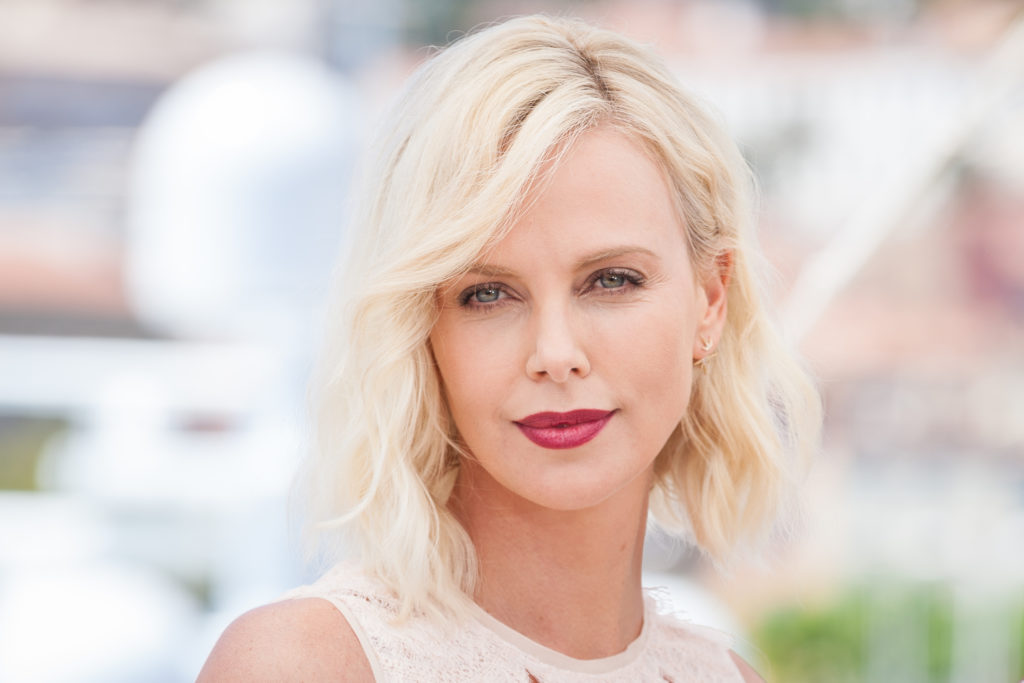 Stunning Charlize Theron is a South-African and American actress and producer that rose to prominence in the mid-90s with her roles in The Devil's Advocate, Mighty Joe Young, and Cider House Rules.
Her performances have earned her numerous accolades and awards, including an Academy Award for Best Actress for her role in Monster, where she plays the role of serial killer Aileen Wuornos with chilling intensity.
Charlize Theron's Shaved Head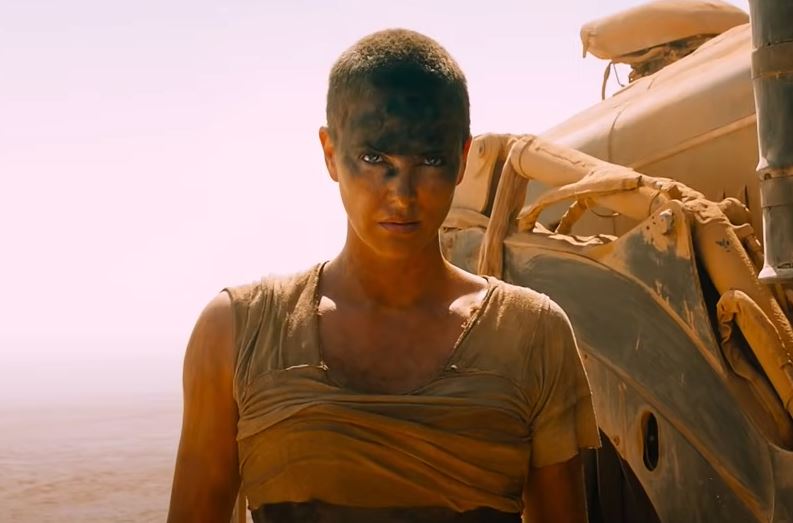 No stranger to making herself look vastly different for a role, Charlize had previously shaved her eyebrows and worn prosthetic teeth to portray Wuornos in Monster, so a nearly-shaven head for 2015's Mad Max: Fury Road was no challenge at all.
Charlize won over the fans of action films in the non-stop thrill ride. Set in a post-apocalyptic wasteland, she plays Furiosa in the film to critical acclaim. In fact, a prequel about her character is in production, but Theron will not reprising her role.
Karen Gillan With Hair…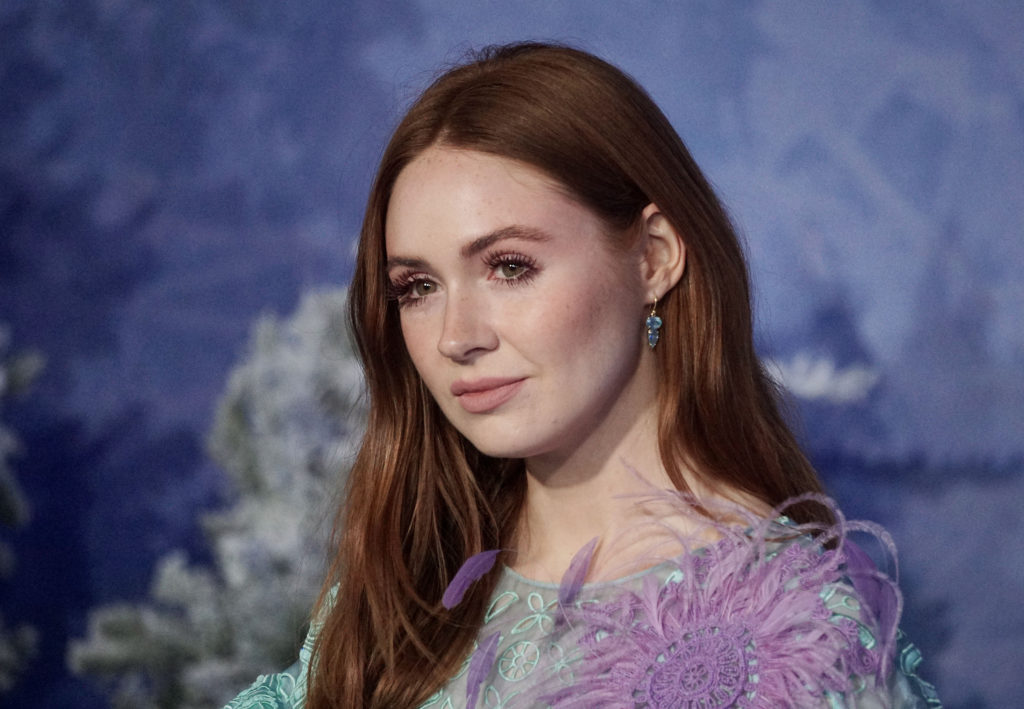 Karen Gillan, a Scottish actress and filmmaker, gained worldwide recognition for her work in British film and television. Her work on the science fiction series Doctor Who earned her several award nominations and accolades.
Gillan rose to international recognition by portraying Nebula in the Guardians Of The Galaxy series, one of the highest grossing films of all time. She used her prowess to increase her involvement as a writer, director, and headliner in several other films.
Karen Gillan's Shaved Head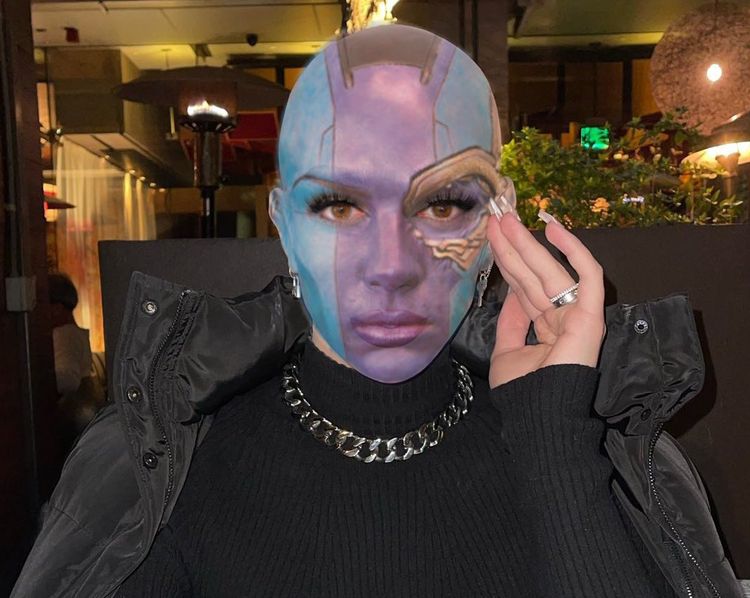 Though none of her other roles required as dramatic a transformation as Nebula, Gillan rises to the occasion as she considers what each performance will require and how it will change how audiences perceive her.
When first attaining the role, she wasn't too excited about shaving her hair to play under heavy stage makeup, but has since embraced baring all. This dramatic yet beautiful portrayal of such a strong female character has impacted audiences far and wide.
Evangeline Lilly With Hair…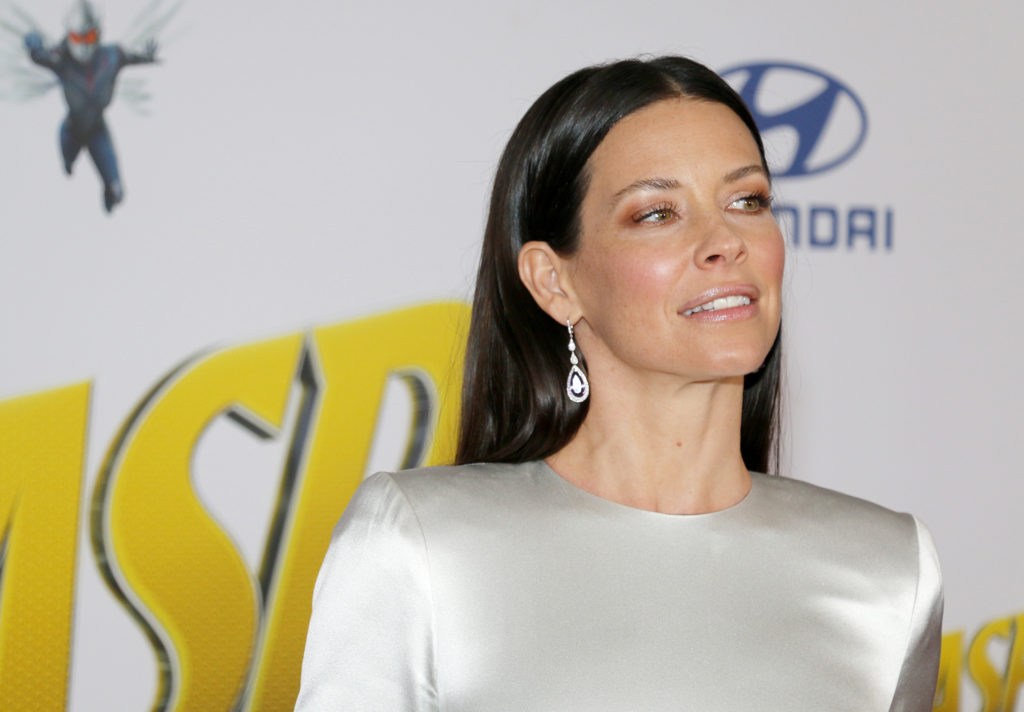 Evangeline Lilly is a Golden Globe winner for her role as Kate Austen in ABC's Lost. Her film and television credits aren't limited to that series, however; she has also appeared in films such as The Hurt Locker, The Hobbit, and Ant-Man.
Born and raised in British Columbia, Evangeline had no thoughts of fame and fortune until she was discovered by a Ford modeling agency rep while chilling with friends. When she finally followed up with them, she landed several roles in commercials and television almost immediately.
Evangeline Lilly's Shaved Head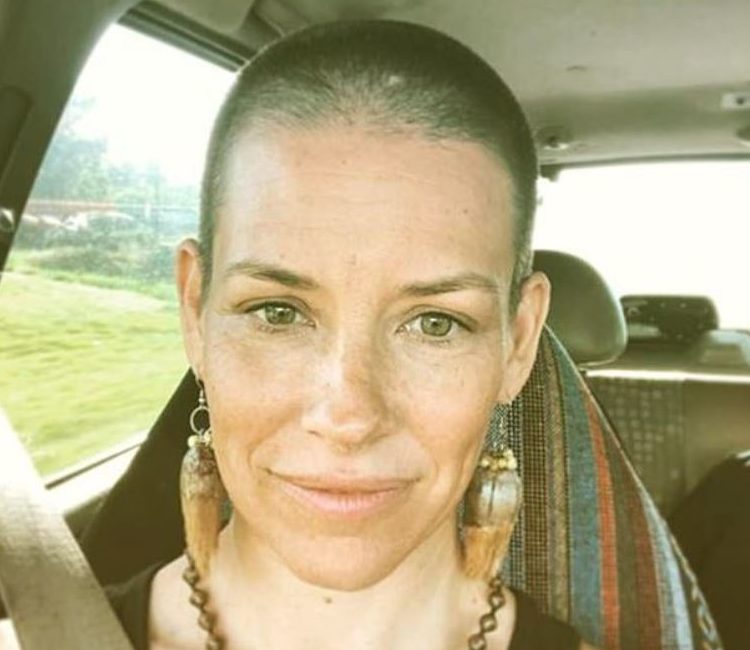 Her natural talent and onscreen charisma led to several profitable roles, including her time on the hit television series Lost.  The speed at which she seemed to be ascending in the entertainment industry was almost too much for her, and she felt she needed to distance herself from media exposure.
And just like that, her wavy chestnut locks went from cascading to fading; she now rocks the bald look with more flair than most, and is working on both onscreen and off-screen pursuits at a much more leisurely pace.
Demi Moore With Hair…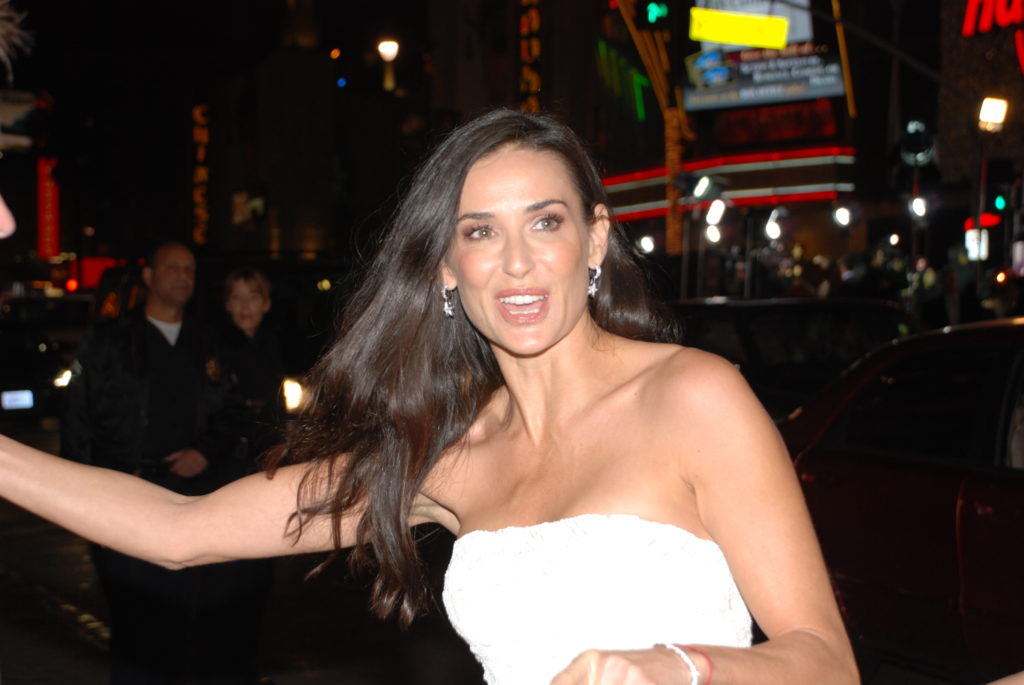 Demi Moore is one of America's most-loved onscreen sweethearts; her impressive list of film and television credentials is testament to her talent, and audiences across the world enjoy the quality and versatility that she adds to her roles.
Starting with a debut on General Hospital in 1981, Demi quickly gained recognition as a member of the "Brat Pack" alongside other eighties stars such as Emilio Estevez, Rob Lowe, and Andrew McCartney.
Demi Moore's Shaved Head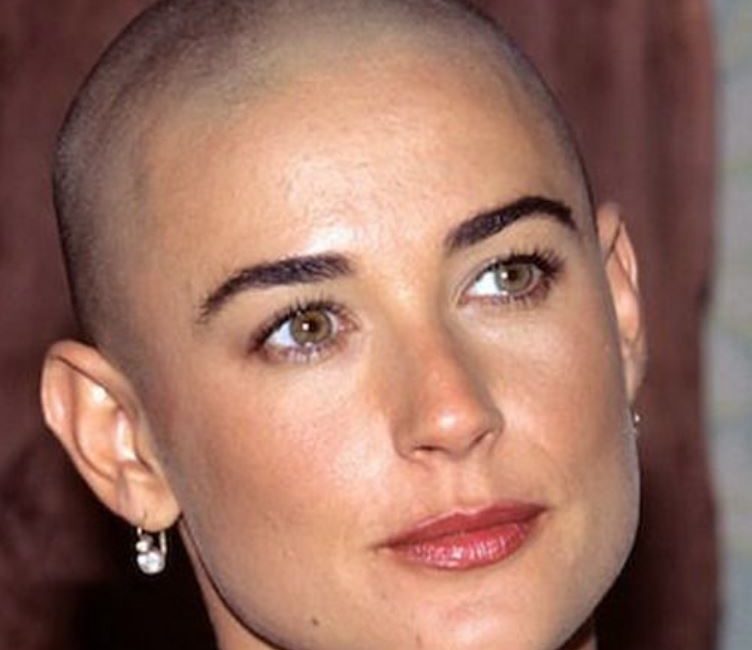 Edgier work came her way as her style and talent evolved, and she took on roles in Ghost and Striptease, which spurred her on to even more daring and provocative roles, each one with dramatically different presentation.
Nothing screams feminine power quite like a shaven head: Demi Moore bared it all for her role in the 1997 hit film, G.I. Jane. One particular scene in the film has Moore's character grabbing a razor and boldly shaving her head in an attempt to make it as a Navy SEAL.
Willow Smith With Hair…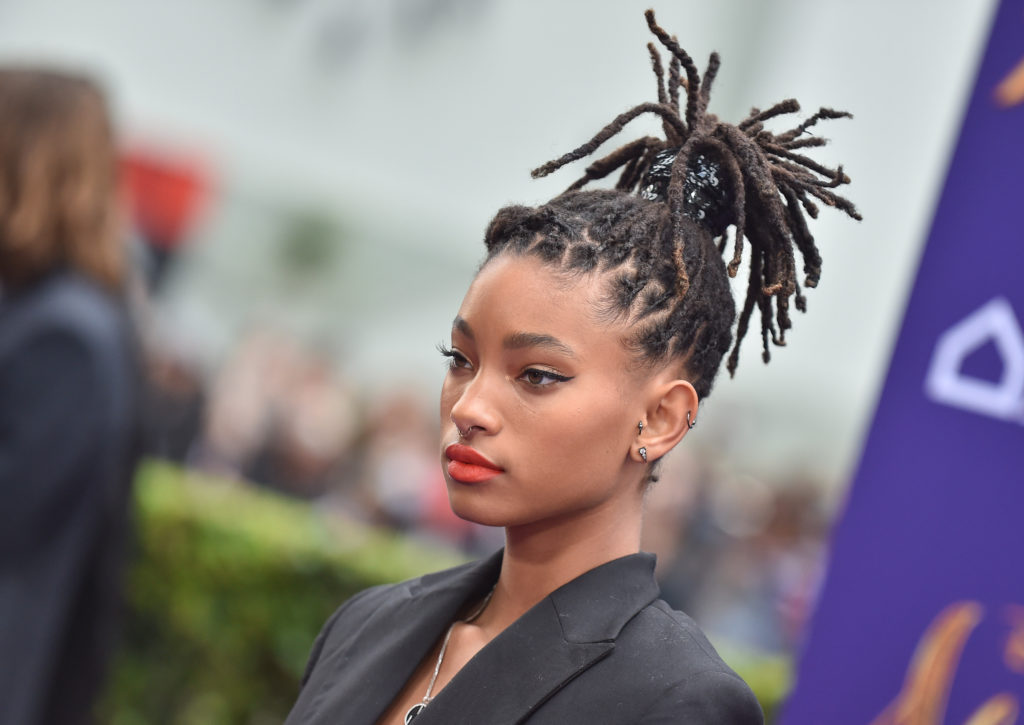 Growing up in the public spotlight with two famous Hollywood stars as parents has both advantages, and drawbacks, as Willow Smith knows. She has managed to carve out a unique space in the entertainment industry independent of her parents.
Willow enjoys success these days as an actress, musician, rapper and songwriter. She debuted alongside her father in the 2007 film, I Am Legend and earned critical acclaim for her performance.  She followed her passions into the recording studio under the direction of mentor Jay-Z to release her first single, "Whip My Hair."
Willow Smith's Shaved Head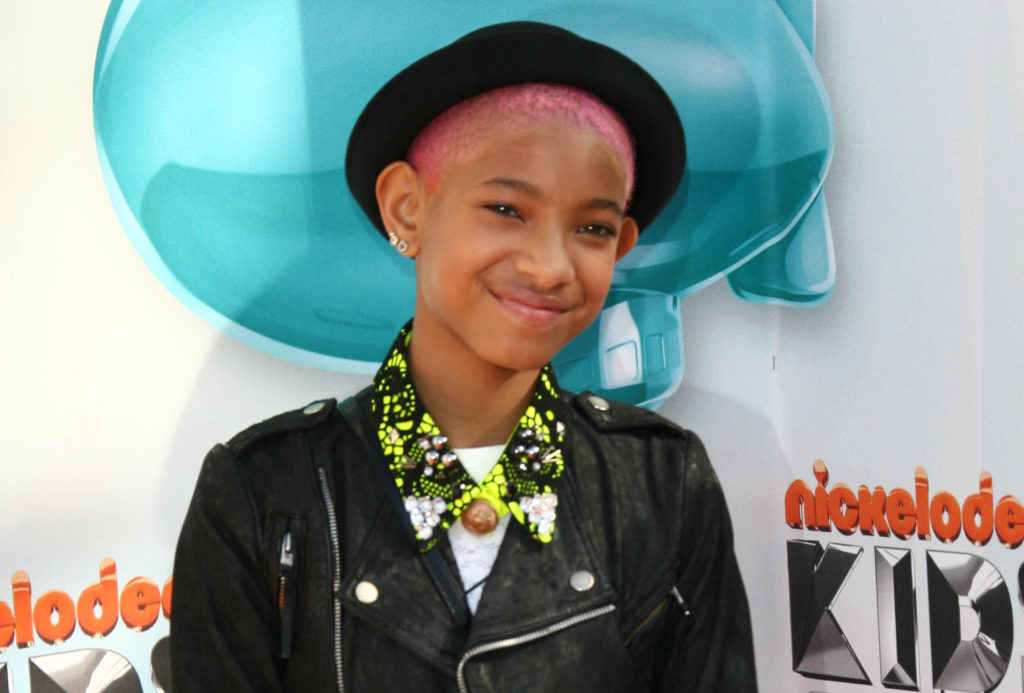 Her rapidly-rising star caused its fair share of struggles for young Willow; she admits she's struggled with anxiety and depression for a number of years. The undercurrent of emotion came to a head during her performances, and she wanted to make a change.
Smith had boyfriend Tyler Cole shave her head as a symbol that she was ready to leave the past behind. She has chosen to rock the new short 'do' as a representation of choosing new experiences and adopting healthier ways of living.
Cynthia Nixon With Hair…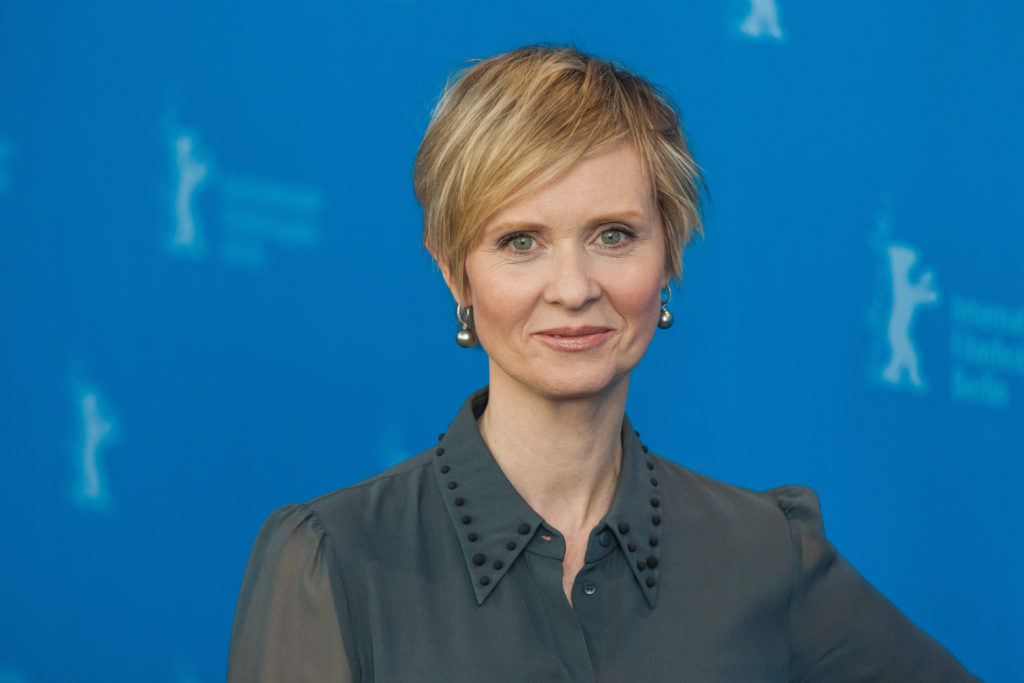 Cynthia Nixon elevated redheads everywhere to new levels of sexiness with her portrayal of Miranda Hobbs on Sex And The City. Unbeknownst to many, her acting credits started with some austere work on Broadway in productions such as The Philadelphia Story and The Real Thing.
Nixon's ambitions stretch far beyond the stage; in 2018 she appeared on the ballot opposite Andrew Cuomo for governor of New York. Her solid platform brought to light issues such as income inequality, renewable energy, and universal healthcare.
Cynthia Nixon's Shaved Head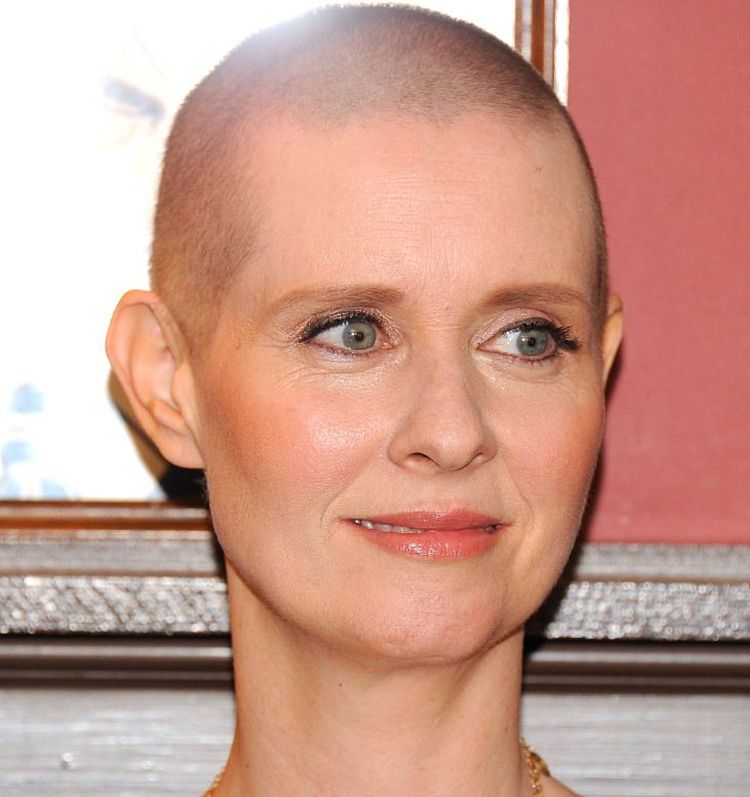 While acting in the play Wit, Nixon made a courageous decision to jump into character Vivian Bearing, a poetry professor stricken with cancer.  Following in the footsteps of fellow actress Judith Light, who also played the role, Nixon shaved her head to add authenticity to the role.
In an interview done with Kelly Ripa, Nixon explained why the role struck a chord with her. Being diagnosed with breast cancer herself as recently as 2006, she knows well the ins and outs of treatment and all the emotional upheaval that comes with healing. She is grateful for the opportunity to represent the strength of other women with similar stories.
Amber Rose With Hair…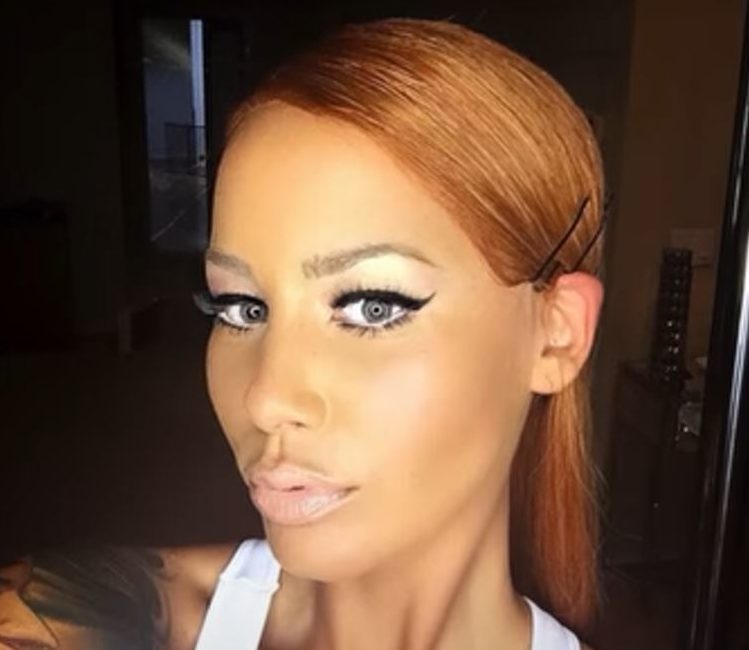 Amber Rose has a rebellious spirit, and it's serving her well. She reportedly took on the role of caregiver shortly after her parents' divorce; under the pseudonym "Paris," she was rumored to have taken up stripping to help pay the bills for her family.
All that ambition earned her the attention of rapper Kanye West; he cast her for appearances in Young Jeezy and his 2008 video entitled "Put On." After numerous appearances for artists like Ludacris and Wiz Khalifa, she signed with Ford Models in 2009.
Amber Rose's Shaved Head
Taking her inspiration from Sinead O'Connor, she wanted to make a demonstration to others that she valued strength and individuality. She adopted the shaved look when she was younger, and rocked her signature blond buzz for 14 years before changing it up.
These days, Amber vacillates between her signature buzz cut and other hairstyles; experimenting with everything from a slicked back blonde bob to long auburn locks, there's no telling what she'll throw at us next.
Sinead O'Connor With Hair…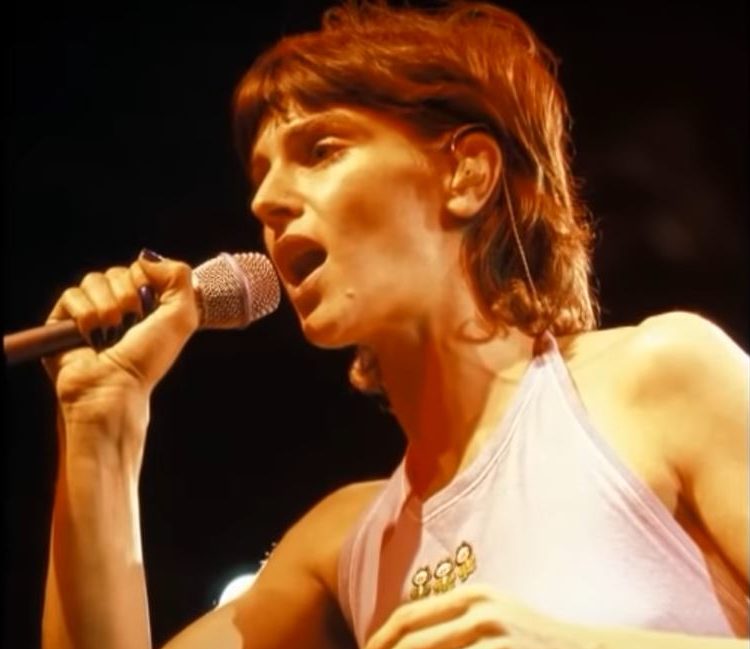 Sinead O'Connor had dreams of stardom from an early age, but her mother, who suffered from mental illness, had mistreated her daughter. But the artist persevered, and had a career making music and transforming her unique life views into a big name in the 80s and 90s. Her infamous appearance on Saturday Night Live when she tore up a picture of the Pope on air, shocked viewers.
Her debut album, The Lion And The Cobra, was released in 1987, and it contained the single that would later become the number one world single in 1990. "Nothing Compares 2 U" stayed at the top of the charts for months after its release.
Sinead O'Connor's Shaved Head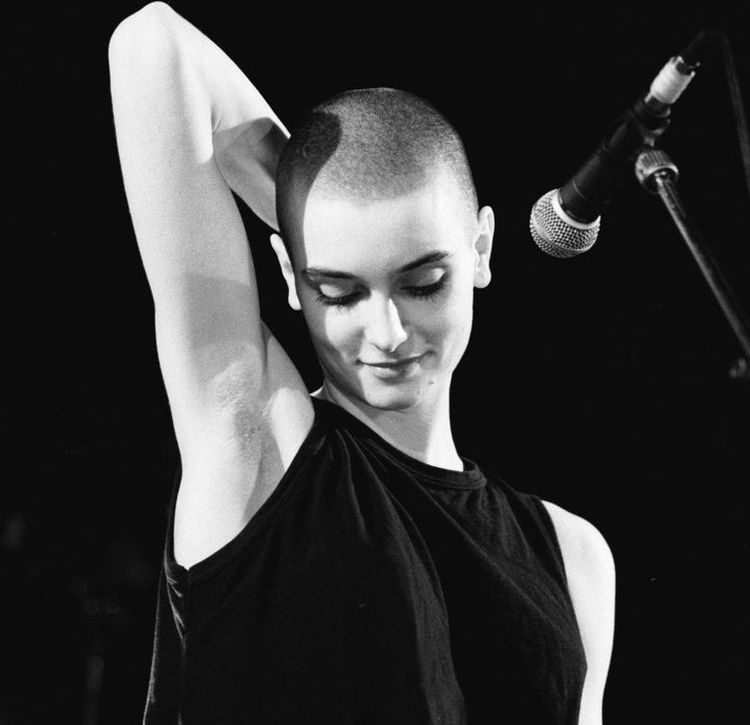 Realizing quite quickly how her appearance impacted how she was received as an artist, O'Connor was disillusioned by several record executives with less than honorable motives. She was looking to sign with a label who recognized her as a true musical innovator.
After being targeted as a sex symbol on her rise to the top, Sinead made a bold move to shave her head, insisting that she prosper on musical merit. She believed that making herself more unattractive would protect her from anyone looking to take advantage of young women in the industry.
Tilda Swinton With Hair…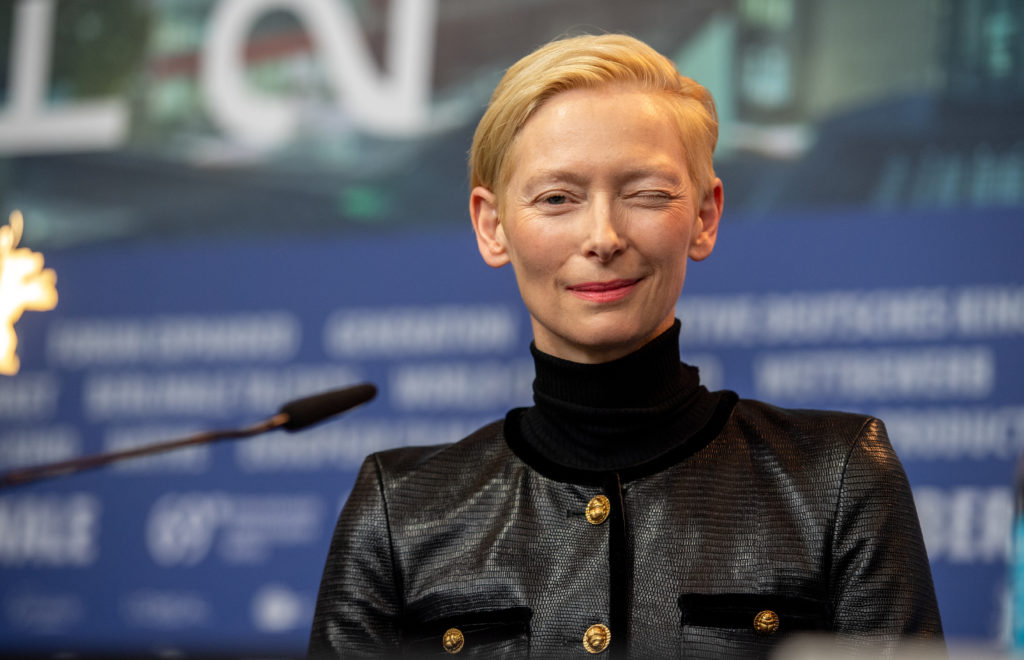 Katherine Matilda Swinton is a Scottish actress with a distinctive look and an equally distinctive performing career; she has won numerous awards for her work. She began her career with experimental films such as Caravaggio, War Requiem, and The Garden. After scoring some accolades for her performance, she broke into mainstream entertainment.
Her performance in The Deep End earned her a Golden Globe Award and paved the way for opportunities to shine in Vanilla Sky and Constantine. Swinton sealed the deal on fame with her iconic performance as the White Witch in The Chronicles Of Narnia.
Tilda Swinton's Shaved Head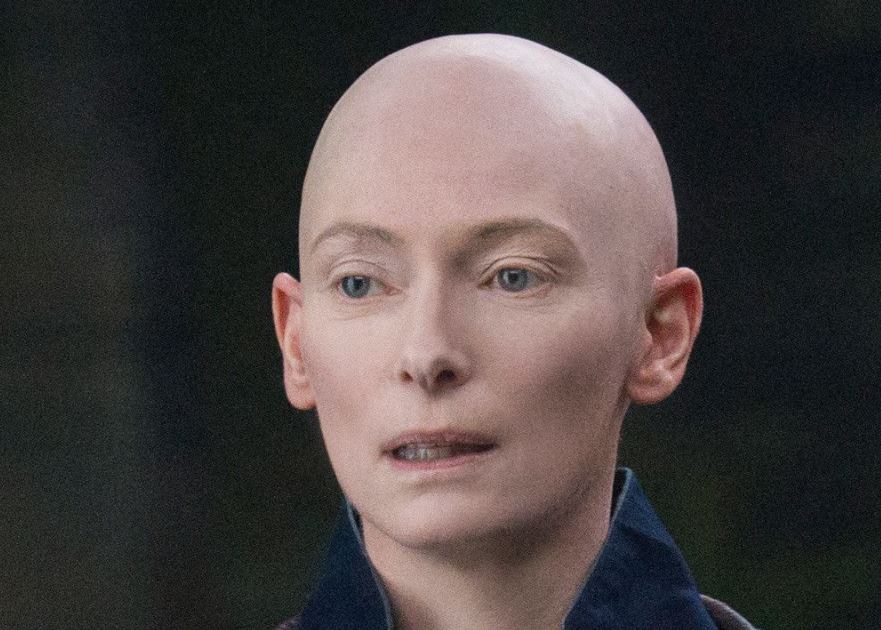 Swinton has always had a penchant for all things quirky and outlandish; her unique appearance and ethereal beauty have contributed to some fantastic characters throughout her career. In one of her most stunning performances yet, Swinton joined forces with Marvel to create The Ancient One for their film series.
In her role as The Ancient One in Doctor Strange, Swinton stretches her acting capabilities to their limits as she embraces both an other-worldly personality and a completely bald head. She is widely recognized and celebrated for her contribution to this character.
Halle Berry With Hair…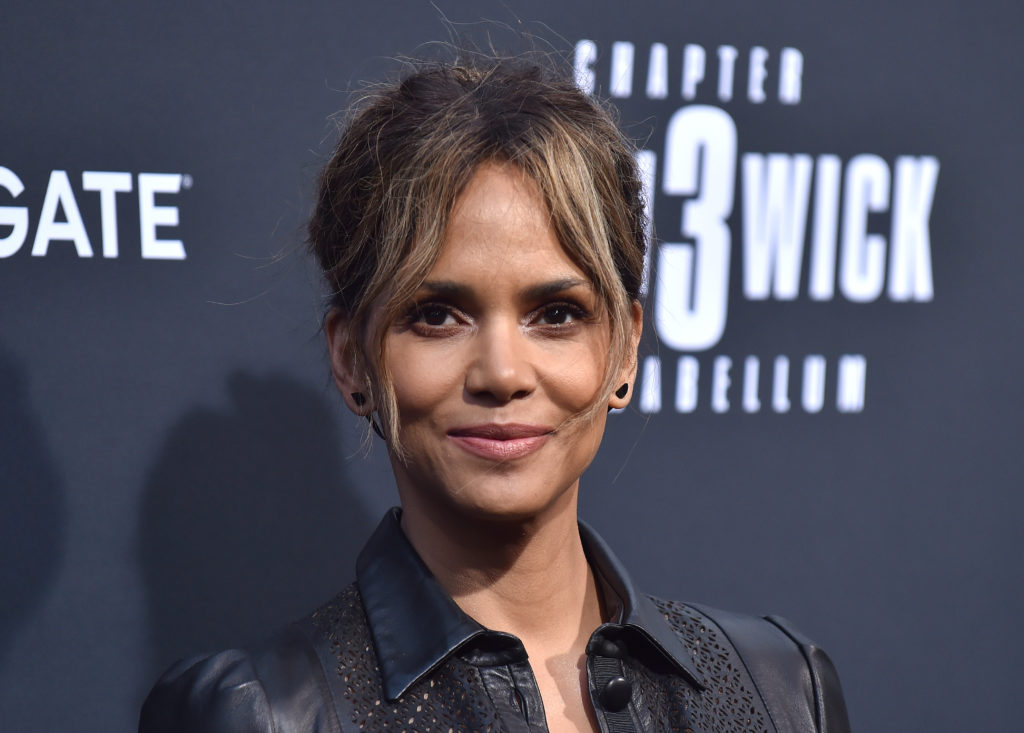 Halle Berry got her start as a model, competing in both the Miss USA and Miss World pageants before she landed a breakthrough role in the 1980s movie Boomerang alongside Eddie Murphy.
A number of serendipitous acting opportunities and a few great co-stars later, and Berry has been a staple in Hollywood for several decades. An Academy Award for Best Actress in Monster's Ball and appearances as a Bond girl in Die Another Day, as well as a role in the X-Men movie series, she's proven her versatility as an actress.
Halle Berry's Shaved Head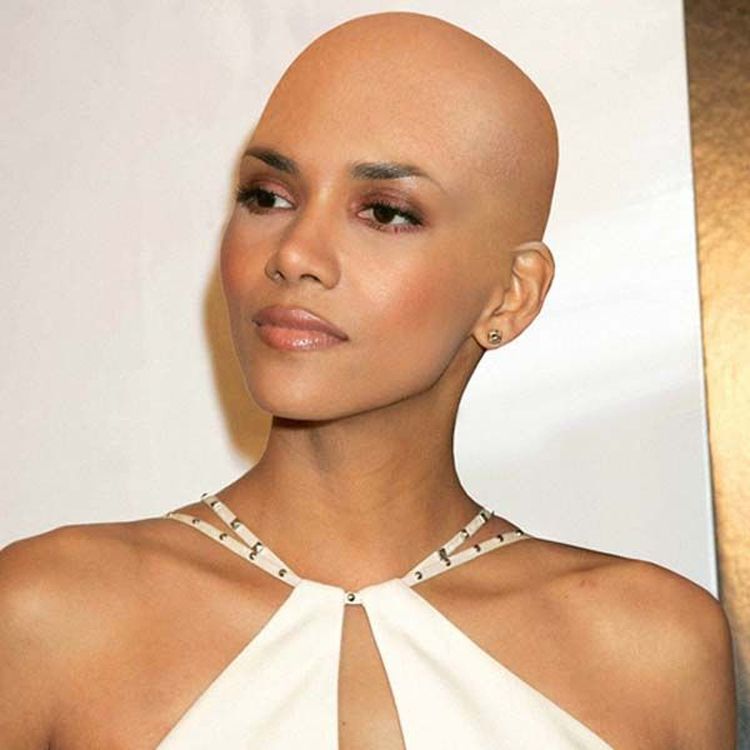 Like many millions in 2020, quarantine was a tough go for Halle and her family. They kept sane by taking family walks, swimming daily in their pool, and scheduling family social activities to freshen things up a bit.
Unfortunately, all this swimming took a toll on her daughter Nahla's hair; despite their many attempts to save her chlorinated locks, Halle ended up shaving Nahla's hair to restore its health. In a touching show of solidarity, she took off her own as well.
Solange Knowles With Hair…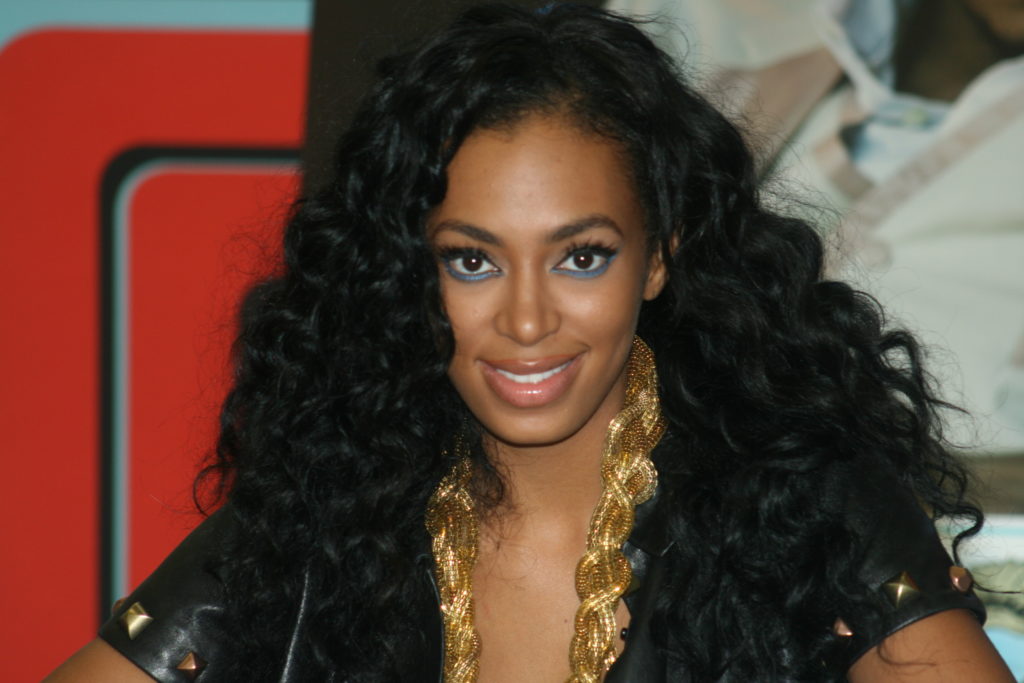 Solange Knowles likes her share of the limelight, but she isn't so crazy about being constantly compared to her starlet sister, Beyonce. Despite being known as the "quieter" sister, many fans don't know what an integral role she played in the success of Beyonce's musical group, Destiny's Child.
Solange has been a successful recording artist and performer in her own right since the release of her debut album, Solo Star, in 2002. After trying some acting roles from 2004-2007, she decided that her passions lay in singing and songwriting; she's shined in that arena ever since.
Solange Knowles' Shaved Head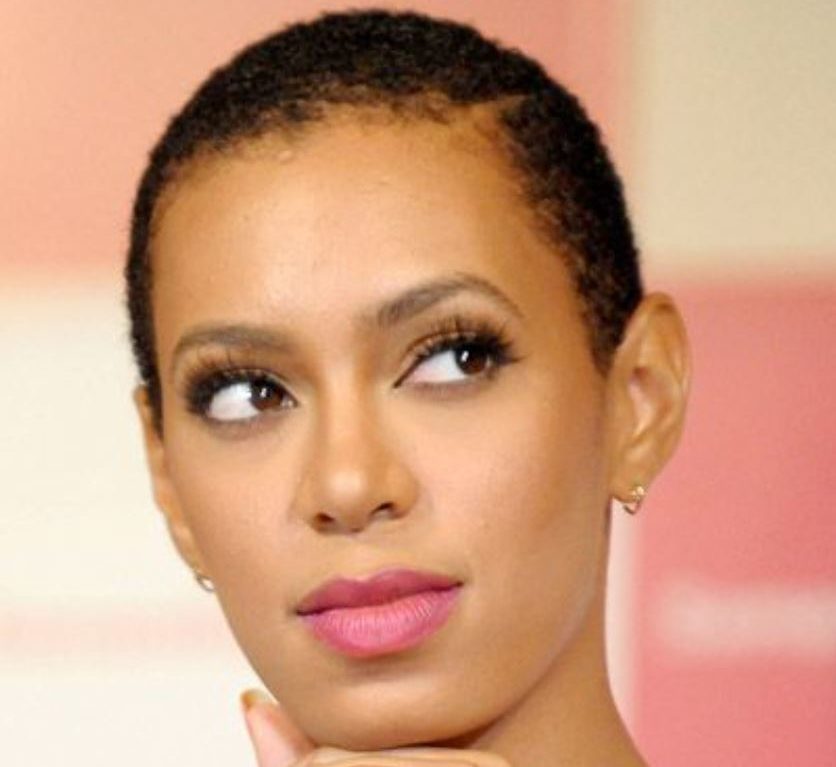 With all of the success that she has achieved independent of her famous sister, Solange still feels that she lives in Beyonce's shadow. She grew tired of answering interview questions related to Beyonce's activities and achievements.
In the ultimate show of distinction and independence, Solange followed through on a threat made public when she shaved her head completely. She has been rocking the short do ever since, continuing to be an active and formidable force in entertainment and fashion.
Cate Blanchett With Hair…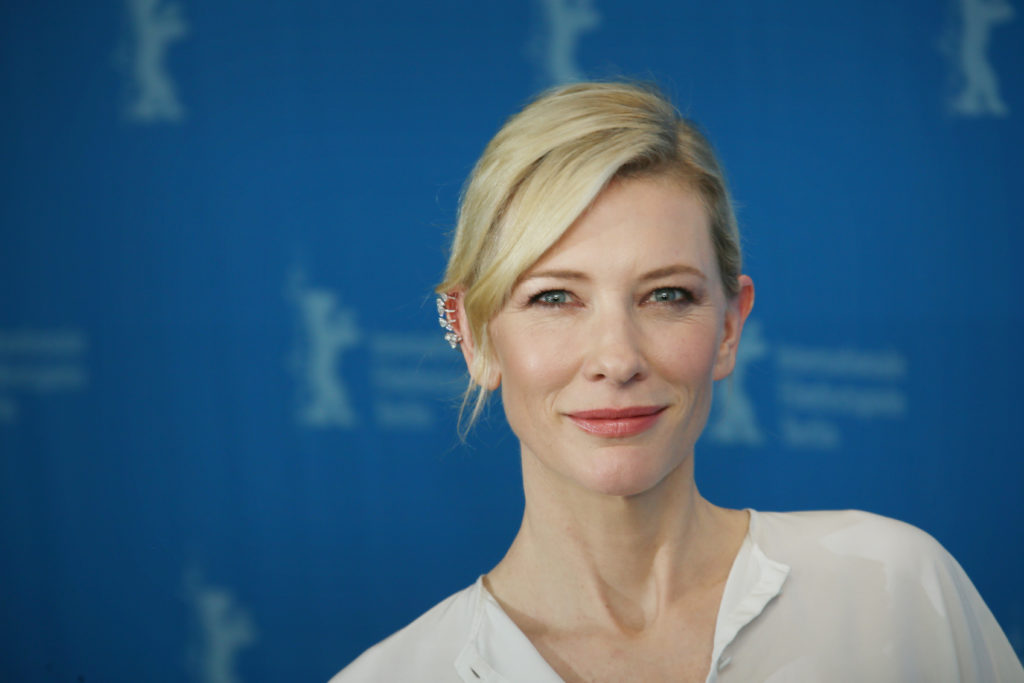 Cate Blanchett is highly regarded as one of the best actresses of her time. Noted for roles in blockbusters, indie films, and on stage, she has received numerous awards, including two Academy Awards, three Golden Globes, and Screen Actors Guild recognition.
After a debut on the Australian stage, she rose to international attention for her portrayal of the queen in Elizabeth. Other roles in The Aviator and The Lord Of The Rings trilogy make her a highly sought after talent.
Cate Blanchett's Shaved Head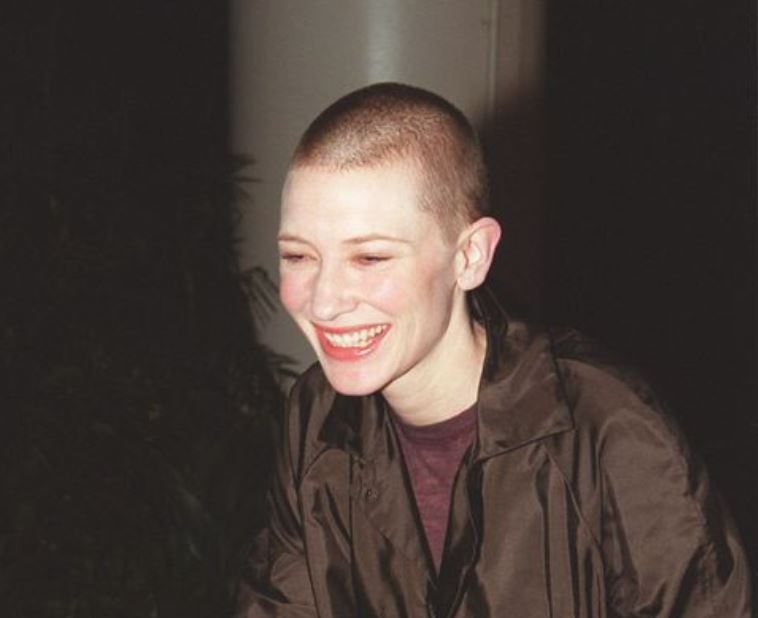 Being no stranger to hair and makeup transformations, her many roles have taken Blanchett from royalty to ethereal. It was not a struggle for her to give up her signature blonde locks for the sake of her craft; she did so for her role in Heaven.
She took to the role of fugitive naturally, finding liberation in both the screenplay and her shaven head. She loved it so much, in fact, that she chose to sport it long after filming was over, much to the dismay of her stylist and publicist.
Kristen Stewart With Hair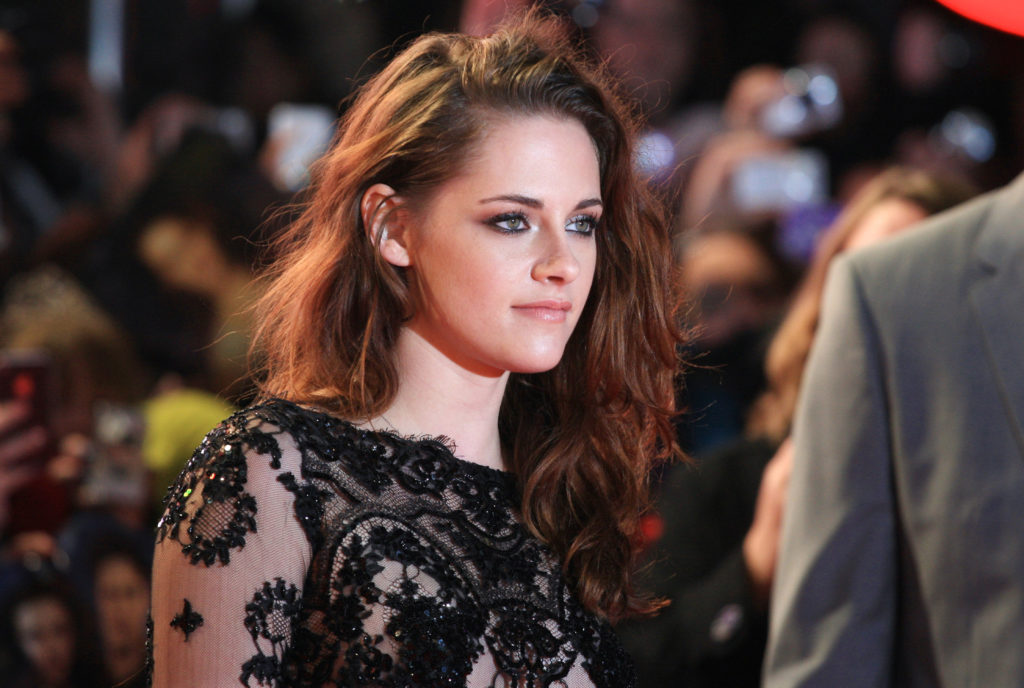 Born to insider entertainment parents, Kristen Stewart had no aspirations of being an actor, but instead set her sights on screenplay writing and directing. She was first noticed in an elementary school Christmas play and began receiving offers for roles shortly thereafter.
Her first significant, award-winning role occurred on Panic Room alongside Jodie Foster, for which she earned a Young Artist Award for her performance. She went on to star in the well-known Twilight series as beautiful Bella Swan.
Kristen Stewart's Shaved Head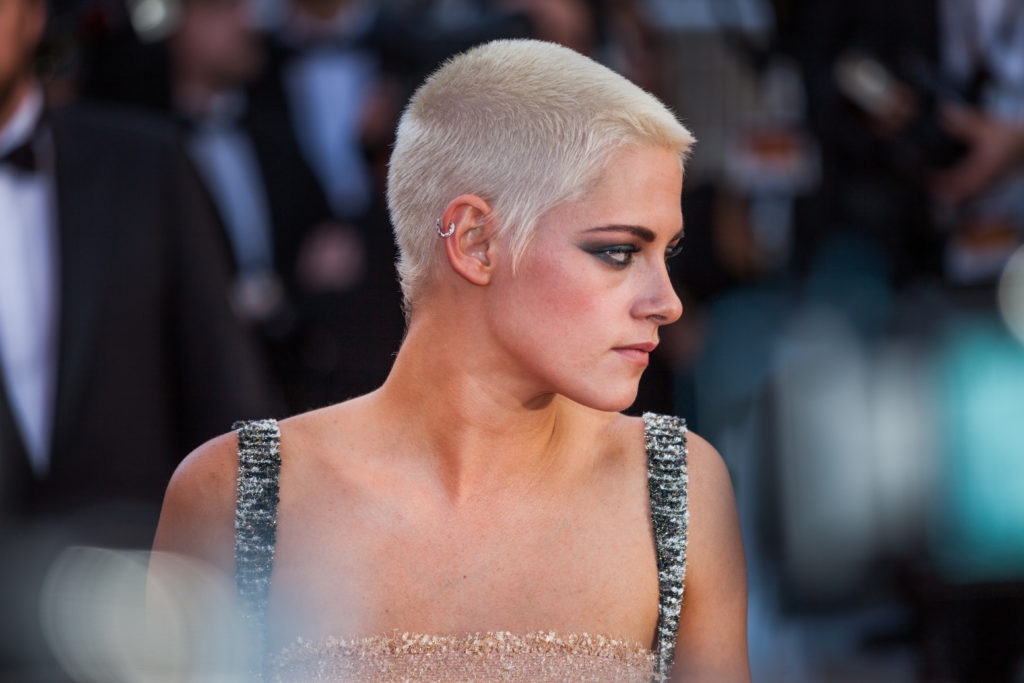 Fans had grown accustomed to her signature brunette locks and broody disposition when she shocked everyone on a 2017 Today Show interview with Savannah Guthrie. She appeared on the show with a blonde buzzcut in stark contrast to her longer tresses.
Stating that she loved the new mess-free style, she claimed that the no-nonsense do was due to her work on the upcoming film Underwater, where hours of work under a helmet necessitated a clean, easy look. She seems to rock whichever style she has.
Jessie J With Hair…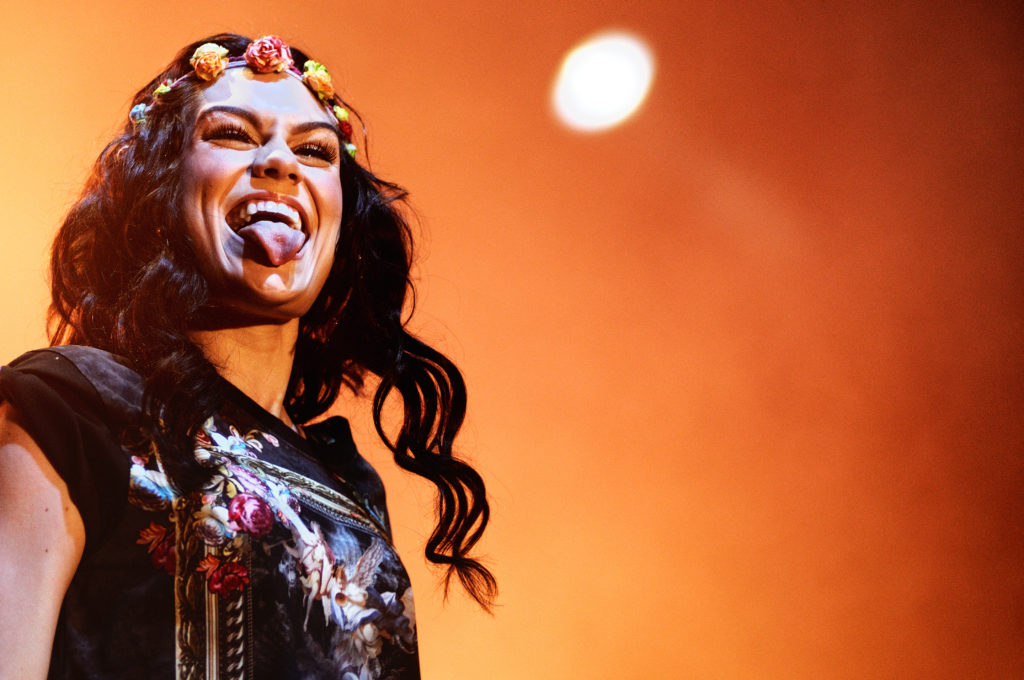 Jessie J is an award-winning English singer with a flair for the dramatic. She began her gregarious stage performances at the young age of 11, when she took a leading role in the musical, Whistle Down The Wind.
After signing a contract with Republic Records, Jessie J began cranking out hits such as "Do It Like A Dude" and "Price Tag," both of which reached the Billboard Top 100. She had the unique distinction of being the only female British artist to score six top ten singles on one album.
Jessie J's Shaved Head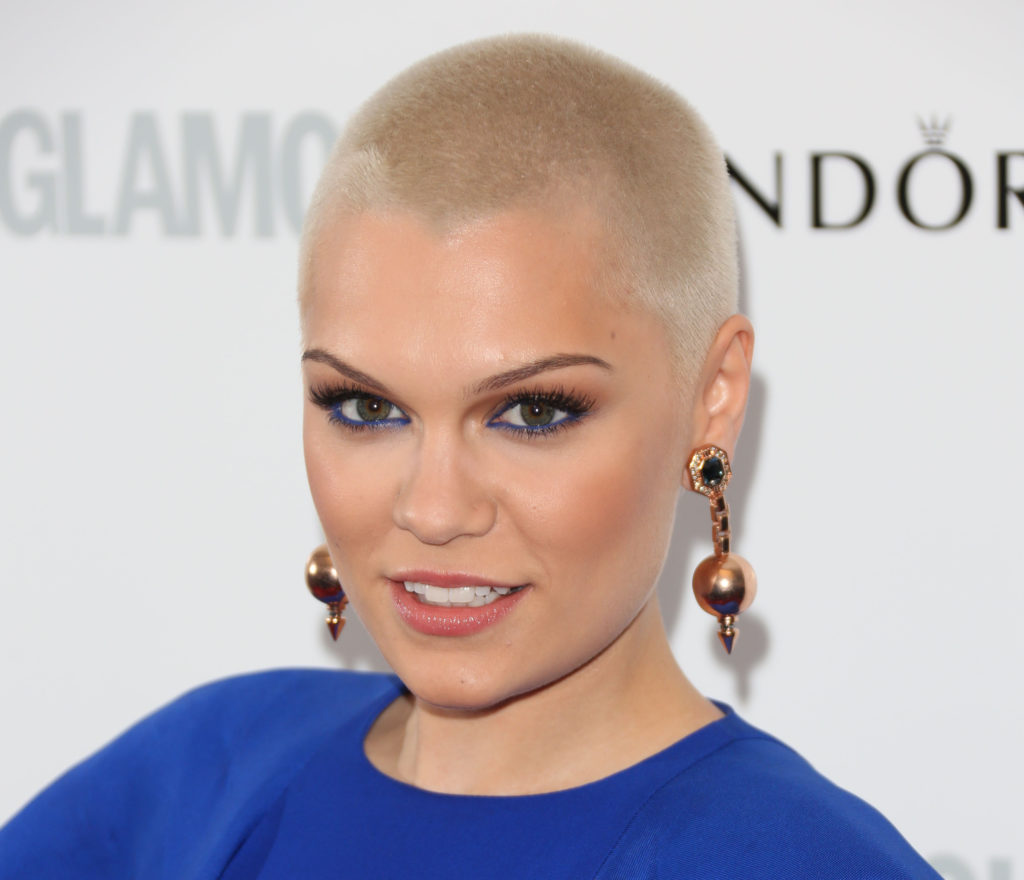 Fans were stunned and very impressed back in 2013 when Jessie J chose to shave her head for charity; she raised nearly $500,000 for Comic Relief while starting a new hair trend at the same time.
The newfound freedom must have made an impression on her, for she emerged hairless once again weeks after her split from boyfriend Luke James, citing that "she has never been happier, and she hopes fans are living their best lives too."
Jamie Winstone With Hair…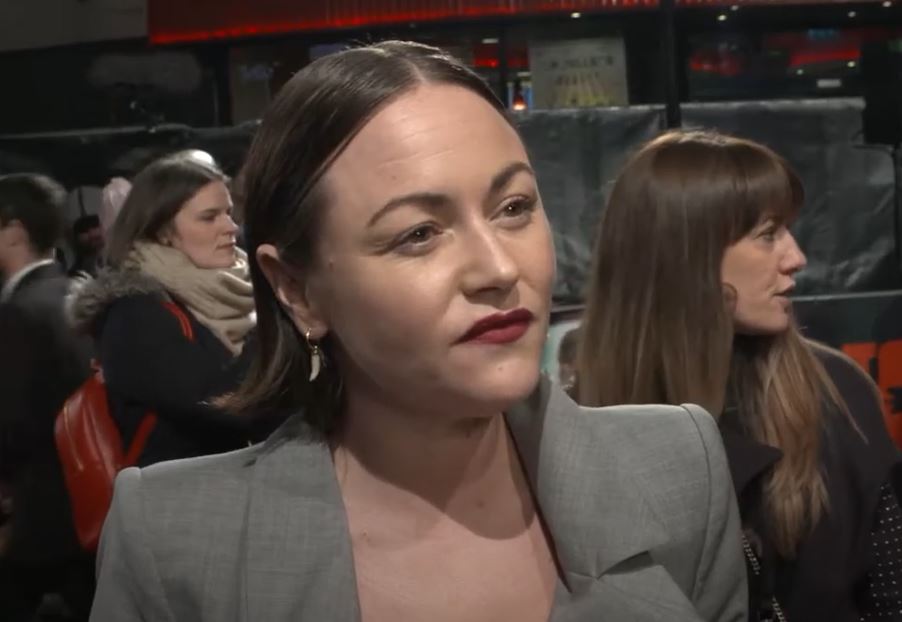 Jamie Winstone is a celebrated actress whose film credits include Bullet Boy, Tomb Raider, and Wild Bill. Her acting aspirations emerged early; she attended drama school before dropping out to take roles in films like Anuvahood and Kidhood.
Jamie is a Jill of all trades, dipping her talented toes into several different entertainment genres. She sings backup for her sister's band, she's done stage and theater work, and she also enjoys success as a model, having made her catwalk debut in 2008.
Jamie Winstone's Shaved Head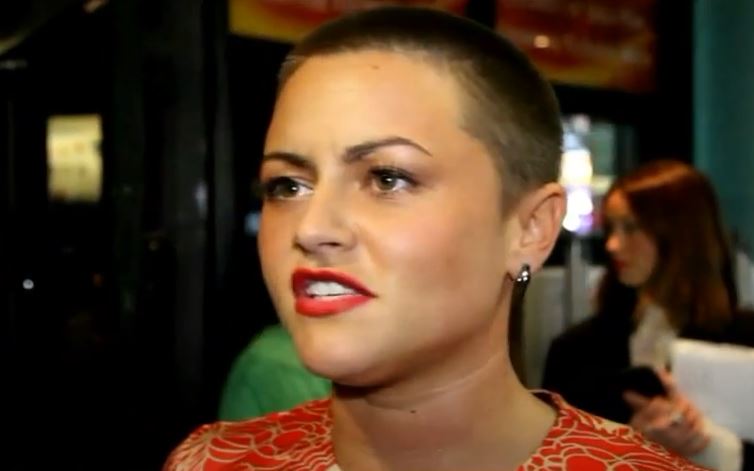 One of these catwalk appearances shocked fans across the globe as Jamie took the runway for a charity fashion show. After a number of interviews, she was asked by a reporter if she would ever shave her head for charity.
Winstone enthusiastically threw herself into the challenge, baring her scalp for all to see. This courageous move has worked in her favor, earning her even more notoriety and and respect in the entertainment industry as one who stands apart from the crowd.
Agyness Deyn With Hair…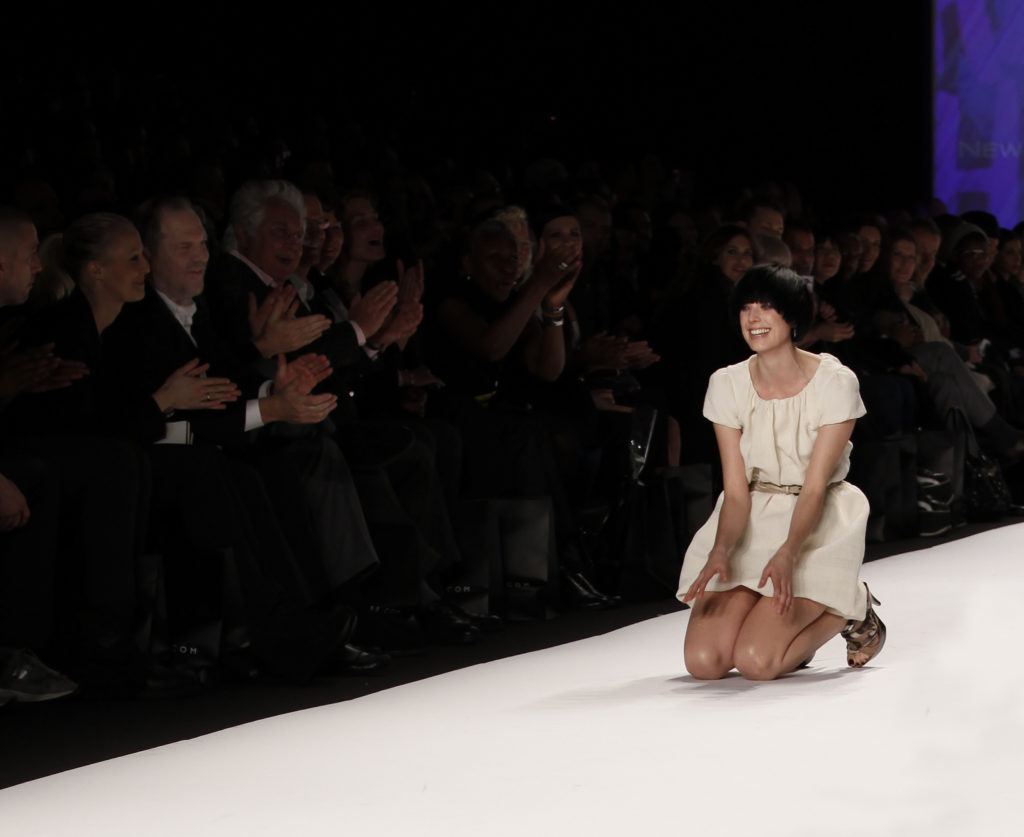 Agyness Deyn is an English model and actress who has been recognized as one of the most highly successful models in history. Even with a short, eight-year career on the runway, she continues to act and be an innovator in the design industry.
After being "discovered" on a shopping trip in London, Deyn signed with SELECT Model Management and began gracing covers for Vogue, as well as walking Chanel, Burberry, and Dior runways, a very impressive credentials list for such an unknown talent.
Agyness Deyn's Shaved Head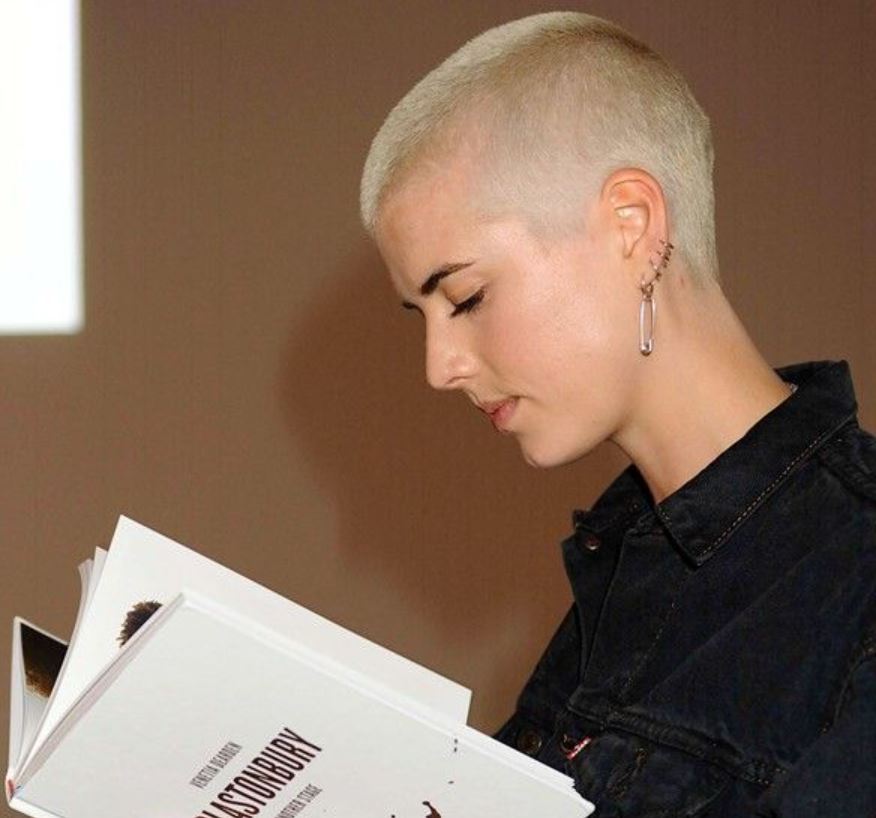 Even as a young server at age 13, patrons noted that Agyness had a unique flair for style. She is no stranger to a razor; she and her best friend first shaved their heads clean when they were only fifteen years old.
While headed to the Coachella music festival, Deyn decided she wanted a change. She ducked into the nearest barbershop to take some off the top. Her unique style and fashion preferences make her a designer favorite.
Erykah Badu With Hair…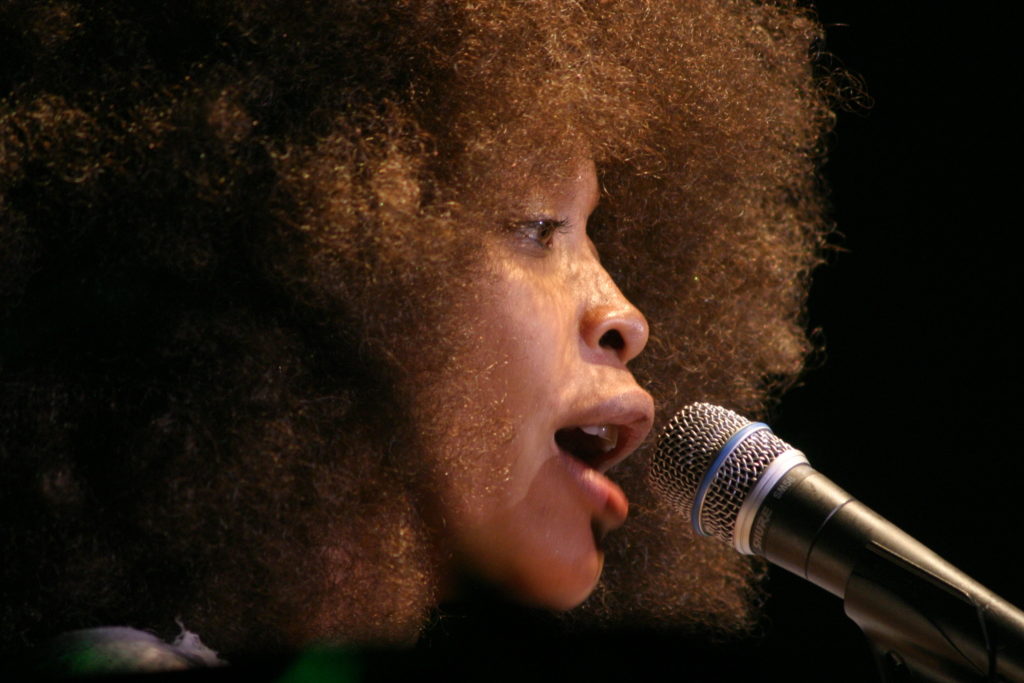 Erykah Badu is an American singer, songwriter, and actress. Her career began after a spontaneous opening of D'Angelo in 1994; it was there where record execs were blown away by her unique talent and stage presence.
Badu has always been recognizable for eccentric style which translated well across both musical and onscreen pursuits. Her most notable roles include Blues Brothers 2000, Cider House Rules, and House Of D.
Erykah Badu's Shaved Head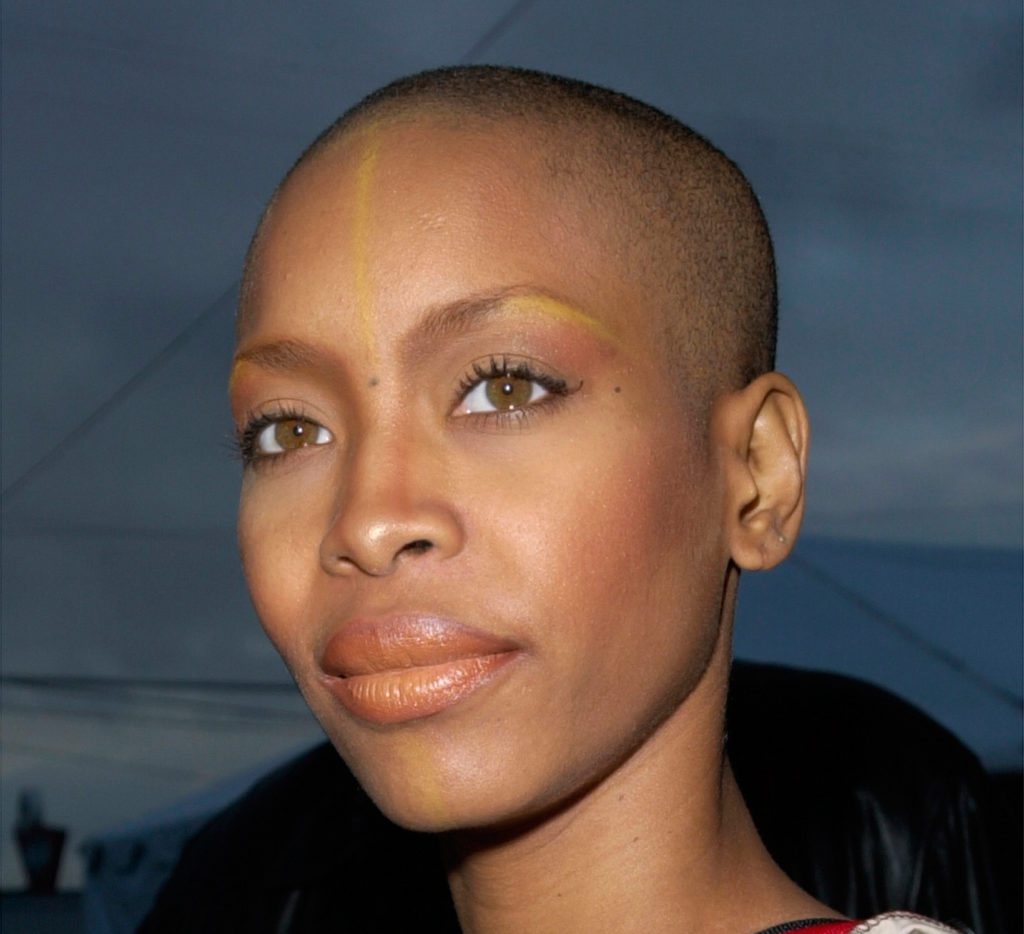 Erykah's hairstyles throughout the years are every bit as eclectic as her music and stage performances, which is why we are enthralled with her. Her penchant for wearing large colorful headdresses had many fans wondering what she was sporting underneath.
For a 2001 Grammy's appearance, she did not disappoint. Like many other appearances, Badu inspired young and old as she graced the red carpet fully shaven with striking yellow tribal makeup.
Grace Jones With Hair…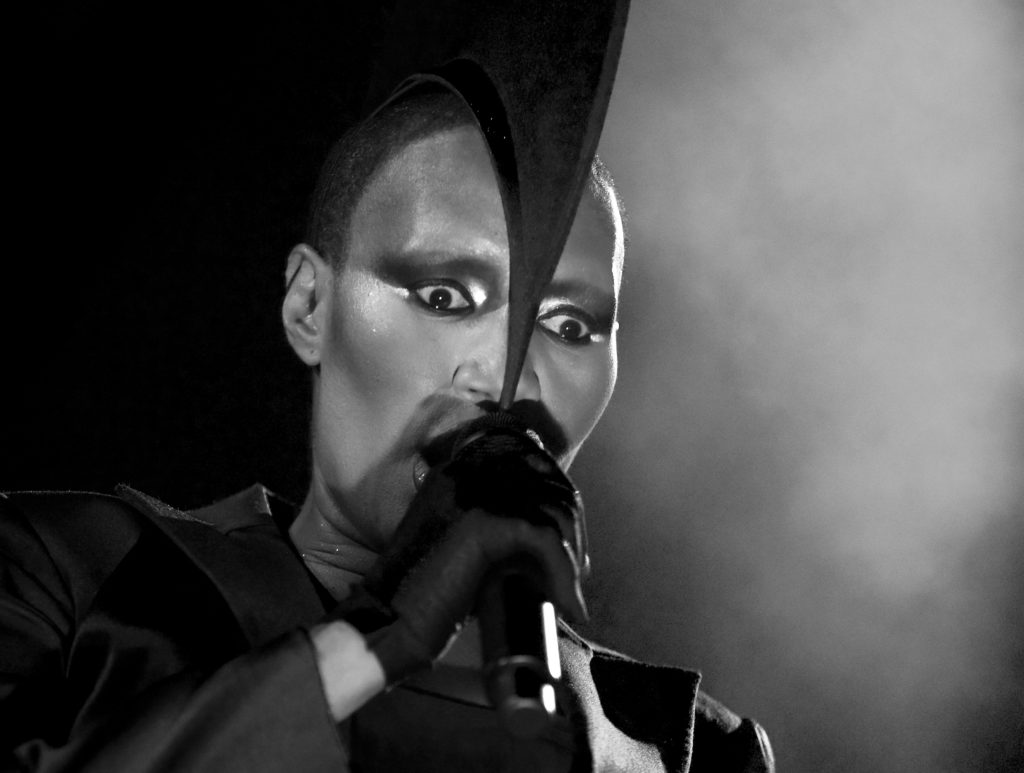 Grace Jones is an ambitious go-getter who has her influence spread across music, modeling, writing, and acting. She played a memorable role as Mayday in the Bond film A View To A Kill. Her unique style and contribution to fashion have been said to influence other artists such as Annie Lennox, Rihanna, and Lady Gaga.
Jumping into the modeling world at the young age of 13, Jones carved out a unique niche for herself with her bold fashion choices as well as her distinctive features and preference for more traditional "male" clothing.
Grace Jones' Shaved Head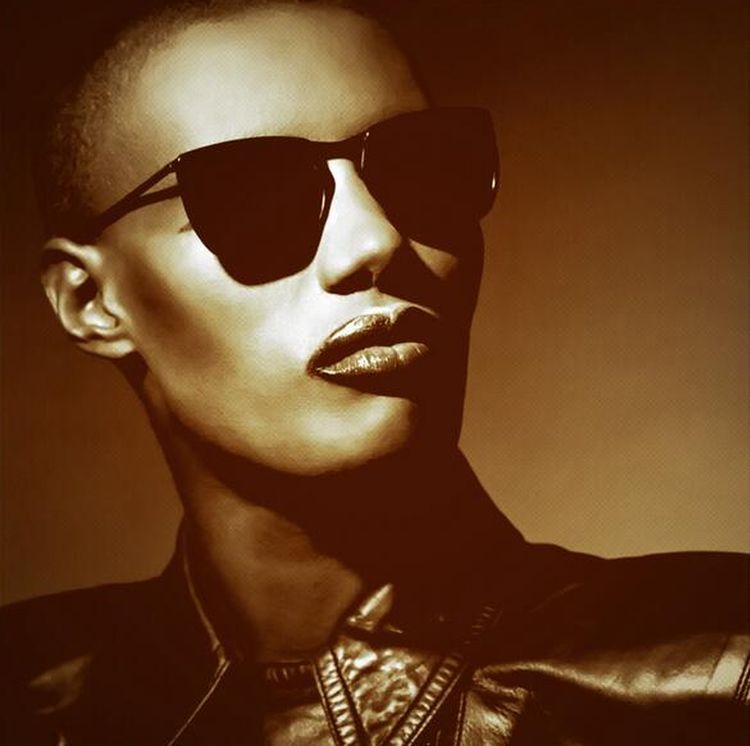 Grace brought her distinctive brand over to the music industry, further shaping her appearance and look to her liking, presenting herself as a strong and talented individual who answered to no one. Fans adore her unapologetic expression of beauty.
One of the most unique ways that Jones chooses to break preconceived notions of beauty is by shaving her head. Going against the advice of nearly everyone in the industry, Jones found a hairdresser that catered to her non-conformity; she's sported short ever since.
Toni Collette With Hair…
Some people have no problem making a major change to their appearance, while others need a bit of courage to make a change like going hairless. Toni Collette has been marching to her own beat in Hollywood for some time now, and it's serving her well.
The talented actress made her film debut in Spotswood, and after being nominated for Best Supporting Actress, Toni went on to star in a number of blockbuster and indie films across varying genres. She's certainly one of the most versatile actresses working today.
Toni Collette's Shaved Head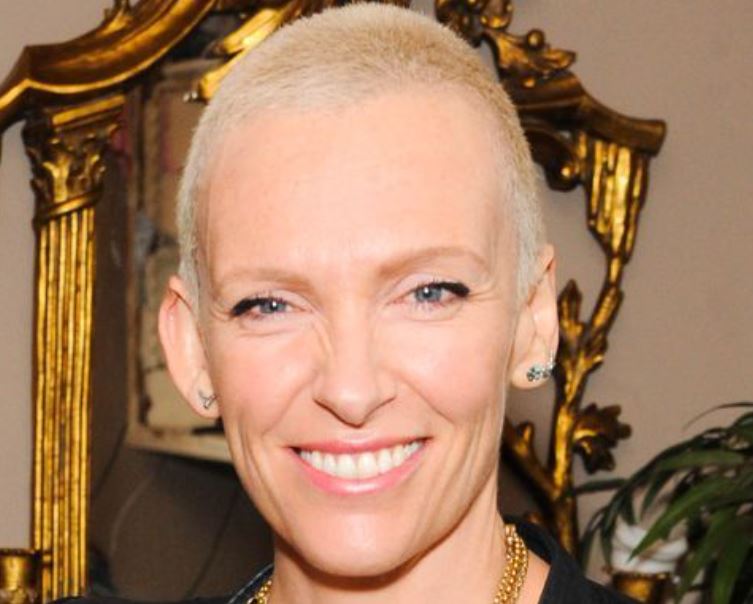 Collette has a reputation for throwing herself into each role that she takes on, embodying a character with such authenticity that it's difficult to imagine anyone else being typecast after seeing her performance.
Her role in Miss You Already was no exception to this rule, where she plays a woman stricken with breast-cancer who struggles with not only hair loss, but the evolution of her relationships as a result of a devastating diagnosis.
Bijou Phillips With Hair…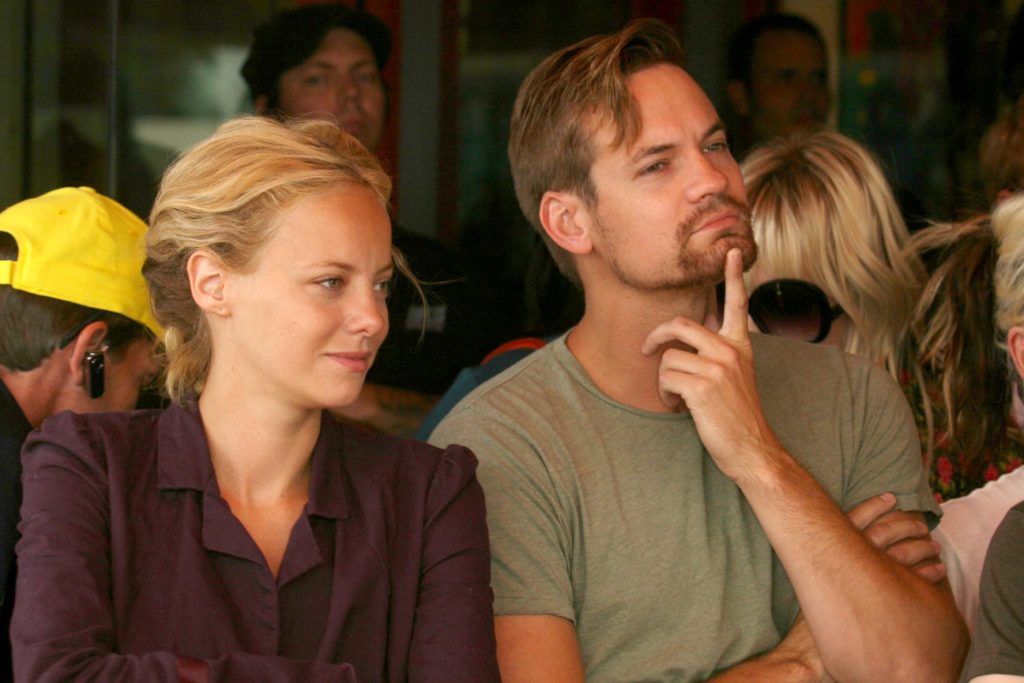 Being born into a famous family has its benefits and drawbacks; Bijou Phillips was thrust into the limelight thanks to the achievements of father John and sister Mackenzie. Unfortunately, Bijou succumbed to their hard-partying influence early in her career.
At the young age of 13, Phillips was recognized for her ethereal beauty and natural grace that inspired a successful modeling career. Due to instability in her younger years, she fell victim to alcohol and substance abuse to fuel her insane schedule, becoming something of a local legend in New York City clubs.
Bijou Phillips' Shaved Head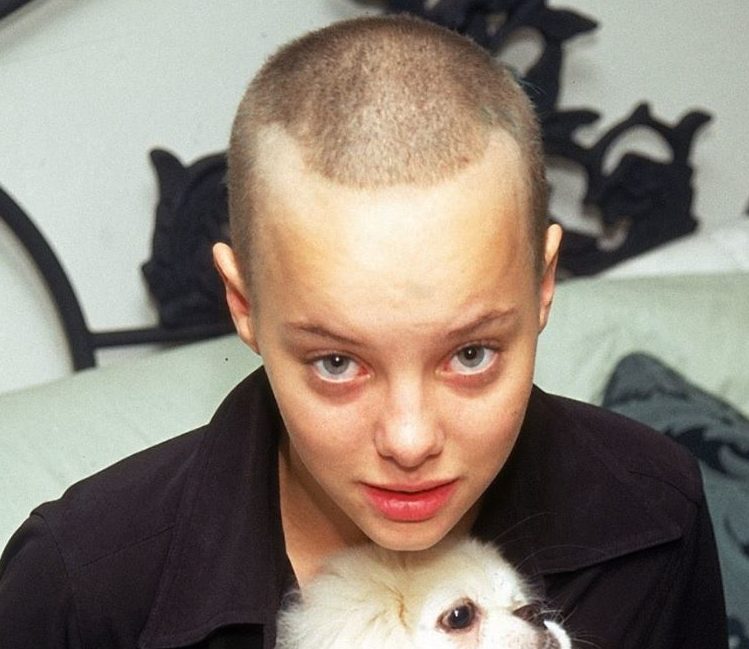 In between bouts of substance abuse and film and music pursuits, Bijou struggled to put her past behind her. Her talent helped establish her as a credible entertainer in her own right, and positive associations with costars Kate Hudson and Melanie Griffith helped her to come clean.
Unfortunately, Bijou's early drug use and a raucous lifestyle led to kidney complications in her late twenties. In 2017, it was disclosed that she had dealt with chronic kidney issues for years. After cleaning up her lifestyle and undergoing a transplant, Bijou chose to remain clean shaven, preferring the newfound freedom she felt with her style.
Katy Perry With Hair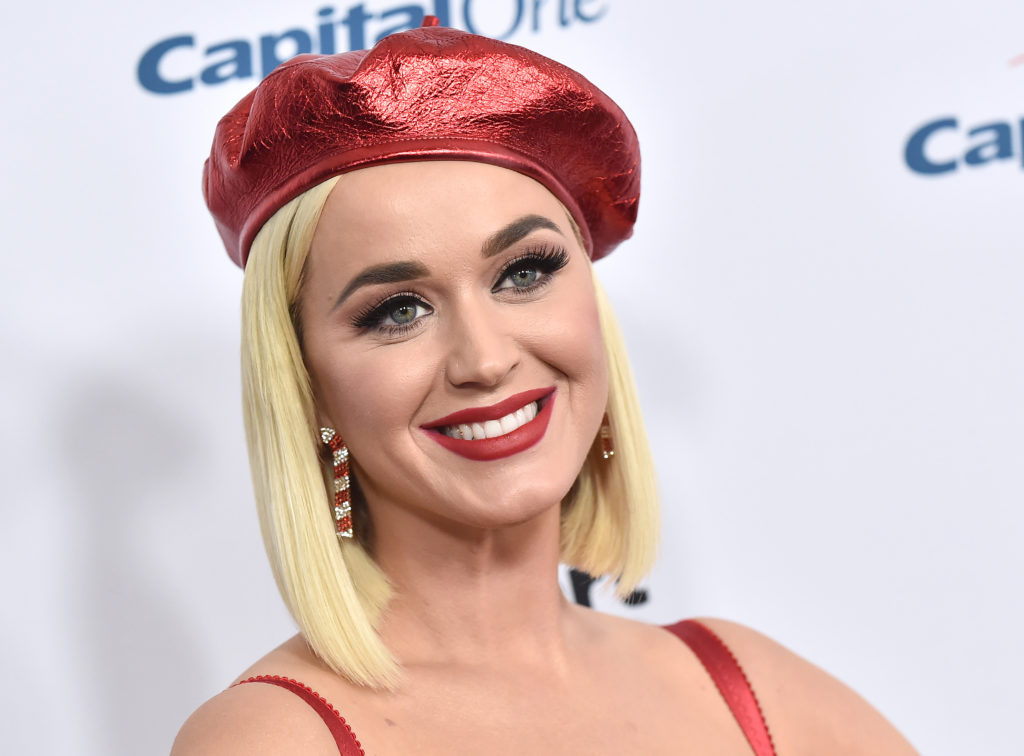 Katy Perry has always had a flair for the dramatic; she lets the world in on her personal and professional affairs via sharp changes to her look. After humble beginnings in her hometown church, she attempted a career as a gospel artist, signing with Red Hill Records.
This small taste of success was not enough for Perry; she wanted more. She moved to Los Angeles and ventured into the secular world and spring boarded to success via a contract with Capitol Records in 2007.
Katy Perry's Shaved Head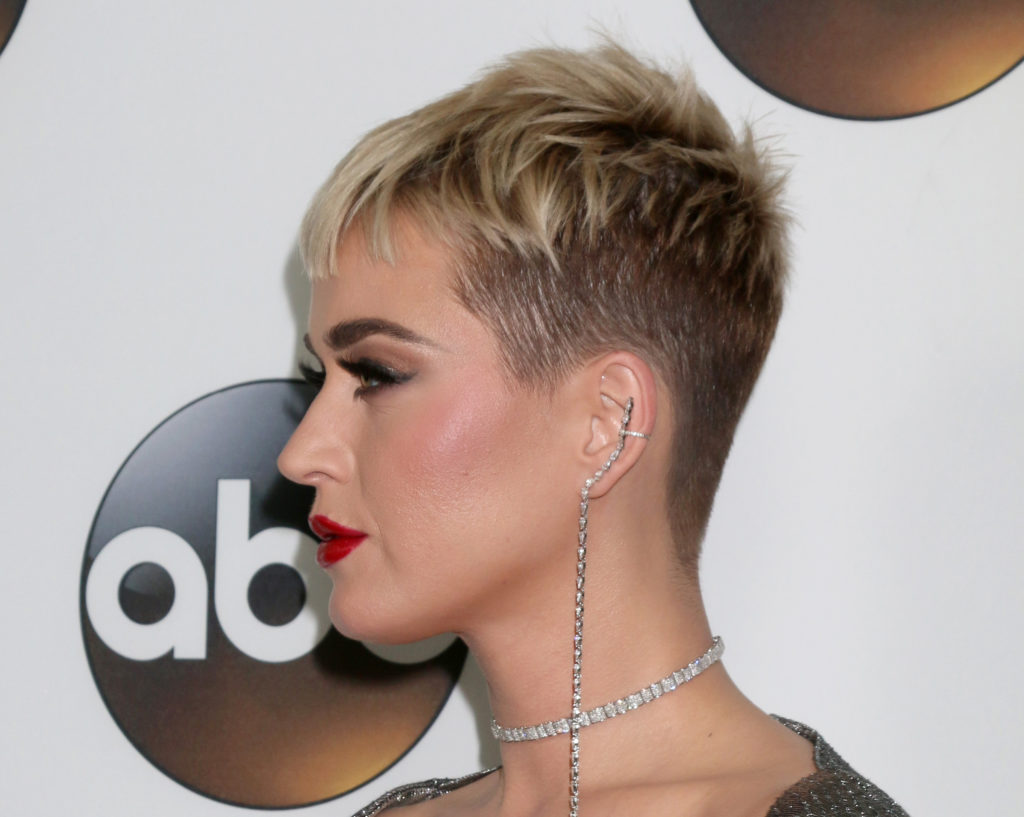 Huge hits like "I Kissed A Girl" and "Teenage Dream" put her at the forefront of the music entertainment industry. With powerful themes and fantastic imagery in her video presentations, she became a household name and favorite performer for millions of fans worldwide.
No stranger to hair and makeup, Perry adores the shock factor when presenting various looks. After her breakup with Orlando Bloom back in February 2017 the star shocked once again with a blonde buzz cut that suits her quirky personality.
Miley Cyrus With Hair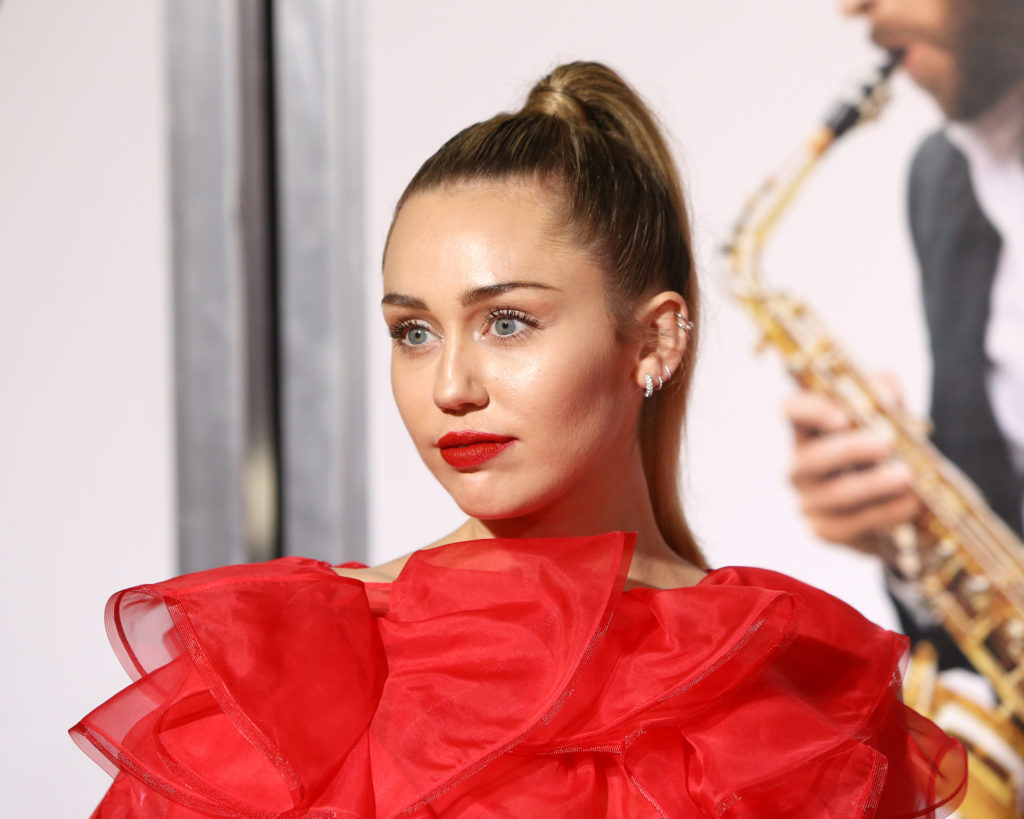 Miley Cyrus grew up in the shadow of her famous father Billy Ray Cyrus. But she emerged in her own right as a teen idol on the hit television series Hannah Montana. Thanks to her collaboration with Disney execs, she attained five top-five soundtracks on the US Billboard 200.
Her early hits were "Party In The USA" and "The Climb," but were certainly much more of an innocent, safer image. Breaking away from her girlish image was relatively easy for the talented singer.  Her transformation became quite memorable.
Miley Cyrus' Shaved Head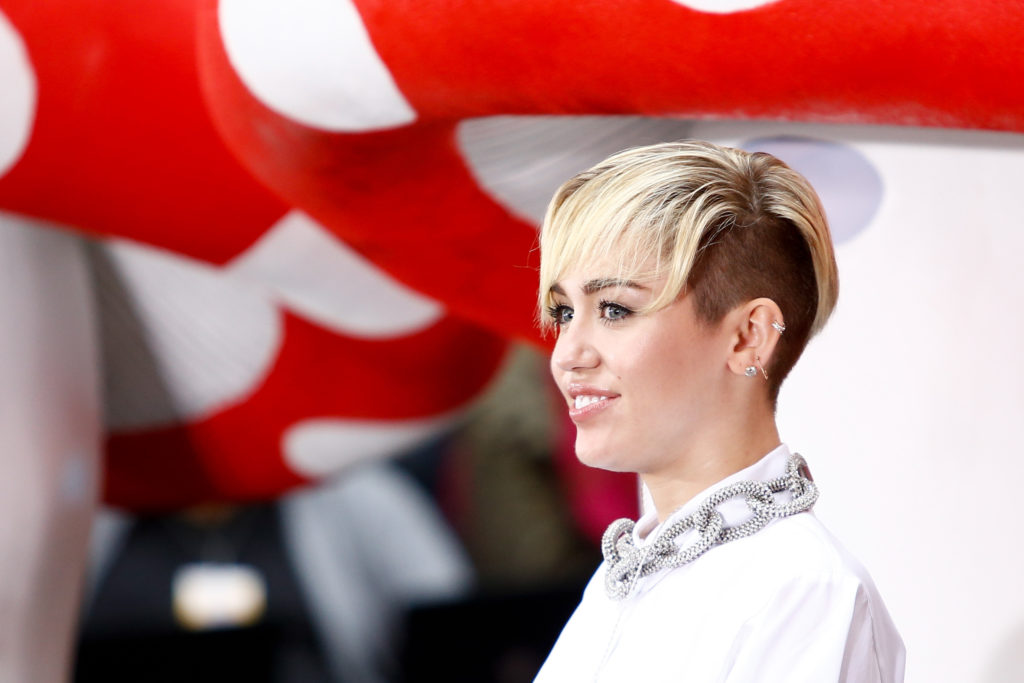 Moving away from the Hannah Montana character proved to be a little controversial for Cyrus; her portrayal of adult characters in her videos and onstage performances was considered too racy for her young fans. With an iconic music video for her song "Wrecking Ball" and bringing the term twerking to the vernacular, she established her as a serious, if not somewhat controversial, musician and a force to be reckoned with.
Shortly after changing it up with a shorter, platinum blond style, Miley felt the itch to do something more drastic with her style. Seven days after brightening her do, she surrendered the rest of her head to famed stylist Chris McMillan, and has been rocking short hair ever since.
Halsey With Hair…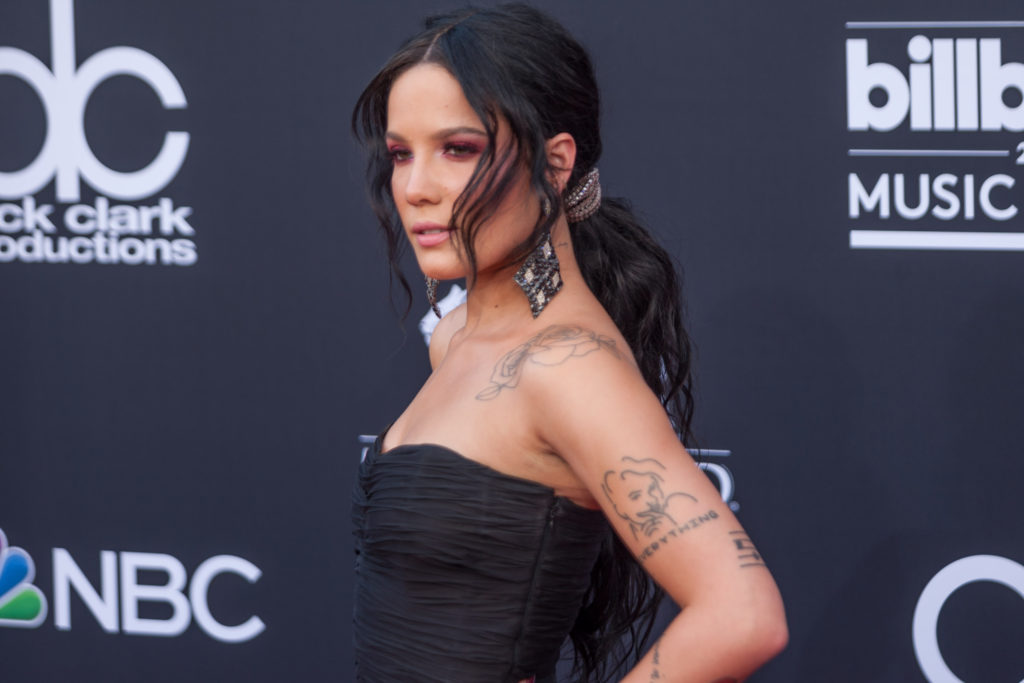 Ashley Nicolette Frangipane, better known as Halsey, has become an iconic songwriter. Thanks to the magic of social media, she was discovered and signed by Astralwerks in 2014 and released her debut album, "Room 93," launching her to success.
Her early work was certified double platinum, a distinctive label for any performer. As of 2020, Billboard was reporting that Halsey had sold over one million albums, with six billion singles and albums being streamed in the United States alone.
Halsey's Shaved Head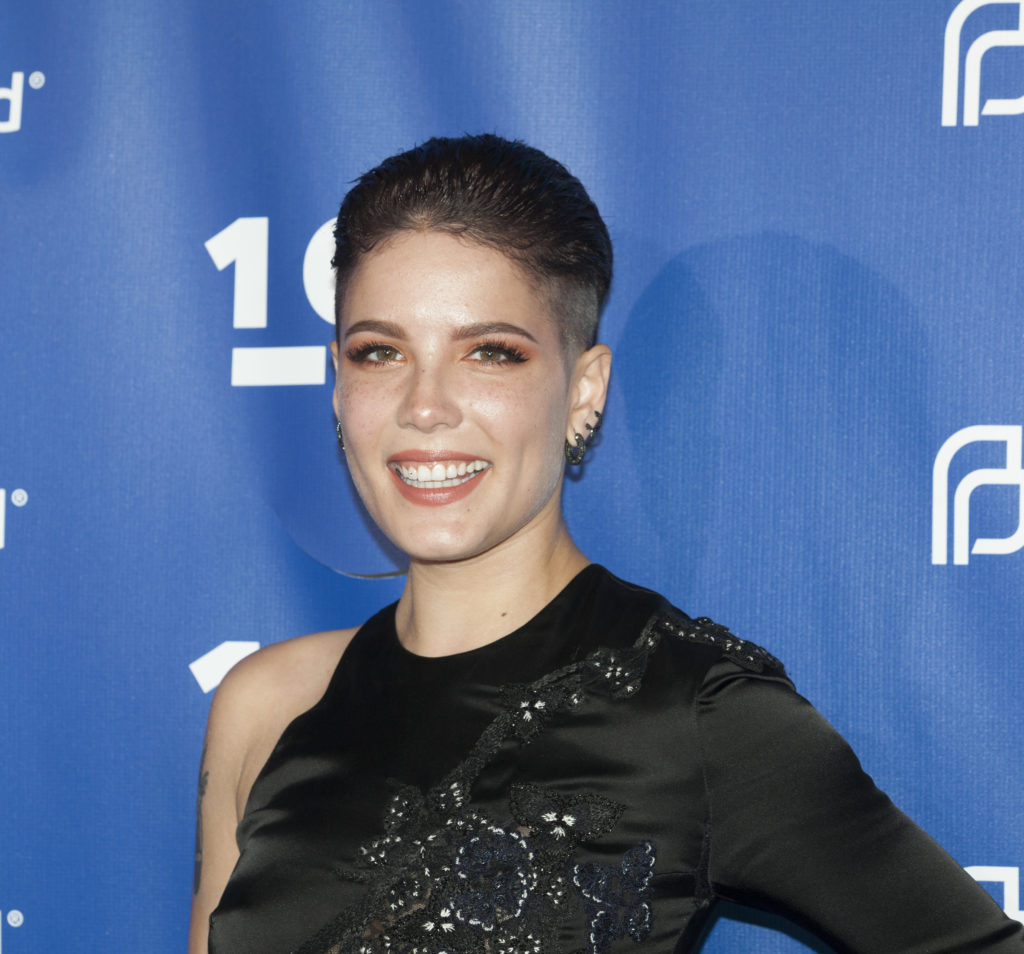 Although record label executives had strong opinions about creating an image for Halsey, she managed to keep a bit of individuality and plenty of clout when it came to designing various looks for both stage performances and print.
Singing sensation Halsey has gone from bald to long, and now back to shorn and shaven. The singer told fans why in a recent Tik Tok video. As admirers sadly asked why she bared her scalp yet again, Halsey simply replied, "There was something about bald–I missed it." No arguing with that.
Cara Delevigne With Hair…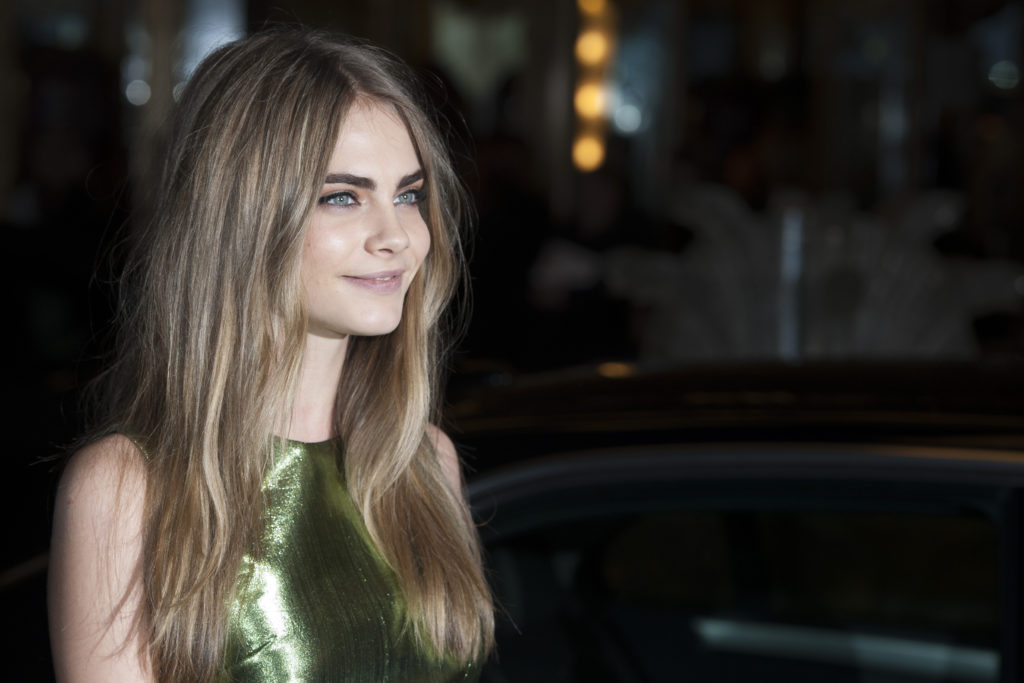 Cara Delevigne experienced almost instant success as a model upon collaboration with Storm Management. Her first year in the business resulted in a Model if The Year distinction at the British Fashion Awards.
She branched out into acting with a minor role in the 2012 adaptation of Anna Karenina. Gaining international attention from a stellar performance, she went on to star in a number of other blockbusters that added to her credibility.
Cara Delevigne's Shaved Head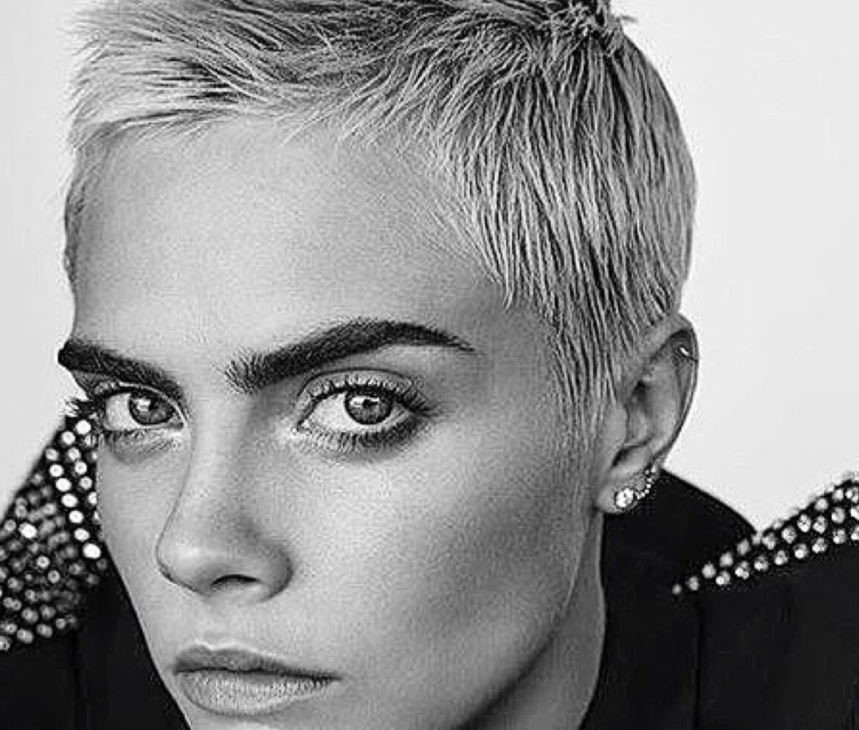 Cara Delvigne throws herself headfirst into film and television roles that she takes on; her going bald for a recent film was no exception. Playing a cancer patient who struggles with treatment, Cara explains that she "wanted to know every aspect of what an illness like cancer felt like."
Despite pushback from managers and film representatives at her choice, Cara stood her ground. "It's important to play the role with authenticity to inspire a reaction from our audiences," she explained.  Taking that calculated risk worked; she received critical acclaim for her realistic portrayal of her character.
 Danai Gurira With Hair…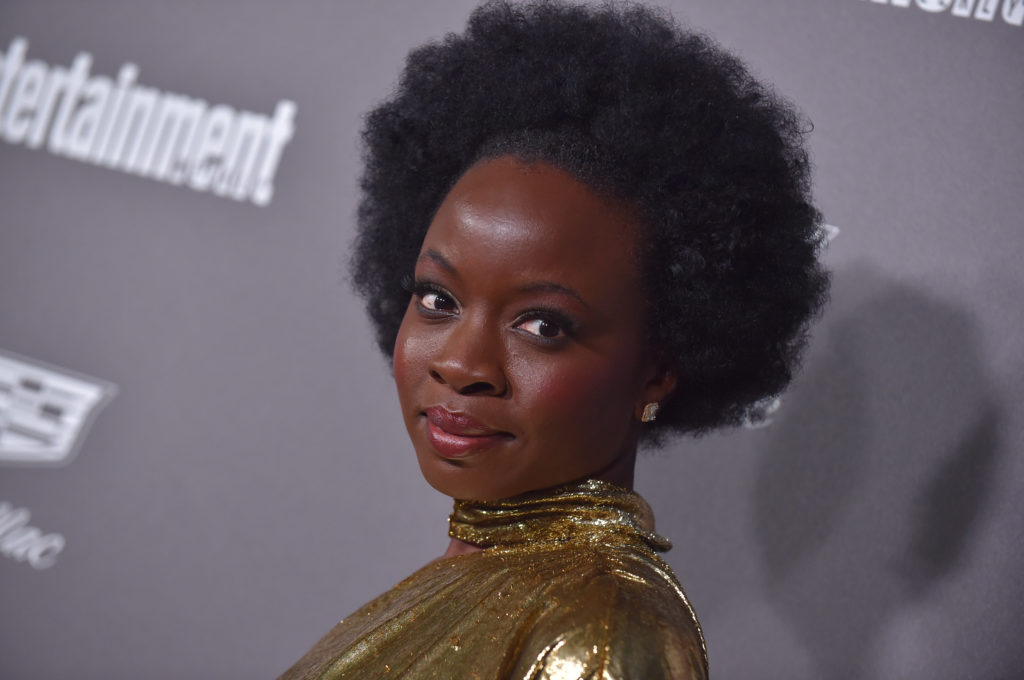 Danai Gurira is an American-born actress with international flair. After moving with her parents back to their home country of Zimbabwe, she eventually returned to the United States and chased high aspirations of becoming an actress.
Her work at Macalester College in St. Paul, Minnesota gained her the attention of national playwrights. She began writing plays herself in an attempt to strengthen her own abilities as an actress, starring in her own productions and earning critical acclaim.
Danai Gurira's Shaved Head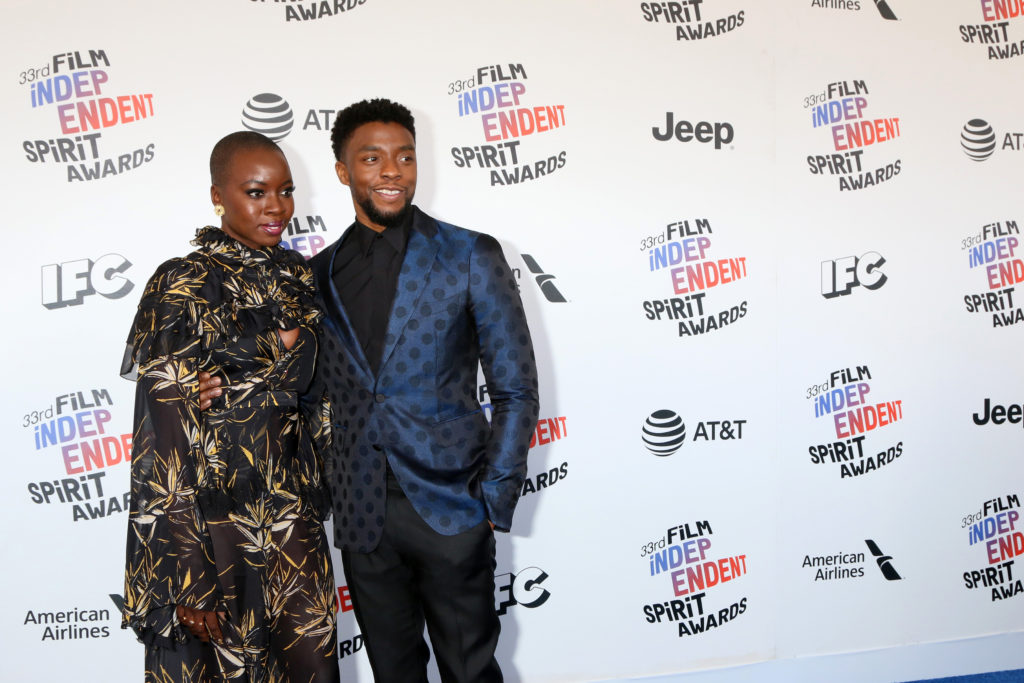 Stage work naturally progressed to onscreen opportunity; Gurira debuted in the drama film The Visitor in 2007, for which she was recognized for her role as Best Supporting Actress. She went on to score significant roles in The Walking Dead and films like Black Panther and Avengers.
It took some convincing, but Gurira eventually succumbed to pressure from network execs to fully embody her Black Panther character. "There's a certain pride that comes with baring it all," Danai revealed as she relives her time on the set with other strong female characters.
Millie Bobby Brown With Hair…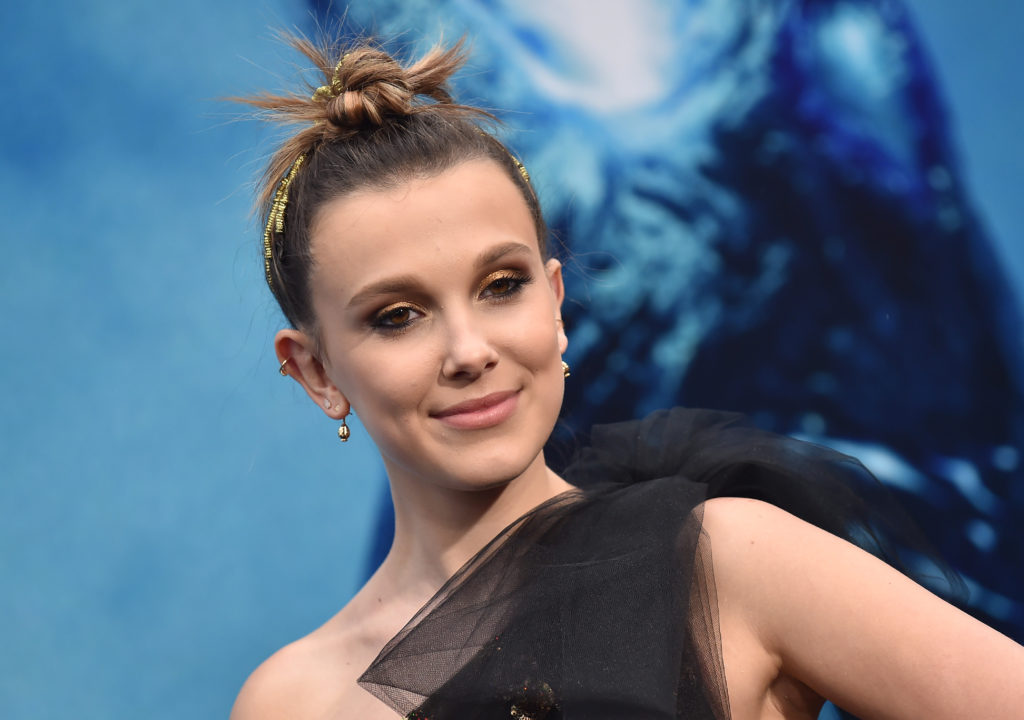 Millie Bobby Brown was a childhood sensation who was discovered at age eleven, when she was cast for a role on Stranger Things. She received two Primetime Emmy Award as well as two Screen Actors Guild award nominations for her work on the series.
She jumped headfirst into big screen endeavors, with a debut role in Godzilla: King Of The Monsters and the Netflix mystery series Enola Holmes, causing staunch critics to sit up and take notice of her rising star.
Millie Bobby Brown's Shaved Head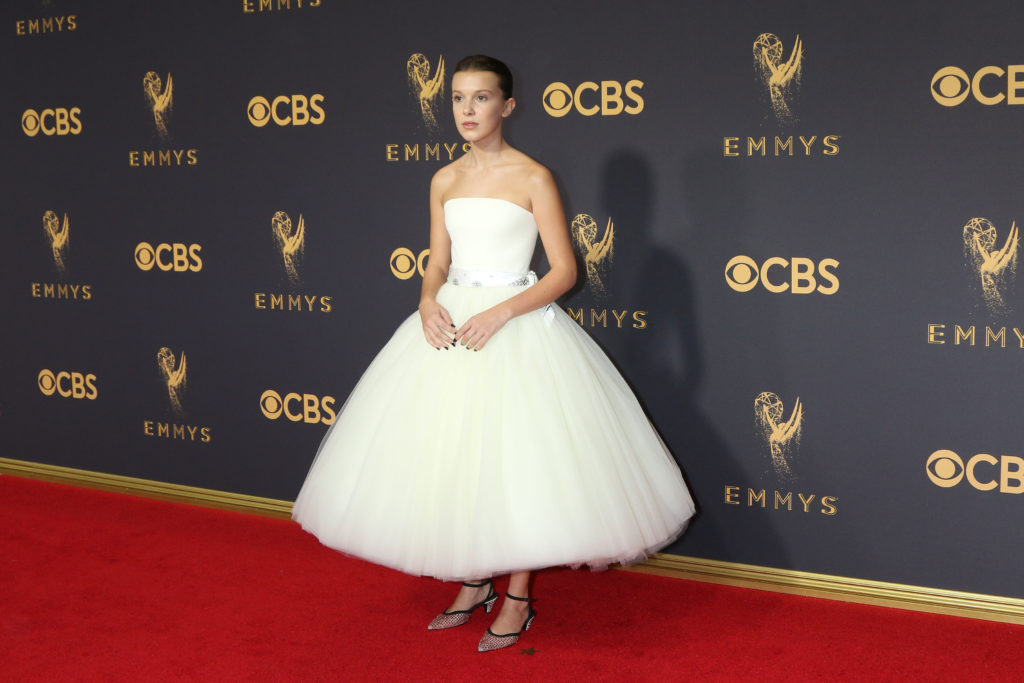 Even at that young age, she was asked to go clean-shaven for her part; given the opportunity for stardom, she happily agreed. Thanks to this defining moment, she is now able to inspire young actresses everywhere with her strength and individuality.
Millie claims that that moment was one of the most liberating experiences of her entire life. No longer hiding behind hair, her insecurities, or even her aspirations, she is a shining example to many that feminine beauty is more than a physical presentation.
Angelina Jolie With Hair…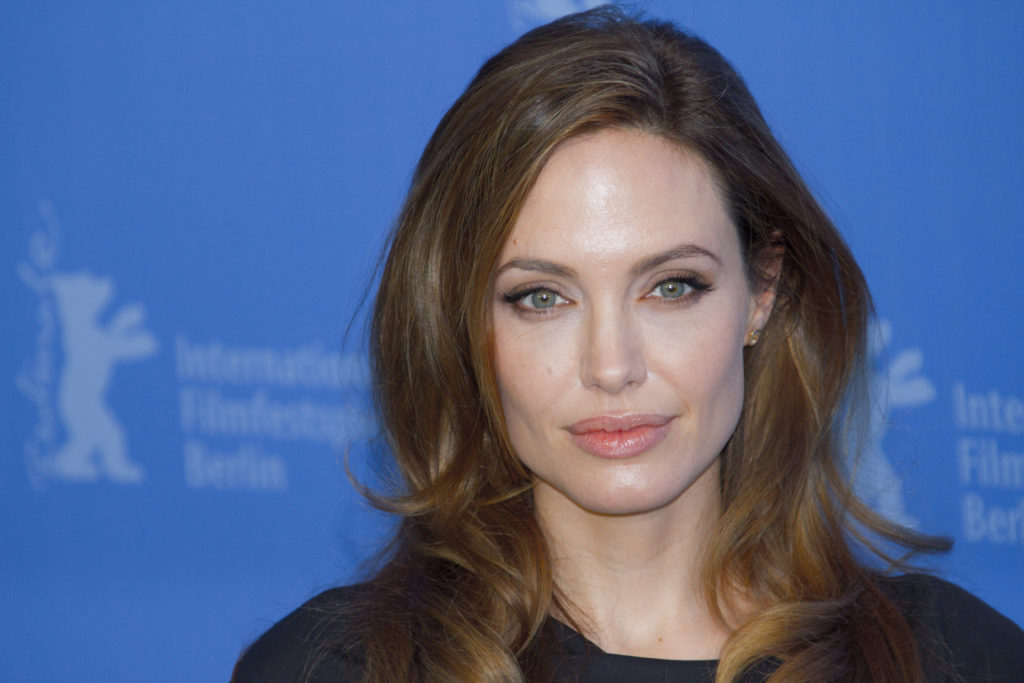 Angelina Jolie is one of Hollywood's most celebrated actresses; her work onscreen and as a humanitarian make her one of the most recognizable international celebrities in entertainment today.
Jolie made her onscreen debut alongside famous father, Jon Voight, in Lookin' To Get Out.  She went on to achieve success in her own right with performances in Girl, Interrupted, Changeling, and Mr. & Mrs. Smith.
Angelina Jolie's Shaved Head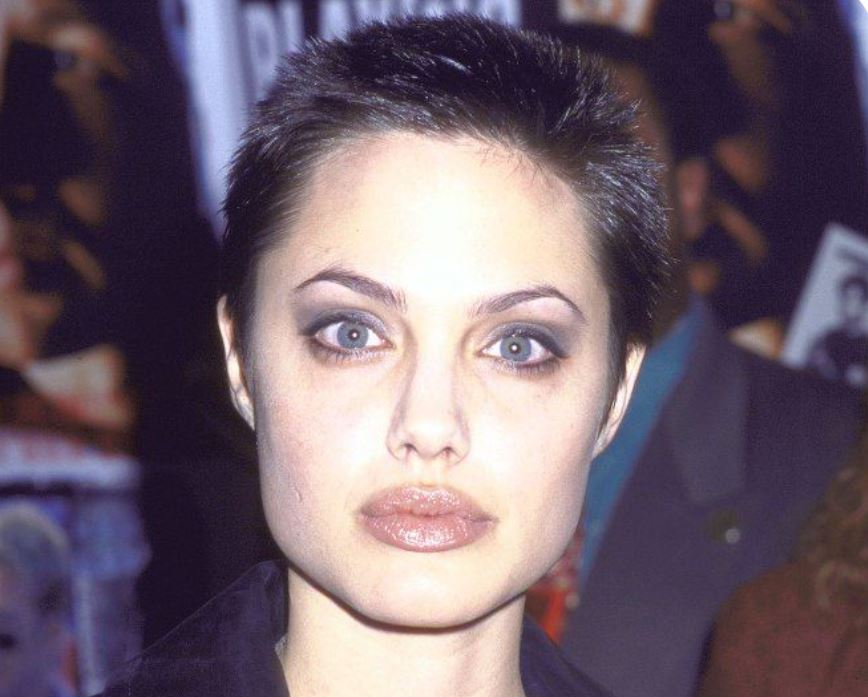 Jolie loves a challenge, personally and professionally; she doesn't shy away from roles that change both her outlook on life as well as her appearance. From cascading tresses to short buzz cuts, it seems that she loves the attention that each new look affords her.
Shaving her head to almost bare for her role in the 1998 movie Gia, she cut it so short that she had to bust out a number of wigs for several scenes. Since then, she has sported a cropped 'do' several times, citing that the lower maintenance look is more freeing.
Anne Hathaway With Hair…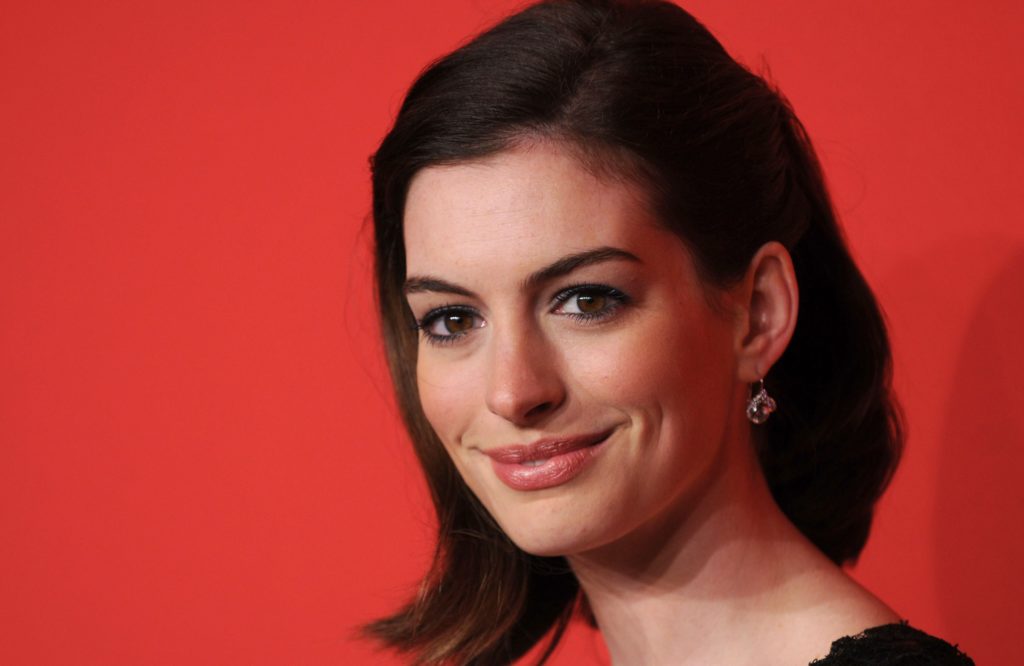 Anne Hathaway is one of those actresses that has the ability to effortlessly take on roles in varying genres, playing each to complete perfection. She developed a passion for performing while still attending high school, when she was cast in a television series entitled Get Real.
After her award-winning performance in The Princess Diaries, She made the difficult transition to more adult roles, scoring dramas like Havoc and Brokeback Mountain. Despite her success in film and television, she retained a fondness for theater and stage work.
Anne Hathaway's Shaved Head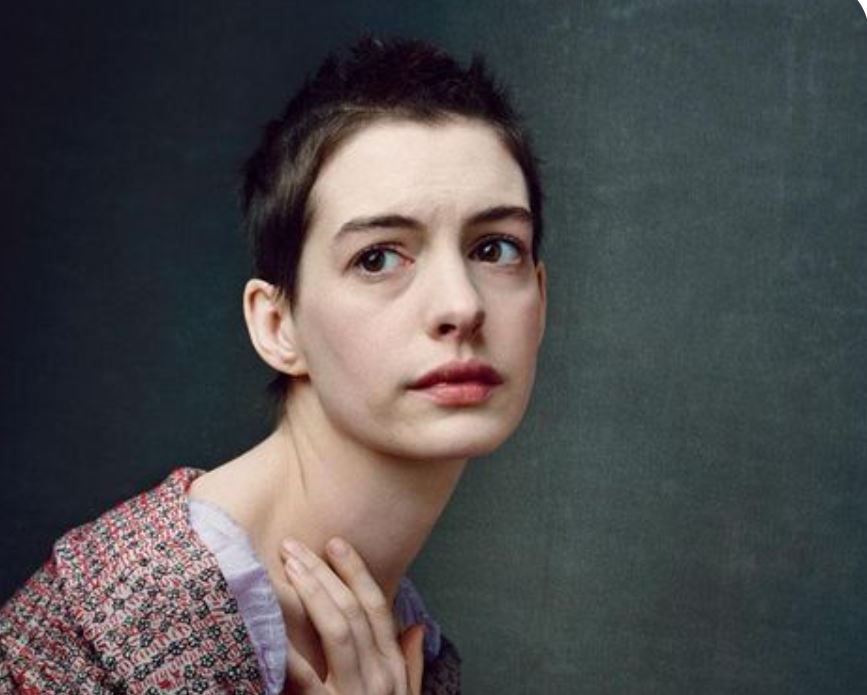 She jumped at the chance to bring Les Miserables to life in a screen adaptation by Tom Hooper; playing the character Fantine, her award-winning performance required her to shave her head clean.
She enjoyed the short hair so much that she has kept her cropped locks long after production of the film wrapped up. Audiences worldwide were moved by her appearance, so much so that her hairstyle was the most copied style of 2012.
Olivia Cooke With Hair…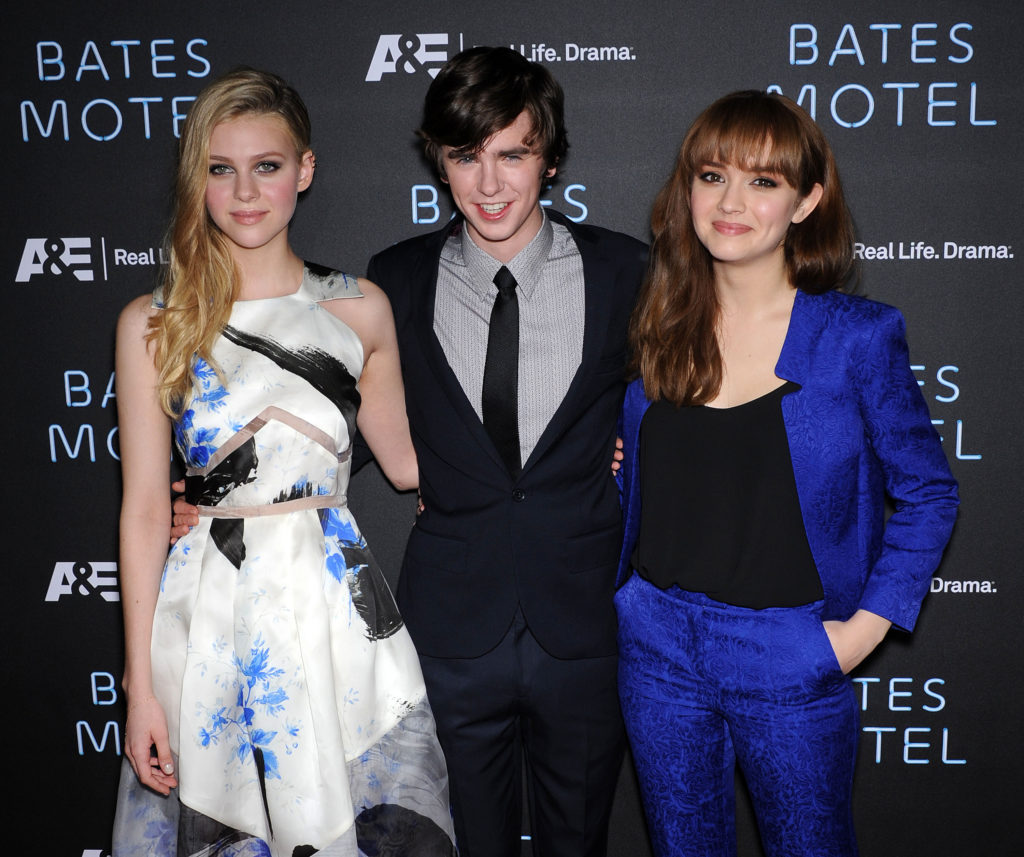 England-born Olivia Cooke is known roles in television such as Bates Motel and Vanity Fair. A number of stage and screen successes define her success, including The Limehouse Golem, Ready Player One, and Ouija.
Thanks to a solid foundation in drama education and abundant opportunities for stage performance, she landed her first agent at the young age of 14. She still retained aspirations of becoming a Royal Academy Of Dramatic Art Student, but sadly, she was never accepted.
Olivia Cooke's Shaved Head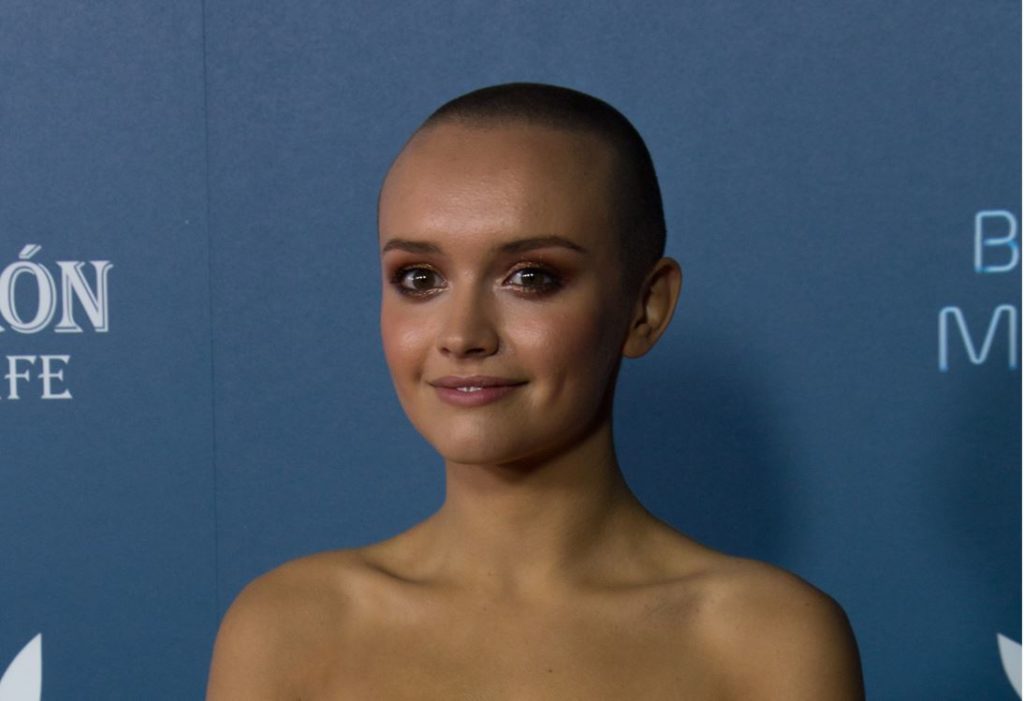 Cooke managed to keep scoring roles in television and film, and a number of performances and associations ultimately led to a life-changing performance under the direction of Alfonso Gomez-Rejon. Me And Earl And The Dying Girl became one of her greatest accomplishments.
Olivia threw herself into the role with passion and enthusiasm, studying the progression of leukemia and how it affects body, mind, and soul. Her final commitment to a very moving performance was the decision to shave her head completely.
Sana Lathaan With Hair…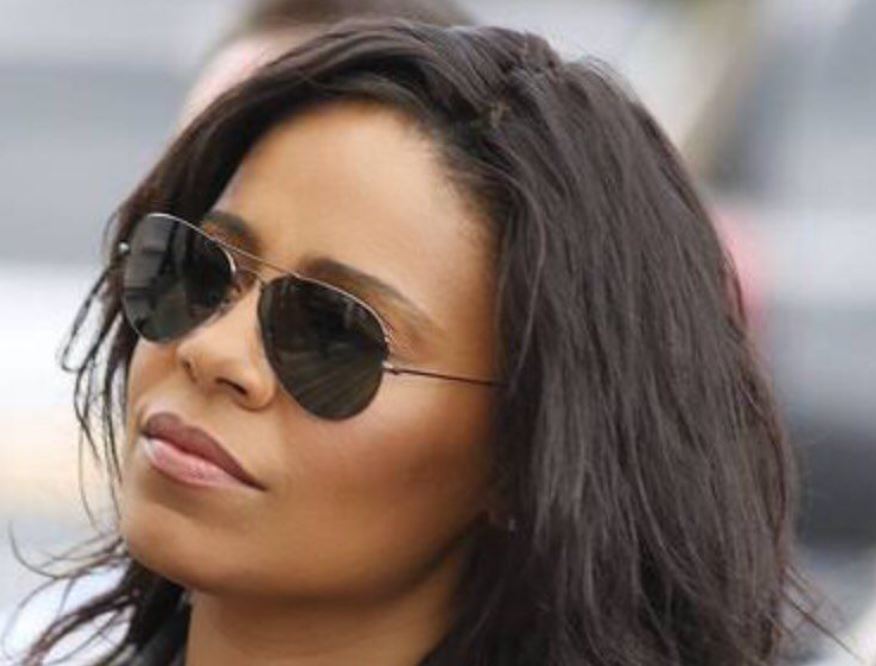 Sana Lathaan may not have been seen in the early days of her career, but she is certainly heard. Her voiceover work in television is highly acclaimed. She has delighted audiences as the voice of Donna Tubbs in The Cleveland Show and subsequent Family Guy appearances.
Shortly after her career progressed to on stage and on screen, the actress chose roles in The Best Man, Alien Vs. Predator, and Now You See Me. She has been nominated for a Tony Award for her stage performances as well as several nominations for her onscreen work.
Sana Lathaan's Shaved Head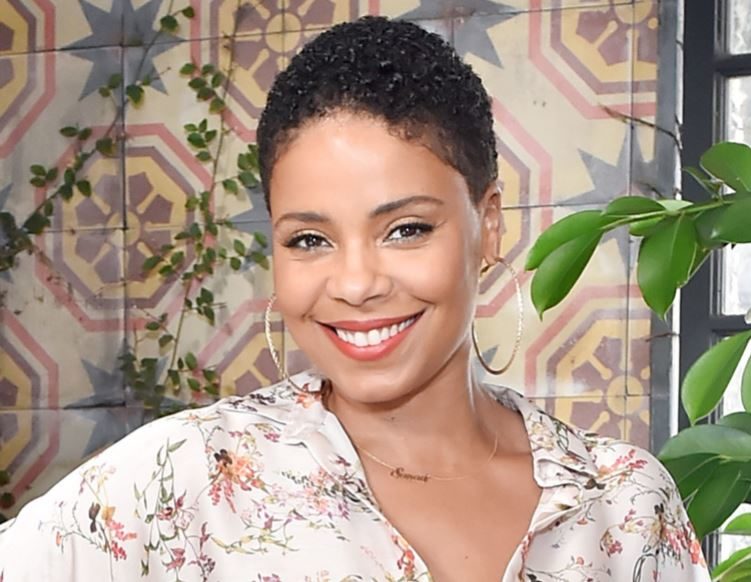 Lathaan is used to stretching herself, both personally and professionally, as she tries on new roles for size. When she took the role of Violet in Nappily Ever After, she had to dig deep to portray the character in crisis using more than just her emotions.
She fully admits freaking out a little as she shaved her head to play the conflicted Violet, but soon embodied all the authenticity and openness that it brought to her performance. She rocks the short crop from time to time these days, thanks to this courageous decision.
Kate Hudson With Hair…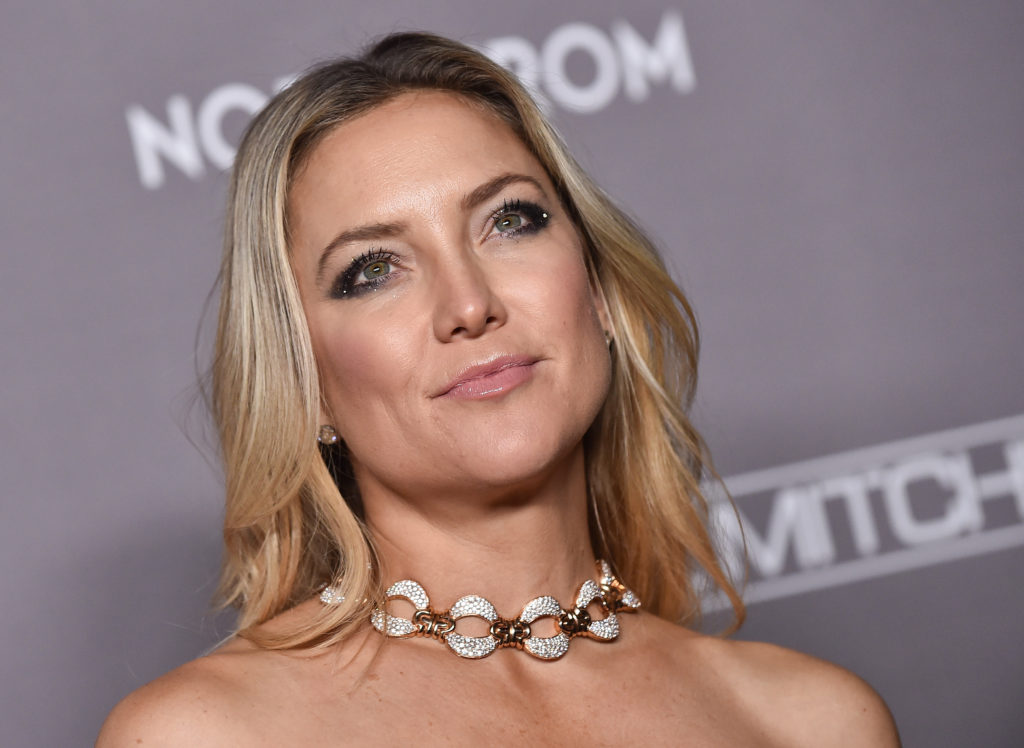 Kate Hudson has made a name for herself with her signature blonde locks and breezy style that has many of us emulating her. It's no surprise that this carbon-copy of her famous mother, Goldie Hawn, has made a respectable name for herself in the entertainment industry.
Hudson made her debut in the 1998 comedy Desert Blue and went on to earn a Golden Globe for Best Supporting Actress in Cameron Crowe's Almost Famous. Her power ballad performance led to several opportunities to demonstrate her acting prowess.
Kate Hudson's Shaved Head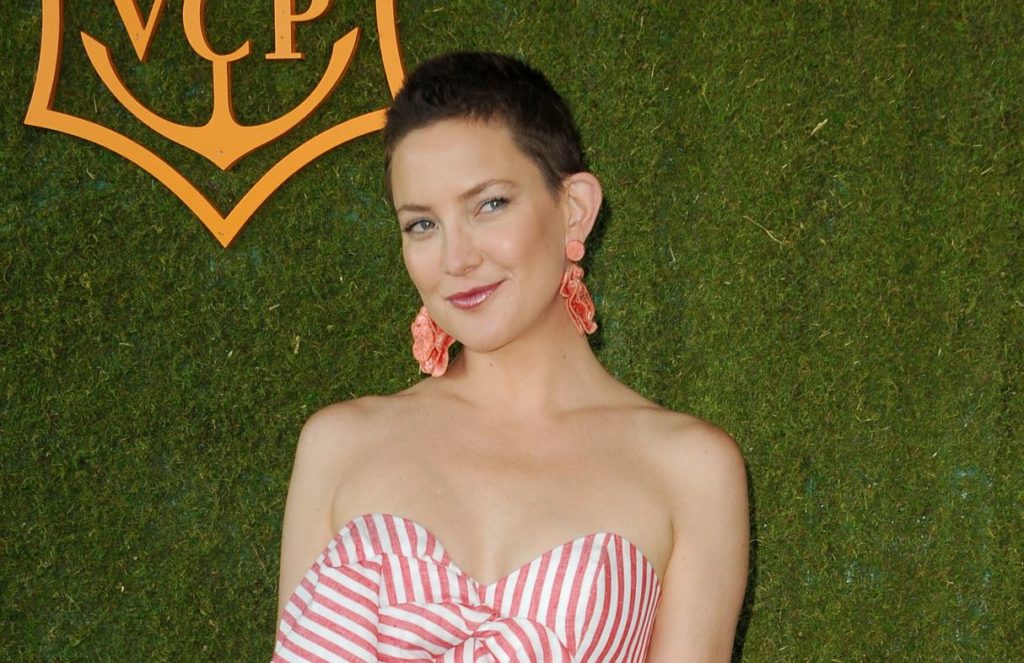 Whether the decision to shave her head was to make her passion for dirt biking a bit more manageable, or whether it was to fulfill her new role in Sisters, directed by Sia, we may never know.  What we do know is that this dramatic transformation is seems to suit her.
Hudson and son Ryder are both clean shaven now, and she cites that this new look is "growing" on her, despite the awkward phase that is sure to come with growing it out once more. Whatever she chooses to do with it, it's bound to be a win.
Lupita Nyong'o With Hair…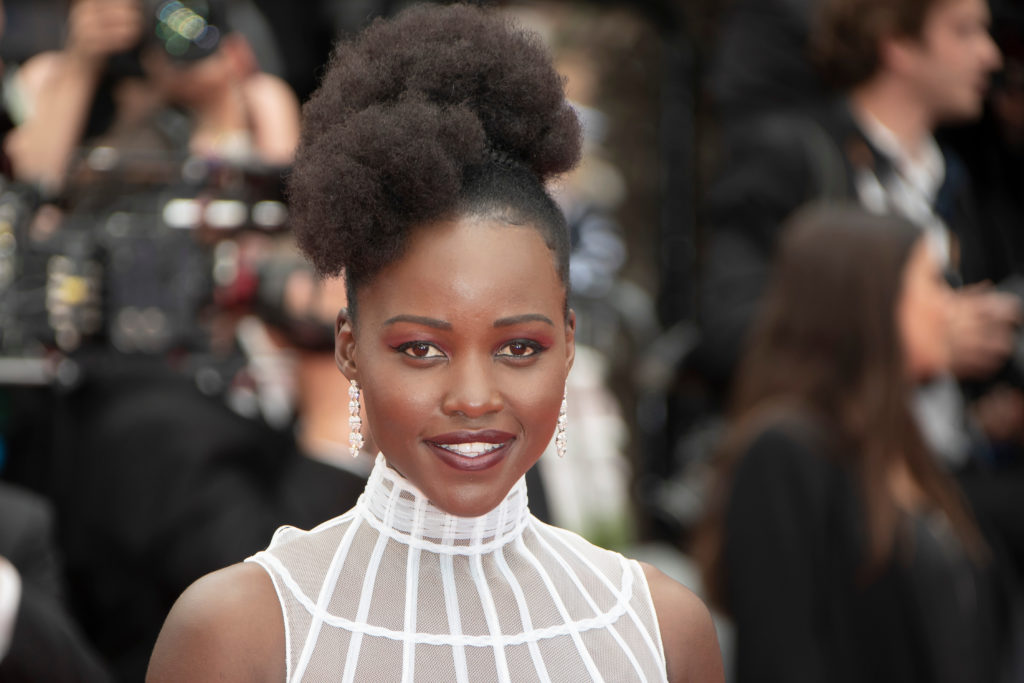 Lupita Nyong'o had a winding road to Hollywood fame and fortune, yet diverse experiences and travel opportunities lend themselves well to many roles. The Mexican-born actress grew up in Kenya and then traveled to the U.S. to pursue degrees in both film and theater studies.
Moving to Hollywood shortly after graduation, Lupita began her career as a production assistant. It wasn't long before she was noticed behind the camera; she made her acting debut with a short film called East River, climbing her way to star status with stellar performances in 12 Years A Slave and Us.
Lupita Nyong'o's Shaved Head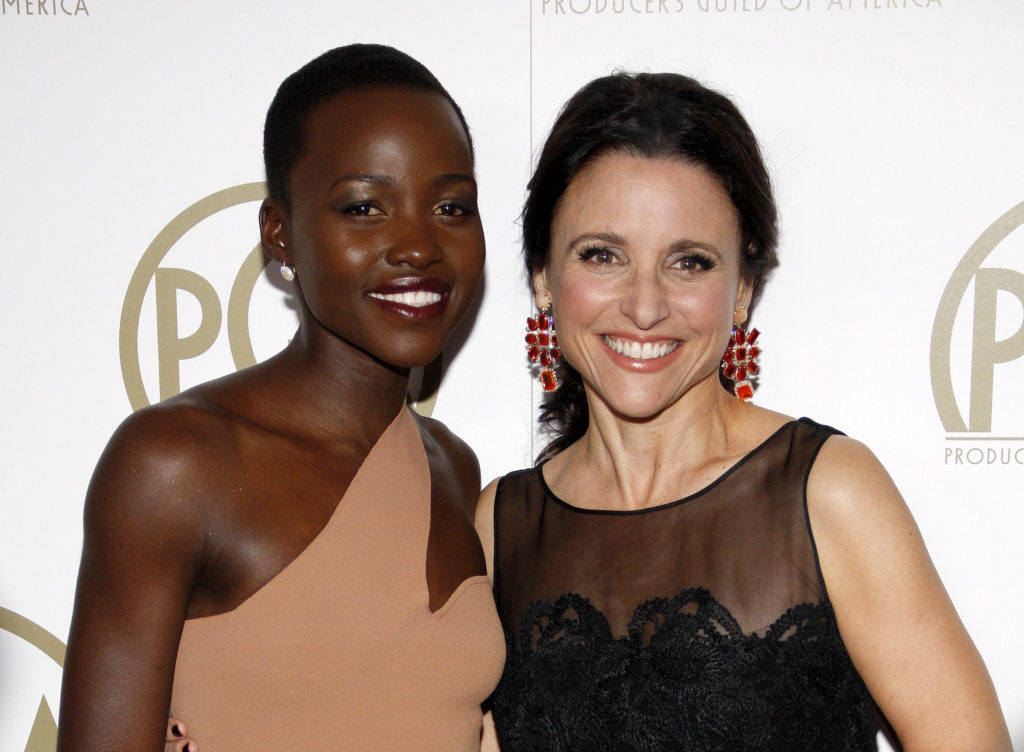 As a child, Lupita struggled with self-esteem issues connected to her wild hair. She begged her parents for a more relaxed 'do, but little did she know what she was getting into with upkeep, styling, and the cost associated with upkeep.
What started out as a joke and challenge from her father turned into a defining moment for her when she shaved her head clean to save a few bucks. She views a clean-shaven head as a strong statement of feminine power, and to this day, she still rocks a shorter style.
 Kellie Pickler With Hair…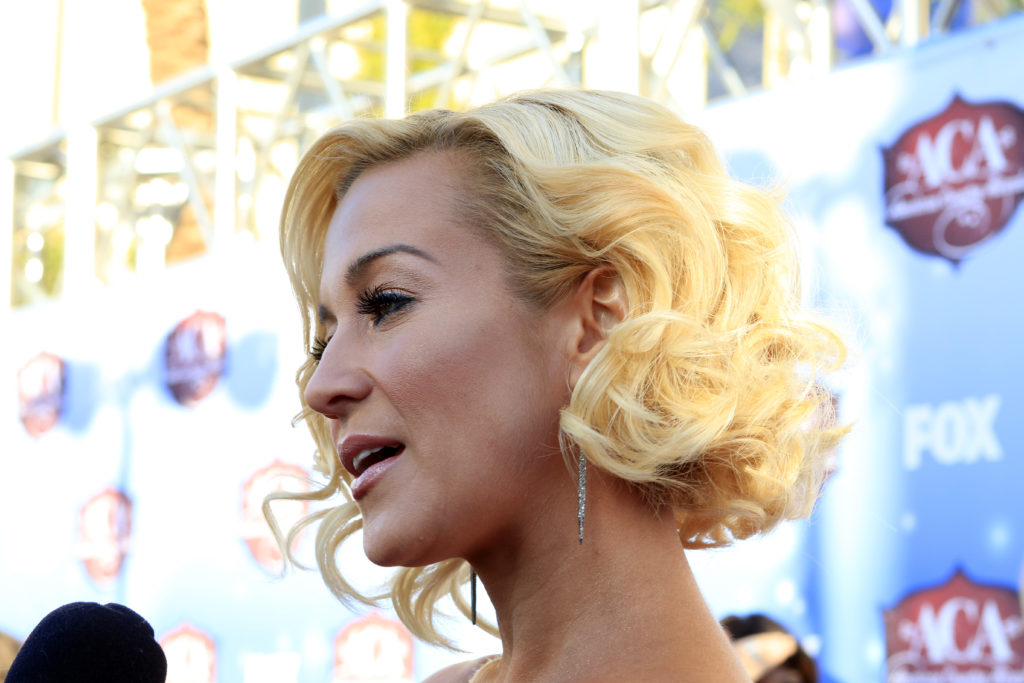 Kellie Pickler turned heads and stole hearts as a contestant on the fifth season of American Idol, coming in sixth place in the national music competition. Due to her exposure on the show, she was able to procure a recording contract with BNA records and start cranking out number one country hits.
This ambitious go-getter didn't have a clean advantage to stardom; after a rough childhood in North Carolina, she chose her opportunities wisely and continued working her way through the pageant circuit and other performance opportunities.
Kellie Pickler's Shaved Head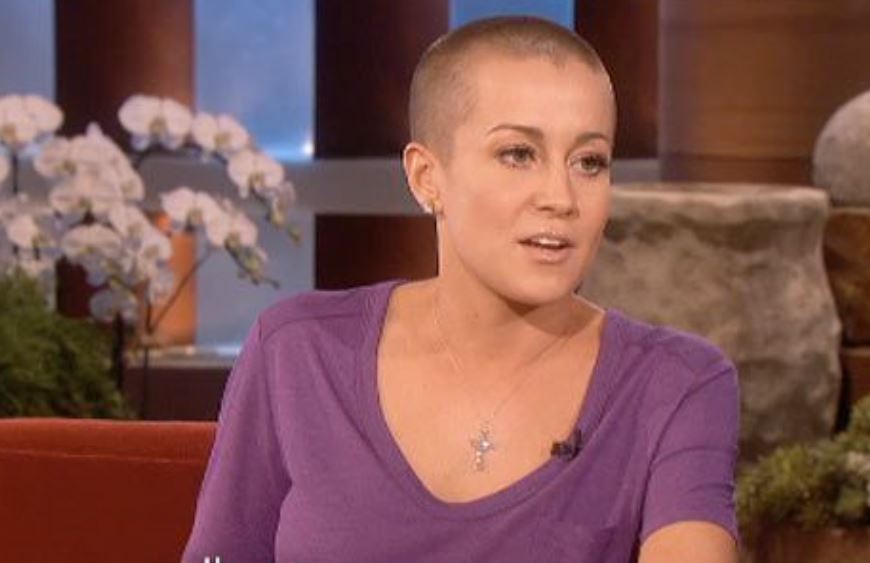 Kellie Pickler is the epitome of class; not only does she keep it together on the red carpet and beyond, she's a supportive friend to many. While many entertainers choose to go drastic with a look when a contract calls for it, Kellie's choice had deeper connections.
Her decision to go bald was not taken lightly; when a dear friend was diagnosed with breast cancer, Pickler shaved her head in solidarity and support in 2012. Adoring fans praised her courage and loyalty. This public awareness statement has helped improve donations toward breast cancer research nationwide.
Amandla Stenberg With Hair…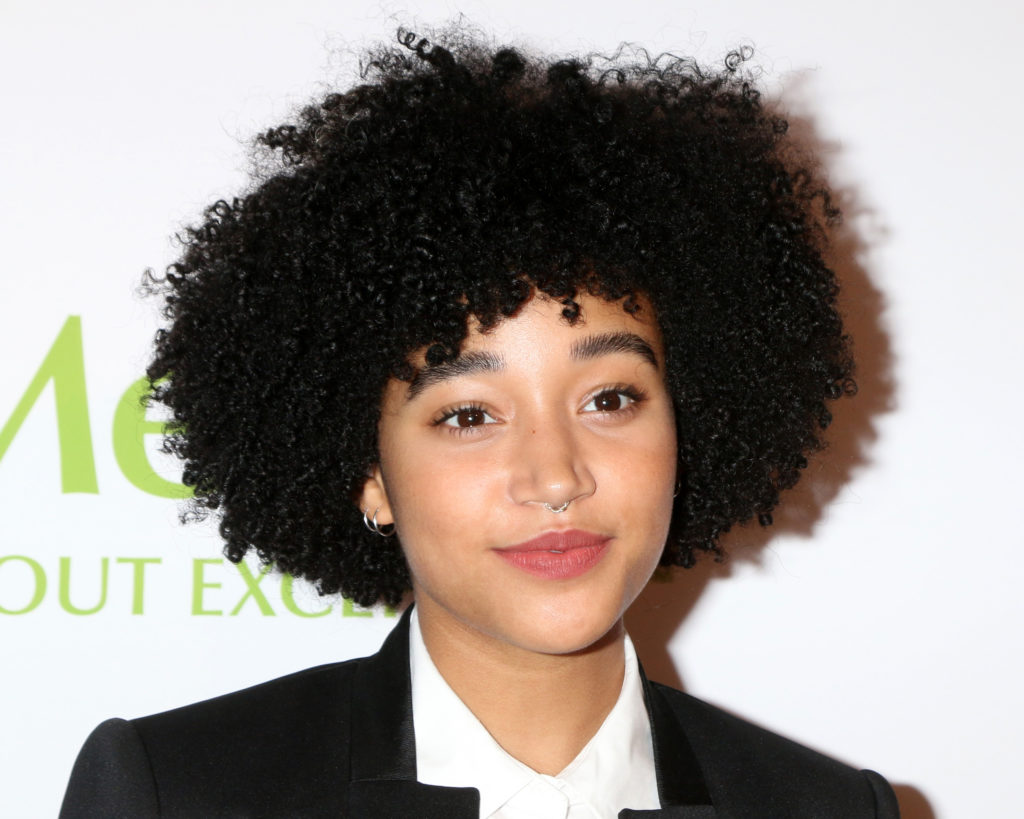 Amandla Stenberg has taken the acting world by storm since she was very young; her roles in The Hunger Games and The Hate You Give are award-winning. She made an impressive film debut in Columbiana, using her natural talent and influence to inspire other young actresses.
As impressive as her prowess on the red carpet, her list of awards and accolades for her work is enviable by other Hollywood celebs. She has received a Teen Choice Award, an NAACP Image Award, and a Critic's Choice Award for Best Young Actress for her roles in film and television.
Amandla Stenberg's Shaved Head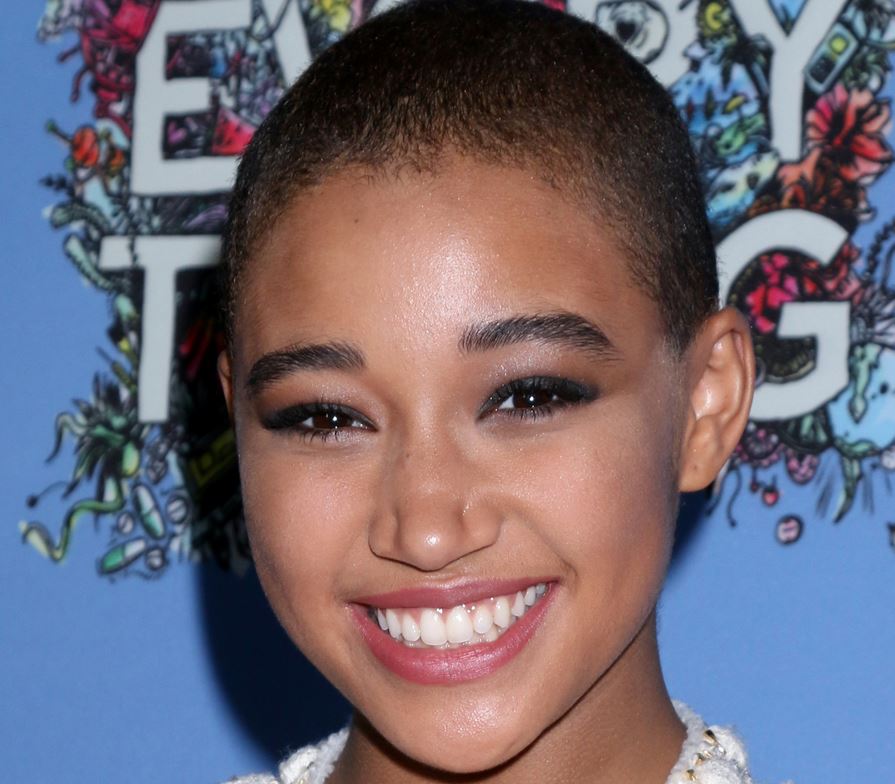 Stenberg is no stranger to the process of evolution, both on and offscreen, for her roles. She works with designers to make characters come alive with screen appeal and authenticity that adds to her performances.
Shortly after her performance as Starr Carter in The Hate U Give, Amanda chose to go bare for an upcoming role in When Hands Touch. She jokes that she "has achieved aerodynamic status now, and that it might just be a lasting change."
Selma Blair With Hair…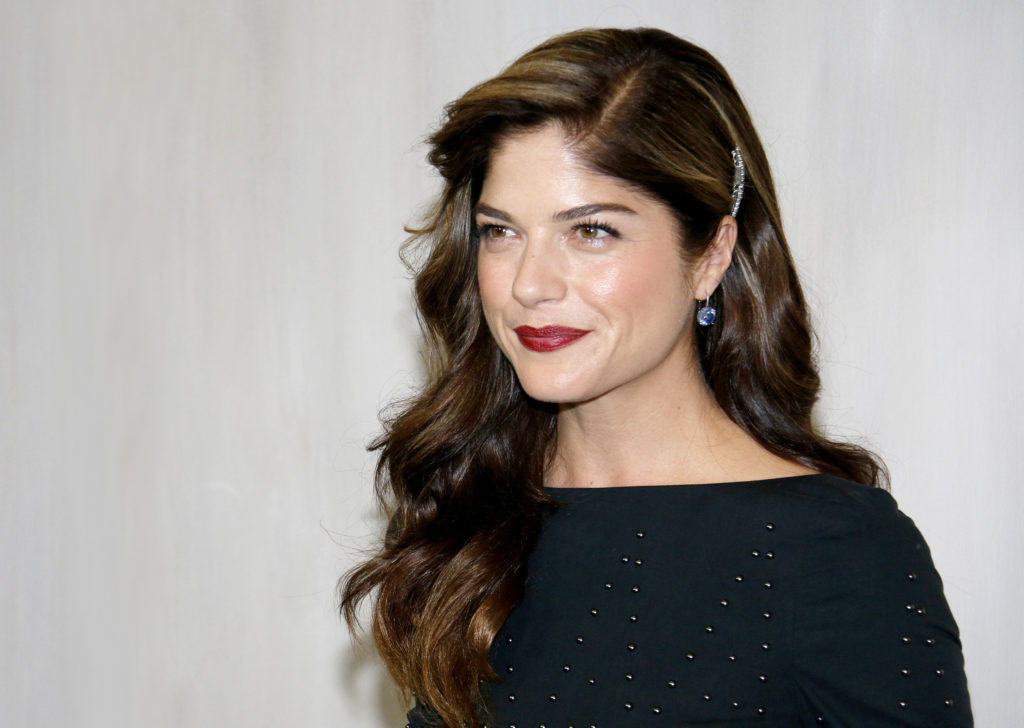 Selma Blair is a recognizable figure about Hollywood; her contributions to film and television as well as her humanitarian work with multiple sclerosis research after being diagnosed make her one of the most well-respected women in entertainment today.
She began her career with a debut leading role in Brown's Requiem, with subsequent roles as the relatable Zoe Bean on the WB sitcom Zoe, Duncan, Jack, and Jane and the contrasting dark character of Cecile in Cruel Intentions.
Selma Blair's Shaved Head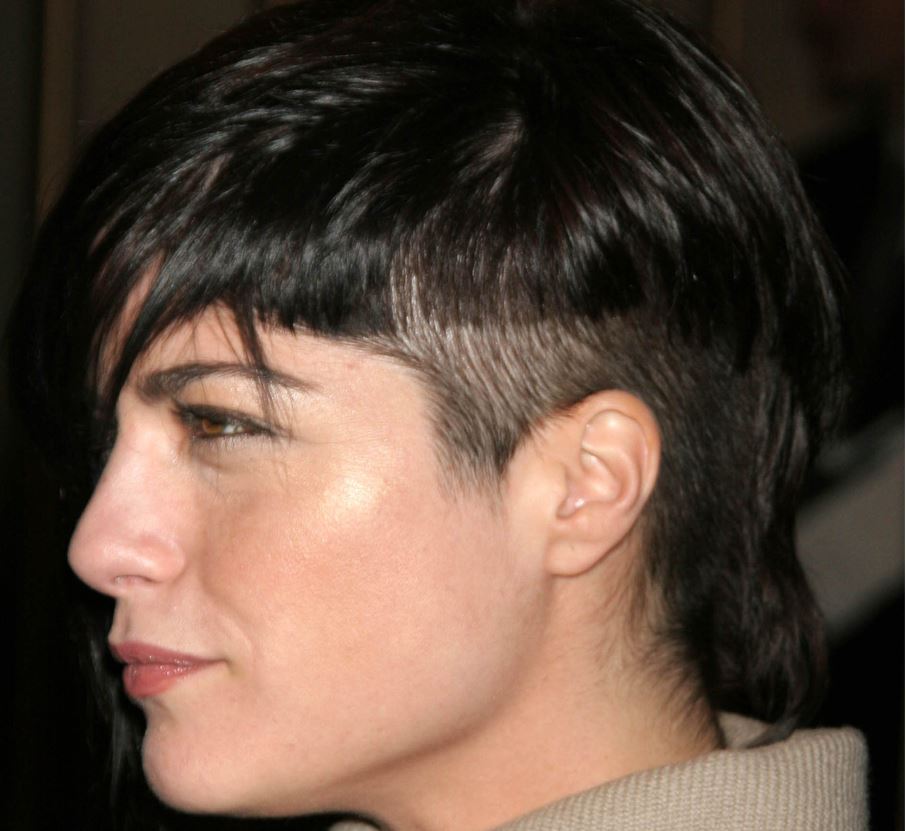 Her versatility and dedication to her craft earned her international fame, and she seemed to be on a steady rise to success until her 2018 diagnosis of multiple sclerosis, which changed her life dramatically.
During grueling treatments for the debilitating disease, Selma chose to shave her head. Amidst criticism from trolls who dug dirty on her new look, she holds her head up high and refuses to apologize for the new her.
 Toni Braxton With Hair…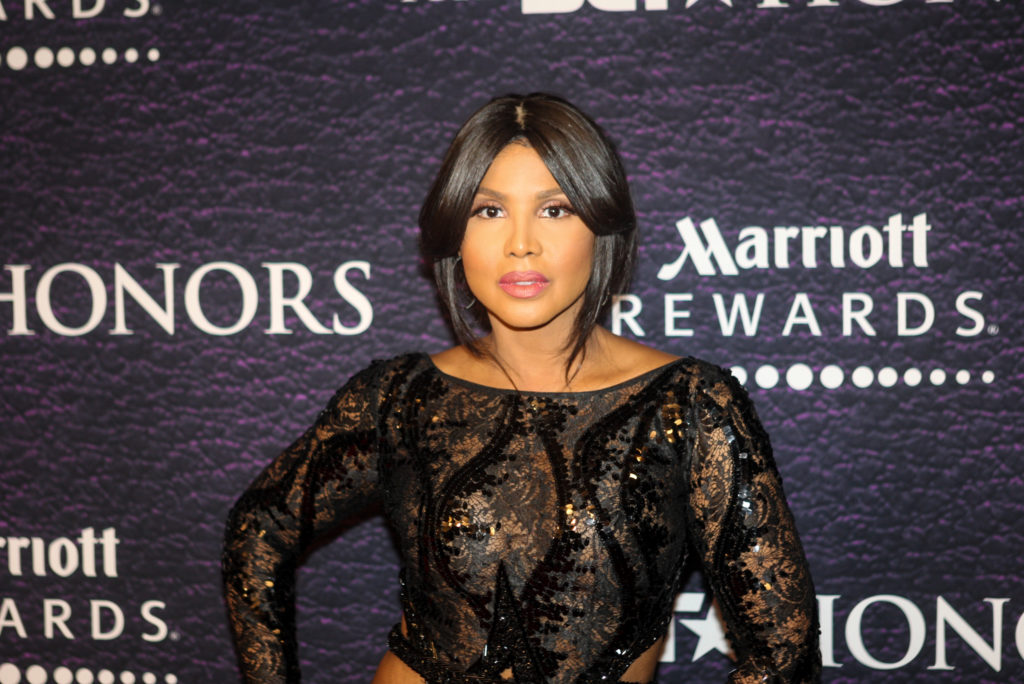 Apparently 50 is the new 30; Toni Braxton has the charisma and physical beauty to prove that golden years can be sexy too. This American singer, pianist, songwriter, and actress has sold over 41 million albums worldwide and is one of the highest-earning R&B artists today.
She began her career as a member of the musical group known as the Braxtons, formed with her sisters. This earned her the attention of producers L.A. Reid and Babyface Edmonds, who helped to produce her solo debut album in 1993.
Toni Braxton's Shaved Head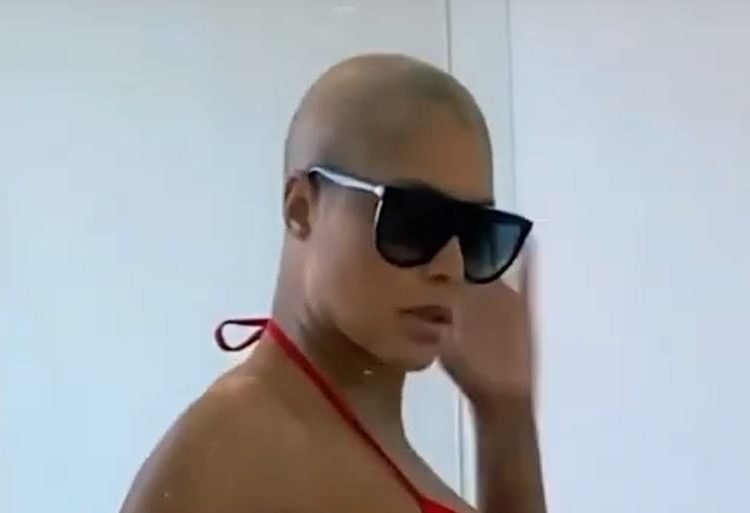 Being a fan herself of fashion and design trends, Braxton doesn't shy away from the revealing and controversial. She takes care of herself with a strict diet and exercise regime, and she is proud of her accomplishments.
As a tribute to summer, Braxton took to social media in April to show us all that middle age is just a passing phase. In a recent social media frenzy, the 53-year-old singer bares all in a red bikini and chooses to flaunt a barely-there hairline to round out her look.
Britney Spears With Hair…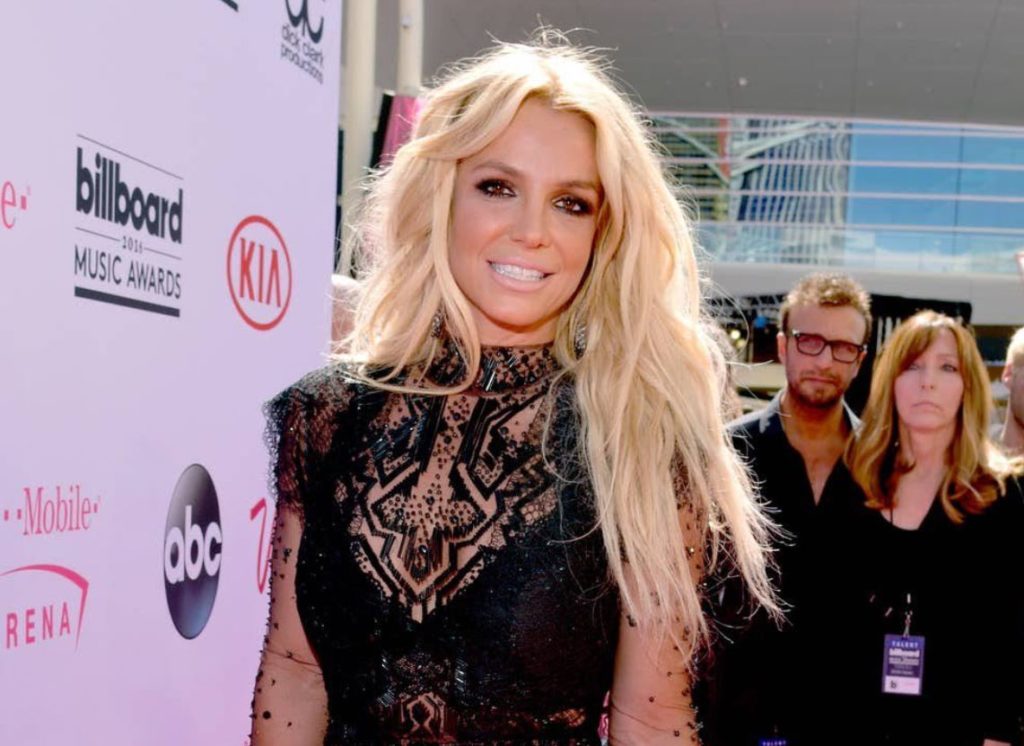 Britney Spears is one of the most recognized pop singers of the 90s and beyond; with hits like, "Hit Me Baby One More Time" and "Toxic," her talent and stunning good looks have given her plenty of time in the spotlight.
She started strong, her first major break coming as part of the cast of the revamped Mickey Mouse Club alongside contemporaries like Justin Timberlake, Christina Aguilera, Kerry Washington, and many others. It was here that she earned the attention of record execs who would launch her recording career.
Britney Spears' Shaved Head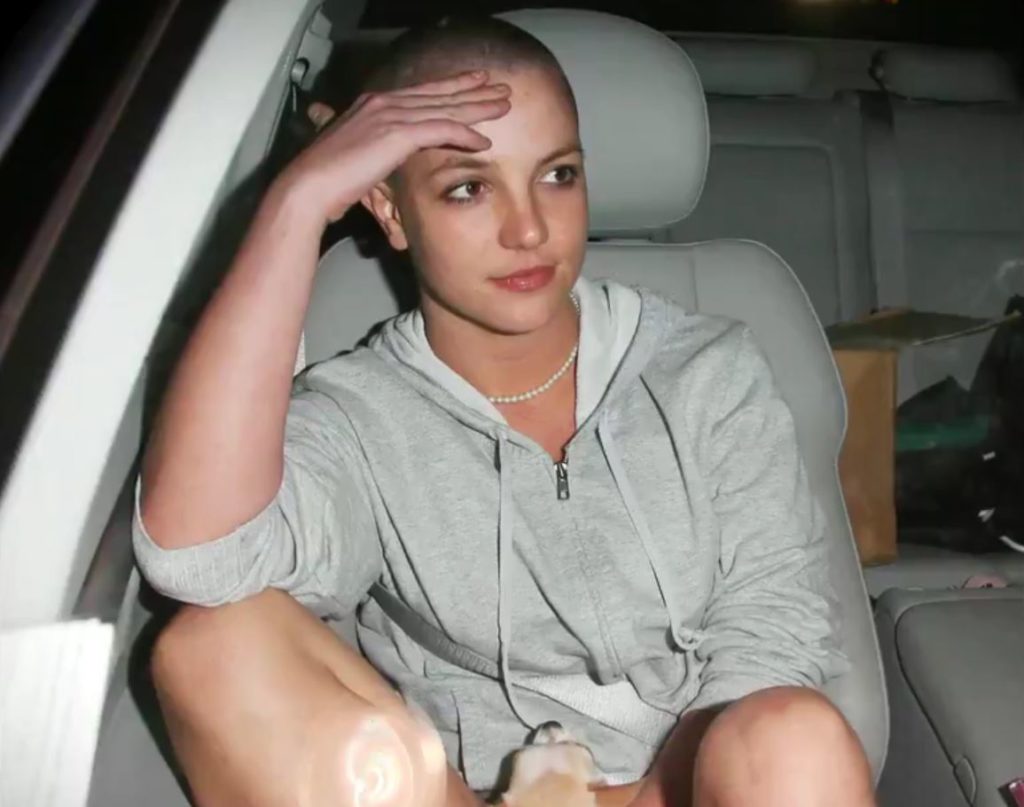 Unfortunately, Britney was subject to high-pressure performances, dishonest adults, short-lived marriages and excessive stress that led to mental health issues. In 2007, she shaved her head after an unsuccessful stay in rehab that inspired a dramatic statement to the world.
Recent events and a documentary called Framing Britney Spears have brought Britney to the forefront of conversation again as she struggles to free herself from the restrictive conservatorship that her father set up for her at the height of her success. Loyal fans of the conflicted star have been with her through thick and thin, and will continue to support her in this latest challenge.
Talullah Willis With Hair…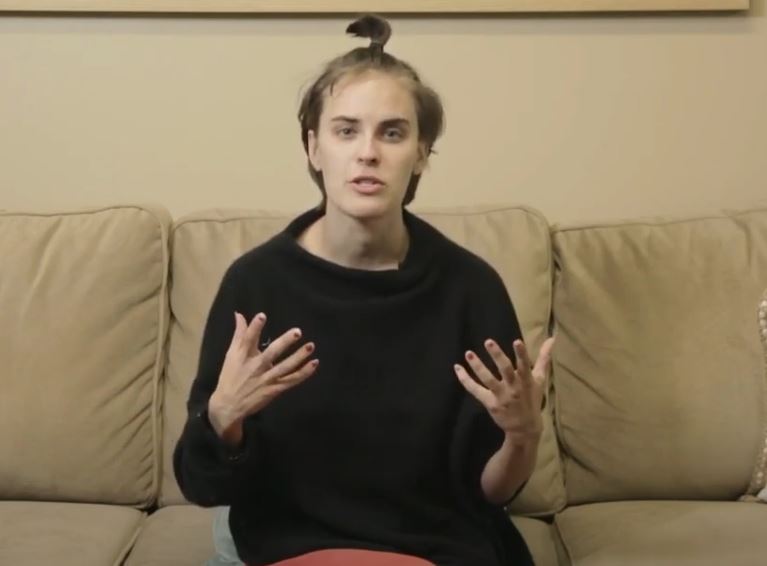 Talullah Willis is the famous daughter of Bruce Willis and Demi Moore; although she grew up in her parents' shadow, she demonstrates her individuality. The youngest of the Willis-Moore empire, she overcame some personal struggles to rise to success on her own.
Willis' parents divorced when she was only four; the turbulent period of time that resulted from the split caused her to turn to drugs and alcohol at a young age. At just fifteen years old, she battled addiction to alcohol and an eating disorder that threatened her health.
Talullah Willis' Shaved Head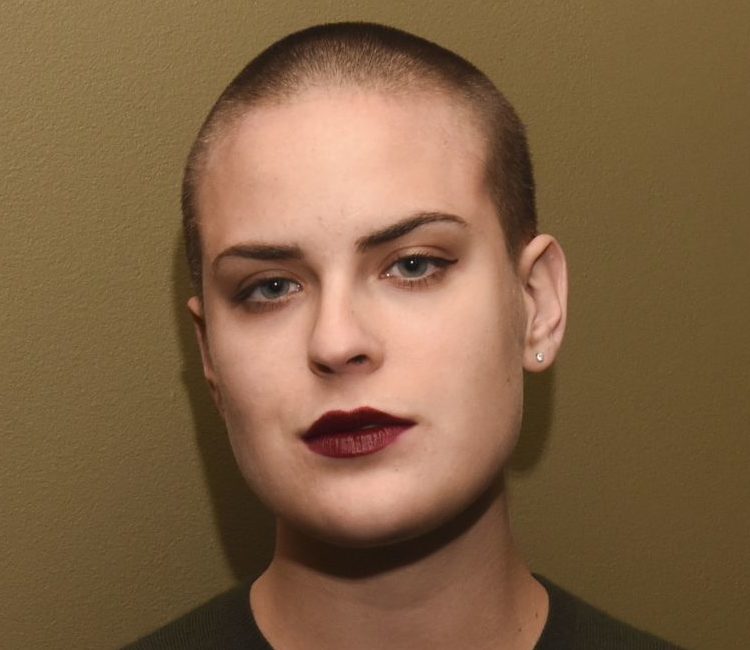 Thankfully, Willis chose to embrace life, and overcame her addictive struggles to carve out a place for herself in Hollywood with work in film and television. She can be seen on films as The Whole Ten Yards, along with appearances on Entertainment Tonight, Celebrity Page, and Dancing With The Stars.
In a rare display of "like mother, like daughter" tendencies, Talullah chose to go bald to see how well it would bring out her iconic cheekbones. Whether she's following in her famous mother's footsteps or she wanted to simplify life in quarantine, we're loving the new look.
Joey King With Hair…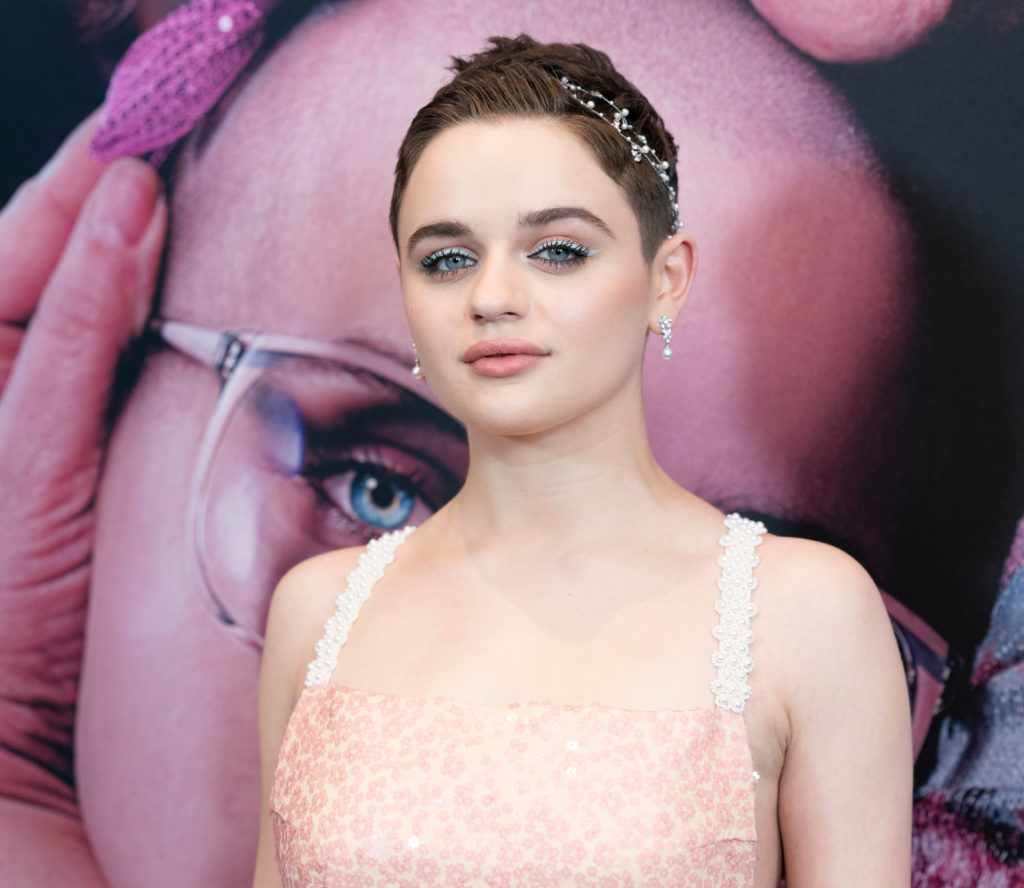 Joey King is an American actress who first earned recognition for portraying Ramona Quimby in the children's film Ramona and Beezus.  She went on to pursue a successful transition to more adult roles in The Kissing Booth and its resulting sequels.
King has also appeared in feature films such as Battle: Los Angeles, Crazy Stupid Love, and Independence Day: Resurgence. Her work has earned her nominations for both a Primetime Emmy Award and a Golden Globe.
Joey King's Shaved Head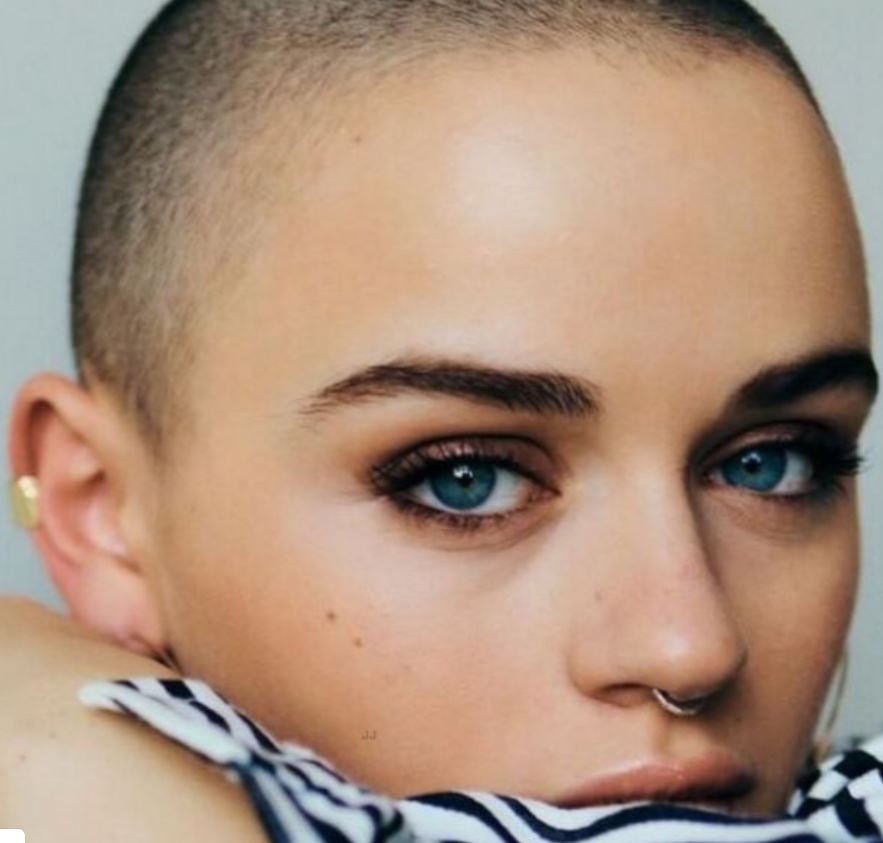 Many dream of owning King's feminine facial features that most ladies only dream about. Her decision to go bald shocked and surprised her fans. She has transformed her look several times through the years, rocking her natural brunette to blonde and then blue.
For a new role as Gypsy Rose Blanchard on Hulu's The Act, Joey chose to shake things up a bit, bidding adieu to her beautiful locks. She claims it helped her tap into her true confidence and potential. "It gives me the extra push I needed," she claims.
 Noemie Lenoir With Hair…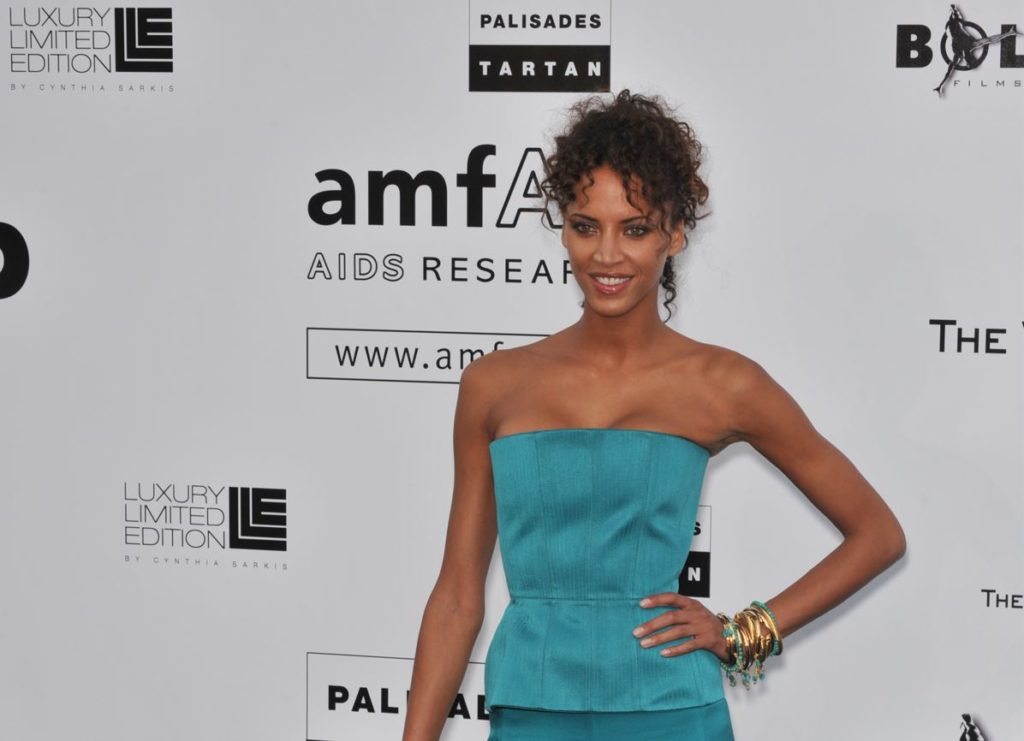 Noemie Lenoir is a French model and actress best known for her runway work with Gucci, L'Oreal, Gap, Tommy Hillfiger, and Victoria's Secret. She has been featured as one of the world's most prominent and successful black models by Annie Leibovitz.
She was discovered at the young age of 17 by a Ford representative in her local post office. Signing with L'Oreal in 1997, she achieved solid success in the modeling world before making her crossover to film with Rush Hour 3 alongside Jackie Chan.
Noemie Lenoir's Shaved Head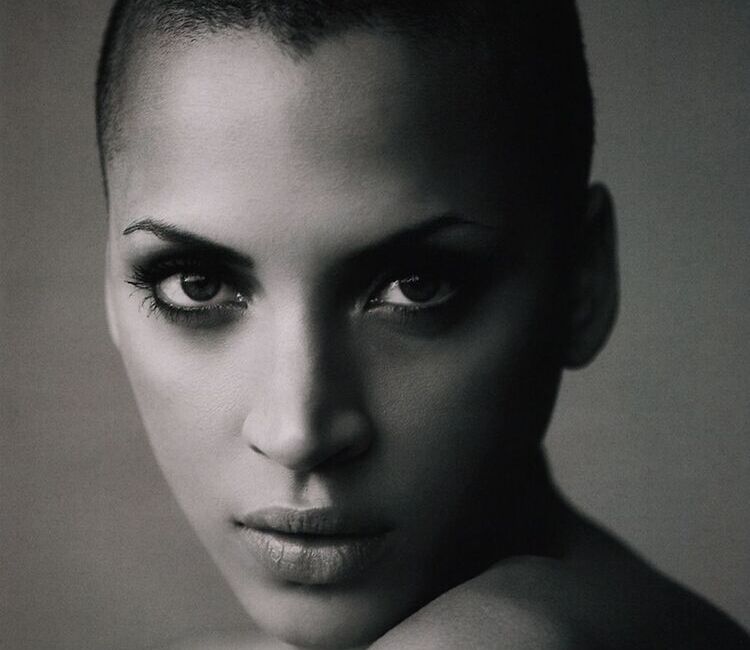 Her unique mark in the modeling world was once with her signature curly locks; they grace ad campaigns across the globe and made her easily discovered. Since then, she's changed her look several times for print and film, with her most drastic being for her breakthrough role.
She went drastically shorter with her thick curls in 2006, when she starred in Rush Hour III alongside Jackie Chan and Chris Tucker. Apparently, the look suits her, for adoring fans of her once luscious locks are now gushing over her new glow and strong, confident appearance.
Elliot Page With Hair…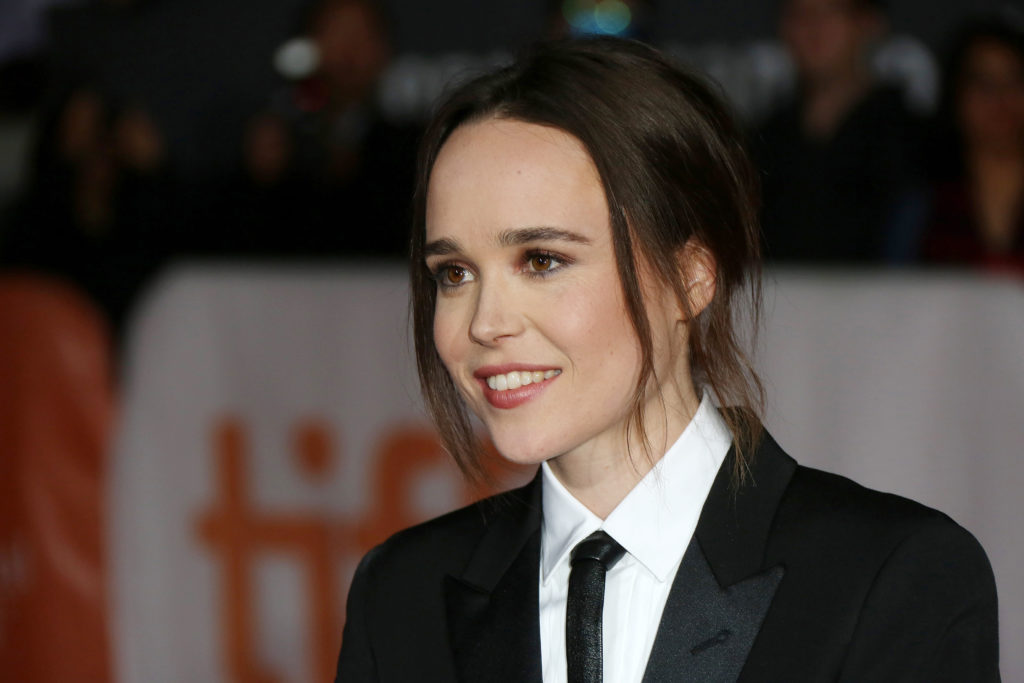 Elliot Page, formerly Ellen Page, is a Canadian actor, writer, and producer. He first came to be recognized for a role in the television show Pit Pony; for it, he was nominated for a Young Artist Award. Page has the unique distinction of having appeared in film in both male and female leading roles, all of which have earned him critical acclaim.
Some of Page's notable performances include Hard Candy, Juno, and Inception. To date, his work in Juno made him one of the youngest nominees for Academy Award Best Actress, elevating him to international fame.
Elliot Page's Shaved Head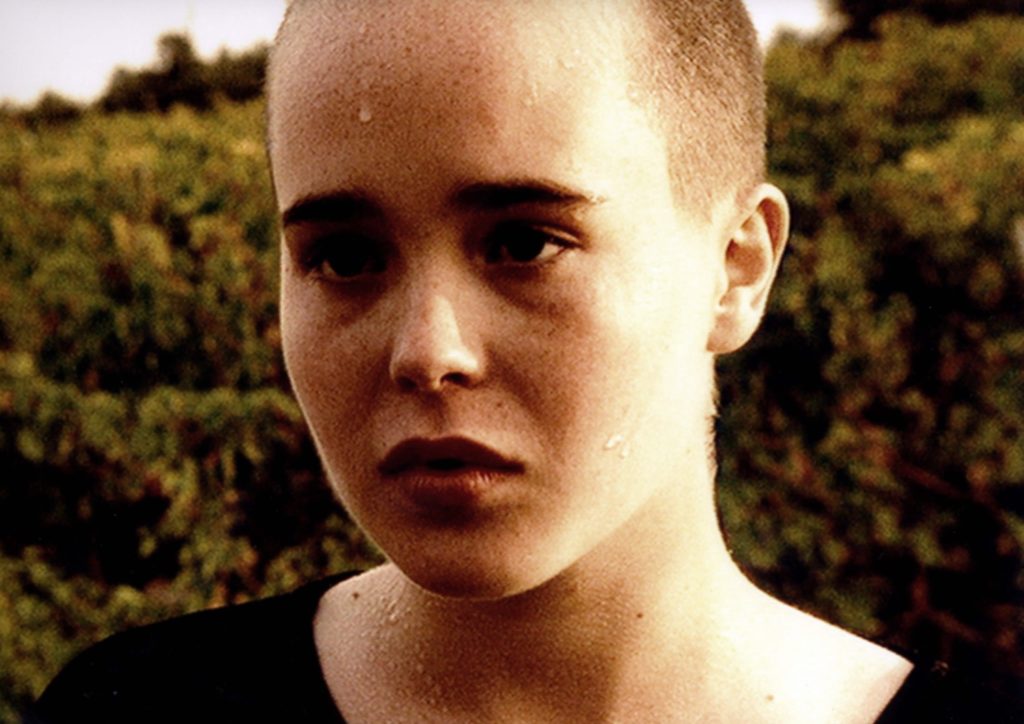 Even before his transition, Elliot was experimenting with shorter, simpler 'dos to express his true nature. He starred in a British indie film entitled Mouth To Mouth, in which he plays a troubled teen who joins a group of runaways.
As the film progresses, we see Ellen's locks get progressively shorter. Among the teen gang's many misadventures is some time in the barber's chair; Page chooses to shave her head clean as part of her character identity struggle.
Robin Tunney With Hair…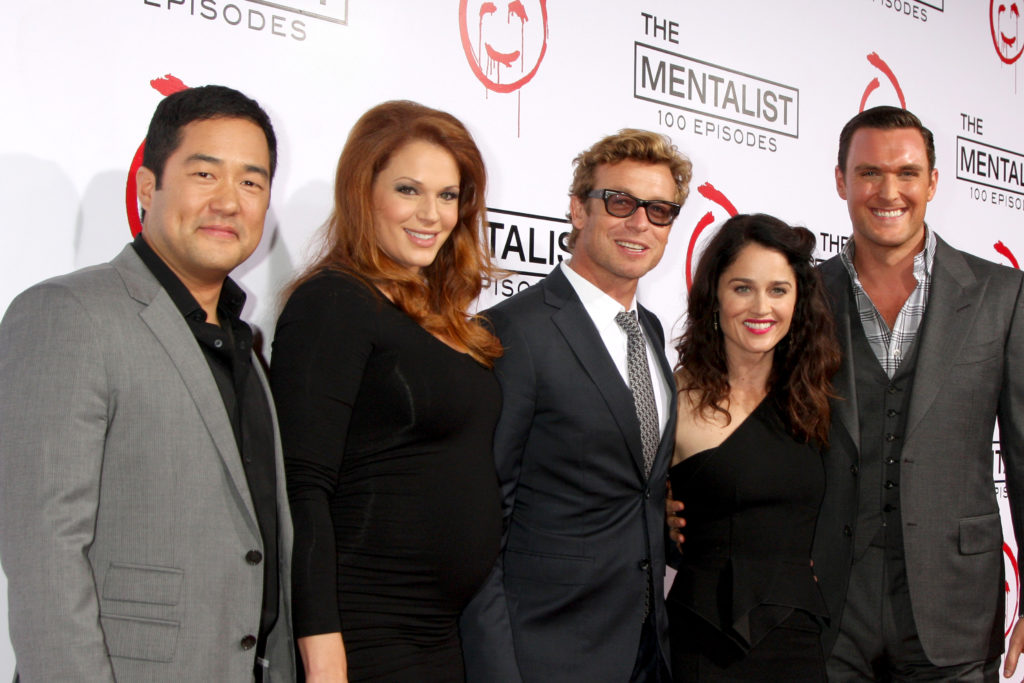 Robin Tunney is an American actress well-known for her role as Teresa Lisbon in The Mentalist. Several cult films and iconic roles fueled her rise, including a breakout role in Empire Records that defined her as an up-and-coming star.
Tunney made her film debut in the 1992 comedy entitled, Encino Man. Her brief but memorable performance opened the door for other cult classics such as The Cult and Niagara, Niagara. She continued scoring other roles in film and television, earning critical acclaim for her work.
Robin Tunney's Shaved Head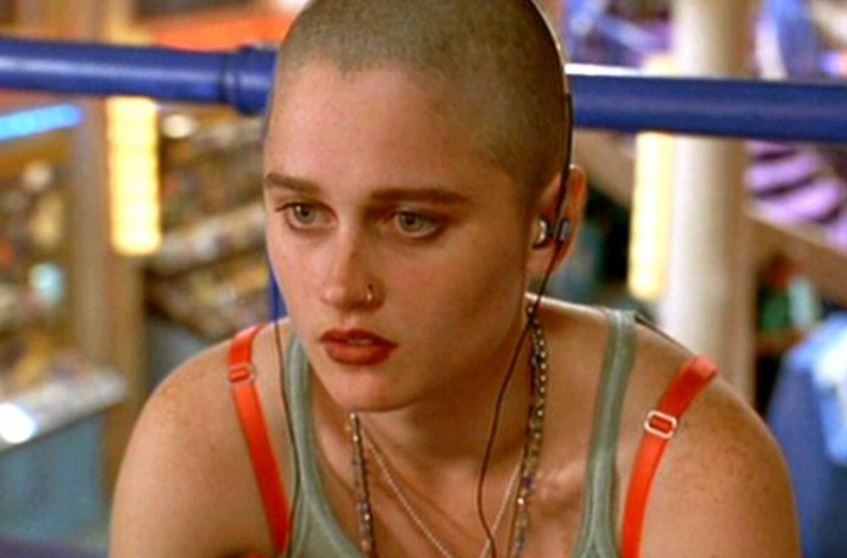 Tunney scored leading roles in several action-thriller films, including End Of Days, Supernova, and Vertical Limit. While given other opportunities to venture outside this successful niche, she has been most comfortable in this genre.
To date, one of Robin's most significant and notable roles is that of Debra in Empire Records. The film centers around her punky character who struggles to come of age while dealing with self-esteem, relationships, and life in general. Tunney was asked to shave off her long locks to give her character more depth and edge; she is portrayed with the tendency to inflict self-harm, and her shaven head was a perfect testament to her conflicted nature.
Keke Palmer With Hair…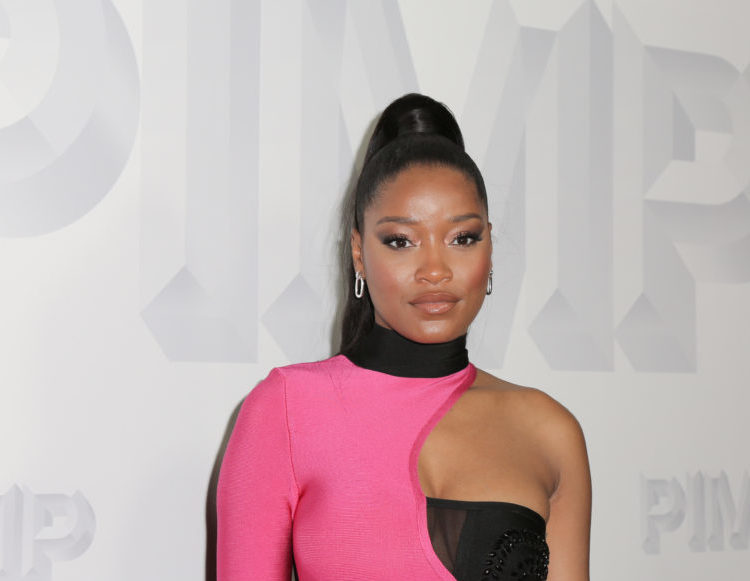 Lauren "Keke" Palmer started her prominent film and television career as a child; her first breakthrough performance was Akeelah And The Bee. Due to her exceptional work in television and film, she was included on Time magazine's list of most influential people in the world.
Palmer made an outstanding debut in a cameo in Barbershop 2: Back In Business. Her work in Akeelah And The Bee primed her for several awards, including an NAACP Image Award for Outstanding Actress In A Motion Picture. Her star seemed set for big strides in entertainment.
Keke Palmer's Shaved Head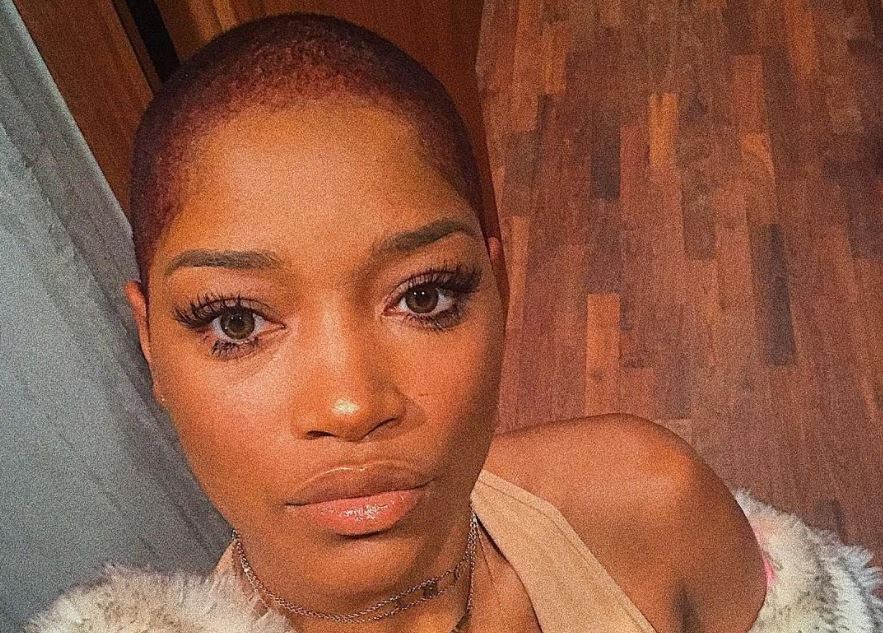 Being a true artist who loves to experience and play with all aspects of herself and her talent, Palmer admits that she loves finding new versions of herself that make her feel inspired. Her latest project involved a reinvention of the "self," complete with color change.
Keke recently took to Instagram to sport a lovely shade of lilac, along with some seriously short locks. "I'm in a place in my life where I realized I don't have anything stopping me from expressing my true self, and I'm truly happy," she claims.
Slick Woods With Hair…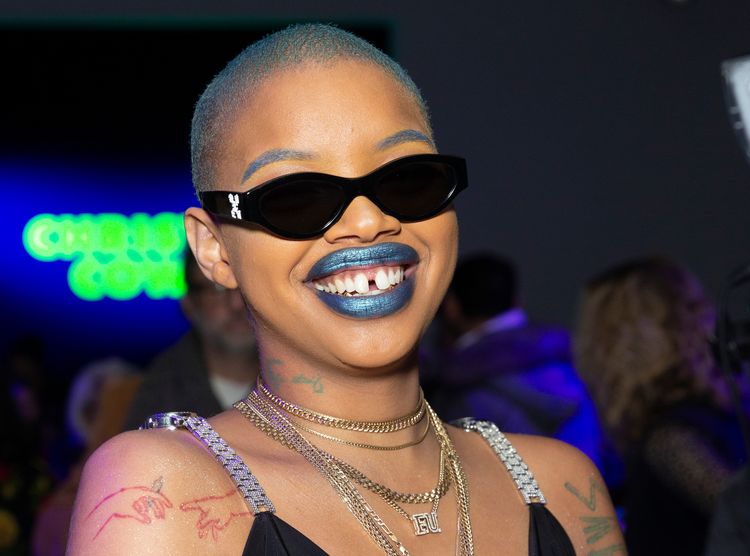 True entrepreneur Simone Thompson, otherwise known as Slick Woods, is a self-made millionaire thanks to her efforts on social media. She is an American fashion model known for her gapped teeth, big personality, and constantly evolving look.
Woods made a name for herself as part of the Social Media modeling movement; she has an impressive following of over 100,000 fans who regularly tune in for inspiration, fashion tips, and over-the-top personality.
Slick Woods' Shaved Head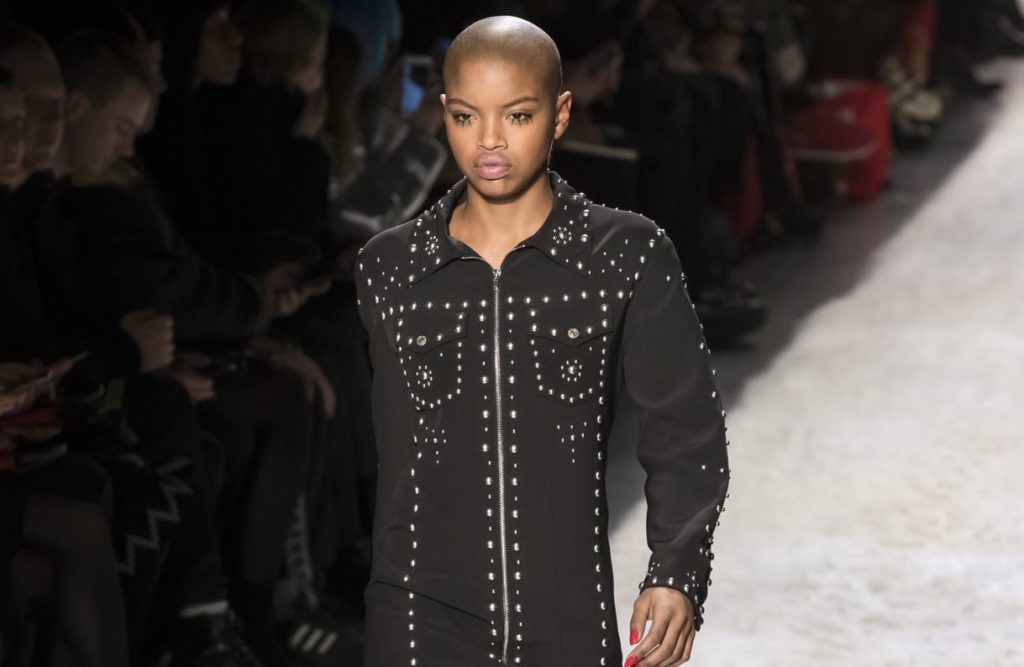 Reportedly, Kanye West is one of the many celebrities who took notice of Woods as she entered the social media frenzy; he can be credited with her ascension in the modeling industry and her close association with friends like Naomi Campbell, Lupita Nyong'o, and Diddy.
As if her larger-than-life persona weren't enough to gain media attention, Woods credits her newly shaved head with rising interest and increased self-confidence. "I'm more in touch with myself now," she claims.
Emma Watson With Hair…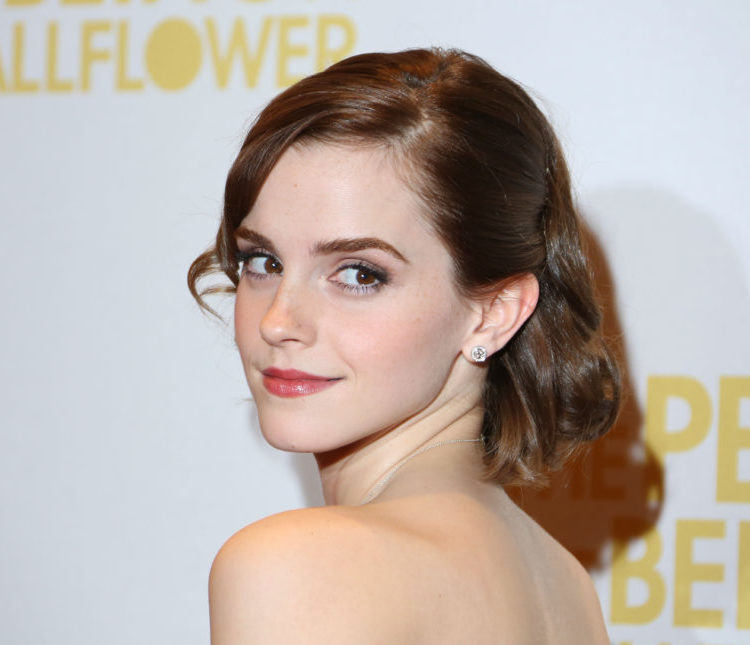 Emma Watson is an English-born actress, producer, and activist. She's gained recognition for both her film work and her devotion to women's rights, having the unique distinction of making Time magazine's list of 100 Most Influential People.
Watson had a passion for acting and performing from a very young age; her lucky break was being cast as Hermione Granger in The Harry Potter film series with little previous experience. This opened the door for several other opportunities both on and off screen.
Emma Watson's Shaved Head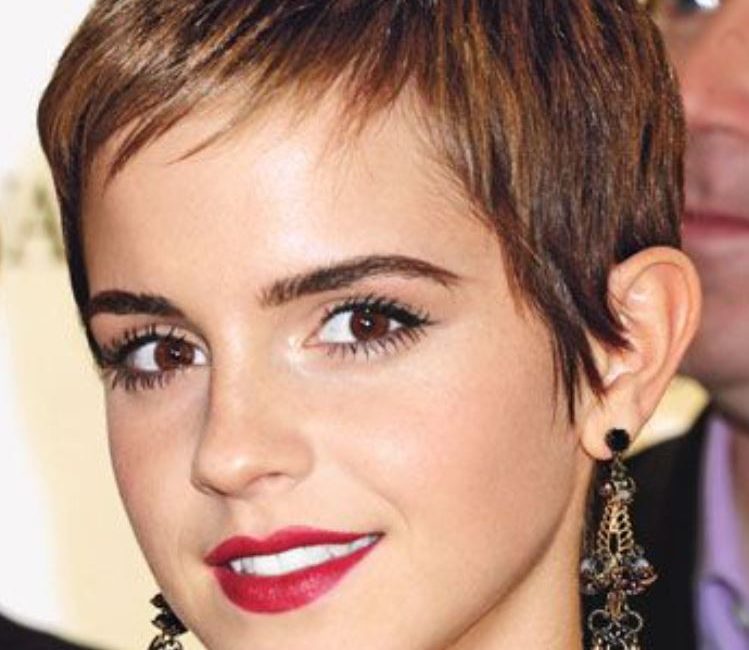 Despite the fact that Watson enjoyed her time on the set filming Harry Potter, she didn't get a chance to express her personal style, as she was locked into a contract that mandated longer hair and a younger appearance.
She took the opportunity to unleash her inner fashionista with some serious changes to hair and makeup after the series wrapped up. Her dramatic crop not only distanced from her childhood character, she cites that it was one of the most liberating events of her life thus far.
Mena Suvari With Hair…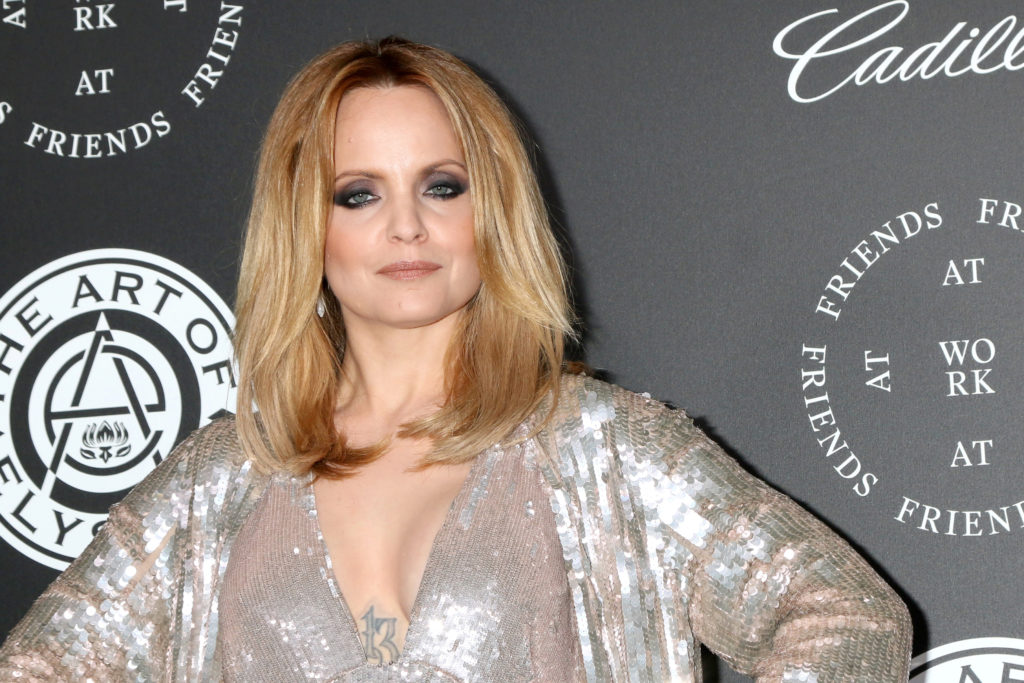 Mena Suvari cemented her status as the girl next door thanks to her angelic appearance in the 1999 drama, American Beauty opposite Kevin Spacey. Upon beginning her career as a model and starring in television productions, she debuted in the 1997 drama Nowhere.
Her role as a teen starlet in American Beauty earned her a BAFTA Award nomination for Best Supporting Actress. Other notable roles include American Pie, Slums Of Beverly Hills, and Sugar & Spice.
Mena Suvari's Shaved Head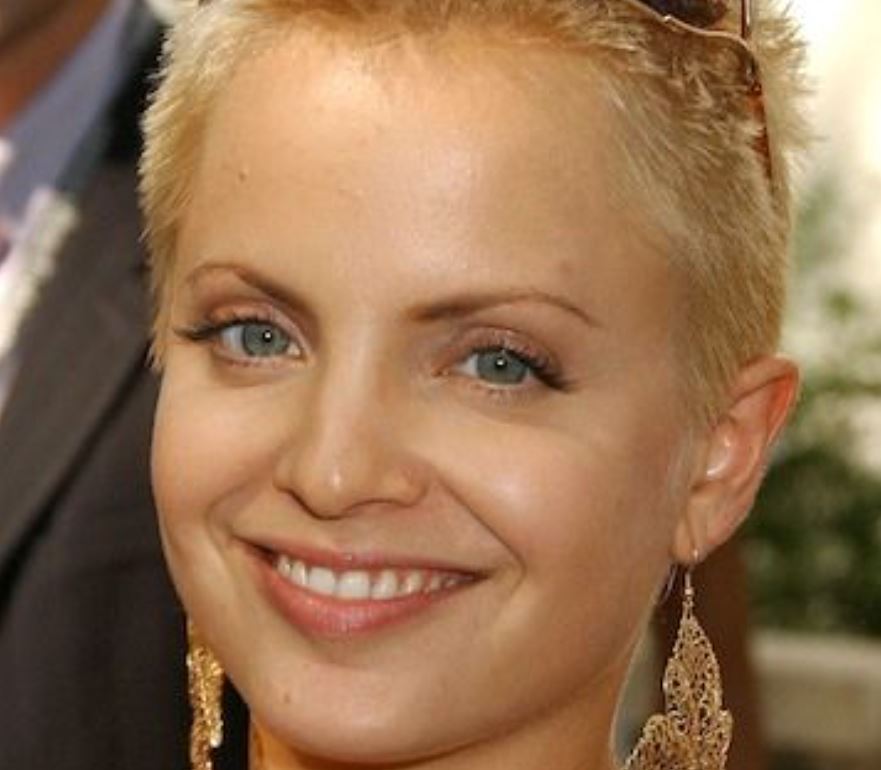 Despite her outstanding success in film and television, Suvari is no stranger to the temptations of drug and alcohol addiction. She became addicted to meth as a teen, and this paved the way to a dark life that almost spiraled out of control.
After a recent experience in recovery, Suvari came clean in more ways than one; she emerged for lunch with friends free from her lovely blonde locks. Though friends and fans were shocked, we applaud her decision to embrace positive change and start fresh.
Hillary Swank With Hair…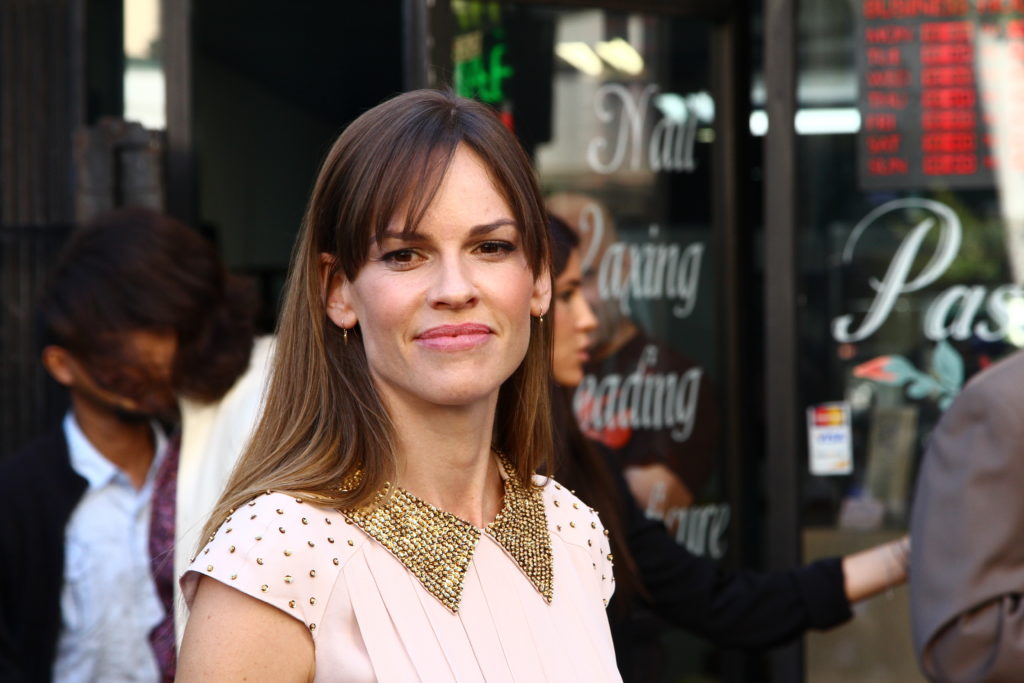 Hillary Swank is an American actress, writer and film producer. She made her television debut in the series Camp Wilder, impressing both audiences and critics nationwide. Swank went on to score a debut role in the film version of Buffy The Vampire Slayer; her dedication to performance and improvement opened up many more opportunities for her.
Swank continues to surprise audiences with her versatility and attention to detail as she fully embodies the characters she plays. From young, naive teacher in Freedom Writers to her award-winning performance as Brandon Teena, a trans man, in Boys Don't Cry, we wonder what innovative talents she'll bring to the table with each new film.
Hillary Swank's Shaved Head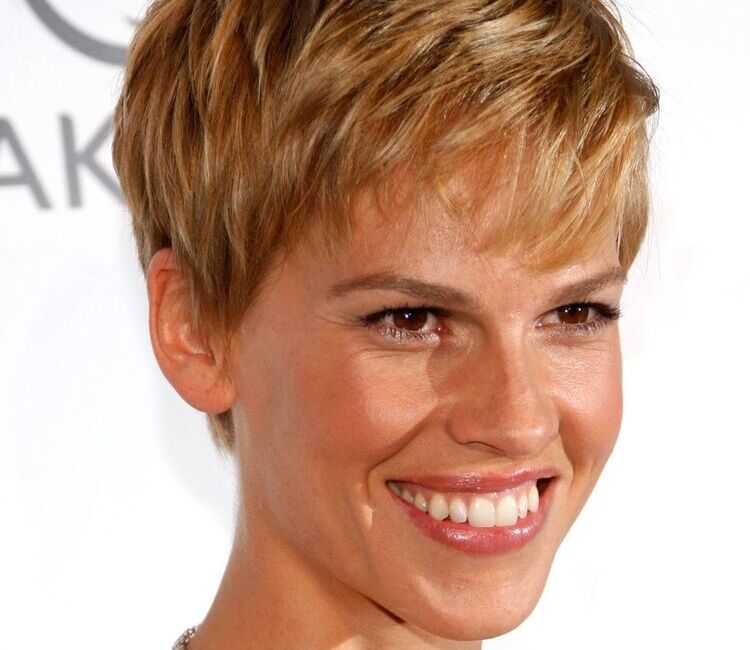 She has taken on predominantly strong female roles in her career, and she sports that quiet strength and confidence well. By far, her most significant and ground-breaking role has been that of a transgender man in a film by Kimberly Pierce.
For her Oscar-winning role in Boys Don't Cry, Swank plays the role of a transgender man trying to find love, for which she had to go under the razor. She was praised by the LGBTQ community for her accurate and soul-stirring portrayal of a young man navigating his way through teen relationships.
As mentioned, hairstyles are just one of the tools to slow down the aging process. Certain A-list celebrities must have others however, as they've seemingly succeeded in stopping, or even reversing time. We sure would love to know the secrets that keep these Hollywood icons from aging like the rest of us…
Vanna White – Born 1957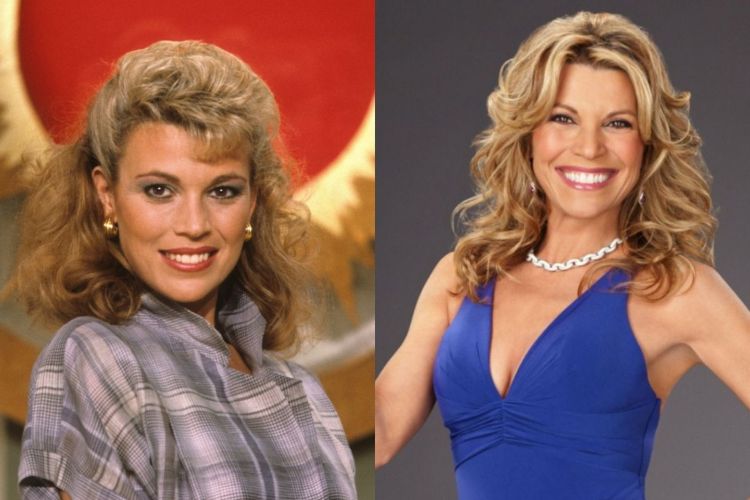 After Wheel of Fortune hostess Susan Stafford left in October 1982, White was selected as one of three substitute hostesses to co-host the show. Vanna impressed the most and in 1982, she became the regular hostess.
White is a patron of St. Jude Children's Research Hospital and has donated around $2 million to the program over the years. She plans to continue her philanthropic work even after her retirement from TV.
Heidi Klum – Born 1973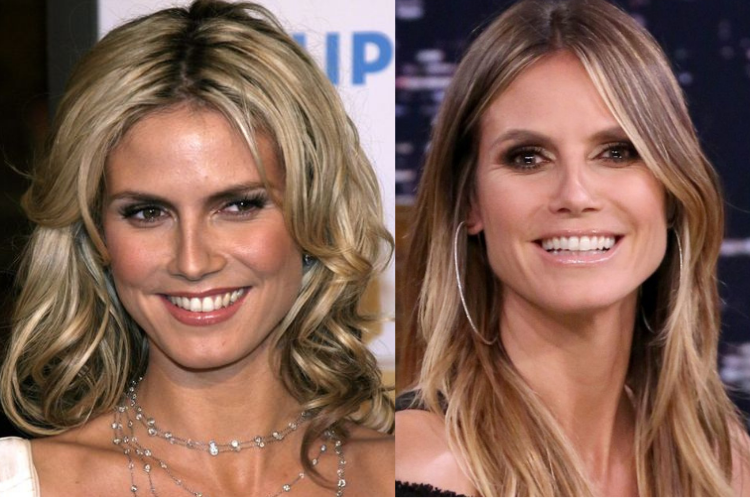 Heidi Klum is known to many as one of the most famous supermodels in the world, but at this point has done it all. Having first taken the world by storm after appearing in the Sports Illustrated Swimsuit Issue in 1998, she also became the very first German-born model to become a Victoria's Secret Angel.
Aside for modeling, she also went on to host and executive producer of the reality show Project Runway. And in 2013, she became a judge on the hit reality show America's Got Talent. Klum has vocally spoken out against ageism in the modeling industry.
Morgan Fairchild – Born 1950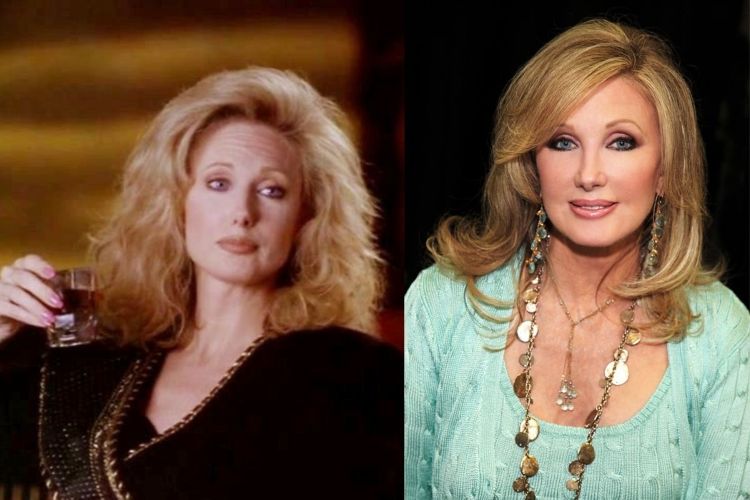 Fairchild's acting career started with Search for Tomorrow, where she played the role of Jennifer Pace. From there, she got several continuing roles in TV series and has credits in other film and TV productions.
Apart from her acting career, Morgan also has a role as a board member of the Screen Actors Guild. When it comes to activism, Fairchild fights for the environment and supports causes for AIDS.
Eva Longoria – Born 1975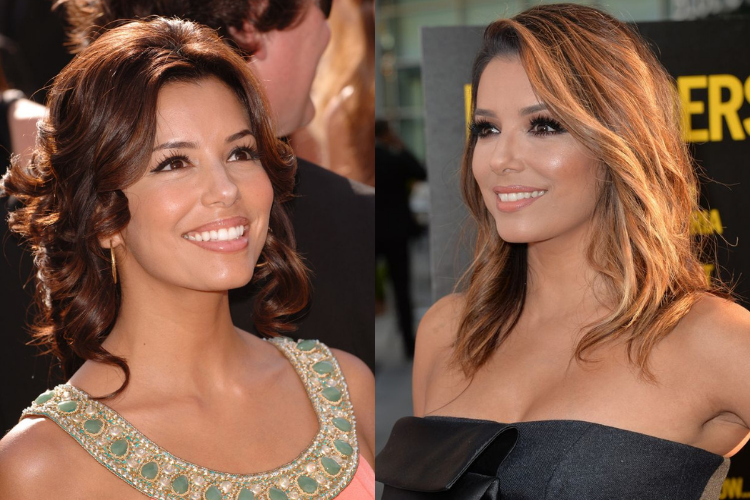 Eva Longoria became a household name starring on the drama Desperate Housewives, and was on the soap opera, The Young and the Restless before that. For her role on Desperate Housewives, she received Golden Globe and Screen Actors Guild Award nominations.
She was named one of Hollywood's most beautiful women by several publications, including People en Español and People magazines. Two of the companies she has modeling contracts with are L'Oréal and New York & Co.
Halle Berry – Born 1966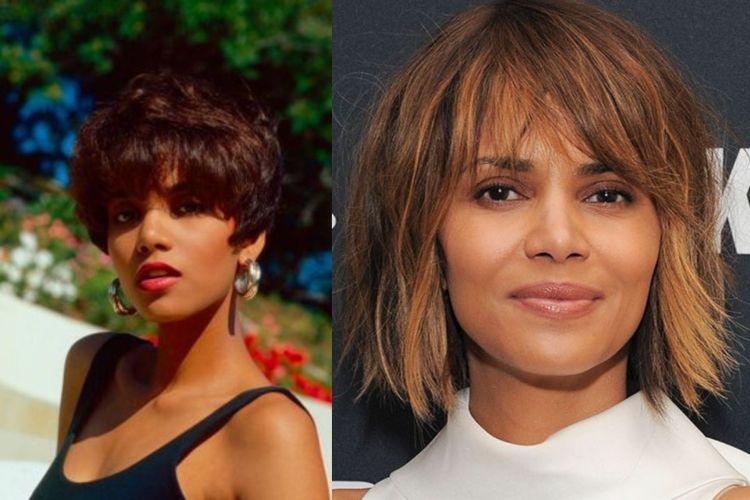 Berry started out as runner-up in the Miss USA pageant and was sixth in the Miss World 1986. Halle crossed over into acting and has won a Primetime Emmy Award, Golden Globe Award and an Academy Award for Best Actress.
Berry was number one in People's "50 Most Beautiful People in the World" once and was annually ranked near the top on multiple occasions. Other publications, like Esquire, Men's Health and Empire have all given her recognition for her beauty, too.
Julia Roberts – Born 1967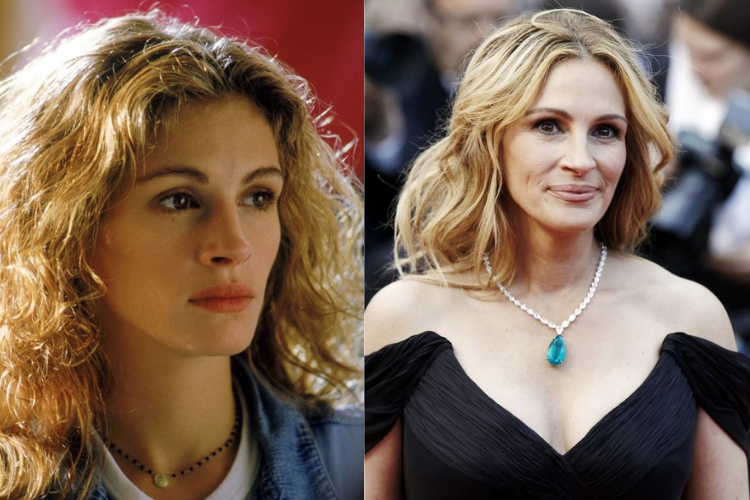 Julia Roberts' role in Pretty Woman helped launch her career, starring opposite leading man Richard Gere, another name on this list. She has won three Golden Globe Awards and an Academy Award for Best Actress for Erin Brockovich.
Julia strives for a diet high in lean proteins and healthy fats, which includes avocado, coconut, salmon and white meats. Of course a good exercise routine goes hand-in-hand with what she eats to maintain her healthy lifestyle.
Monica Bellucci – Born 1964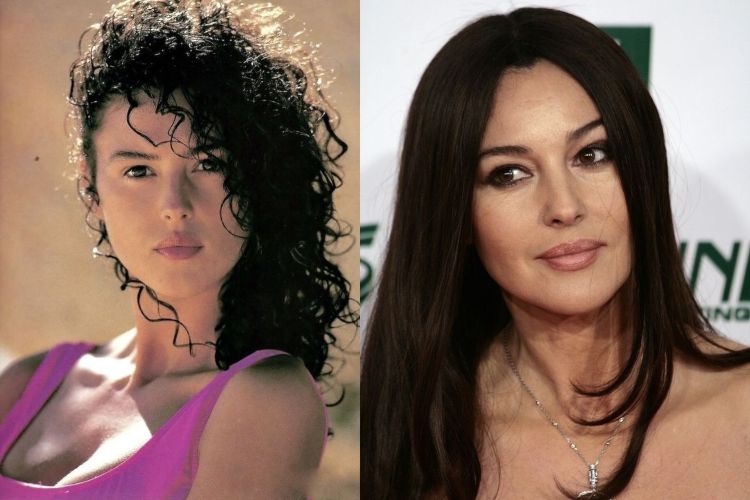 Monica Bellucci started modeling at the young age of 13 years old. After her early start, she moved into acting from there and has had roles in major films such as the James Bond film, Spectre, and The Matrix.
Monica is fluent in multiple languages, including English, Italian, and French. In fact, her acting career started out in Italian, French and even Persian films before she transitioned over to Hollywood.
Michelle Pfeiffer – Born 1958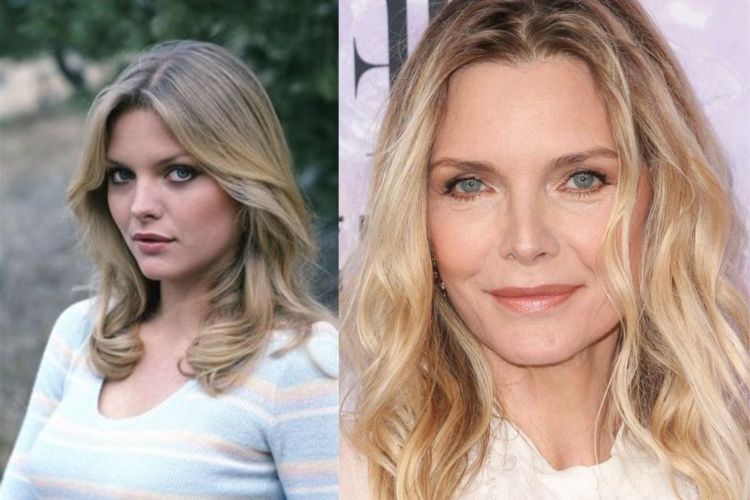 Michelle Pfeiffer is an actress and producer is known for pursuing roles in a wide range of film genres. Her accolades include a Golden Globe Award and a British Academy Film Award, as well as nominations for several other awards.
Pfeiffer has played many big roles in TV and film, including Batman Returns, The Fabulous Baker Boys and Scarface. She credits her slow aging to eating well, exercising and getting lots of sleep.
Kelly Ripa – Born 1970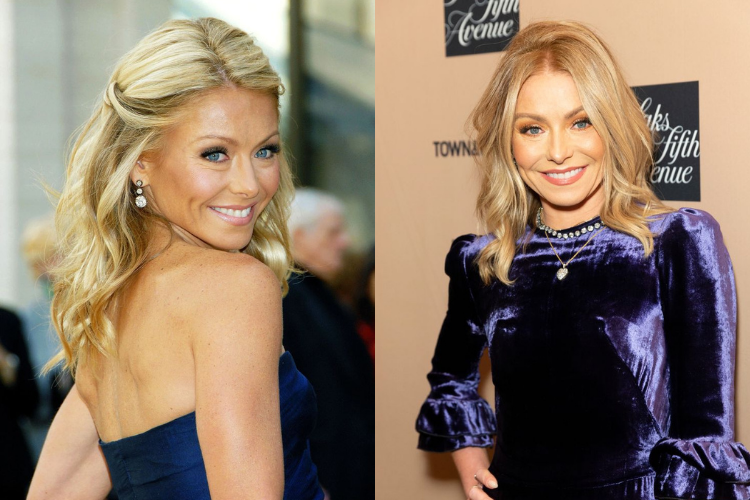 While she's best known as a TV personality on Live! With Kelly and Ryan, Ripa is also an actress, dancer and TV producer. As an actress, her best known roles were on All My Children and Hope & Faith.
She has invested in a dietician over the years, who advises her constantly. Kelly is known to take omega-3 supplements, cumin seed oil supplements and turmeric, among other products to assist with her health.
Pamela Sue Martin – Born 1953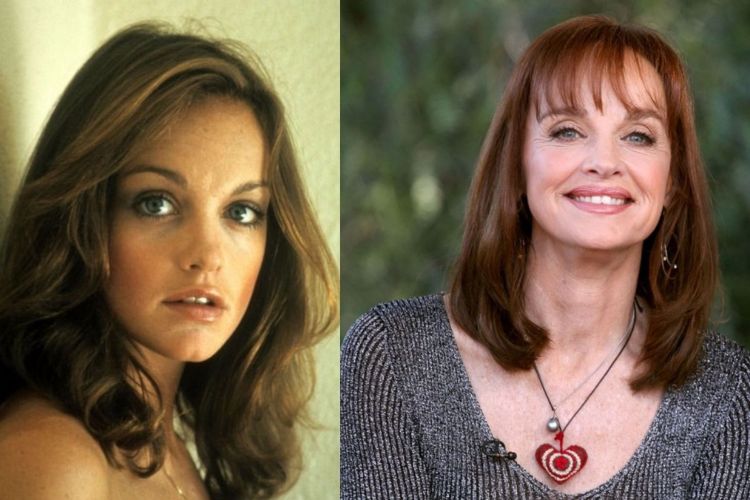 Martin is best known for her portrayal of teen detective Nancy Drew on the TV series The Hardy Boys/Nancy Drew Mysteries back in the late 1970's. Pamela also was part of the soap opera Dynasty throughout the 1980s.
To help her age well, she steers clear of harsh chemicals that could harm her body. She's also not a fan of cosmetic surgery, regardless of how small the job is, as even a face lift is out of the question.
Jennifer Garner – Born 1972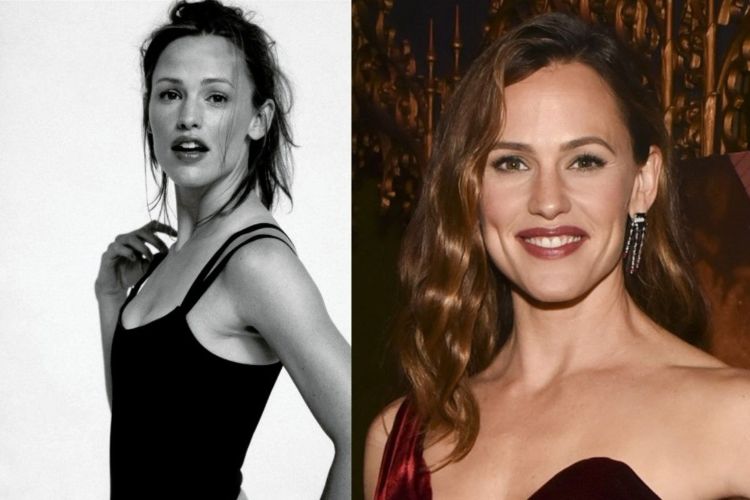 After her supporting role in Pearl Harbor, Jennifer Garner gained recognition for her performance in the spy show Alias. She has won a Golden Globe Award, Screen Actors Guild Award, and received four Primetime Emmy Award nominations.
Jennifer mentioned that she tries to always remember to apply sunscreen regularly to prevent skin damage. She's the co-founder and chief brand officer of the organic baby food company Once Upon a Farm.
Denzel Washington – Born 1954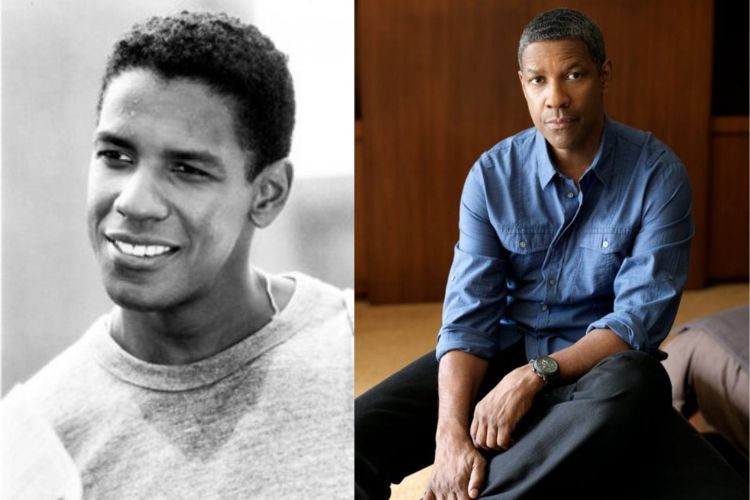 Denzel Washington is one of the most accomplished actors, having received 17 NAACP Image Awards, three Golden Globe Awards, one Tony Award and two Academy Awards. Some of his most famous roles have been in Glory, Training Day, The Hurricane and Remember the Titans.
He has served as the national spokesman for Boys & Girls Clubs of America since 1993 and has appeared in public service announcements and awareness campaigns ever since. He has also been a board member since 1995.
Salma Hayek – Born 1966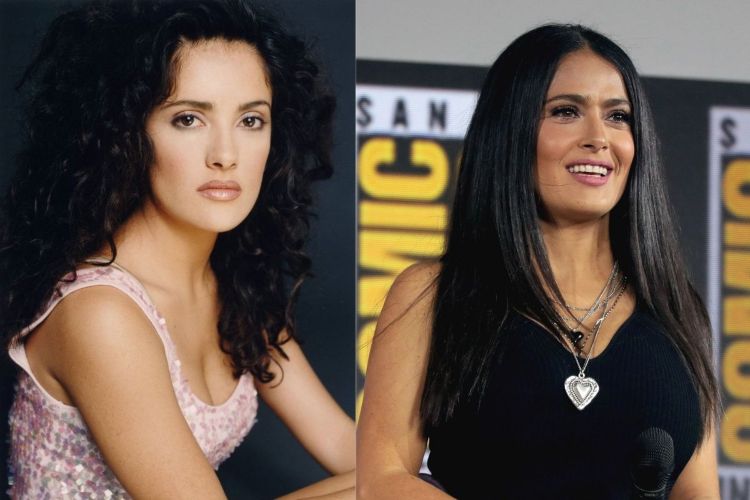 Hayek started in Mexico starring in the telenovela Teresa and the film El Callejón de Los Milagros. She moved to the United States and came to prominence with roles in Desperado, From Dusk till Dawn, Wild Wild West and Dogma.
She finally won critical acclaim in Frida, portraying Mexican painter Frida Kahlo, being nominated for an Academy Award for Best Actress. Similar to the character she portrayed, Salma loves focusing on natural beauty.
Goldie Hawn – Born 1945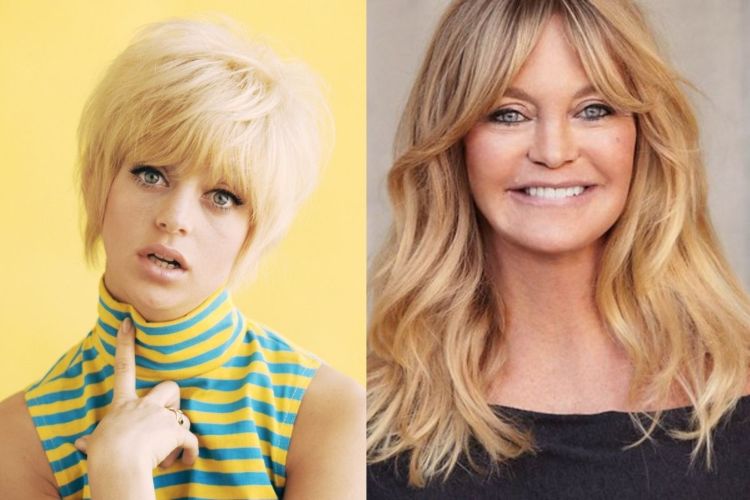 Goldie Hawn is an actress, producer, dancer and singer. She rose to fame on Rowan & Martin's Laugh-In, before later receiving the Academy Award and Golden Globe Award for Best Supporting Actress for her role in Cactus Flower.
In 2003, the star founded the Hawn Foundation. This organization is a non-profit which provides youth education programs intended to improve academic performance.
Hunter Tylo – Born 1962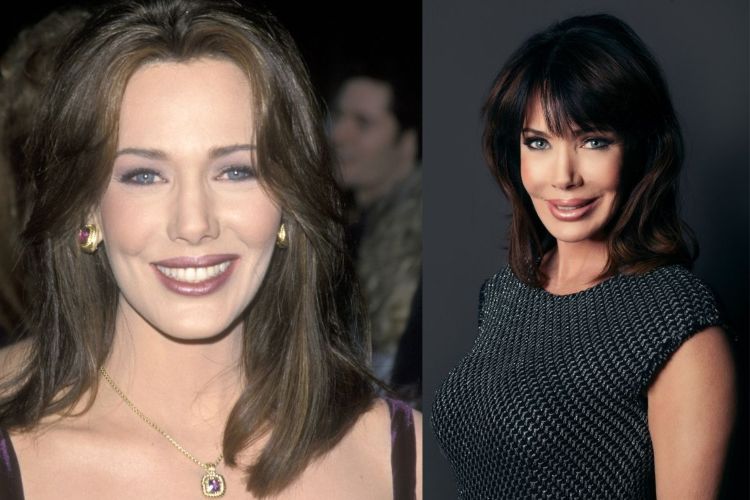 Hunter Tylo won over fans with her portrayal of Taylor Haynes in the soap opera The Bold and the Beautiful. The actress, author, and former model also had a major role as an antagonist in Days of Our Lives. She even hated her own character.
She has been listed twice on People magazine's list of "50 Most Beautiful People In The World." Acting may be secondary these days, as Hunter doesn't seem to have many projects in the works.
Dylan McDermott – Born 1961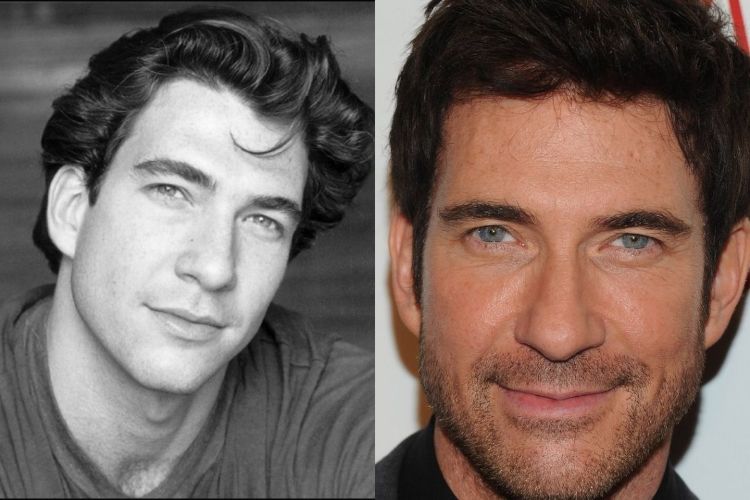 Dylan McDermott is best known for his role on the legal drama The Practice, which earned him a Golden Globe Award and a nomination for a Primetime Emmy Award. He has acted in other productions such as American Horror Story and Olympus Has Fallen.
Dylan used to have a drinking problem but adjusted his lifestyle conquered it for good back in 1984. He has been featured in magazines such as Men's Health and was once a finalist in the GQ "Man of the Year" issue.
Elle Macpherson – Born 1964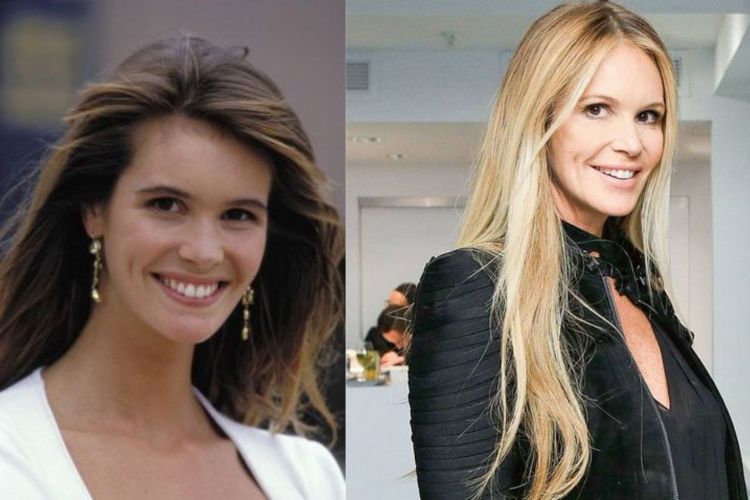 Elle Macpherson is a TV personality, actress, entrepreneur and supermodel who has appeared on the cover of the Sports Illustrated Swimsuit Issue five times. In 1989, TIME  magazine nicknamed her "The Body" for her stunning figure.
She's the founder, primary model and creative director for a series of business ventures. One of them is called Elle Macpherson Intimates and The Body, a line of skin care products that pays tribute to her nickname.
Demi Moore – Born 1962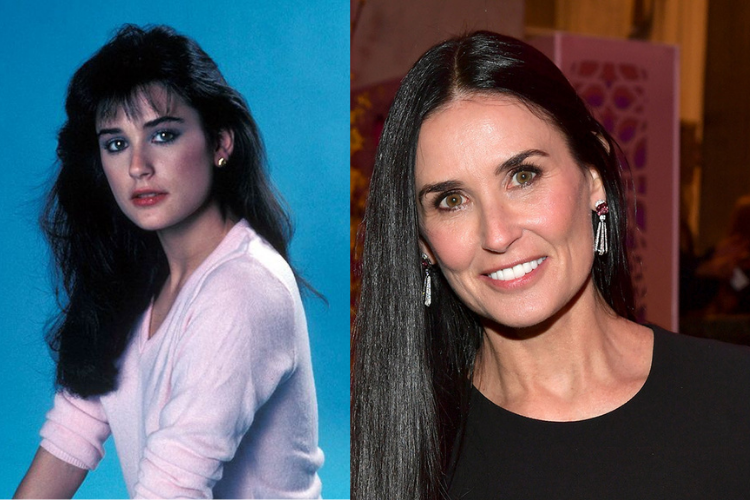 Demi Moore actually dropped out of high school shortly before pursuing acting, which seemed to work out for her. She landed several hits in the 1990s, such as A Few Good Men, Ghost, Indecent Proposal, and G.I. Jane.
She's passionate about activism and philanthropy, as she has supported a multitude of organizations for which she believes in. Some of those are All Day Foundation, UNICEF and Artists for Peace and Justice.
Grace Slick – Born 1939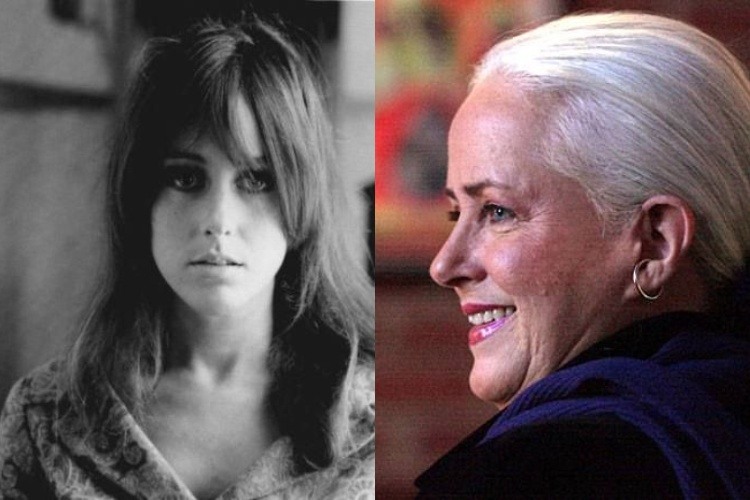 Grace Slick is yet another on this list that has many talents, dabbling in film and in music pursuits. She may not have received significant training to be onstage, but she certainly seems to know what she is doing, and movies such as Gimme Shelter are proof of her incredible natural talent.
Her soul-stirring and inspiring music has made an impact on the world, and has also filled her bank account to the brim. With extra money comes additional resources—she has no doubt had time and opportunity to take some spa days, and these have done her well as far as aging goes.
Vanessa Williams – Born 1963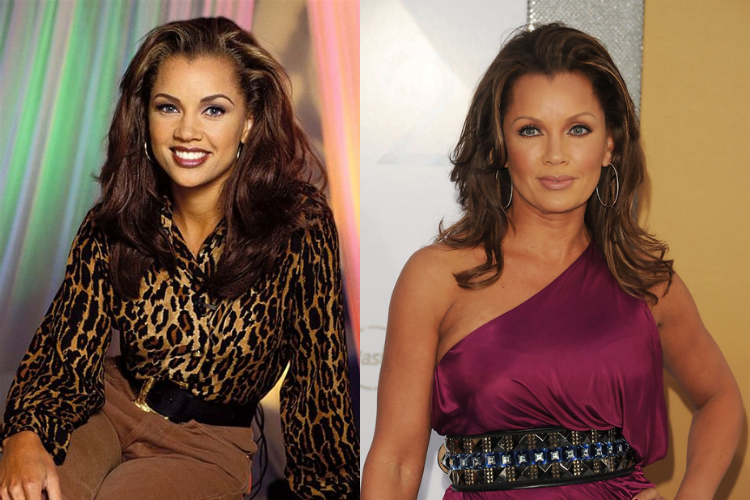 Vanessa Williams came a household name after becoming the first African-American woman to win the Miss America title in 1983. She would later resign under pressure from the organization. She would go on to lead a successful career as a singer and actress.
Her debut album The Right Stuff  saw her singing career take off,  and she eventually would perform her song "Save the Best for Last" at the 1993 Grammys. As an actress, she'd be best known for starring in Soul Food and on the hit TV show Ugly Betty.
Shannon Tweed – Born 1957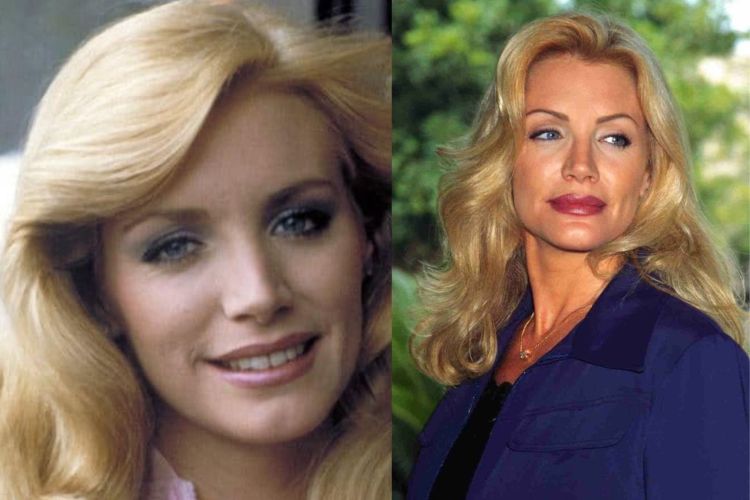 Shannon Tweed got her name out there by competing in beauty pageants at the beginning of her career. This actress, model and film producer has appeared in more than 60 films and in several TV shows.
She will be the first to admit she has gone under the knife to help her looks, dating back to her beauty pageant days. Plastic surgery, along with tracking her eating habits and workouts, helps her feel beautiful.
Kelly Lynch – Born 1959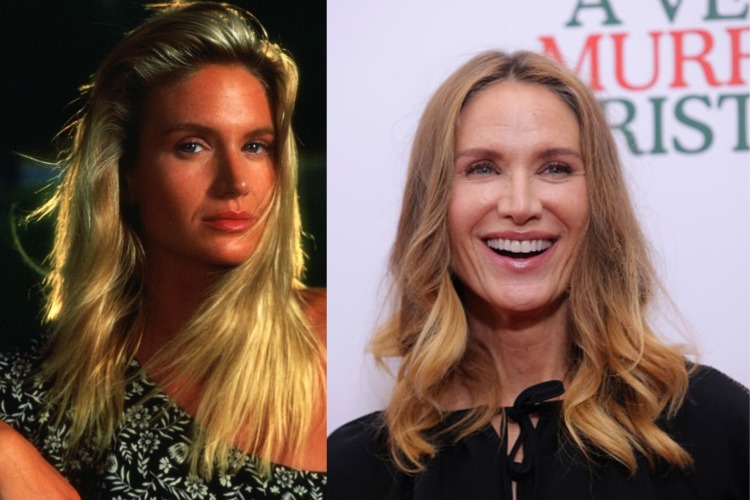 Kelly Lynch rose to fame in Cocktail and Road House, which she starred opposite Patrick Swayze in the latter. Other productions that earned her nominations for awards include Drugstore Cowboy and The Beans of Egypt, Maine.
On TV shows, the actress and model had the recurring role of Ivan Aycock in The L Word and Meg Bannock in Magic City. She later joined the cast of 90210 as Laurel Cooper.
Colin Firth – Born 1960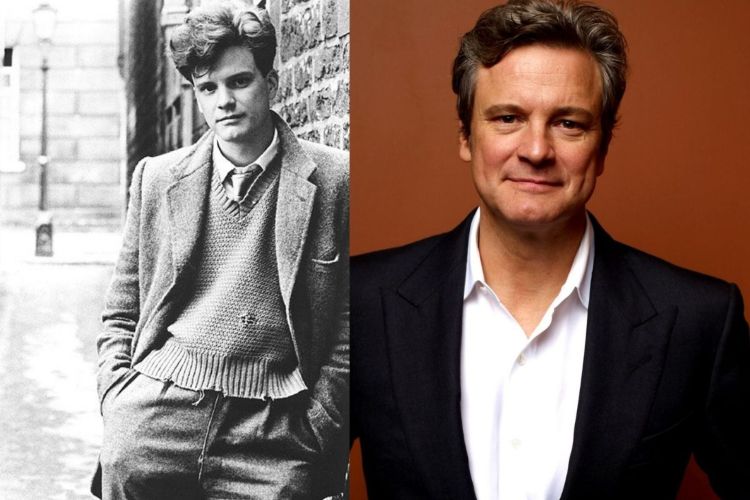 Colin Firth is known for roles in Darcy, Love Actually, Bridget Jones' Diary, The English Patient, Shakespeare in Love and The King's Speech. He has an Academy Award, Golden Globe Award, two BAFTA Awards and three Screen Actors Guild Awards.
Firth has used his platform to campaign for the rights of indigenous tribal people and is a member of Survival International. He also cares about topics related to asylum seekers, refugee rights and the environment.
Matt Damon – Born 1970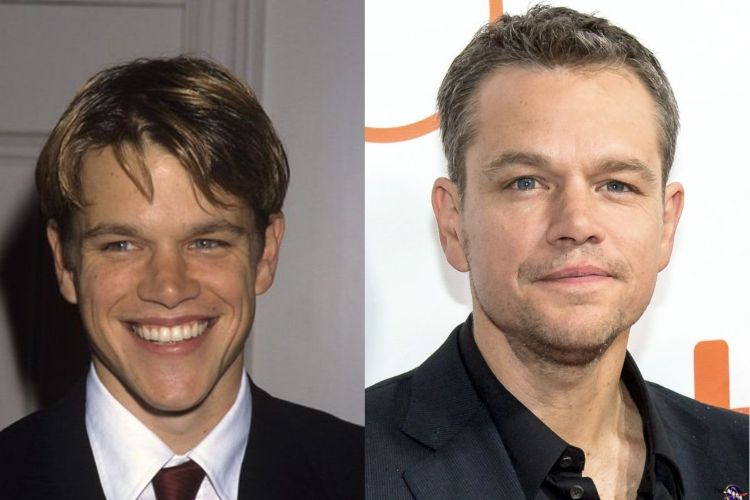 A pal of Ben Affleck, another guy on the list, Matt Damon has won an Academy Award and two Golden Globe Awards. In fact, the two friends were responsible for writing and acting 1997's Good Will Hunting.
They've also established two production companies together. Matt has been involved in charitable work with organizations such as Feeding America, H2O Africa Foundation, One Campaign and Water.org.
Renee Zellweger – 1969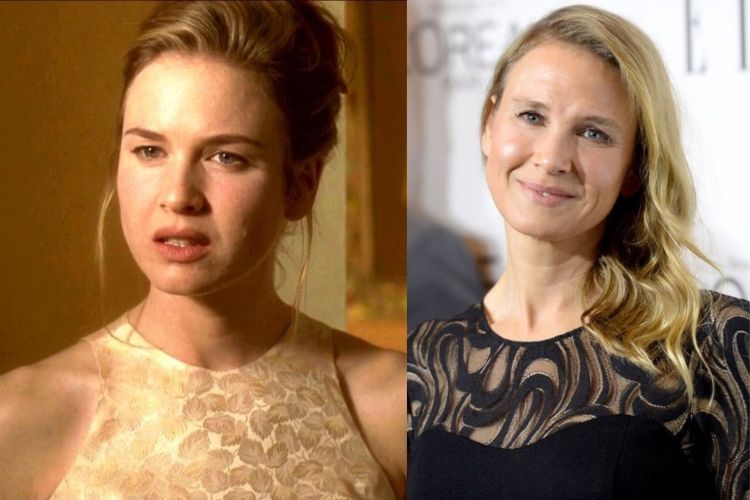 Renee Zellweger is the recipient of numerous accolades thanks to her acting. Her trophy closet includes two Academy Awards, two BAFTA Awards, four Golden Globe Awards and four Screen Actors Guild Awards.
Zellweger has acknowledged that she looks different now, adding that it may be due to aging, but has never admitted to plastic surgery. Renee has also said that what's essential is not always what people see on the outside.
Barbi Benton – Born 1950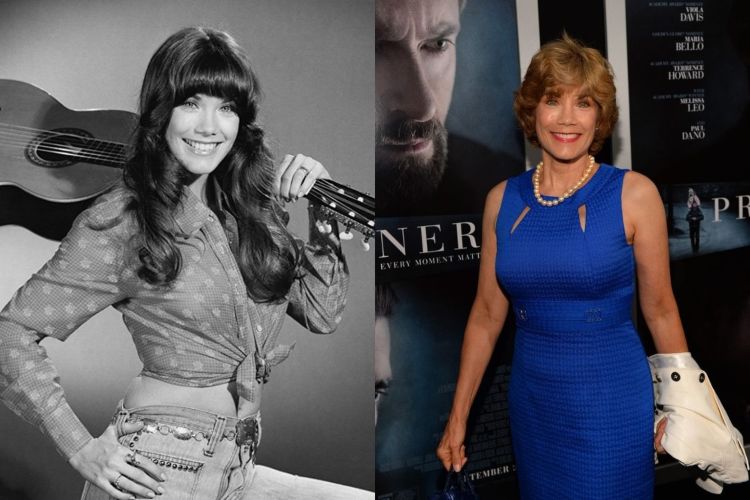 Barbi Benton is a retired model, actress, songwriter, TV personality and singer. She's known for appearing in Playboy magazine, as a four-season regular on the comedy series Hee Haw and for recording eight country albums.
Benton also starred in the comedy series Sugar Time! Ultimately, she valued family life over fame and decided to step out of the spotlight in order to make her two children her top priority as they grew up.
Ben Affleck – Born 1972
Ben Affleck has won two Academy Awards and three Golden Globe Awards for various roles. Films that he has been a part of include Good Will Hunting, Pearl Harbor, The Town, Argo, and Gone Girl.
Substance abuse runs in his family, as several of his relatives have had issues, including Ben himself. Luckily, after rehab, Affleck has found better ways to deal with his issues than alcohol and he hasn't relapsed in several years.
Justine Bateman – Born 1966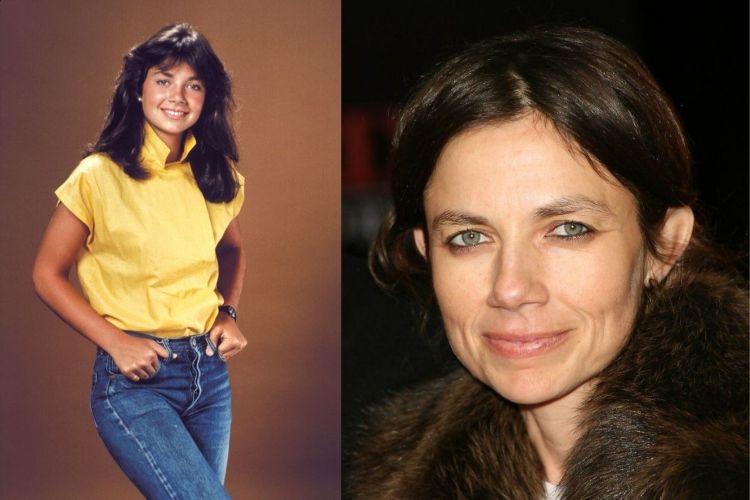 Justine Bateman is famous as an actress, director, producer and writer, as well as being brother to actor Jason Bateman. Her acting resume includes Family Ties, Satisfaction, Men Behaving Badly, The TV Set, Desperate Housewives and Californication.
According to her, Bateman never contemplated undergoing enhancement procedures on herself as she aged. Despite suffering from an eating disorder in the past, Justine recovered and now sticks to a healthy diet.
Lisa Hartman – Born 1956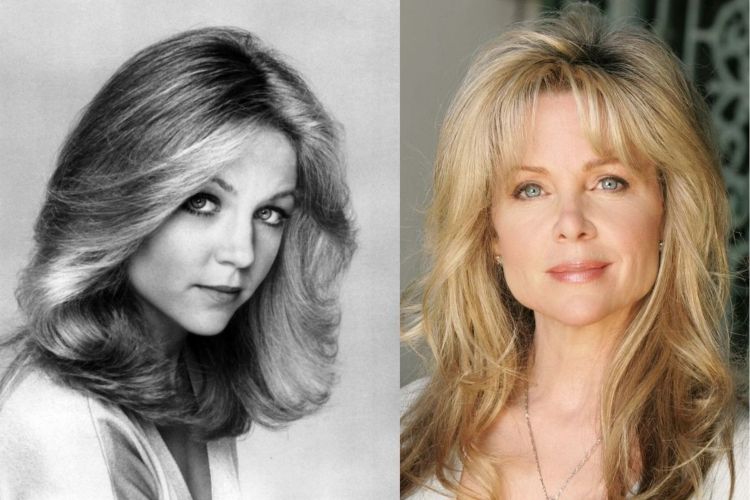 After a multitude of guest appearances on TV, Hartman scored a bigger role in Tabitha. Her major breakthrough happened in 1982 when she played the role of rock singer Ciji Dunne in Knots Landing.
Lisa was so beloved by fans that they caused a scene when Ciji died in the show and the producers ended up bringing her back as Cathy Geary, another singer. Hartman credits her looks to family genes, diet and a healthy lifestyle.
Cheryl Ladd – Born 1951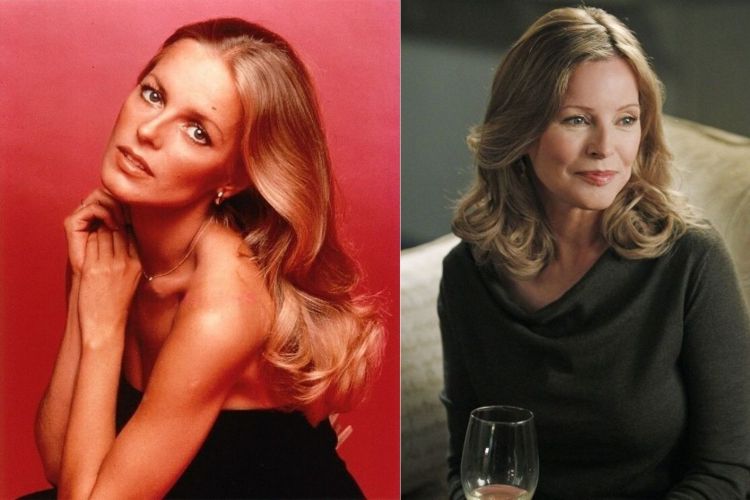 Ladd made it big when she starred in Charlie's Angels from 1977 to 1981, replacing Farrah Fawcett. Her film roles include Purple Hearts, Millennium, Poison Ivy, Permanent Midnight and Unforgettable.
At one point in time, she suffered from cataracts, which caused her to slowly start losing her vision. Luckily, a successful surgery was done to help restore her vision back to where it used to be.
Bo Derek – Born 1956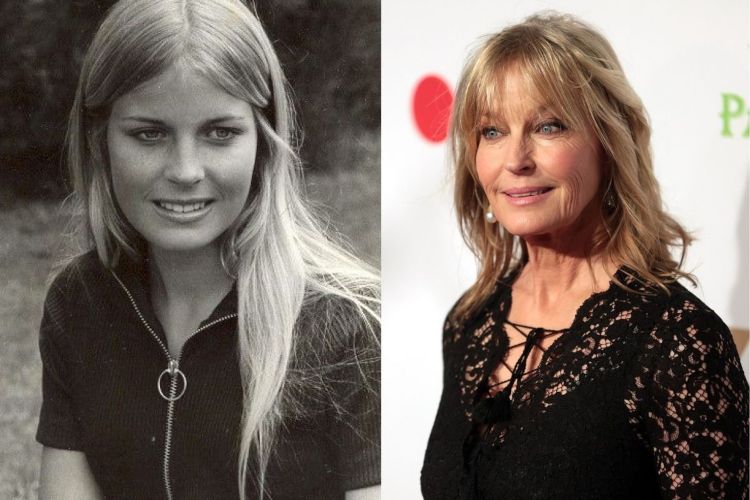 Bo Derek's birth name was actually Mary Collins. She developed the name Bo Derek from a controversial marriage to John Derek, who was 30 years older. Due to the age difference, it's not surprising that she has been a widow since 1998.
Bo is an actress and model perhaps best known for her iconic role alongside Dudley Moore in the comedy 10. As a result of that film, she was nominated for a Golden Globe Award for New Star of the Year in a Motion Picture – Female.
William Shatner – Born 1931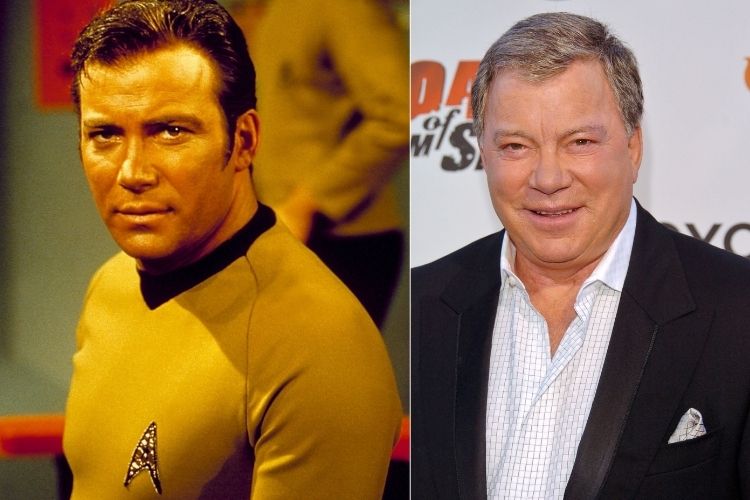 While his Star Trek days are far behind him, William Shatner is still active and looking much younger than his birth certificate reveals. In fact, in October of 2021, at age 90, he became the oldest person ever to go to space.
He stays young by exercising regularly and eating well, sticking mostly to veggies, fruit and fish, and usually works out in his pool, running in place and working out his upper body. He also loves to ride horses, often riding in competitions, and even winning some of them.
Daniel Craig – Born 1968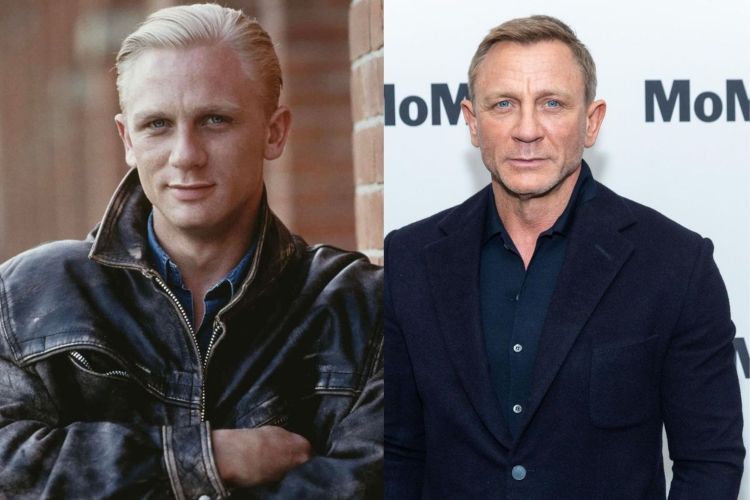 Daniel Craig became the sixth actor to portray James Bond, which was in the film Casino Royale, which brought him international fame. As of 2021, he has starred in five films in that series, with the most recent movie, No Time To Die, being his last portrayal of the character.
Charitable contributions and humanitarian work are also an important part of Craig's life. He has helped raise money for various causes such as AIDS, women empowerment and education over the years.
Laura San Giacomo – Born 1962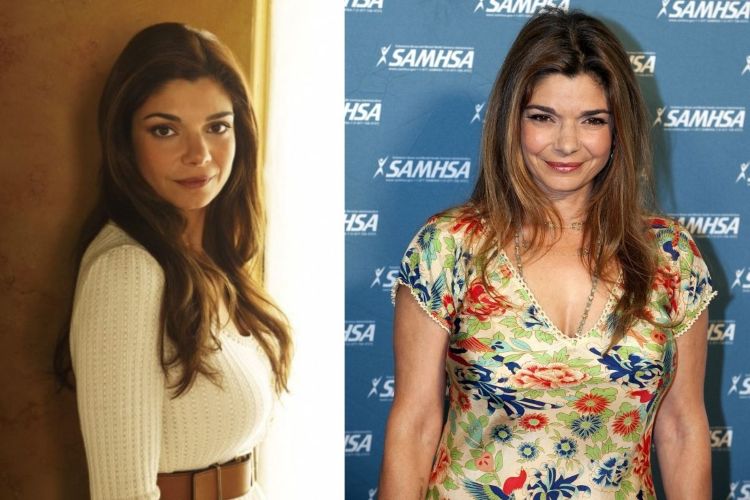 San Giacomo won the Independent Spirit Award for Best Supporting Female for her acting role as Cynthia in the film Sex, Lies, and Videotape. She also acted in Pretty Woman, The Stand and the sitcom, Just Shoot Me!
Her favorite hobbies are horseback riding, gymnastics, ice skating, ballet, tennis and golf. Laura is a strong supporter of charitable causes, most prominently those related to disabilities, as her only child has cerebral palsy.
Maureen McCormick – Born 1956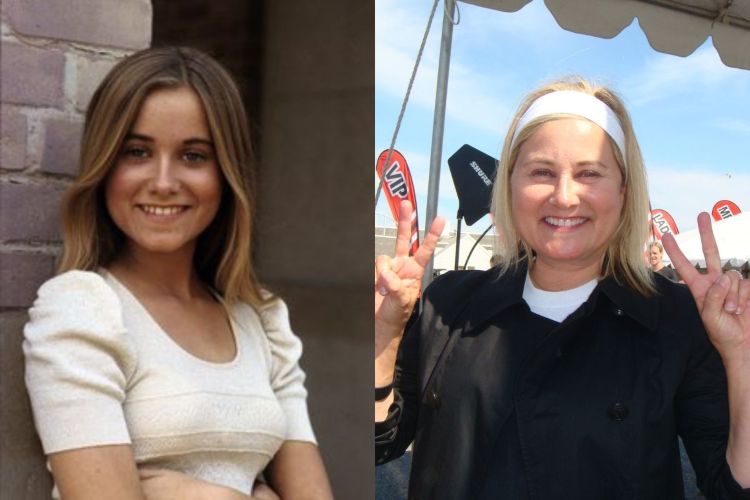 Maureen McCormick was Marcia Brady on The Brady Bunch and reprised the role in several spinoffs. The singer, actress and author also had roles in Peter Pan, The Idolmaker and Grease, while still finding time to make music.
McCormick has appeared on several reality TV series, too. One of the shows that she's likely most proud of is Celebrity Fit Club, where she lost 34 pounds and was named the individual winner of her season.
Clive Owen – Born 1964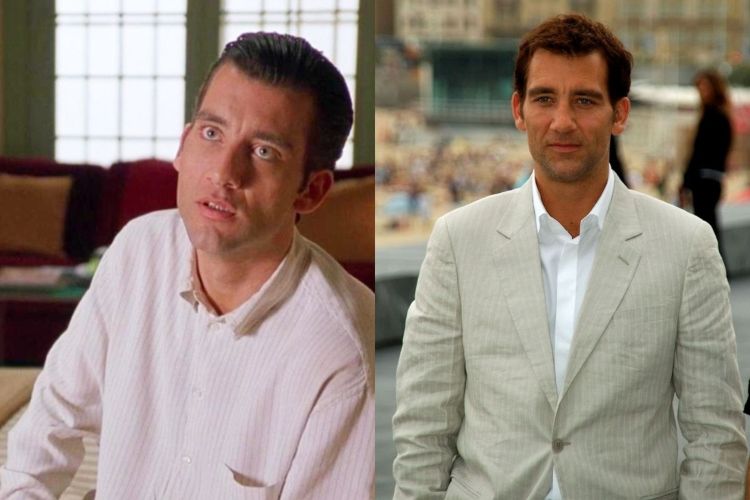 Clive Owen first gained recognition in the United Kingdom for his role in Chancer. He received critical acclaim for his work in Close My Eyes before earning international attention for his performance in Croupier.
Other major roles for him came in Closer, Sin City, Derailed and Inside Man. He's the brand ambassador for Lancome's anti-aging products line for men, which makes sense considering how young he still looks.
Diana Ross – Born 1944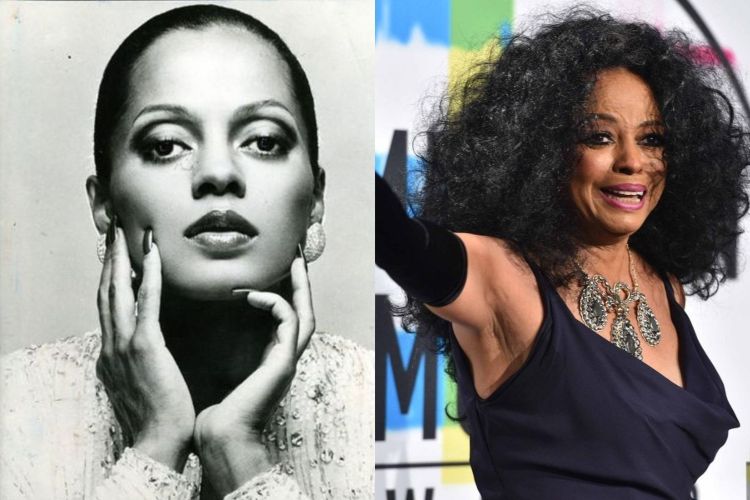 Outside of huge success as a music legend on her own and with others, Diana Ross also acted and produced records. While she's mainly known for her singing career, Diana didn't even want to be a singer when she was younger.
Her initial goal was to take classes on dressmaking. Fate had other plans for her, though, as she found herself performing for decades, and becoming one of the most successful Motown singers of all-time.
Lucy Lawless – Born 1968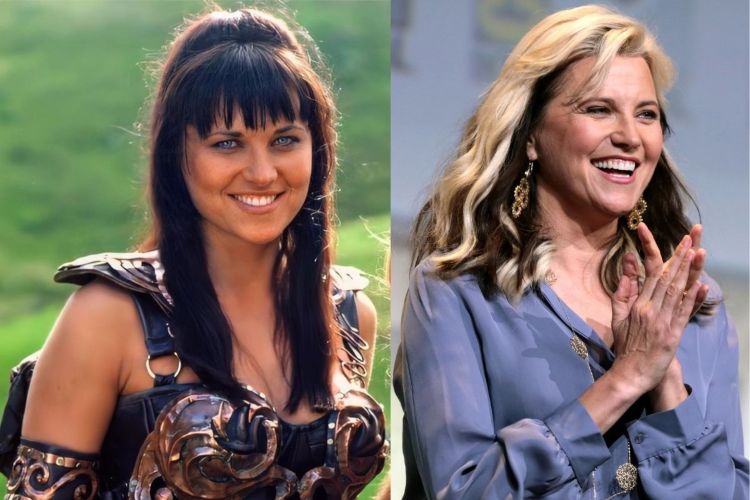 Lucy Lawless became famous in the '90s after starring in the hit TV series Xena: Warrior Princess. She went through quite a demanding fitness program in order to perform her own stunts, which helped her build the necessary strength and flexibility for them.
Outside of healthy eating and practicing other good habits, she claims that pilates is the most effective way for her to stay in shape. Some of the workouts she did for Xena are still maintained by Lucy today.
Richard Gere – Born 1949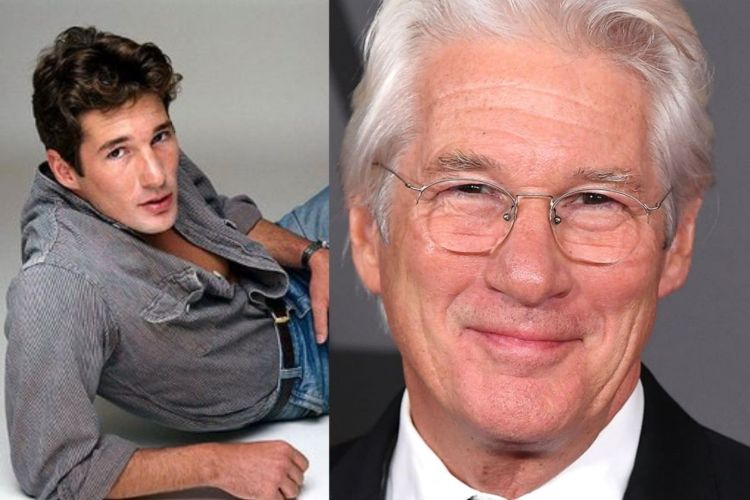 Gere is an actor and producer who started out in the 1970's by playing a supporting role in Looking for Mr. Goodbar and a starring role in Days of Heaven. American Gigolo is the movie that really put his name on the map.
He's an accomplished musician as well, composing and performing the Pretty Woman piano theme and a guitar solo in Runaway Bride. He learned how to tap dance for Chicago and learned karate for An Officer and a Gentleman.
Nancy Kerrigan – Born 1969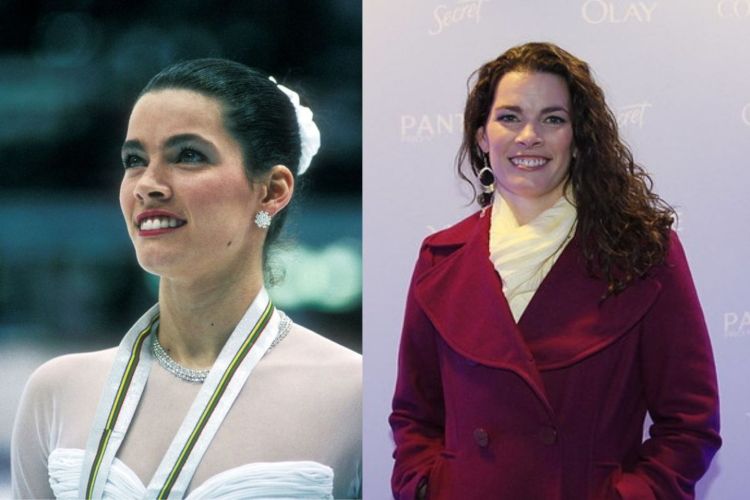 Kerrigan, an Olympian who was attacked to prevent her from competing at one point, was the fan favorite at the 1994 US Nationals. She eventually made it into the US Figure Skating Hall of Fame.
After her final Olympics, she retired from her competitive figure skating career. Nancy continued skating for professional shows and also started working as a TV commentator for the sport she knows best.
Cybill Shepherd – Born 1950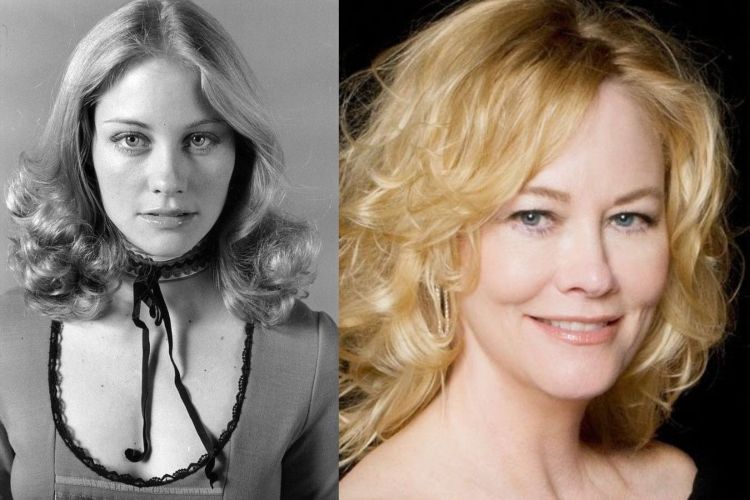 Cybill Shepherd is an actress and former model who is known for film roles in famous movies such as  The Last Picture Show, The Heartbreak Kid, Taxi Driver and Alice. Some of her TV roles were in Moonlighting, Cybill, The L Word and Psych.
Cybill goes to the gym regularly and sticks to an all-natural diet. It has been said that she's worried when she sees and hears about young women going through surgeries to boost their own self-confidence.
Chris O' Donnell – 1970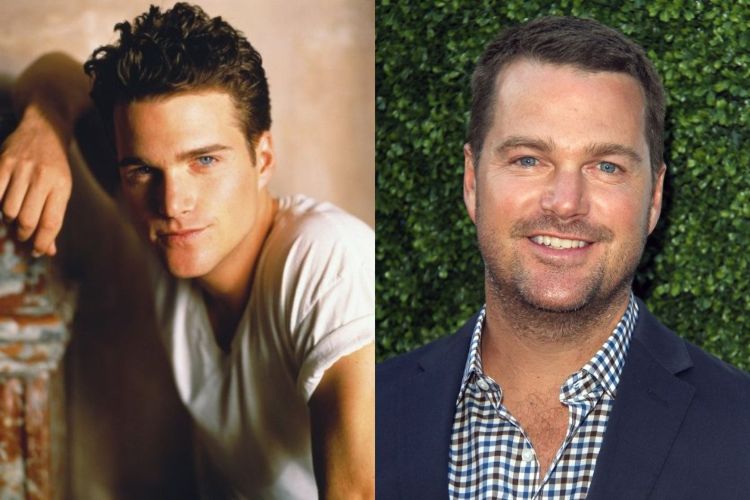 Chris O'Donnell is an actor and former model with acting credits in films such as Scent of a Woman, School Ties, The Three Musketeers, Circle of Friends, Batman Forever and Batman & Robin. O'Donnell currently stars on the TV series NCIS: Los Angeles.
His big break occurred when he was cast in a McDonald's commercial, in which he served basketball player Michael Jordan. Since then, O'Donnell he's been a Hollywood mainstay and is known for his youthful good looks.
Diane Keaton – Born 1946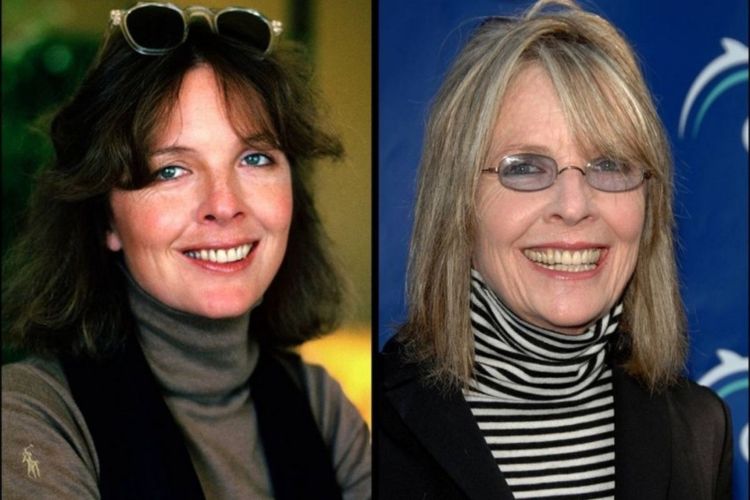 Some of Keaton's credits come from the fields of acting, directing, producing, singing and writing. Her career journey began on stage and eventually transitioned onto the big screen in 1970.
She was part of movies like The Godfather, The Family Stone, The First Wives Club, Manhattan Murder Mystery and most notably, Annie Hall. A natural beauty, Keaton has stayed away from plastic surgery throughout her life.
David Beckham – Born 1975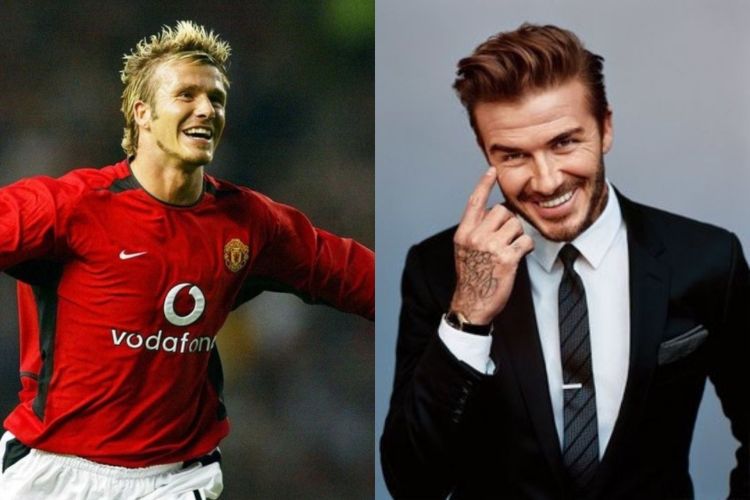 David Beckham is a retired soccer player and was the first English player to win league titles in four countries: England, Spain, the United States and France. He retired in May 2013 after a 20-year career, during which he won 19 major trophies.
Beckham keeps himself busy these days, so it's not your typical relaxing retirement, as he's the co-owner of two different football clubs. As an athlete, healthy diet and fitness has likely been engrained in his lifestyle since he was young.
Sissy Spacek – Born 1949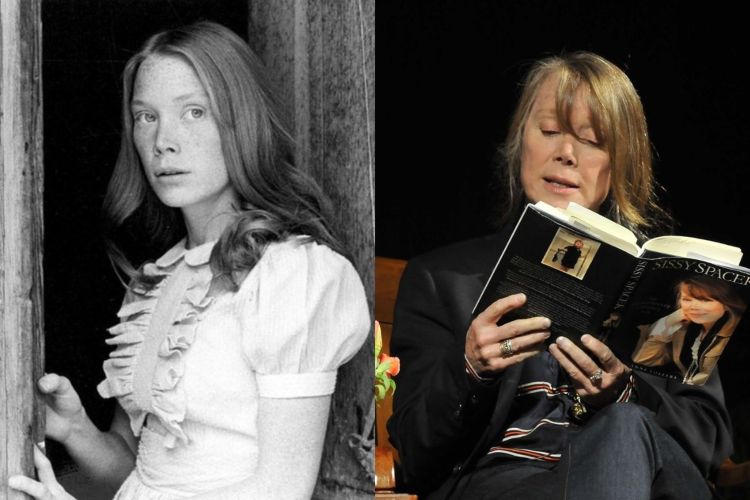 Mary Elizabeth "Sissy" Spacek is both an actress and singer who had her breakthrough in the iconic horror film Carrie. Among her awards and accolades is an Academy Award, three Golden Globe Awards and a Screen Actors Guild Award.
Sissy, who quit smoking in the name of health, also avoids junk foods and red meat whenever she can. She now lives by the rules of eating smart by following a healthy and balanced overall diet.
Keshia Knight Pulliam – Born 1979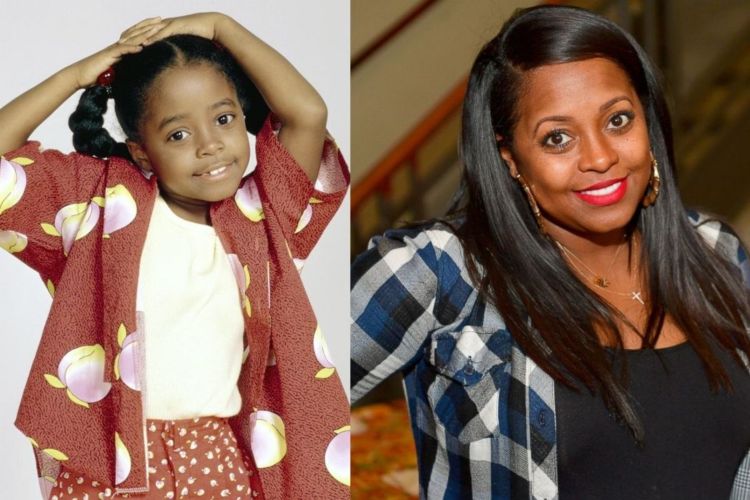 Pulliam started young in the industry, as she was only 9 months old when she was the face of several commercials. Due to her work as a child, she was named as one of the "100 Greatest Kid Stars" at one point.
While she's obviously decades past being a child star, Keshia still has that youthful appearance. She says that part of her aging success is owed to her "clean diet plan," which says stay away from processed or junk foods.
Will Smith – Born 1968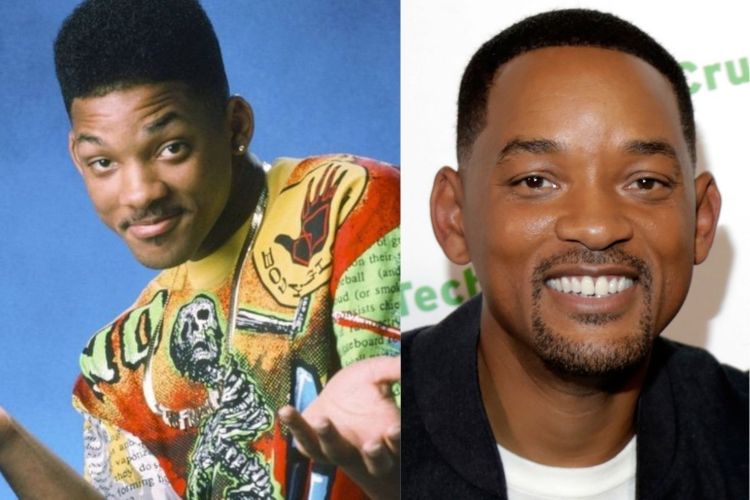 Will Smith is an actor, rapper, and film producer has won four Grammy Awards. His big breakout acting role came when starred in the beloved sitcom, The Fresh Prince of Bel-Air before turning to huge blockbuster movies, such as Independence Day and Men In Black.
Smith is over 50 years old now, but still as active as ever. He celebrated his 50th birthday by bungee jumping from a helicopter over the Grand Canyon to raise money for a charity called Global Citizen.
Jude Law – Born 1972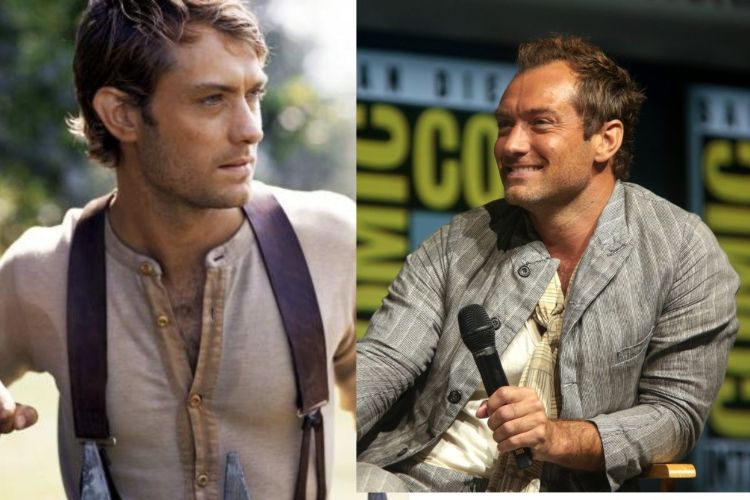 Jude Law has a BAFTA Film Award and nominations for two Academy Awards, as well as two Tony Awards. Some roles include films such as The Talented Mr. Ripley, Enemy at the Gates, A.I. Artificial Intelligence, Sherlock Holmes and The Grand Budapest Hotel.
The media has brought attention to his receding hairline, but it doesn't seem to bother Jude, as he seems to be comfortable in his skin. It's also the least of his concerns, considering he has six kids to parent.
Cheryl Tiegs – Born 1947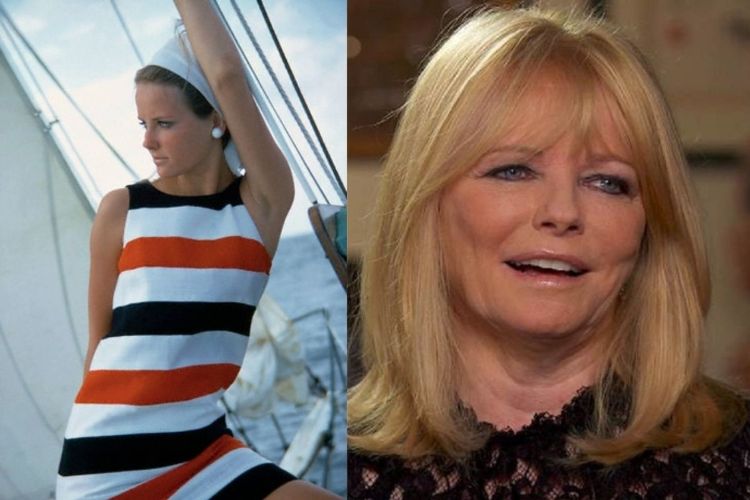 Cheryl Tiegs is a former American supermodel. She made it big by appearing on the covers of magazines like TIME and was the first person to appear twice on the cover of the Sports Illustrated Swimsuit Issue. Her pink bikini poster became an icon and was regarded as a part of pop culture.
Tiegs is active in philanthropy and serves on the Board of Directors of C.O.A.C.H. for Kids and the Earth Conservation Corps. She's a spokeswoman for City of Hope and an Ambassador for the International Planned Parenthood Foundation.
Jenilee Harrison – Born 1958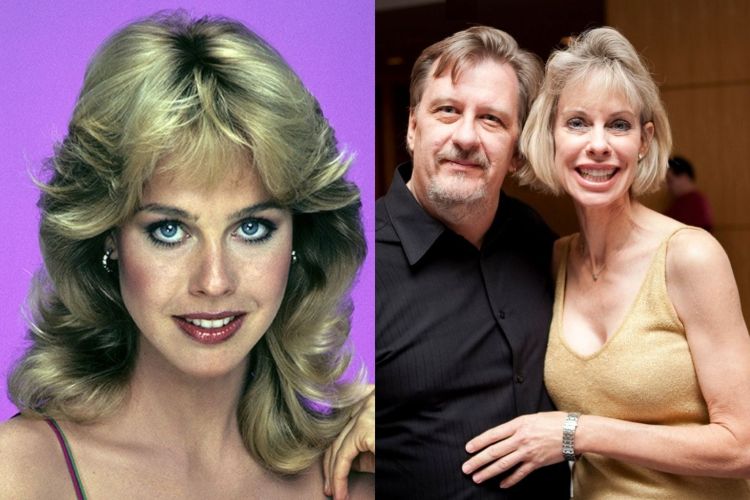 Harrison was the replacement for the role of Chrissy Snow in Three's Company, which was one of the most popular TV shows of the 1980s. The role shot her into stardom, as she became a household name.
Now in her 60's, Jenilee looks much younger than her actual age. It's not known what she owes her beautiful aging to, whether it's a healthy lifestyle, good genes, or a combination of the two.
Eric Dane – Born 1972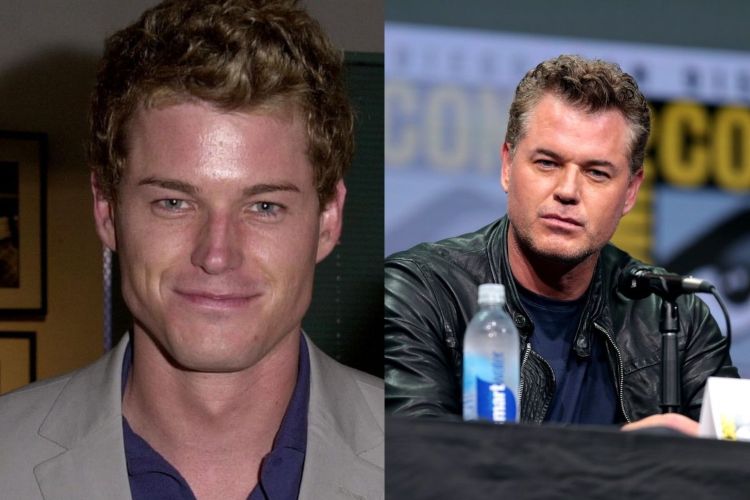 Eric Dane is best known for his starring role as Dr. Mark Sloan on the long-running TV show Grey's Anatomy. He has had roles in productions such as Burlesque, Charmed, Euphoria, The Last Ship, Marley & Me and Valentine's Day.
An accident led to a dependency on prescription drugs, which eventually led him to rehab. Fortunately, he came out clean and has been following a fitness regimen ever since, which likely helps him maintain a positive outlook.
Jared Leto – Born 1971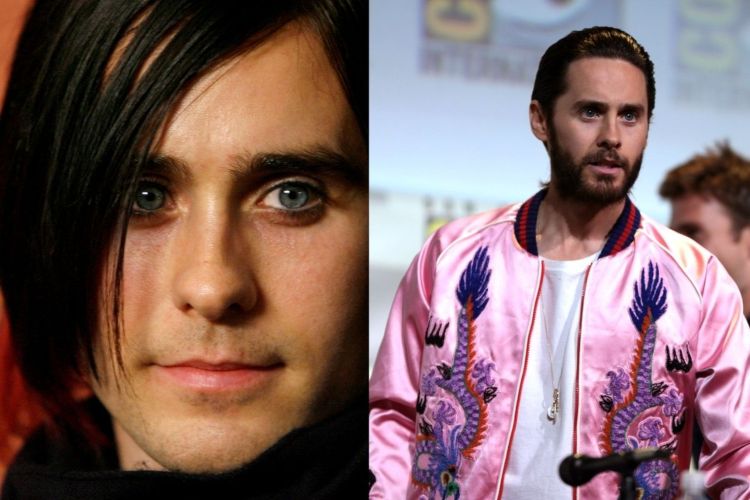 Jared Leto achieved recognition for his role on My So-Called Life. While he also dabbled in music with the band Thirty Seconds to Mars thereafter, other major roles for him came in films like Requiem of a Dream, Dallas Buyer's Club and Suicide Squad.
The Academy, Golden Globe, and Screen Actors Guild award winner lives a vegan lifestyle. Jared is a public advocate for animal rights and healthcare for children with serious medical conditions.
Victoria Principal – Born 1950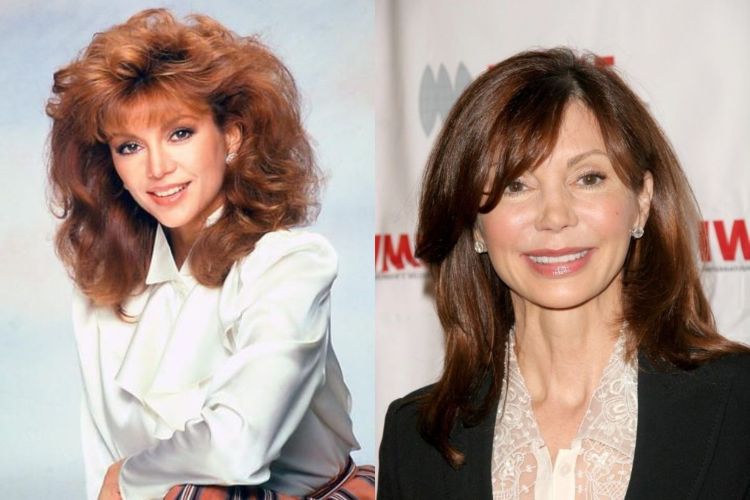 Victoria Principal, who had considered retiring from acting in 1975, was launched from obscurity to fame thanks to her role in Dallas. After that, she acted in a few TV movies and also appeared on the popular '90s TV show Home Improvement.
This entrepreneur started her own film production company back in 1987. Victoria also started Principal Secret, her own anti-aging skincare line of products, which may be part of the reason why she's on the list.
Debbie Harry – Born 1945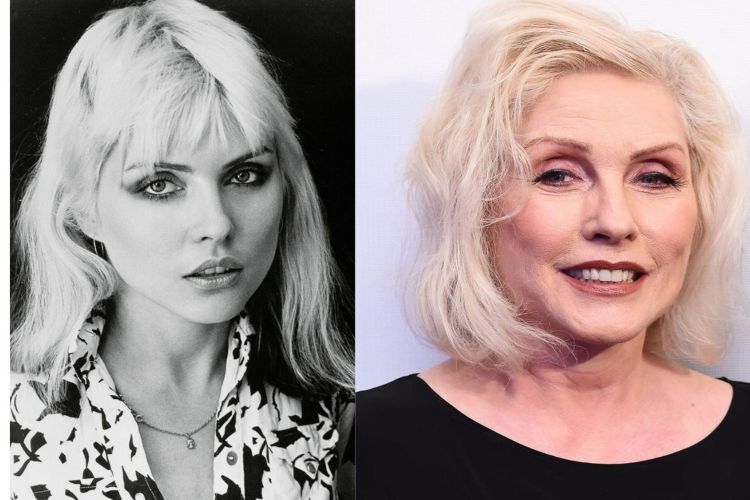 Debbie Harry is the lead singer of the band Blondie. The band's songs reached number 1 in the US and UK charts on several occasions. She's also an actress and songwriter who has been a legend of the music scene for decades.
Typical of many stars in the entertainment industry over the course of history, Debbie struggled with drug use in the past, but has overcome her problem. Inspired by Elton John, she got into philanthropy.
Rob Lowe – Born 1964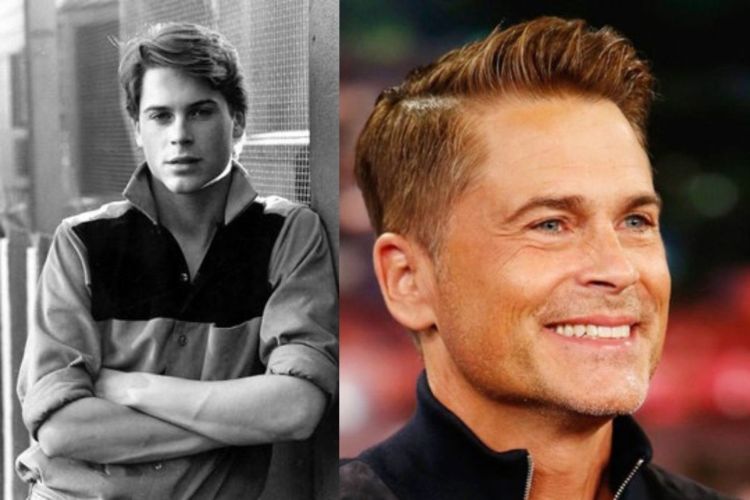 Rob Lowe became a teen idol with roles in films such as The Outsiders, Class, The Hotel New Hampshire, Oxford Blues, St. Elmo's Fire, About Last Night, and Square Dance. The success of these films made him a Hollywood star who would later become a hit on shows like The West Wing and Parks and Recreation.
Rob is currently the spokesperson for the Atkins diet, which promotes high-protein, low-sugar and low-carb foods. He said the diet is a good fit for him because he was basically following the eating habits on his own already.
Ali MacGraw – Born 1939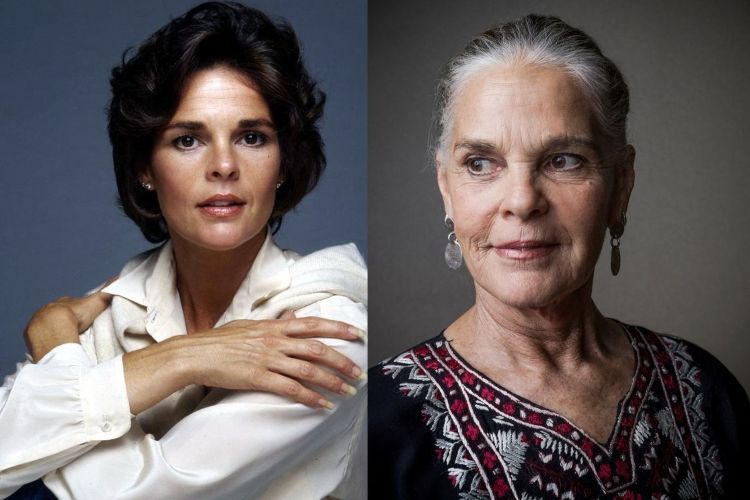 MacGraw gained notoriety from her role in the film Goodbye, Columbus, for which she won the Golden Globe Award for Most Promising Newcomer. She used to act and model, and has even been published as an author.
She's a strong advocate for animal rights. While she no longer acts, Ali has been known to be into yoga, and Vanity Fair credited her with being one of the people responsible for the practice's popularity surge in the United States.
Kathie Lee Gifford – Born 1953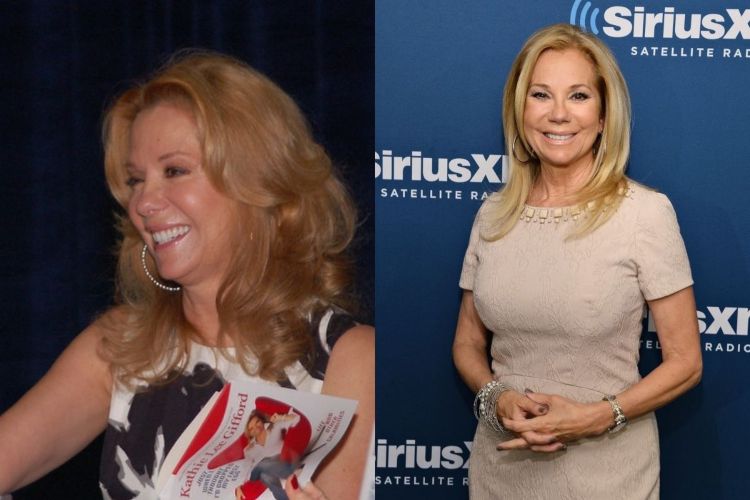 Gifford is best known as a TV presenter, but she has also been a singer, songwriter, actress and author. She gained fame for her 15-year run on Live! with Regis and Kathie Lee, which she co-hosted with Regis Philbin.
Now, she's focusing mostly on her acting, but also has credits as both a director and producer. Despite being body-shamed many times, Kathie Lee never let the haters affect her view of herself.
Sally Struthers – Born 1947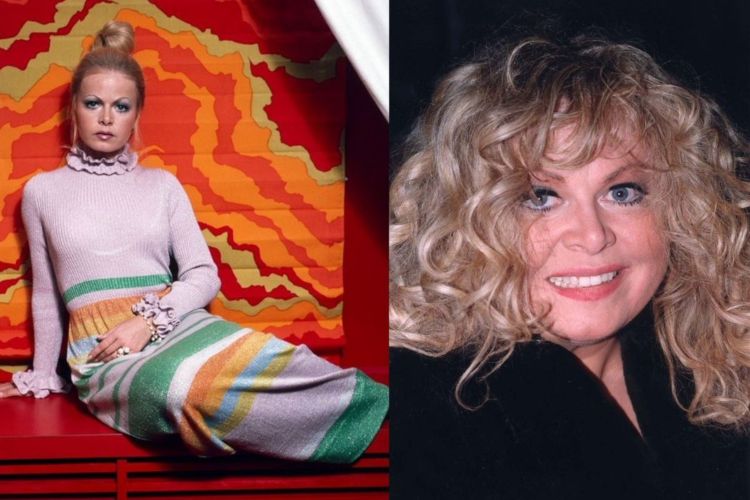 Struthers is an actress, spokeswoman and activist best known for her roles in All in the Family, for which she won two Emmy awards, and Gilmore Girls. Her activism has been spoofed on shows Grey's Anatomy, In Living Color and South Park.
Struthers has been a spokesperson for ChildFund, advocating on behalf of impoverished children in developing countries. She has also been the spokesperson for International Correspondence Schools in TV ads.
Marlo Thomas – Born 1937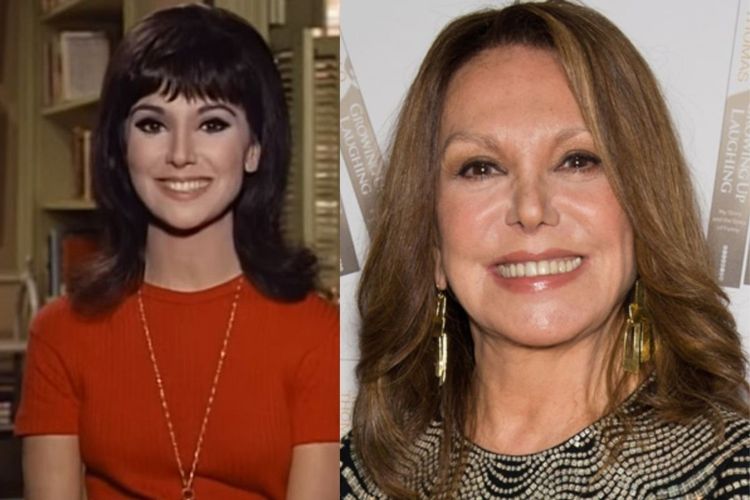 Margaret Julia "Marlo" Thomas is an actress, producer, author and social activist best known for starring on That Girl and Free to Be… You and Me. She has won an Emmy, Grammy and Golden Globe during her career.
Marlo is the National Outreach Director for St. Jude Children's Research Hospital, which was founded by her father Danny Thomas. She created the Thanks & Giving campaign in 2004 to support the hospital.
Marie Osmond – Born 1959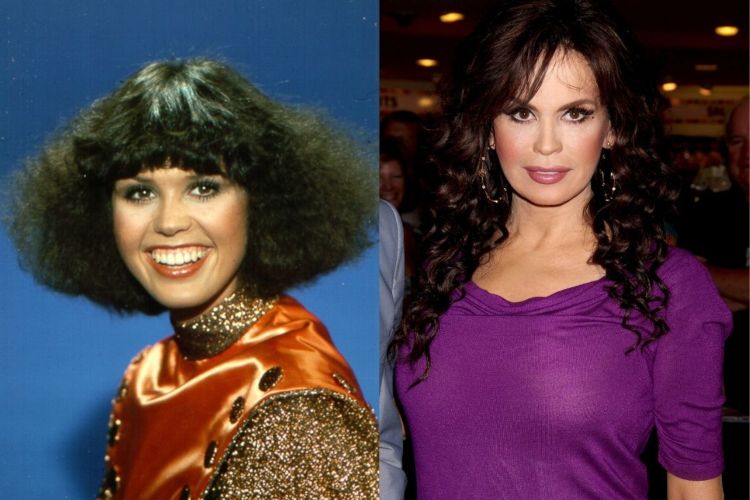 Over the years, Marie Osmond has been a singer, actress, author, philanthropist and a talk show host. She famously sang together with her brother Donny, but she also gained success as a solo country music artist in the 1970s and 1980s.
Along with actor John Schneider, Osmond co-founded the non-profit Children's Miracle Network in 1983. It's dedicated to saving and improving the lives of children by raising funds for children's hospitals in North America.
Betty White – Born 1922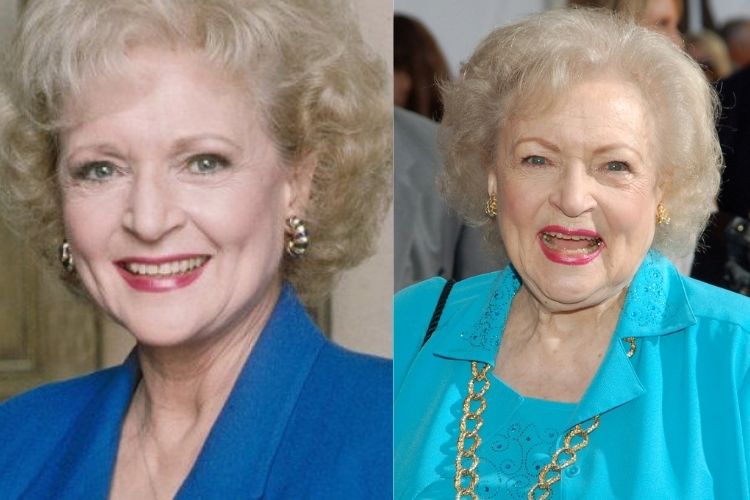 Betty White first emerged onto TV screens in the 1952 with the comedy Life with Elizabeth before hosting her own variety show. She also appeared on various game shows throughout the '60s like Password, To Tell the Truth and What's My Line? 
She managed to be a presence on television for over six decades, best-known for her role as Rue McClanahan on The Golden Girls, as well as on The Mary Tyler Moore Show before that. White became a beloved figure in pop culture, known for her spry and lively personality despite her age. Sadly, she passed away just on Dec. 31, 2021, just 17 days shy of her 100th birthday.
Sharon Bruneau – Born 1964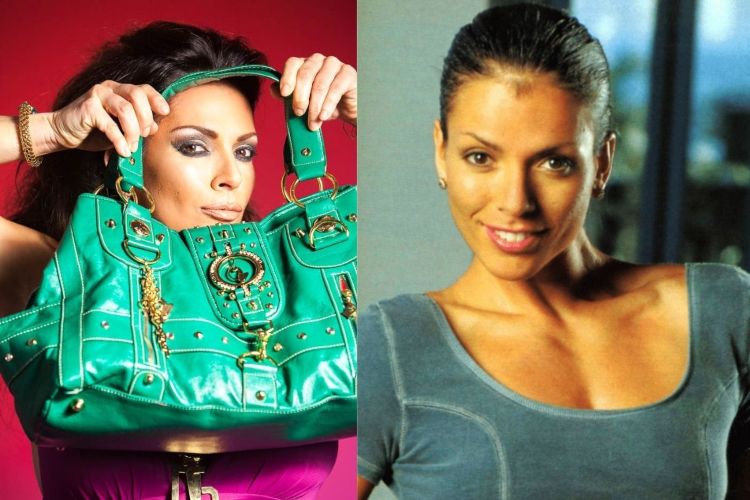 Sharon Bruneau started out as a successful model, but that opportunity ended when she got severe pneumonia. The disease caused weight loss, so she decided to gain weight through weightlifting after recovering from the sickness.
Sharon stuck with it and became the first female representative of Weider Health & Fitness publications. After her 1994 Ms. Olympia competition, she retired from bodybuilding, but continues to work as a motivational speaker.
Fairuza Balk – Born 1974
Fairuza Balk is an actress, artist and musician, made a name for herself in Return to Oz. She also appeared in a variety of movies, such as The Craft, The Island of Dr. Moreau, American History X, The Waterboy, Almost Famous and Personal Velocity: Three Portraits.
She doesn't spend too much on makeup and credits her father and mother for passing along great genes down to her. Fairuza, which means "turquoise" in Persian, was given the name due to the color of her eyes.
Ruth Buzzi – Born 1936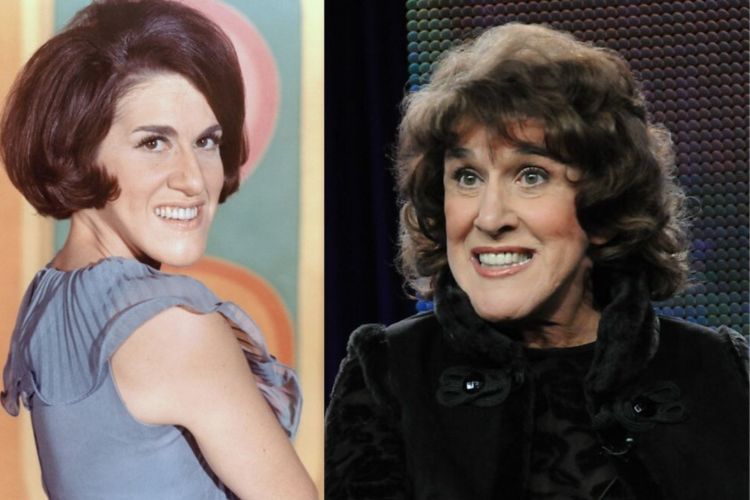 Ruth Buzzi has many talents, especially as an actress, comedian and singer. She's best known for her performances on Rowan & Martin's Laugh-In, for which she won a Golden Globe Award and received five Emmy nominations.
Ruth handles her fame in a way to avoid stress as much as possible, which could be part of the reason why she's aging well. She doesn't mind seeing wrinkles on her face and has no interest in any cosmetic surgery.
Connie Stevens – Born 1938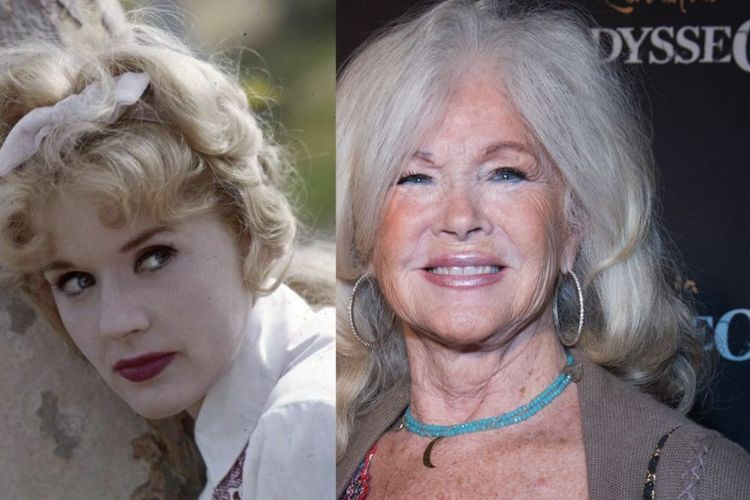 Connie Stevens is an actress, director, screenwriter, producer, cinematographer, editor and singer. She gained widespread-recognition for her portrayal of Cricket Blake on the TV series Hawaiian Eye, running from 1959 to 1963.
Connie now owns Forever Spring, an extensive beauty line, which perhaps is part of her secret to aging gracefully. The company offers natural beauty products and other products like candles.
Catherine O'Hara – Born 1954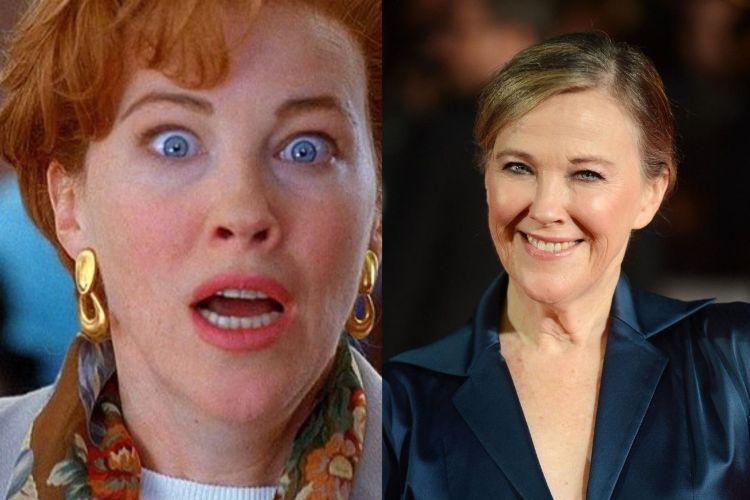 Catherine O'Hara is an actress, comedian, writer and singer. She's the recipient of several accolades, including a Genie Award, Golden Globe Award, two Primetime Emmy Awards and five Canadian Screen Awards.
Previously, her most memorable role was in the creepy comedy hit Beetlejuice. Other major appearances by Catherine in both film and TV include A Series of Unfortunate Events and Six Feet Under, though she was most recently known for starring in the popular comedy Schitt's Creek.
Cote De Pablo – Born 1979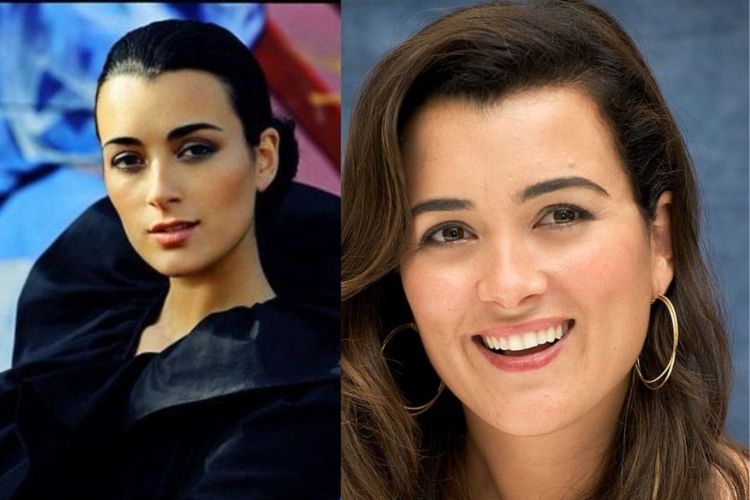 María José de Pablo Fernández is the real name of actress and singer, with the stage name Cote De Pablo. She has been studying acting since the age of 10 and has been in the industry since age 15. That was when she started co-hosting a Latin-American show called Control.
De Pablo portrayed Ziva David in NCIS and won an ALMA Award for her work on the show in 2011. She has several singing credits to her name as well, including one credit from when she sang in an NCIS episode.
Cassandra Peterson – Born 1951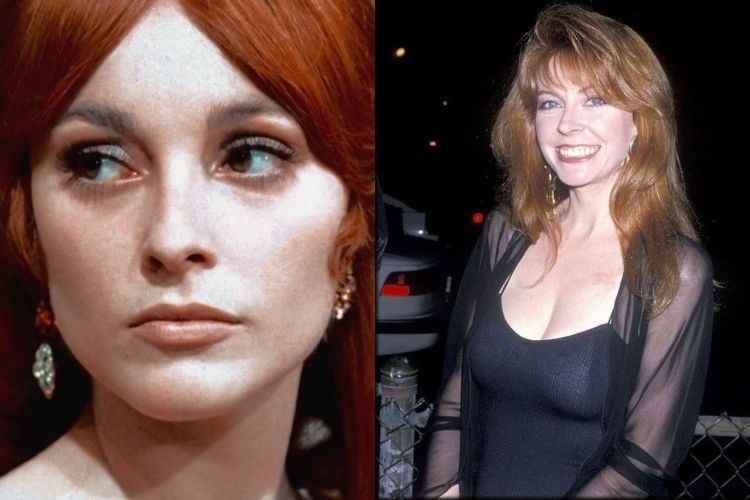 Known best as Elvira, Mistress of the Dark, Cassandra Peterson gained fame on Los Angeles TV station KHJ-TV. She'd wear a revealing, black, gothic gown as host of Elvira's Movie Macabre, a weekly B-movie presentation.
She revealed in an interview recently that nearly 50% of her body was scalded in a kitchen accident when she was a toddler. Cassandra was later teased at school due to her scars, but is proof that beauty isn't just skin-deep.
Priscilla Presley – Born 1945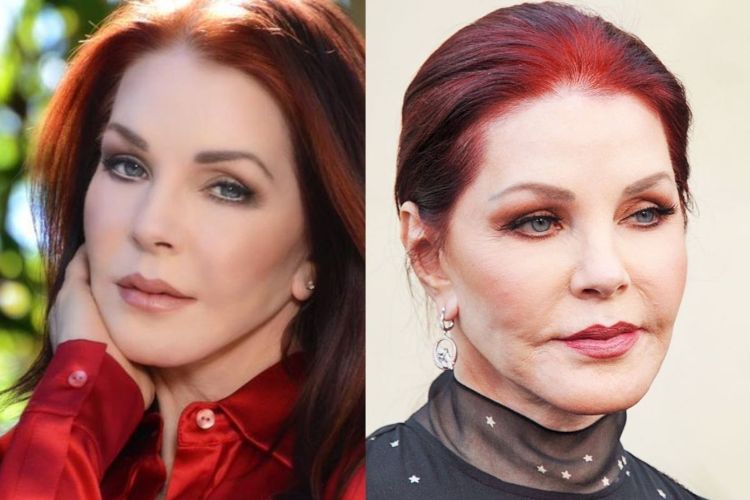 Priscilla Presley may be able to call herself the only woman to ever have Elvis Presley's heart, although Elvis wasn't exactly faithful while away on tour. The King and Priscilla were married in 1967, but eventually divorced.
Priscilla later established herself as an entrepreneur and actress. She's a former chairwoman of Elvis Presley Enterprises, which is credited for turning the singer's residence, Graceland, into one of the most attractive tourist destinations in America.
Linda Kozlowski – Born 1958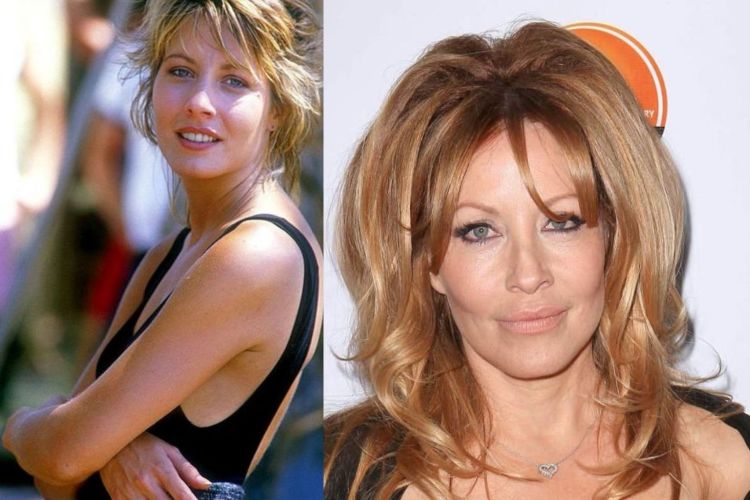 Linda Kozlowski started in theater and earned roles in How It All Began and Death of a Salesman. Her big break came when she was cast as the female lead in Crocodile Dundee, which led to other roles in major films as well.
She has retired because of dissatisfaction with the roles she was offered. Linda has said nobody else cared about the productions as much as she did and it drove her crazy to put in all the effort if everybody else didn't do the same.
Bern Nadette Stanis – Born 1953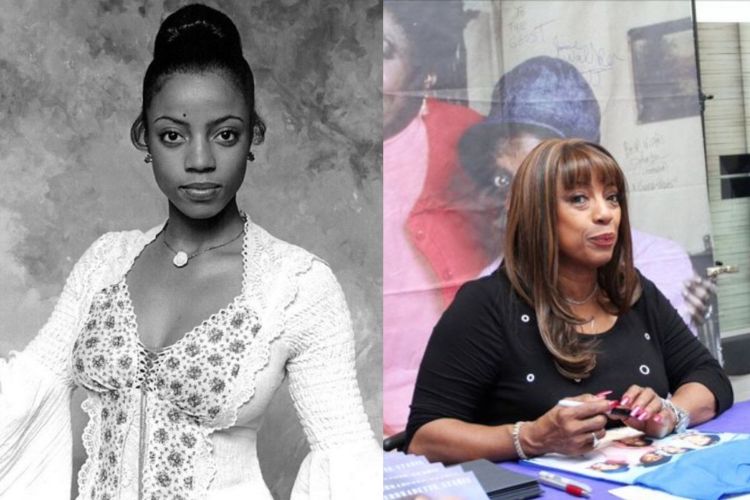 Bern Nadette Stanis is an actress and author who portrayed Thelma Ann Evans-Anderson in Good Times. As an author, she has wrote The Bad & The Ugly: For Men Only, Situations 101: Relationships, Situations 101: Finances, and The Last Night.
As a teenager, she entered various Miss Black America pageants and later would become Miss Brooklyn. She was even the first runner-up in the Miss New York state pageant, which goes to show how beautiful she really is.
Meredith Baxter – Born 1947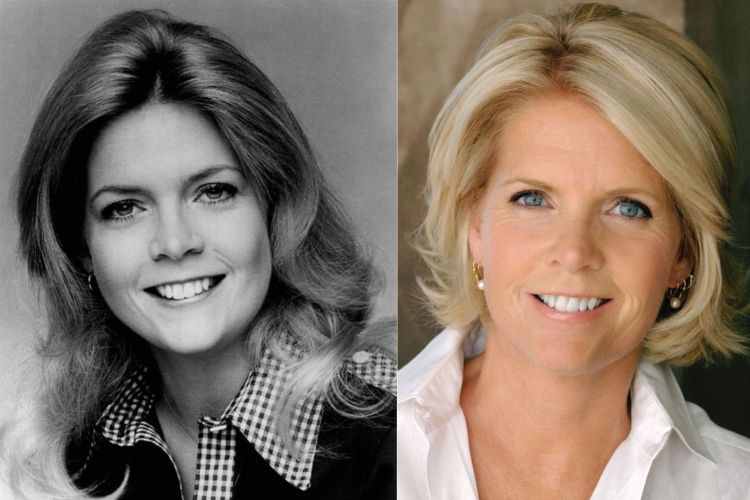 Meredith Baxter was a success thanks to her portrayals in shows such as Family Ties and Family. Meredith is a five-time Emmy Award nominee, with one of her nominations coming from her role in A Woman Scorned: The Betty Broderick Story.
A major event in her personal life happened when she was diagnosed with breast cancer back in 1999, but luckily she fully recovered after treatment. Meredith became a vegetarian to make it easier to maintain a healthy weight.
Kristy McNichol – Born 1962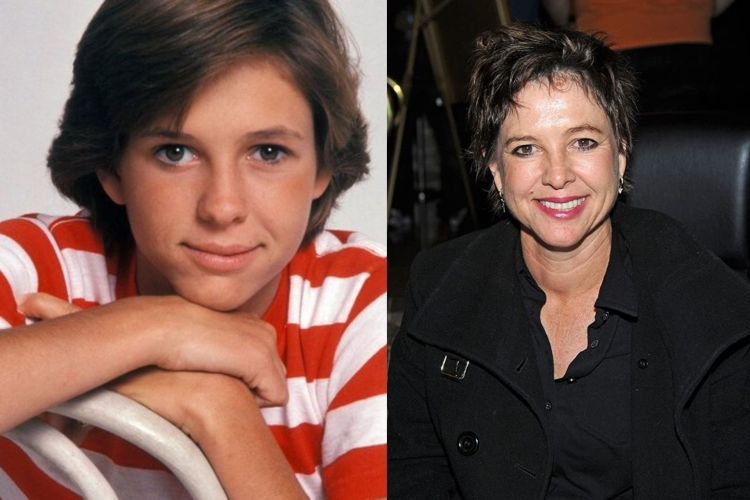 Some of Kristy McNichol's best roles were as Angel in Little Darlings, Polly in Only When I Laugh and Barbara Weston in Empty Nest. Kristy won two Emmy Awards for her portrayal as Letitia "Buddy" Lawrence in Family.
The stress of the industry was enough to wear her down however, and Kristy no longer wanted all the attention she was getting. A breakdown ensued, and she made up her mind to quit in 2001 after 24 years of acting.
Grace Jones – Born 1948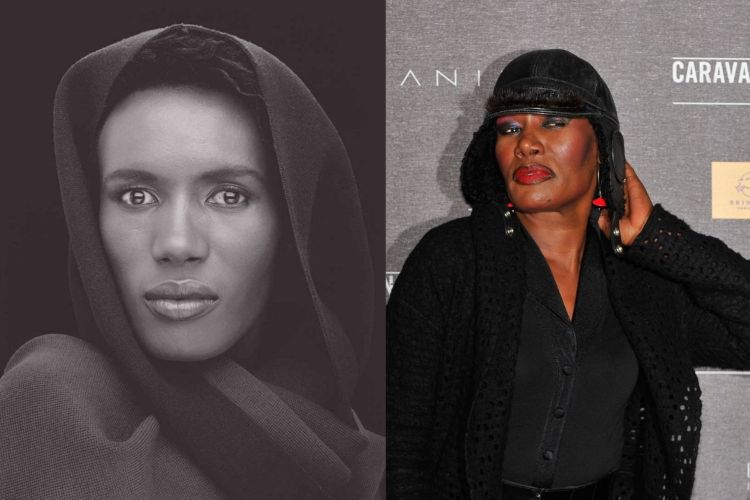 Grace Jones, a woman of many talents, started out as a model and then decided to go into the fashion industry for herself. In addition to that, Grace started making music in the late '70s and also became an actress in the '80s.
At first, she wasn't able to secure any substantial roles, but her luck changed when she got the part opposite Arnold Schwarzenegger in Conan The Destroyer. She starred in one of the James Bond movies, A View to a Kill and Vamp.
Linda Ronstadt – Born 1946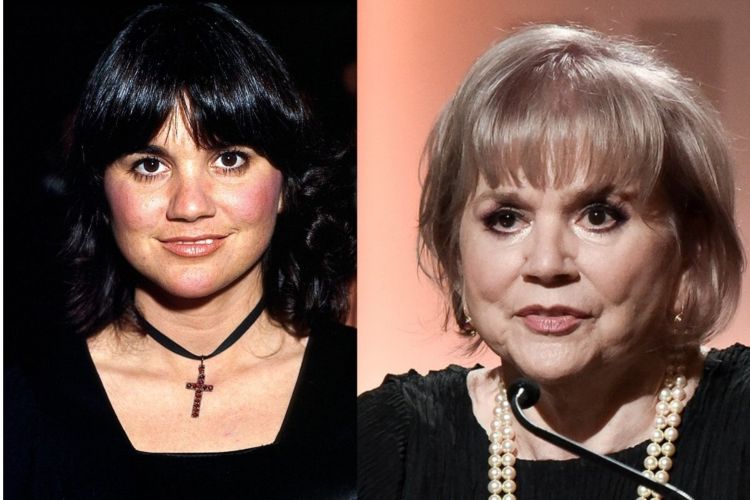 Linda Ronstadt is a retired singer who has earned 10 Grammy Awards, three American Music Awards, two Academy of Country Music awards, an Emmy Award and an ALMA Award. Additionally, she was inducted into the Rock and Roll of Fame in 2014.
Linda has had an estimated 120 collaborations, the most prominent ones being with other stars like Bette Midler, Dolly Parton, Paul Simon, Neil Young and Frank Zappa. She has also released over 30 albums over her career.
Cindy Williams – Born 1947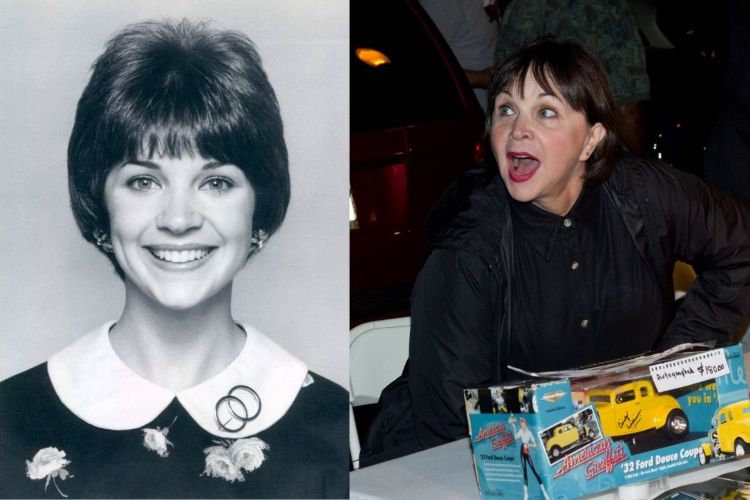 Cindy Williams is an actress and producer best known for her role as Shirley Feeney on the sitcom Laverne & Shirley. She was also a part of shows like 8 Simple Rules, Law & Order: SVU, The Odd Couple and The Stepford Husbands.
Cindy had roles in films such as The Biggest Fan, The Conversation, The Creature Wasn't Nice and Rude Awakening. She has credits in movies and TV shows dating back to 1969 and as recently as 2018.
Pauley Perrette – Born 1969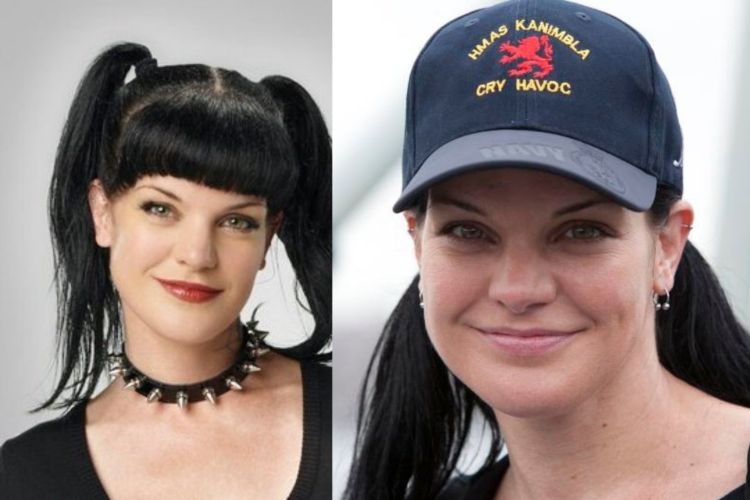 Pauley Perrette is mainly known for her role on NCIS, but she retired from acting after it was announced that Broke, a show she starred in, was canceled. She's now focused on civil rights activism and also co-owns a bake shop in New York.
Aside from a health-conscious diet, her straightforward and easy routine includes baby oil on her face only after she washes it with ordinary beauty soap. She also doesn't stay out in the sun too long.
Ashton Kutcher – Born 1978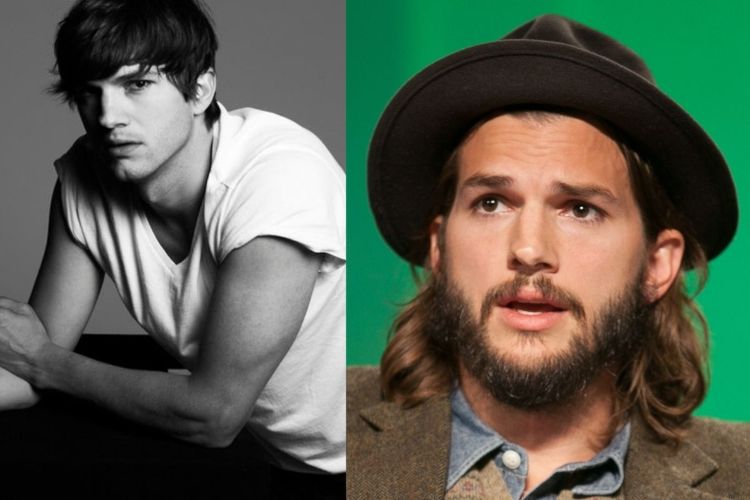 Ashton Kutcher is an actor, model, producer, entrepreneur and venture capitalist. His big break happened when he was cast as Kelso on That '70s Show. From there, he went into movies and other TV shows like Punk'd and Two and a Half Men.
He is also a co-founder of the venture capital firm A-Grade Investments, which later became known as Sound Ventures. He has successfully invested in several tech startups, such as Skype, Foursquare and Airbnb.
Tracy Austin – Born 1962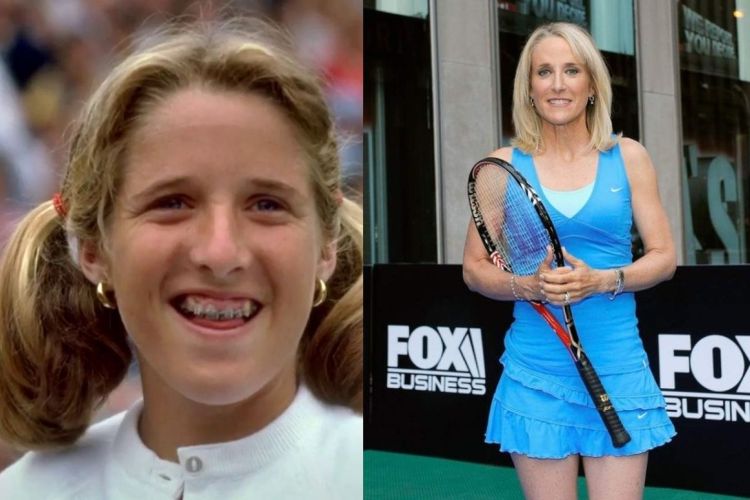 Austin comes from a family of professional tennis players and is a Wimbledon champ. In 1978, she became the youngest winner of the US Open female singles championship and is an inductee of the International Tennis Hall of Fame.
A series of injuries forced her into early retirement, but Tracy kept with her sport by sharing her knowledge and expertise. She has become a commentator for both the French and US Open tournaments.
Lark Voorhies – Born 1974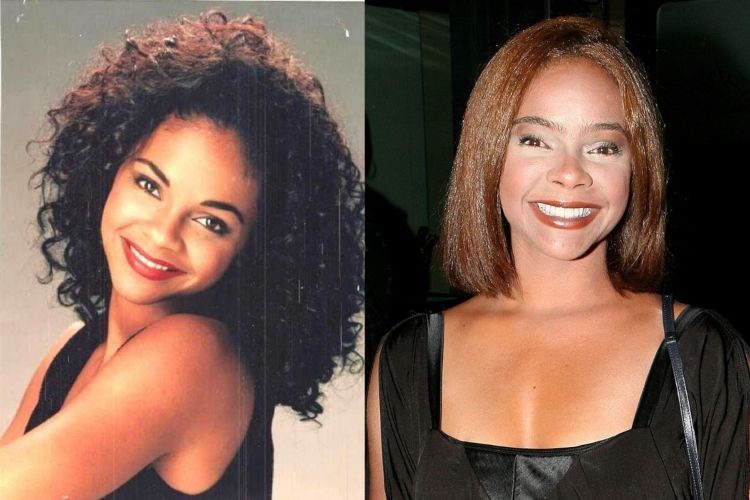 Lark Voorhies gained recognition for her performance in the hit show, Saved By The Bell. She's also an author and has written and self-published several books such as Reciprocity, Trek of the Cheshire and A True Light.
Lark was nominated for the Young Artist Award six times during her time on Saved By The Bell and Good Morning Miss Bliss. She won the award in both 1990 and 1993 for her work on those shows.
Christina Applegate – Born 1971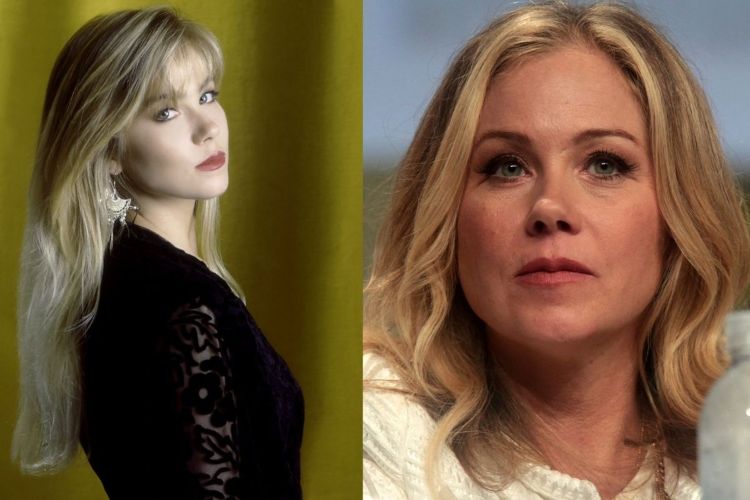 Christina Applegate was cast as Kelly Bundy in Married… With Children and her career took off from there. Aside from that, she has had roles in other movies like The Big Hit, Grand Theft Parsons, Anchorman: The Legend of Ron Burgundy, and The Sweetest Thing.
When it comes to health, Christina had a big scare back in 2008, when it was announced that she was battling breast cancer. She has been in remission after undergoing a double mastectomy, though in 2021, she announced that she was diagnosed with multiple sclerosis.
Matthew Labyorteaux – Born 1966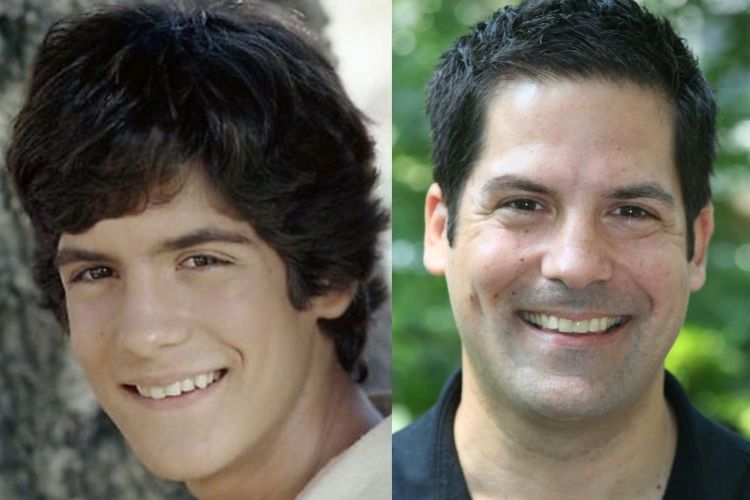 While his last name is often misspelled in credits, Matthew Labyorteaux is best known for his role as a child actor on The Little House on the Prairie. He portrayed Albert Ingalls on the beloved classic show from 1978 through 1983.
Matthew is into video games and has lent his voice to several games. He finished in 10th place for Centipede at the Atari, Inc. world championships and became the US Pac-Man champion at a tournament sponsored by People.
Nicole Kidman – Born 1967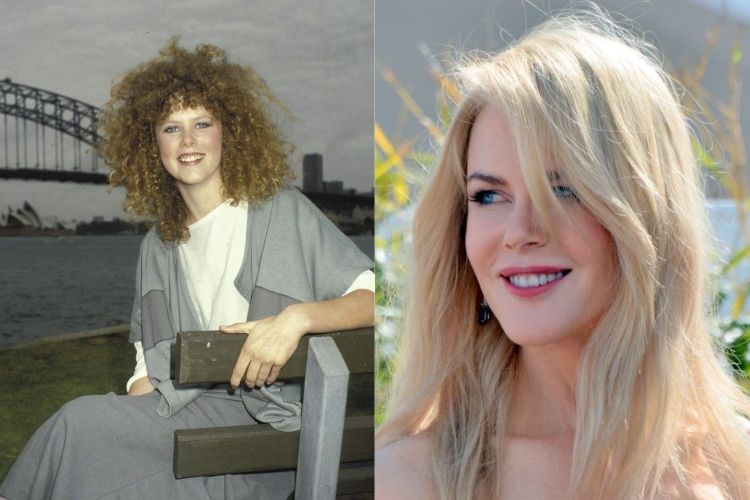 Nicole Kidman is an actress, singer, and producer, has received an Academy Award, two Primetime Emmy Awards and five Golden Globe Awards. Some of her most famous roles were in The Hours, Moulin Rouge and Big Little Lies.
Kidman engages in swimming laps in the pool and has an overall good workout routine to keep herself in tip-top shape. She stays true to a high-protein diet and enjoys eating low-cholesterol seafood regularly.
Angelyne – Born 1950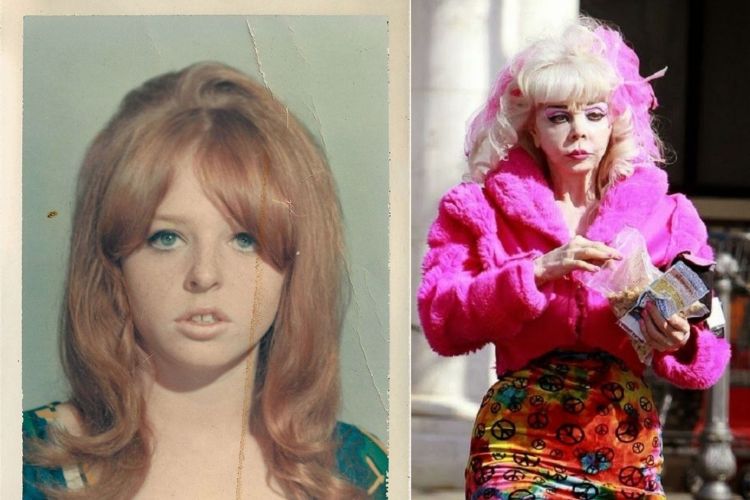 Angelyne rose to prominence in 1984, after a series of iconic billboards featuring her popped up in and around Los Angeles. Offers to appear in TV shows, movies and magazines started rolling in.
It took all the way until 2017 for most of the world to learn her original name, Ronia Tamar Goldberg. The fame that came with Angelyne encouraged her to stick with the name throughout her career.