Looking Back At The Success Of Jane Fonda's Bizarre Exercise Video
by Leslie James Nov 25, 2022
Long before she gained widespread popularity on the hit Netflix series Grace and Frankie, Jane Fonda was known for many things – and not all of them favorable. To some, she's a beloved actress, OSCAR winner, and BAFTA winner. Others recall her modeling days and tout her skills as a writer. Still, others remember her days as a vocal political activist and her stance against U.S. involvement in the Vietnam War, which led to years of her being criticized, even shunned, in Hollywood and other parts of the country.
A New Career
In the '80s, she shed many of her prior personas and emerged as something quite unexpected: a fitness guru.
Fonda had taken ballet classes for many years, which helped to maintain her slender form and enhance her overall physical fitness. After suffering an injury during the filming of The China Syndrome, however, she was forced to quit her dancing regimen.
No longer able to participate in ballet, Fonda discovered aerobics under the tutelage of Leni Cazden. Eventually, Fonda and Cazden together opened an aerobics studio that welcomed about two thousand people per week. Fitness would quickly become Fonda's second career.
No Sweat
In the early '80s, she released her first book, Jane Fonda's Workout Book, which was followed by her first workout video release, Jane Fonda's Original Workout. The workout series included a thirty-minute beginners session and an hour-long advanced class.
The fitness video featured Fonda in a striped bodysuit and lilac leggings leading a pack of workout enthusiasts who were, well, quite enthusiastic. The video featured moves such as rover's revenge (known today as a side donkey kick) and crunches. Fonda's surprising flexibility was on full display: The video showcased an array of splits (side and center), leg lifts, and leg stretches presented as easy-peasy maneuvers. Fonda's full-throttle endurance level was also visible for all to see and emulate.
But one couldn't help but notice that Fonda didn't sweat once – not once – during the entire video, regardless of how strenuous the activity was. In addition, her hair stayed perfectly in place throughout the barrage of backbends, the staggering side stretches, and the relentless rolling around on her yoga mat. Yet none of her followers seemed to notice, nor did they seem to care that they were sweating and that their hair, unlike Fonda's, was matted, askew, and anything but stylish.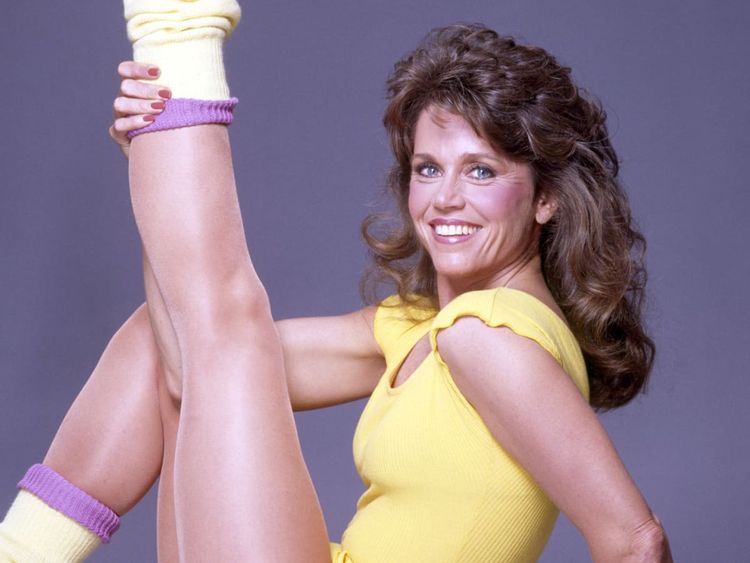 A Huge Hit
Upon release, the video received amazing reviews and sparked a health craze among middle-aged women and baby boomers alike. Ultimately, the video sold over a million copies and became the highest-selling home video for several years in a row. Some believe that Fonda's exercise video resulted in more people buying VCRs, which, at the time, provided the only means of watching the tape.
Adding fitness authority to her long list of credentials and talents, Fonda would go on to release more than twenty workout videos, write six more workout books, and develop thirteen audio books/programs. In total, Fonda's exercise videos have sold over 17 million copies.