The 10 Best Iconic Vintage Lunch Boxes Of The 1980s
They were metal. They were covered in pop culture icons. They were '80s lunchboxes. Other than jamming them full of sugar-filled treats to share with your friends at the lunch table, one of the coolest things about being a kid in the 1980s was actually showing off your lunchboxes.
After working men had popularized the act of toting their lunches in unbreakable metal pails, and before the '90s turned them plastic, '80s kids were begging their parents for lunchboxes adorned with their favorite toys, musical artists, TV shows, and movies. Get ready to reminisce on this list of lunchboxes that are as wacky as the '80s were…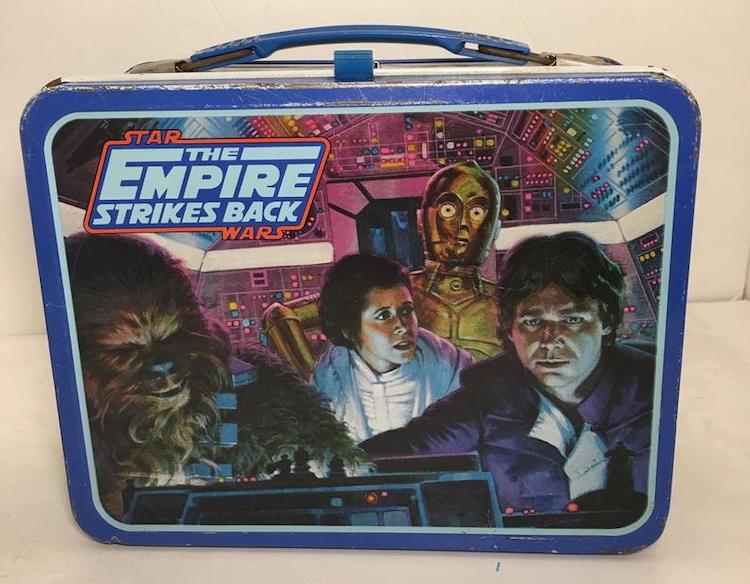 Striking Up A Star Wars Conversation
The metal lunch pail may have been an indication of a lack of wealth among working men, but that was not the case for 1980s kids. The cooler the lunchbox, the cooler the kid, and one of the coolest lunchboxes was the "Star Wars: The Empire Strikes Back" lunchbox, painted with Luke Skywalker, Jedi Master Yoda, and R2-D2. It even had an orange and yellow Yoda flask to go with it, and you can almost hear the famous John Williams theme song when you look at it.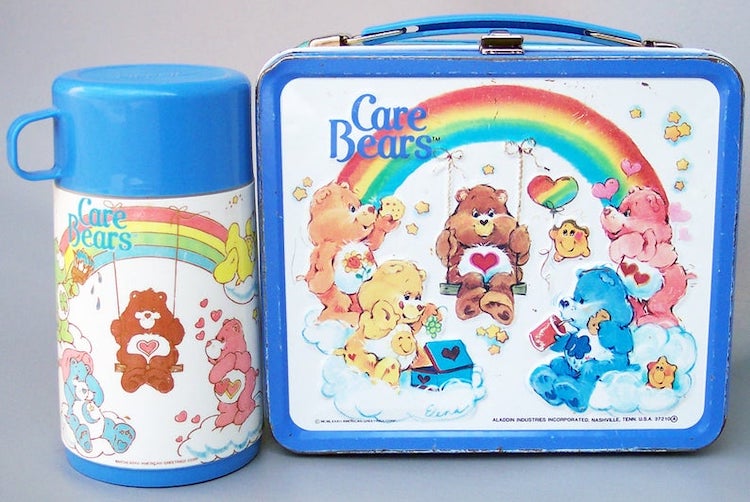 Stuffed With Care Bears
While kids once settled for recycled tobacco tins and biscuit pails as their lunchboxes, their lunch experiences changed quite a bit in one hundred years. For one thing, they became a lot more adorable. For another, they had Care Bears. Originally created for greeting cards, they were stuffed as toys, brought to life on TV, and plastered on thousands of lunchboxes across America.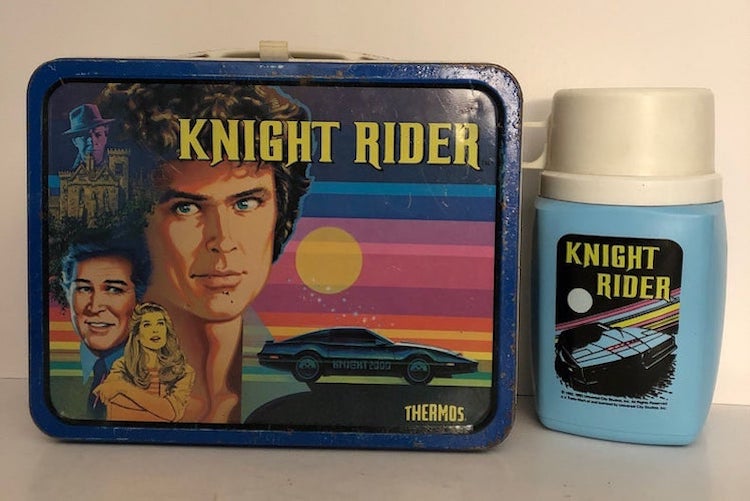 A Knight Rider-Themed Lunch "KITT"
Although plastic lunchboxes were available as early as the 1970s, the metal lunchbox was the popular pick well through the '80s. One of the greats was the "Knight Rider" lunchbox, featuring heartthrob David Hasselhoff as Michael Knight and his self-driving Pontiac Firebird Trans Am, KITT. The show had everything: an uber-macho lead, beautiful women to save, action, crimefighting, fast cars, and artificial intelligence. In the 1980s, all of that was wrapped up in a sleek metal lunchbox with a matching blue and white flask.
Strawberry Wasn't Short On Cake
Another greeting card dropout was Strawberry Shortcake. If you were a kid of the '80s or '90s, you'd remember her. She had a puffy strawberry-spotted hat covering a mop of red hair, and she wore green and white striped stockings, a red dress, and a white apron. She looked more like a '50s housewife than an '80s cartoon character.
Regardless, the little girls of the 1980s wanted her on their lunchboxes, and in 1980, they spent $100 million on that franchise alone. Strawberry Shortcake was so popular that she even made a comeback in 2009 in a movie, TV show, iPhone app, and more.
Smurfs Up
In the 1950s, lunchboxes had Hopalong Cassidy pictured on them, and they were a smash hit. It was the beginning of the pop culture icon lunchbox trend that continued for another 50 years.
The '80s brought back the original 1950s comic strip featuring little blue creatures with stocking caps. The second time around, they were animated on TV and printed on lunchboxes.
On The A-List With The A-Team
Today, you'd be more likely to find fruits and vegetables in a child's lunchbox than junk food. Inside an '80s kid's lunchbox, you'd probably find Cool Ranch Doritos, Fruit Roll-ups, and Capri Suns.
On the outside, however, you'd likely see the characters from "The A-Team." If you were a kid in the 1980s, you are probably familiar with the adventures of the Vietnam veterans called the "soldiers of fortune," and if you were lucky enough to have the lunchbox, you got the awesome Mr. T flask that went with it.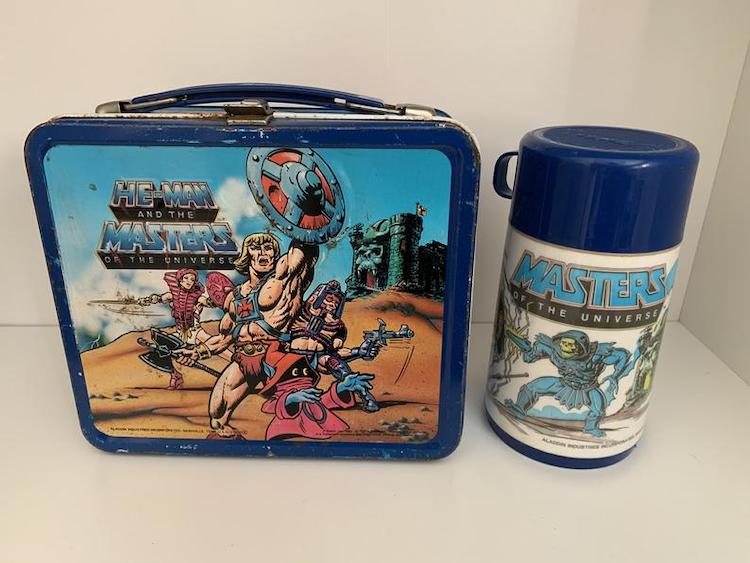 Good Guys Like He-Man
The health of school lunches has been a problem for years but has only recently been addressed by some famous celebrities like chef Jamie Oliver and former First Lady Michelle Obama. Their fights for healthier hot lunch offerings in schools are similar to the good guy fights of cartoon character He-Man. Kids of the '80s are familiar with his TV series and might have had a blue metal lunchbox with He-Man on the lid.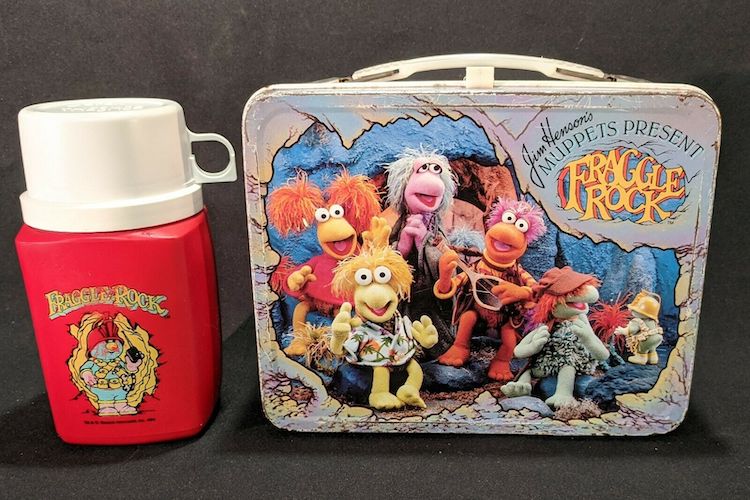 Braving School With Fraggle Rock
Another team of do-gooders was featured on '80s lunchboxes. The characters of "Fraggle Rock" were a group of Jim Henson's puppets who explored social and environmental issues like the value of friendship, bravery, plant life, and asking for help. Kids of the '80s were clamoring to get this lunchbox, painted with happy puppet faces, and the accompanying red and white flask.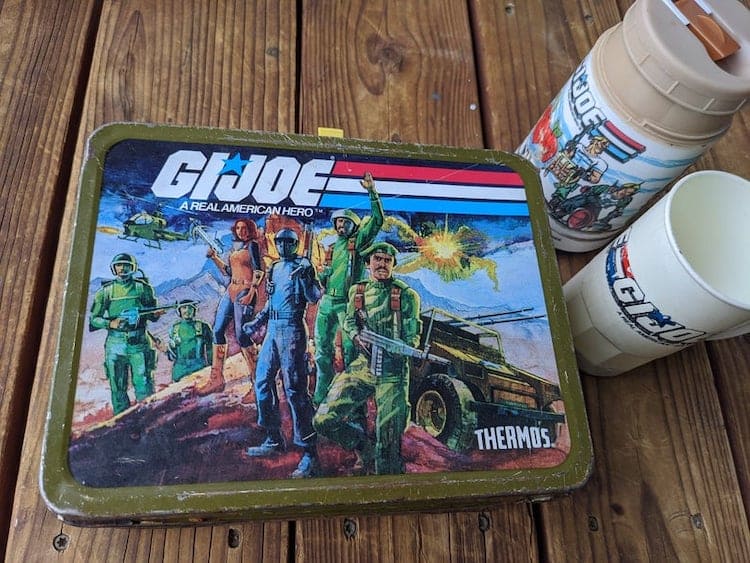 Hitting The Cafeteria With GI Joe
These days, with healthy lunches being a hot topic, most parents are sending their kids to school with their own lunches, so the lunchbox is making a comeback. The ones you'd see today have characters from "Paw Patrol," "Trolls," and "Frozen." Things have changed a lot in 40 years, when kids' shows had very different themes.
There might not have been a lunchbox more "1980s" than the red, white, and blue GI Joe lunchbox, with GI Joe himself hanging out of a tank, shooting his weapon. The yellow and white companion flask wasn't any less 80s. The depiction of guns and killing might be a little taboo in this day and age, with the controversy around gun rights and gun laws, but nothing was cooler in the 1980s.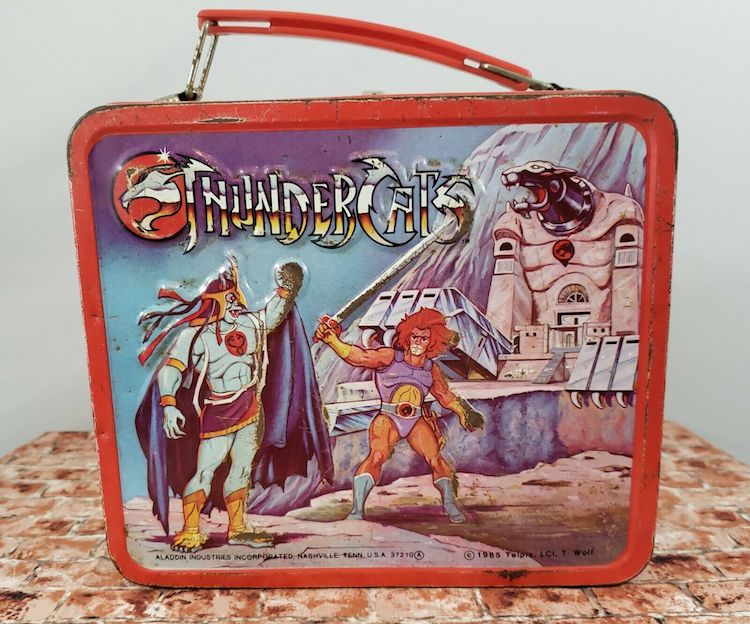 The Thunder Rolls With ThunderCats
The benefits to packing your own lunch–as opposed to eating a hot lunch at school–are endless. TeensHealth lists some of the benefits as parents taking control of what their children are eating for lunch, giving the child a variety of foods they wouldn't get in a hot lunch, and tailoring those foods to give them the energy needed for gym class, sports practices, and long days of learning.
The kids of the '80s were certainly going to school with their lunches packed, though with much different items. The coolest of them had ThunderCats on their lunchboxes. The adventures of the feline, evil-fighting humanoids were massively popular in the mid to late '80s.